More than 50 people watched tearfully as red and black balloons filled the sky above Benson Park on Saturday evening.
The crowd had gathered in memory of Gary L. Marshall, 17, who was fatally wounded early Friday when a gun was fired by another boy in his vehicle.
Gary, who was a senior at Omaha Burke High School, was taken to the Nebraska Medical Center, where he was pronounced dead.
Gary's grandmother, Annette Carroll, said he could make anyone laugh and loved to dance.
"He bought his first car and was excited," she said. "He would just be here and have fun. He's just a lovable person."
Gary wanted to go to California after graduation, said his aunt, Shawnta Carroll.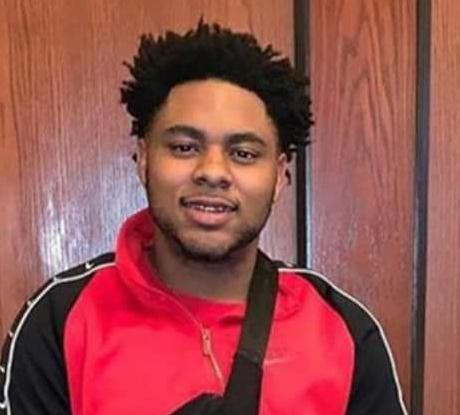 "He wanted to be in movies, acting, maybe a comedian," she said. "He was just excited for graduation."
Shortly before 2 a.m. Friday, police were called to near 43rd Street and Laurel Avenue about a shooting. When officers arrived, they found Gary in the front seat of a vehicle with a gunshot wound to his head, police said. An investigation determined that the juveniles were in possession of a gun and that it fired while being handled, police have said.
According to a person familiar with the investigation, authorities believe that Gary handed a gun to a 14-year-old boy, who was sitting in the passenger seat. A girl, 14, was seated in the back seat.
The 14-year-old boy raised the gun through the sunroof and tried to fire, but it didn't go off. The boy then brought the gun back into the car, and it somehow went off, hitting Gary, according to the source. The boy is despondent over what happened.
The 14-year-old, whose name has not been released, was booked into the Douglas County Youth Center on suspicion of discharge of a firearm in a vehicle.
Shawnta Carroll said the family is unsure what occurred before the shooting and how the gun came to be in the teens' possession.
Shawnta Carroll said Gary would always "go out and support" his classmates during Burke football games and other activities.
Many of those classmates came to Benson Park to take part in the balloon release.
"He was very funny," and a good friend to everybody, said Tariq Porter, a junior at Burke. "Everyone in the school was cool with Gary."
A GoFundMe page has been set up to help the family with funeral expenses.
Sign up for World-Herald news alerts
Be the first to know when news happens. Get the latest breaking headlines sent straight to your inbox.
To plant a tree in memory of At Park as a living tribute, please visit Tribute Store.