The 25 years since that night haven't dulled Tonya Williams' memory of it.
Now 54, Williams' voice is strong when she recalls the details: After six months in a controlling relationship, she'd decided to end it. She had stopped answering her boyfriend's calls and had refused his gift of Valentine's Day roses. In the early hours of Feb. 15, 1993, she heard him at her door, heard him kicking it in. Once inside, he grabbed her and started punching. When she fell to the floor, he lifted her back up to slam his knee into her chest, cracking her ribs. At one point, he grabbed some kitchen knives and started throwing them at her, each one missing but landing near her body. Williams curled into a fetal position and prayed, over and over again, "Please, God, don't let me die."
Though her eyes were swollen nearly shut, Williams remembers seeing the flashing blue lights of the police cruisers. She doesn't know who called 911 that night. She was taken to the hospital and went to a doctor for three months as injuries to her face and chest healed.
Her ex-boyfriend pleaded no contest to one count of misdemeanor assault and battery and one count of damage to property. He was sentenced to 14 days in jail and one year of probation.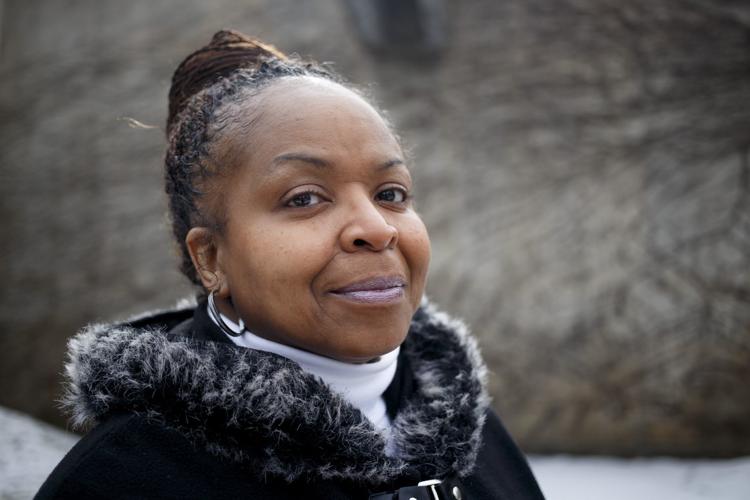 Williams shares the story as a member of Survivors Rising — an Omaha group dedicated to advocacy, education and support for survivors of intimate partner violence and domestic abuse. Recent national events appear to be encouraging others to come forward to report abuse and seek resources.
At the same time, local agencies are working to expand domestic violence education and prevention efforts.
The Omaha Police Department has seen an increase in the number of reports of domestic assault and sexual assault since 2016. In 2017, the domestic violence unit handled nearly 3,200 cases of domestic violence assaults, up more than 7 percent from the previous year. Reports of sexual assaults last year also rose 11.8 percent over the number recorded in 2016.
The number of women seeking help from the Women's Center for Advancement also has increased. The nonprofit, which provides services for victims of domestic violence and sexual assault, worked with clients more than 28,000 times last year, a 52 percent increase over 2016.
Williams said abusers work to isolate their targets and strip them of self-confidence, something that she and local service organizations that assist abuse survivors believe has become harder in the era of #MeToo.
"Now (victims are) hearing these other voices," Williams said. "They are getting the message that this is not their fault, it's not something to be ashamed of."
Spreading that message is at the heart of local efforts to provide resources for assault survivors and educate the community about recognizing and preventing abuse. Those local initiatives, service organizations say, have combined with national attention on the issue and led more Omahans to report such crimes.
Representatives from both the WCA and the Women's Fund of Omaha said those increases don't reflect a rise in the number of assaults but are rather a strong indication that abuse survivors are feeling more comfortable about reporting assaults and seeking support services.
Come April, when the WCA moves its headquarters to a renovated building at 38th and Harney Streets, the number of clients it serves could rise again, said Elizabeth Power, the organization's spokeswoman. The new building will have three times the space of the WCA's current location at 29th and Farnam Streets.
"If these national conversations and movements had happened even four or five years ago, I'm not sure this agency would have been ready to complement them for the local community," Power said. "But we are ready now."
Christon MacTaggart, the domestic and sexual violence program manager with the Women's Fund of Omaha, said the rise in reporting is most likely the result of "parallel processes" of local efforts to support victims and the growing national discussion.
Though the recent national conversations surrounding the #MeToo movement have largely revolved around sexual assault and harassment, domestic violence often is rooted in the same unhealthy power and control dynamics, Power said.
"The issues are incredibly intertwined," Power said. "Maybe domestic violence isn't the headline right now, but these conversations are leading there."
Reports of domestic and sexual assaults rise after high-profile cases make headlines, MacTaggart said. But then it's up to local first responders and social service agencies to make sure the people who are targets of abuse feel safe and supported.
With that goal in mind, the Omaha Police Department's domestic violence unit moved in June from downtown to Project Harmony, an organization that provides services for child abuse victims and their families.
That means victims have multiple services under one roof, said Omaha Police Sgt. Scott Warner of the domestic violence unit.
"It was about understanding that they need a safe environment and setting that is a little more private to talk about this," he said. "And then we aren't sending them to drive across town for resources."
Through Project Harmony, local first responders, including Omaha police officers, also have participated in the organization's training on trauma sensitivity, which Warner said works to ensure that the reporting process is not a re-traumatizing experience.
"I can only imagine it's a positive influence that people are feeling, 'I'm not alone, people do believe me,' " Warner said.
Leontyne Evans, 30, also a member of Survivors Rising, works as a relationship coach in Omaha and said that over the past several months, she has seen the veil of shame start to lift off those affected by domestic violence.
"I've never seen such comfort in talking about it," she said.
Evans said she was in an abusive relationship for seven years. She said that if she had felt then the community support that she sees now, her story may be different.
"I definitely think I would have been more vocal, more empowered to say something without worrying that I was weak or that I was alone," she said. "But now we need to go beyond these conversations and start having ones that will end these cycles with prevention."
The WCA has ramped up its education and prevention programming, which includes presentations for area schools, businesses and agencies as well as domestic violence training seminars for clergy, law enforcement and medical professionals, Power said.
The prevention team grew from one full-time staff member to three in 2017 and has started a leadership academy for fifth- and sixth-grade girls to teach them about self-confidence and healthy relationships.
"We know that the spotlight will not always be on us and these issues," Power said. "Now it's about using this moment to really reach as many people as we can."
In the two and a half decades since her experience with abuse, Williams said she has helped friends, family members and co-workers find ways to talk about and seek help for their own abusive relationships. Now a grandmother, Williams is hopeful that her 9-year-old granddaughter will grow up hearing the voices of both survivors and community members repeating: "Abuse is never your fault."
"All of these local and national conversations have led victims to empower themselves out of the cave of isolation," she said. "They've made a huge difference."