More than a dozen drivers have fallen victim over the past year and a half to an increasingly infamous rock.
The vehicles are getting stuck on a rock in a parking lot near 156th Street and West Maple Road, said Christle Menchaca, who has witnessed the incidents while working in the UPS store in the Hy-Vee shopping plaza.
Menchaca, 23, and fellow UPS worker Krystal Ann Hansen, 30, started a Facebook page focused on the rock about two days after being interviewed by a local television reporter about the many vehicles that have run afoul of the boulder.
Within three days, the page had almost 5,000 followers, Menchaca said. But Facebook pumped the brakes, saying that Menchaca and Hansen couldn't have a rock as a Facebook page (pages are reserved for humans, not boulders).
After starting over with a Facebook group, "The W Maple Omaha Rock" had more than 1,700 members as of Monday afternoon. Many of the rock's fans are local, but some commenters in the group are from other states and countries.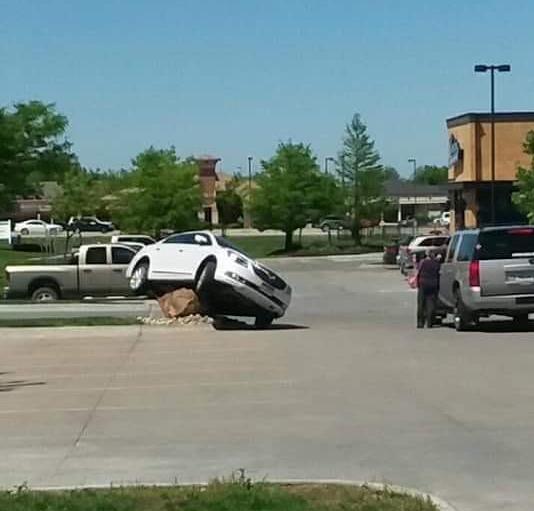 Hansen has been working at the UPS location for about a year and a half. She said that on average one vehicle a month, typically an SUV, falls victim to the rock.
"It slows down in the winter, though, because they're more careful ... not driving like crazy," Hansen said.
There's no clear record of the number of cars that have high-centered on the rock — Omaha police don't investigate accidents on private property, so they have not been tracking the problem, a police spokesman said.
Before the boulder received widespread attention, people would come into the store to complain and suggest that it be removed, Menchaca said.
"But once it got on the news, people were like, 'Is that the famous rock in Omaha?' " Menchaca said.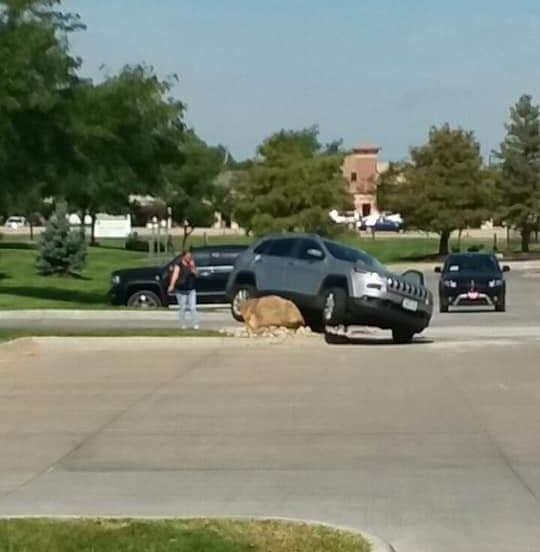 Devon Barnett used to work at the Hy-Vee in the plaza. The 27-year-old Omahan said it was common to "walk outside and see people stuck on the rock."
Barnett, a member of the rock's Facebook group, said she and her fiancé made a stop at the rock when they were in the area a few days ago.
"He (Barnett's fiancé) did not understand why I wanted to take a picture with it. He thought it was the stupidest thing ever," Barnett said. "We got the picture of it, and now he's like obsessed with it, too."
Barnett said the rock causes trouble for vehicles when drivers who aren't paying attention accidentally jump the curb. She said before the rock appeared, drivers who would jump the curb were making "a giant hole in the ground."
It's unclear if the rock was placed in that spot to prevent curb-jumping.
According to the Douglas County assessor's website, the land where the rock sits is owned by a group called Sweetbriar II LLC.
"I know it's probably really embarrassing for the drivers, but you know at least it's something else that people are talking about for Omaha," Barnett said. "Like, we have the zoo, and now we have the rock."