Deep in Central High School's archive — enclosed by heavy wooden doors and a bank-style vault — Merrilee Moshier Miller stumbled upon something that stunned her.
From an old Hinky Dinky grocery bag, the Central alumni association member unballed a decades-old World War I service flag. Miller discovered the flag in 1999, and the school's alumni association has preserved the enormous flag, which has a star for every Central alumnus who served in the war.
On Saturday morning, the flag was unfurled for a Veterans Day alumni event, which featured commentary on the flag from Central history teacher Scott Wilson.
About 20 alumni, including Miller, attended the third annual event, where Wilson speaks about the school's connection to veterans and history. At a past event, he spoke about visiting graves of Central alumni at the Netherlands American military cemetery near the village of Margraten, where residents flew Central High School flags during the visit.
On Saturday, the group dove into the history of both the flag and the Great War.
Typically displayed by families to honor relatives who are actively serving in the military or who have died in a war, the idea of a service flag originated with a U.S. Army captain in 1917.
Service flags quickly became popular with government officials and the public.
In 1918, Central students created their own service flag and unveiled it with patriotic songs and speeches, according to a February 1918 edition of the Register, the school's newspaper.
The finished flag depicts 450 blue stars, 19 gold stars and 11 silver-barred stars.
Each blue star represents a student, teacher or alumnus who served in WWI. Gold stars honor those who died in combat and silver-barred blue stars represent those who returned to school after serving.
For Miller, with four generations of Central alumni in her family and an interest in local history, the flag is meaningful enough to give her goosebumps. Each star opens a door into someone's life, she said.
"This makes history come alive," Miller said of the flag. "I think we increasingly need to pay attention to our history or we'll be doomed to repeat it."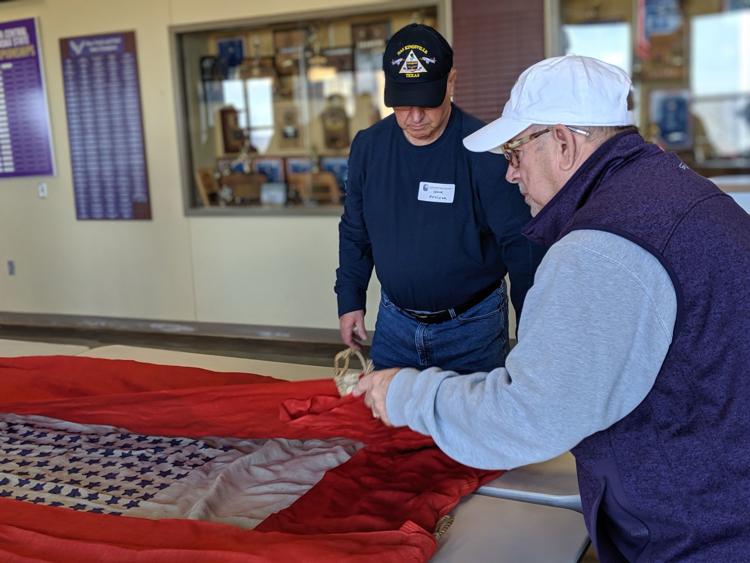 The Douglas County Historical Society displayed the flag for a year as part of an exhibit commemorating the 100th anniversary of WWI. It was the first time the flag flew publicly since the war's end, Miller said.
At Saturday's event, alumni discussed displaying the flag in Central High School, but Miller noted the flag's size would be an issue. It covers more than 60 square feet.
"We would love to have it on display someplace, but this would be $12,000 to frame it," she said.
Wilson said that Central's 160-year history allows for students to both take pride in and learn American history from the school itself.
"This is one of the few places you could teach and take your students on a field trip inside the building," Wilson said.
Honoring our heroes: A gallery of Nebraska veterans
Honoring our heroes: Nebraska veterans and their service.