Move-in day is fast approaching for Omaha's newest resident.
He'll set up shop in a cozy concrete cottage beneath the Bob Kerrey Pedestrian Bridge.
It's fitting because Omar is a big, blue troll. After all, trolls have been camping out beneath bridges since the Three Billy Goats Gruff came traipsing along.
Omar, a big statue with a big personality, comes by way of Visit Omaha. The troll has been in the works for three years. He's designed to keep visitors excited about the riverfront pedestrian bridge.
"The pieces fell together," said Deborah Ward, vice president of marketing and communications for Visit Omaha. "Every bridge needs a troll."
Visit Omaha, or the Omaha Convention & Visitors Bureau, had been asking what attractions folks made a point to visit in town. They heard the Henry Doorly Zoo & Aquarium, the Old Market and the Bob Kerrey Pedestrian Bridge.
The bridge, lovingly dubbed Bob, already has a bold, edgy personality. He runs a Twitter account and has posted numerous videos, including one about looking for love from a trio of lady bridges in Pittsburgh.
Omar will help to keep Bob fresh and interesting. A local advertising agency pitched adding an augmented reality troll. But officials decided to keep it old-school because technology is always evolving.
"We know the folklore of Omar will change and grow, but ultimately it will inspire people to visit Omaha," Ward said.
Omar will greet visitors from near a grassy area by one of the bridge's pillars. He'll sit atop his sturdy concrete cottage, designed by Michael Torres. Omar, who's made of bronze, is being sculpted by John Lajba.
Omar sits about 4 feet tall and weighs in at 300 pounds. The blue troll will sport orange shorts and wears his hair — all 19 inches of it — sticking up from his head. Each hand has four fingers and each foot has three toes. His six-tooth smile peeks through a scruffy blue beard.
Lajba wants Omar's personality to be just as large as his size.
"I want him to feel like more than a sculpture," Lajba said. "I want him to become your friend when you visit him, and I want him to be excited to see you and tell you about his home."
Lajba said he enjoys tucking human elements into his sculptures. His work includes statues at the Durham Museum, a World War II memorial statue, a police memorial statue and the Road to Omaha statue in front of TD Ameritrade Park.
Sign up for The World-Herald's afternoon updates
Receive a summary of the day's popular and trending stories from Omaha.com.
Road to Omaha is often photographed during the College World Series. Lajba hopes Omar becomes a similar fixture.
"I want them to come and visit Omar, not a statue by the bridge," Lajba said. "I want Omar to be a symbol of our city."
Omar is short for Omaha Metro Area River troll.
Lajba has been working on Omar since winter. First the troll had to be sculpted out of clay. Later he was poured from bronze heated at more than 2,000 degrees. Once he's welded together, Lajba will apply a blue patina to give the troll his signature look.
To go along with the statue, Visit Omaha made a book featuring Omar. The book, written in rhyme, chronicles the troll's journey to find a new home. He searches local landmarks, including the Omaha zoo, the Durham Museum and Lauritzen Gardens.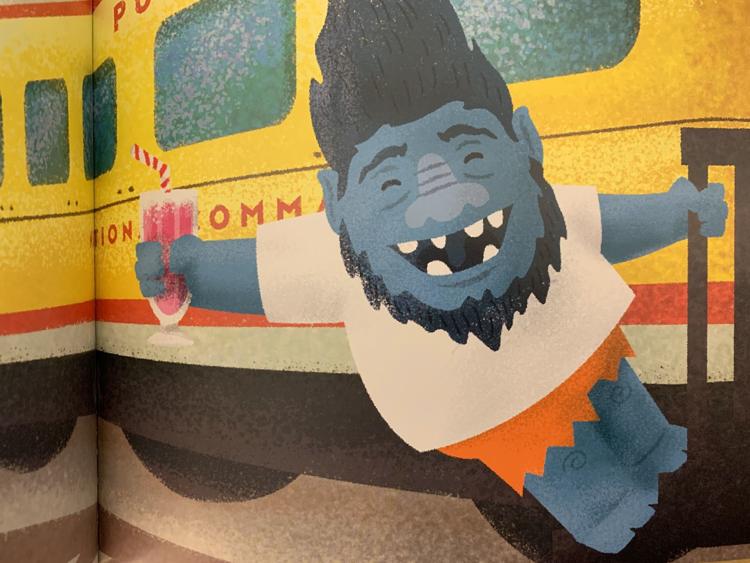 "He learns at the end of his travels that it's the people and the journey that make it fun," Ward said.
Books will be distributed to third-grade classrooms in several area school districts, including the Omaha Public Schools, the Ralston Public Schools and the Elkhorn Public Schools. Books can be purchased in gift shops at the Durham, Joslyn and Children's Museums, as well as at the Omaha Visitors Center. Proceeds will fund tourism efforts.
Three signs will be posted on the bridge with codes that can be scanned to pull up videos of Omar. Snapchat users can pull up a special filter that will give them spiky blue hair and a scruffy beard to match Omar's look.
The troll project was funded by a $110,000 grant from the Douglas County Visitor Improvement Fund.
Omar will be unveiled and welcomed in a Wednesday ceremony. Residents and visitors are welcome to meet the city's new troll the next day.
So sit with Omar, take selfies with him, bring a picnic to share or just hang out, Lajba said.