The Omaha Public Power District is studying how far it can push toward generating the region's electricity without the carbon emissions that scientists say contribute to a changing climate.
Utilities from Omaha to Amsterdam have pledged in recent years to generate more of their communities' electricity from renewable sources, including the sun, wind and water.
OPPD in 2018 set a goal to generate half the power that its local customers buy from renewable sources. Electric companies in other cities have aimed as high as 100%.
OPPD also is studying a step beyond adding more renewable energy. It's studying how far and fast OPPD can go in reducing the carbon emissions of all its power plants.
Sign up for World-Herald news alerts
Be the first to know when news happens. Get the latest breaking headlines sent straight to your inbox.
This could mean shifting more of OPPD's coal power plants to natural gas. It could mean using technology to capture carbon emissions from burning fossil fuels. It could mean aiming for 100% renewable energy. And it could mean working to increase energy efficiency and reduce demand.
The study's findings could hold significance for the future of OPPD's coal-fired plants, including its north Omaha power plant, which burns coal and natural gas, and its plant in Nebraska City, its largest that burns coal.
It might also influence which types of power plants OPPD builds in the future, whether for addressing the power grid's needs at peak usage times or for additional capacity, board members say.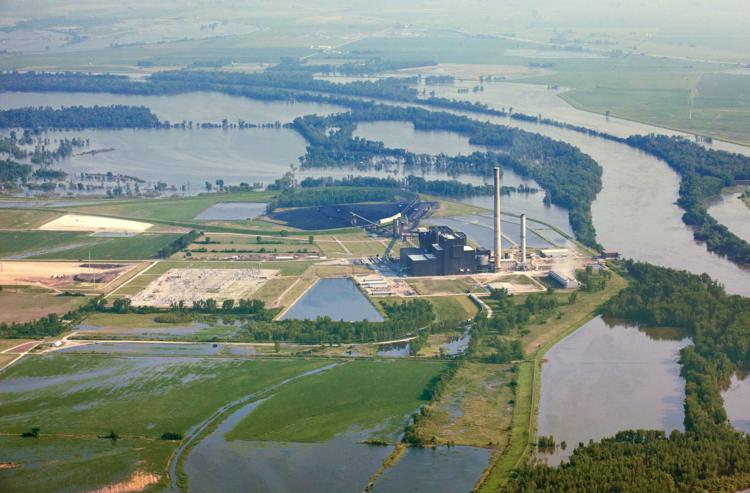 "It's not an all-or-nothing thing," Bogner said of the study's goal. "It's about how close we can get to that goal (of zero carbon) and still be affordable and reliable."
Utilities in many cities, including Omaha, have cut back on coal. For example, the north Omaha plant used to burn only coal. It now splits between natural gas and coal, and may eventually move to gas alone.
Regardless of which energy source is chosen, OPPD will need baseload power that makes sure people's lights turn on when the wind doesn't blow and the sun doesn't shine, district officials say.
Battery technology has not yet advanced far enough to let renewable energy sources like solar and wind power match the reliability of coal and gas, said Tim Gay, an OPPD board member from Sarpy County.
Gay, Mike Cavanaugh and others on the board have expressed concern about the costs and dependability of moving too fast to alternative energy sources. But they say they welcome the study as a way to get more information.
OPPD is studying alternative ways to produce power and seeing if there are smaller changes the utility can make to move toward producing less carbon, said Mary Fisher, OPPD's vice president of energy production.
It's too soon to tell what a "zero-carbon" future might mean for OPPD or its ratepayers. Those answers are the goal of the internal study that OPPD expects will take 18 to 24 months.
The costs of eliminating carbon from the American power grid could prove staggering, as much as $4.5 trillion by 2030. That's why some utilities are aiming their carbon-reduction goals toward later dates, 2040 and 2050.
The cost of inaction is staggering, too. The Environmental Protection Agency has estimated that unrestricted emissions could lead to $5 trillion in damage along the Eastern Seaboard alone because of sea level rise.
Moody, an OPPD board member from Omaha, said the board wants to be responsible in making its policy choices, studying the benefits and consequences of steps the utility could take to reduce carbon.
Among the areas it must consider are the impact of more renewables and less carbon on electric grid reliability, customer rates and public health. Carbon emissions are often linked to higher rates of asthma and other ailments.
"We're not haphazardly saying we are getting to a number (on carbon)," Moody said. "The results of the study will inform many decisions from here forward."
Check out nearly 100 stunning photos of Nebraska
Check out some of the most beautiful images of Nebraska.