Big changes are coming for Omaha residents used to taking any trash can or bag to the curb and seeing the contents get hauled away.
Those little green bins for recycling also are going by the wayside.
No bidders were interested in keeping Omaha's trash collection status quo, the city says. So city residents in 2021 will see big changes, including new large, covered plastic carts.
It's a change that trash companies have pushed cities elsewhere to make. Many cities made the switch more than a decade ago.
Under Omaha's new trash contract, most Omaha residents will be issued two 96-gallon trash carts. One will hold trash and yard waste, to be picked up weekly. The other will be reserved for recycling, to be picked up every other week.
People have peppered The World-Herald with questions in recent months about how the city's next trash contract will work.
Here are some answers to the most frequently asked questions, based on World-Herald reporting and responses from the city's Public Works Department.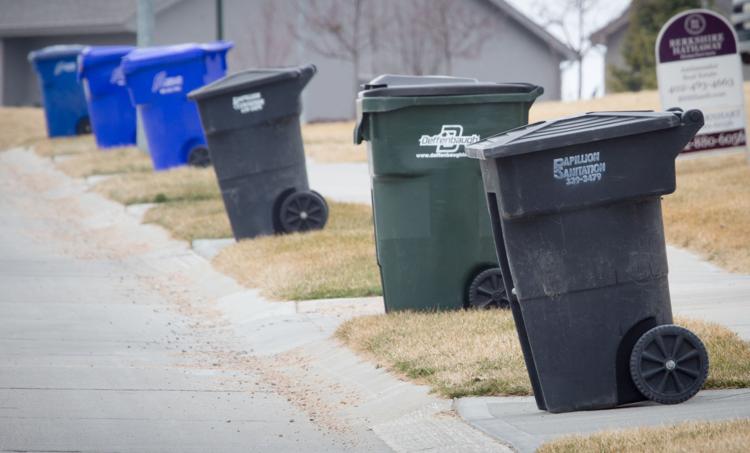 Q: When will people get their new, 96-gallon trash carts?
A: The carts will arrive during the second half of 2020, up to 90 days before the contract starts. The contract's official start date is Jan. 1, 2021, though the city and contractor could negotiate to move up the date.
Q: If those carts are too big, can people request smaller carts?
A: Yes. After 90 days with the larger carts, people can apply to get a smaller cart. The elderly and the disabled can request the smaller carts right away if they qualify for the city's special collections program. The specifics of that program are discussed below.
Q: How big are the big and small carts?
A: The 96-gallon carts are 29.75 inches wide, 35.5 inches deep and 43.5 inches tall. Each one should hold about eight typical 13-gallon bags of trash.
The 48-gallon carts are 23.5 inches wide, 28.75 inches deep and 37.5 inches tall. Each one should hold about four typical 13-gallon bags of trash.
Q: What if someone can't physically wheel the carts to the curb?
A: Public Works has a special collection program. People age 70 and older and those with a doctor-verified medical need can have collection happen closer to their property. People can visit the city's trash information website, www.wasteline.org, or call 402-444-5238, for more information.
Q: Who is eligible for a third cart at city cost?
A: Households of five or more can apply. The city is developing a process for that now.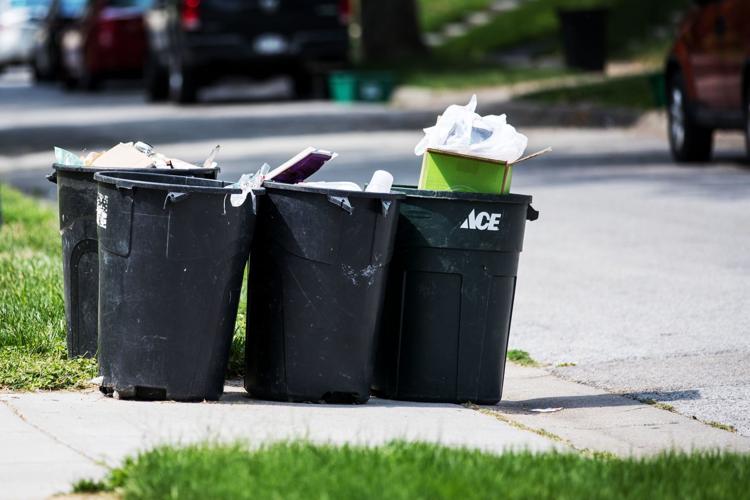 Q: When should people get rid of their old trash cans?
A: They should hold onto them until FCC starts collecting waste in the new trash carts.
Q: How can people dispose of their old trash cans and green recycling bins?
A: FCC is developing a plan with Public Works so people can drop off old trash cans and recycling bins. Cans and bins that can be recycled will be. Others will be disposed of.
Q: What happens if someone has more trash than fits in a single 96-gallon bin? Can they still put garbage bags at the curb?
A: Garbage bags and other items set at the curb outside of the carts will not be collected. Only what's placed in the cart will be hauled away. Hold onto that extra bag until the following week.
Q: What if someone wants another cart but doesn't qualify for the extra cart based on the size of their household?
A: Residents can lease an additional trash and yard waste cart directly from FCC for $91 a year. An extra recycling cart will cost $45.50 a year.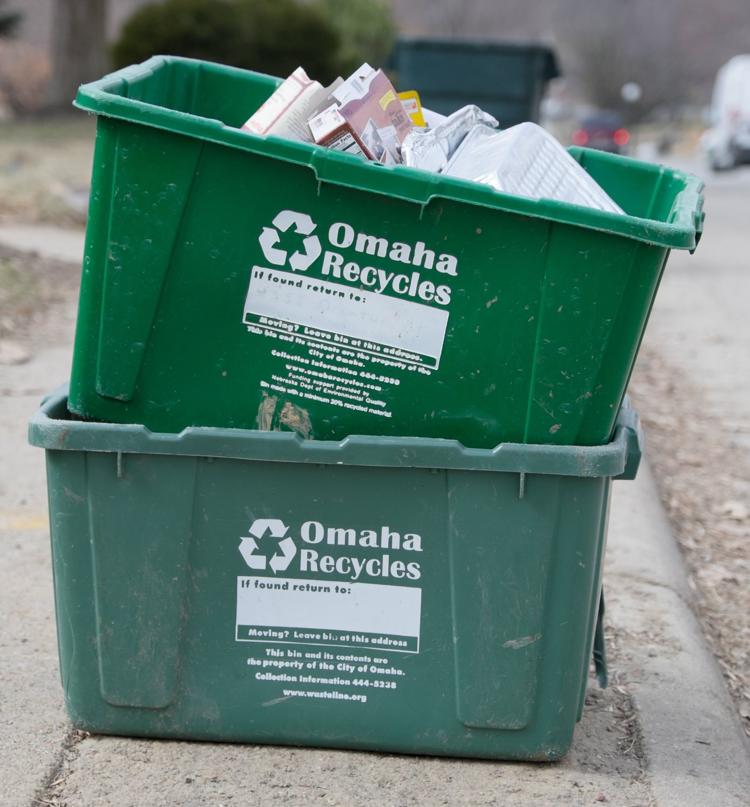 Q: How will recycling work under the new contract?
A: People will receive a 96-gallon covered cart for recycling, to be picked up every other week. Residents should no longer have to separate and bag up items to keep them from blowing away.
Q: What can be recycled in the new bins?
A: Omaha will recycle the same materials it does now: aluminum cans, steel cans, plastic bottles and packaging, milk and juice cartons, soup boxes and paper, including newspaper.
Residents who use the Hefty EnergyBag program for nonrecyclable plastic — think straws, plastic bags, toothpaste tubes and more — will place the items in their familiar orange bags and put them in the new recycling bins.
Q: Where will people put yard waste under the new contract?
A: Most of the year, it will go in the same cart as trash. Unlimited yard waste will be picked up during a set time frame each spring and fall.
Q: How will people know the weeks for the unlimited spring and fall yard waste pickup?
A: Public Works is required to notify FCC 90 days before the unlimited yard waste pickup periods begin. Each year, the city will set the weeks for the spring by Jan. 1 and for the fall by June 15.
Q: What if a resident has more yard waste than fits in a trash cart during other times of the year?
A: People will be able to purchase a $2 sticker for each extra yard waste bag placed at the curb outside the seasonal unlimited yard waste pickup periods.
Q: When will yard waste be composted at OmaGro, the city's composting facility, and when will it not?
A: Yard waste collected during seasonal unlimited yard waste pickup will be taken to OmaGro and made into compost. Yard waste collected the rest of the year will be taken to the landfill.
Q: What if I don't want my yard waste taken to the landfill?
A: People still will be able to haul their own yard waste to the OmaGro facility in Bellevue and have it made into compost, once flood-related repairs are finished. Private companies also offer composting alternatives, including for food waste. More information is available online at www.omagro.com.
Sign up for The World-Herald's afternoon updates
Receive a summary of the day's popular and trending stories from Omaha.com.