Alfred C. Haynes, the pilot who 30 years ago last month saved scores of lives when he steered his crippled jumbo jet to a crash landing in Sioux City, Iowa, has died.
Haynes died Sunday at age 87 in a Seattle-area hospital, said Gary Brown, the director of emergency services in Iowa's Woodbury County and a friend of the retired pilot.
"He was a great guy, and probably the most humble person I ever met in my life," Brown said. "Two words he never wanted used in the same sentence were his name and 'hero.' "
Nonetheless, Haynes was praised for his calm heroics on July 19, 1989, after he brought his disabled DC-10 to an emergency crash landing in Sioux City after it had lost all flight controls. While 112 people lost their lives that day, it was amazing that 184 lived.
Haynes, a former Marine aviator who had flown for United Airlines since 1956, was the pilot of United Flight 232 on that fateful day as it cruised high over northwest Iowa on its way from Denver to Chicago.
That's when a fan disk in the jet's rear engine disintegrated, causing the engine to blow apart and sending fragments ripping into the plane's tail section. The engine's catastrophic failure severed all three of the plane's hydraulic systems, disabling all flight controls.
That meant the pilots had no ability to steer the plane up or down or left or right. And no brakes to stop it once on the ground.
The odds of all three systems failing had been considered a billion to one, so there was no protocol for landing a plane in those conditions. Haynes and the crew would have to make things up as they went along.
Haynes and his fellow pilots learned that they could crudely control the plane by throttling its left and right engines. He requested an emergency landing at Sioux City's Gateway Airport and, with the help of his fellow pilots, brought the plane into a perilous right-circling descent over Sioux City.
Haynes' cool resolve would be revealed days later when investigators reviewed the black box radio logs. When the Sioux City controller told him that he was free to land on any runway, Haynes chuckled aloud. "You want to be particular and make it a runway, huh," he said.
He also calmly addressed the passengers on the plane's public address system: "We're going to make an emergency landing in Sioux City. And I'm not going to kid you. It's going to be rough."
Haynes made a point of making sure the final approach kept the plane away from the city, avoiding an even bigger disaster.
With Haynes unable to control the speed of the descent, the plane crashed hard on the runway, sparking a giant fireball, and then it broke apart. Most of the plane slid more than a mile off the end of the runway into a cornfield.
Rescuers who witnessed the scene and assumed that all had perished were stunned to suddenly see dozens of survivors emerging from the cornfield. All were evacuated to area hospitals.
As for Haynes, the cockpit had broken off from the rest of the wreckage, and it took more than a half-hour for anyone to realize that all four pilots were alive inside the crumpled shell.
He was hospitalized for days, but he soon recovered and resumed flying.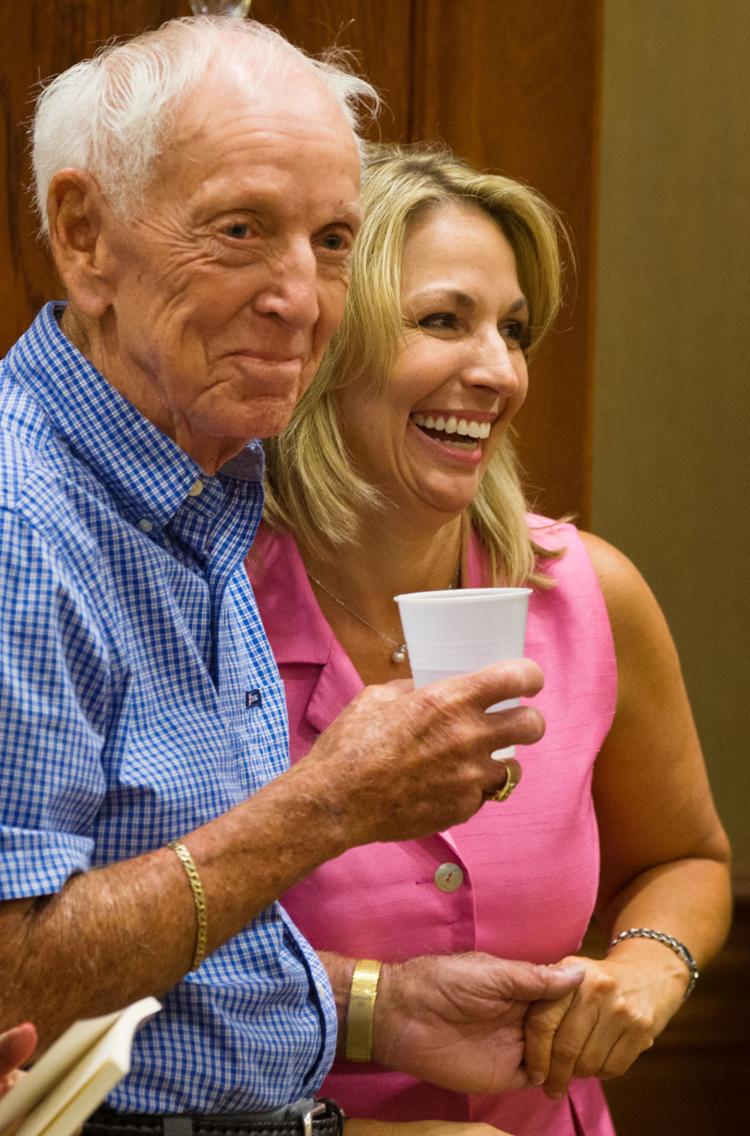 Haynes would later say he put his most basic flying skills to use as he fought to keep the plane in the air over Iowa. While he was happy that 184 people survived the crash, at a 25th anniversary gathering in Sioux City in 2014, he expressed regret for those who died.
"It's our responsibility to get the airplane from A to B safely, and we didn't do it," he said.
But it's unlikely that anyone could have saved those who lost their lives. When the Federal Aviation Administration used flight simulators to replicate the situation, not one pilot in dozens of tries could bring the plane to the ground safely.
Haynes retired two years after the crash at the mandatory retirement age of 60. He then proceeded to give 1,700 talks on Flight 232.
He always said five factors contributed to the flight's best possible outcome: luck, communications, preparation, execution and cooperation. Those traits were not only evident in the cockpit, he said, but among the rescuers on the ground in Sioux City.
"Our luck ran out about 50 feet in the air,'' he said, "but it lasted for a long time.''
Haynes was living in SeaTac, Washington, in recent years. He had befriended Brown after the ordeal and continued to stay in touch over the years. Brown said he last saw Haynes several years ago after the pilot gave a talk in Des Moines.
Brown said Haynes endured tragedies in his personal life. His wife, a former flight attendant, died a day before the 10th anniversary of the crash. Haynes also lost one of his two children, a son, in a motorcycle crash.
Brown said Haynes devoted all the honoraria he received for his speaking engagements to scholarships, including some still given in the Sioux City area. And Haynes in all his talks never failed to praise the way the people in Sioux City responded to the crash and rallied around the survivors.
"He considered Siouxland his second home," Brown said. "The world lost an incredible guy, and our community lost the greatest ambassador we ever had."
This report includes material from the Associated Press.