Omahans who want to place a legal wager on their favorite sports team may soon be able to do it just across the river.
The Iowa General Assembly is getting closer to passing a law that would allow bettors to wager on sporting events at 19 state-regulated casinos, including three in Council Bluffs.
The four Indian casinos within Iowa's borders, including the Ponca Tribe of Nebraska's Prairie Flower Casino in Carter Lake near downtown Omaha, aren't directly affected by the law but could add sports betting if they wish.
"We are monitoring legislation related to sports wagering," the Ponca Tribe said in a statement. "We simply believe that our Tribe and the Prairie Flower Casino ought to be treated the same as other Tribal casinos in Iowa."
Keith Miller, a Drake University law professor who studies the gambling industry, said he is "95 percent" sure Iowa will legalize sports betting before the 2019 session ends this spring. He said gambling boosters have done a skillful job of moving sports betting forward since a U.S. Supreme Court decision last May cleared the way for states to legalize it.
"I think they can smell victory a little bit," Miller said. "The strong likelihood is that this is going to go through."
There's been no corresponding movement in Nebraska, which has a constitutional ban on most forms of gambling and has resisted efforts to expand it beyond the horse racing, keno parlors and state lottery that are currently allowed.
Gov. Pete Ricketts used to serve on the board of an anti-gambling advocacy group, "Gambling With the Good Life," and has worked against efforts to expand gambling. He said the revenue it generates isn't worth the damage it causes when people become addicted to or obsessed with gambling.
"If you look at the things that go along with gambling, for every dollar you collect in tax revenue, you spend three in social services," Ricketts said last year.
But Mike Newlin, general manager of Horsemen's Park in Ralston, said sports betting across the border in Iowa would deal yet another blow to Nebraska's shrinking horse racing industry. Nebraska breeders and tracks have been struggling to compete with a growing number of gambling options in neighboring states, especially Iowa.
"It will be devastating," Newlin said. "Iowa is progressive. They have capitalized on the fact that Nebraska doesn't have gambling. And they've reaped the rewards."
The Supreme Court opened the door to sports betting when it ruled in favor of New Jersey's challenge to a 25-year-old federal law that barred nearly all such gambling except in Nevada, which has had legal sports betting for decades.
So far New Jersey, Delaware, Mississippi, West Virginia, Pennsylvania, Rhode Island and New Mexico have joined Nevada in legalizing some form of sports betting. All but 10 states are at least considering it.
Nebraska is one of the holdouts. The only bill connected to sports betting put forth this session is Legislative Bill 137, sponsored by Sen. Carol Blood of Bellevue, which would regulate fantasy sports operators like Fan Duel and Draft Kings. Several states have acted to bar them from operating within their borders.
"There's no reason for Nebraska to jump into this right now," said Pat Loontjer of Omaha, who heads Gambling With the Good Life.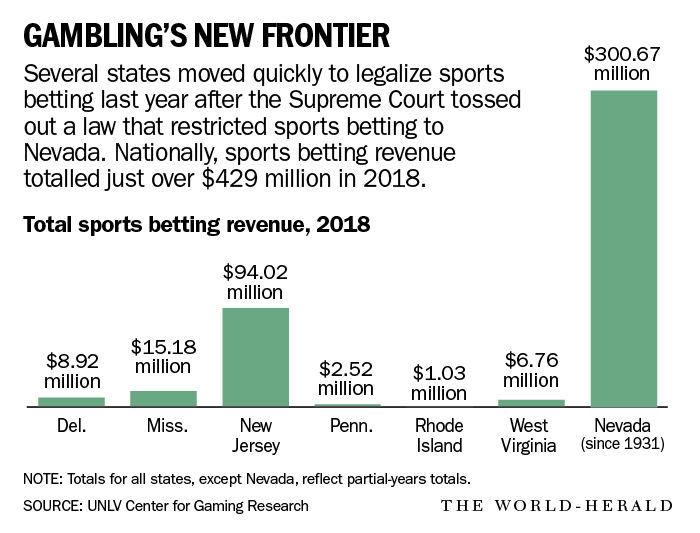 Iowa legislators have winnowed eight bills introduced earlier this year down to just two, one each in the House and the Senate. Those bills are "90 percent" the same, said Wes Ehrecke, president of the Iowa Gaming Association, an advocacy group for gambling interests. The key provisions include:
Sports betting would be allowed only at casinos and would be regulated by the Iowa Racing and Gaming Commission.
Betting would be legal on pro and college sports, including Olympic events, but not on high school or other youth sports.
Casinos would pay a tax to the state of 6.75 percent of the "hold" percentage, which is the house's share after bets have been settled.
Bettors could use a mobile app to set up a betting account on their mobile phones after visiting a casino in person to establish an account. The app would work only within Iowa's borders, so Nebraskans or other out-of-state residents would have to travel to Iowa to use it.
No one under 21 would be allowed to place bets.
Both bills have cleared their initial hearings in each house's State Government Committee and are now being considered by the Ways and Means Committees, which review tax-related matters.
Miller said sports betting is projected to generate about $100 million in Iowa.
The primary opposition has come from major professional sports leagues, which believe they should get a share of revenue.
Still, said Miller, "I think there's a very good chance of something getting done."
Iowa first legalized pari-mutuel betting in 1983, and the first casinos opened on Mississippi riverboats in 1991. Now there are 19 casinos across the state, as well as horse and greyhound racing, and a state lottery. Casino revenue amounted to about $1.44 billion in 2017.
Nebraskans contribute a large chunk of that cash. A 2013 study estimated that Nebraskans spend about $327 million at Iowa gambling establishments.
That's what bothers Newlin.
"We're surrounded. Every state that touches Nebraska has casino gambling," he said. "There's only so many gambling dollars out there."
Though there's been little organized opposition to the legalization of sports betting in Iowa, a poll conducted in February for the Des Moines Register shows that the idea may not be popular among the state's residents.
The survey of 803 adults found that 52 percent opposed expanding legal gambling to include betting on professional sports, with 40 percent in favor. Betting on college sports was opposed by a 68-25 margin. The poll's margin of error was plus or minus 3.5 percent.
Ehrecke said he thought the pollsters biased the result by framing sports betting as an "expansion" of gambling in the state. His organization sees the proposed law as simply capturing money that is already being bet illegally.
"It doesn't mean there hasn't been any sports betting going on," Ehrecke said. "We're just trying to move it from the shadows, where there's been no oversight."