Tornadoes appear to be on the decline in Nebraska and other Plains states, but increasing farther east, recent studies have shown.
While that could lessen the risk in states like Nebraska, Kansas, Oklahoma and Texas, it substantially raises the stakes overall because more tornadoes would be occurring in more densely populated states where the terrain makes tornadoes harder to see, and deadly nighttime tornadoes are more likely to occur.
States like Illinois, Indiana, Kentucky and Tennessee are at increasing risk, along with Missouri, Arkansas, Alabama, Mississippi and Louisiana.
Severe thunderstorms, with their tornadoes, hail and damaging winds, cause an average of $5.4 billion in damage in the U.S. annually, and a report published earlier this month suggests a threefold increase in the potential for disastrous tornadoes with this shift.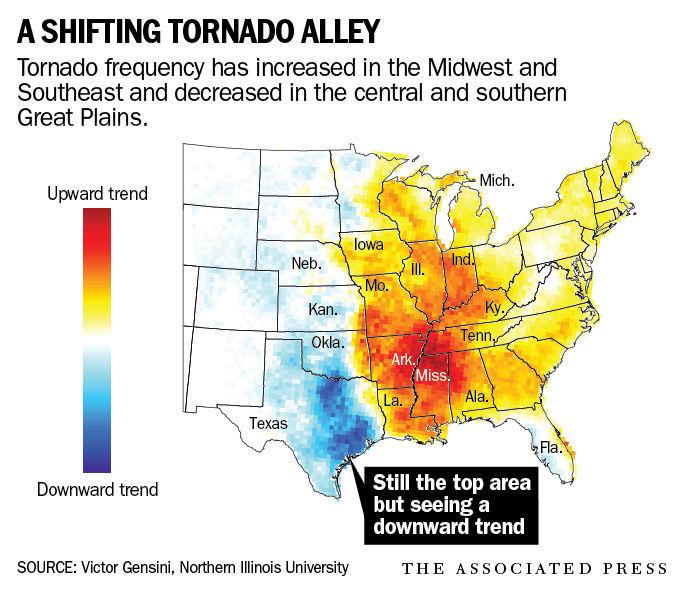 The recent studies have been prompted by efforts to understand the impact of climate change on tornadoes. Unlike some forms of dangerous weather — worsening droughts, floods and heat waves — the effects of global warming on tornadoes aren't obvious. That's because climate change is expected to increase some of the factors that cause tornadoes while lessening others.
The research has found greater swings in the number of tornadoes from year to year, a greater number occurring during individual outbreaks and a shift in timing and location. Researchers aren't certain whether these changes a the result of global warming or reflect of the vagaries of weather.
The most recent study examined the atmospheric conditions that spawn tornadoes. It was done by Victor Gensini, a professor of atmospheric sciences at Northern Illinois University, and Harold Brooks, a tornado scientist at the National Severe Storms Laboratory. It's results were published Oct. 17 in the journal Climate and Atmospheric Science.
According to the findings by Gensini and Brooks, the southern Great Plains — Texas and southern Oklahoma — have seen the greatest decline in conditions that generate tornadoes.
Nebraska is a bit of a mixed bag. Generally, the state has seen a slight decline in tornadic conditions, with the most noticeable decline in the Panhandle. Perhaps not a coincidence, the Panhandle is also the only part of Nebraska to see a decline in precipitation from 1991 to 2012, according to the National Climate Assessment, the authoritative federal report on climate change in the U.S.
The research found a slight increase in tornadic conditions in south-central and northeast Nebraska, with the effect more noticeable in northeast Nebraska.
The researchers also noted a decline in tornadic weather in Nebraska in the months of June, July and August. The state's peak period for tornadoes is May and June.
And while Nebraskans might take comfort from a general decrease in tornadic conditions, meteorologists in the state say "not so fast."
"Even with this study and recent trends, Nebraska is still an active tornado (and severe weather) state," said Mike Moritz, meteorologist with the National Weather Service in Hastings. "We need to continue to prepare for severe weather of all types."
Moritz said Nebraska's tornado counts are down, and the decline reasonably coincides with this latest study — including the decline in the Panhandle.
For the 10 years that ended in 2007, the state averaged 62 tornadoes a year, Moritz said. For the 10 years ending in 2017, the state averaged 45 tornadoes a year. The state has also seen high variability year to year, he said.
Brian Smith, a meteorologist with the weather service office that oversees Omaha, echoed Moritz's assessment that tornadoes remain a danger. It takes only one tornado in the wrong spot to turn a year tragic.
Nebraska is home to the second-widest tornado on record — the 2.5-mile wide monster that flattened Hallam and killed one person in 2004. And in 2014, a single storm spawned four powerful EF4 tornadoes in northeast Nebraska, including the notorious twin tornadoes that struck the Pilger area and claimed two lives. That entire year, only three other tornadoes of that strength occurred anywhere in the U.S.
"You can't let your guard down just because you're getting less events," Smith said. "You could get a strong event that could hit your town — it could be a Hallam or a Pilger."
The shift in tornadoes from the Great Plains to the east hints at climate change.
Some research has indicated that portions of the Great Plains are getting drier, which means there's less moisture to create the type of storms that spawn tornadoes, Gensini said.
Tornadoes form along the "dry line" where there are more thunderstorms because there's dry air to the west and moist air from the Gulf of Mexico to the east.
That dry line is moving east, some researchers say.
Gensini said additional detailed studies would be needed to determine if the changes are caused by global warming.
This report includes material from the Associated Press.
Photos: 10-year remembrance of tornado at Little Sioux Boy Scout Camp
Four Boy Scouts were killed and dozens injured when a tornado went through the Little Sioux Boy Scout Ranch on June 11, 2008.