GLENWOOD, Iowa — Republican U.S. Rep. David Young considers his race to continue representing southwest Iowa local. That's why the second-term congressman is running a traditional, press-the-flesh campaign that sometimes seems divorced from the chaos of national politics.
Young's Democratic opponent, Cindy Axne, is running a local race, too. That's why the Des Moines-area technology consultant focuses on issues Iowans care about that she says she can address, including trade and health care.
But national money and interest won't let the 3rd Congressional District race stay local, not when the winner could help decide which political party controls the House. Political observers consider the race a toss-up to a slight lean left, with 549,080 registered voters split pretty evenly among Republicans, Democrats and others.
The district's higher-than-usual number of suburban voters clustered around Des Moines and Council Bluffs, and in particular its concentration of suburban Republican women, helps moderate the race and could tilt it in Axne's favor, said Arthur Sanders, a political science professor at Drake University.
Such voters have been the most likely to peel away from President Donald Trump's new Republican coalition. Their presence could leave Young in a bind, Sanders said, unable to embrace Trump without losing suburban moderates and unable to distance himself from Trump without losing his base. "The national forces are running against Republicans," Sanders said.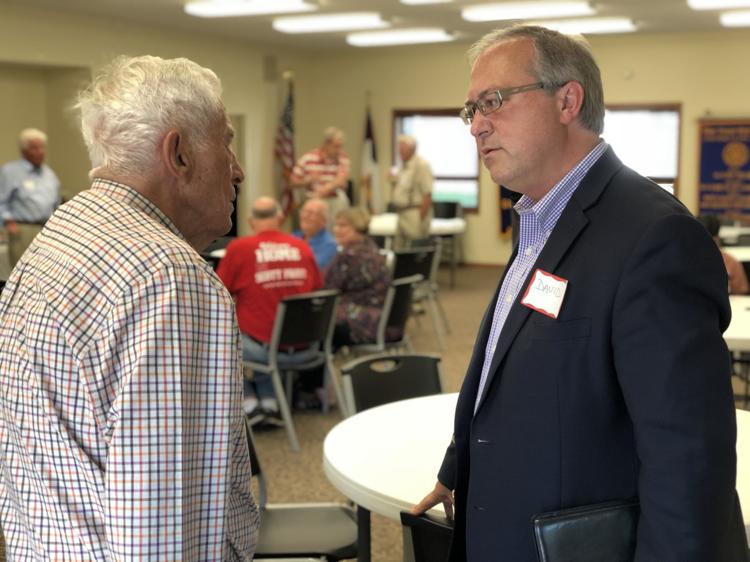 Young's goal for the race, he said before speaking to the Glenwood Rotary Club, is to remind taxpayers of the service they have received from his office over the past four years — the answers to calls, letters and questions seeking help — and of his work making meaningful changes to the law.
He wants Iowans to view the tax cuts Congress passed last year through a local lens, he says, in higher take-home pay in Atlantic and Shenandoah and in additional private investment in the farms and businesses around towns like Sidney and Van Meter, where he is from.
"My goal is to make sure that government is not the problem and gets out of the way, allows people to be free, responsible and have the opportunity to flourish," said Young, addressing a Rotary crowd of more than 20 people who asked him about Congress, trade, the national debt and Trump.
Axne has said that she appreciates the tax cuts' help for small businesses but that it adds far too much to the debt by giving millionaires and billionaires permanent tax cuts and offers too little help to middle-class taxpayers who could benefit from the permanence Young now says he seeks.
To Axne, this race is about follow-through and meaning what she says, she said after a campaign event in Glenwood. Young, she said, talks like a moderate while he's in Iowa, then votes the party line when he gets to Washington, D.C.
She cited research by FiveThirtyEight.com that shows that Young votes more often with the president, 99 percent of the time, than Rep. Steve King, R-Iowa, 92 percent. She touts her experience as an administrator in the Iowa Department of Natural Resources and the Iowa Department of Management under Democratic and Republican governors as evidence that she will work across the aisle.
"I'm here to represent all Iowans, not just Democrats and the people who vote for me," she said. "I got into this race because I was personally dissatisfied with the decisions being made in Washington."
Young, a former chief of staff for Sen. Chuck Grassley, touts several parts of his record. At public appearances, he often starts with the tax cut bill. He points out legislative efforts to boost rural cell connectivity and to protect water quality without unfairly harming farmers.
He also talks about his work to hold the Department of Veterans Affairs accountable for delays in answering calls to a suicide hotline, efforts to accelerate the federal response to the opioid crisis and work to ensure that the feds consider the food supply a terror target worth protecting.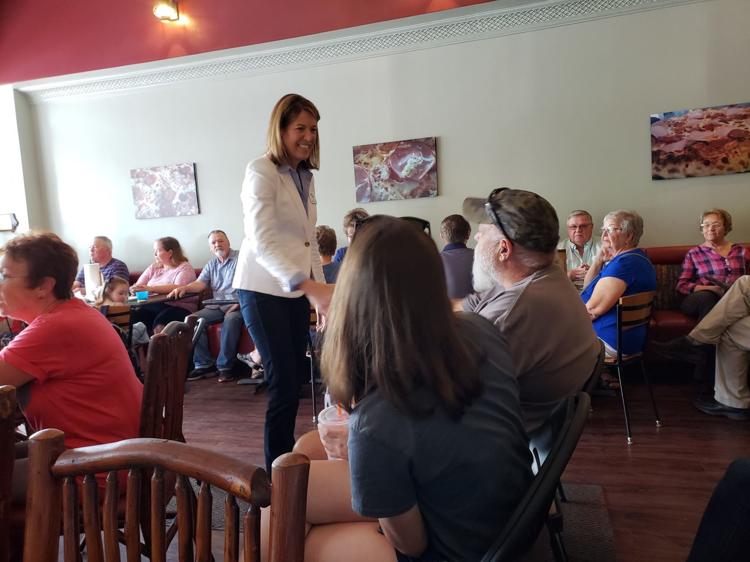 Axne highlights a different part of Young's record, health care. She says Young pledged to protect Iowans with pre-existing conditions and to protect access to affordable health care, then voted in the tax bill to strip the individual mandate from "Obamacare," boosting premiums and costs.
Axne says Iowans need to elect leaders who will respond if the courts strip away more of Obamacare's protections, people who will focus Democrats and Republicans on health care policies that address the costs of care to real people, including negotiating drug prices.
She stopped short of supporting "Medicare for all," expressing concerns about cost. Instead, she said there may be a place for a public option in health insurance as a way to encourage private insurers to offer more coverage at lower prices.
Young's approach to health care includes giving states more freedom to design what works for them. He wants to continue to protect those with pre-existing conditions from being discriminated against but says there is room to negotiate the conditions on those protections.
The next approach to health reform, he said, has to be more collaborative: Congress and the president will need providers, patients, Republicans and Democrats to share ideas. And the focus has to be on increasing competition to drive down costs.
He offered no explanation for why his party, which controls both Congress and the White House, hasn't passed such policies yet.
But Young defended his votes on health care, saying he kept his word to Iowans. He says he held out on pledging his vote on health care legislation long enough that he got an amendment included in GOP efforts that offered greater protections for those with pre-existing conditions.
Speaker Paul Ryan's political action committee to preserve a Republican majority in the House briefly withdrew its support of Young during his holdout.
Young points to this moment and to public disagreements with Trump on trade as evidence of his political independence. Axne and Young's Democratic critics in Iowa see them as evidence that Young has been an ineffective advocate.
On trade, Young says he has stressed to the White House the importance of getting a new deal done with Mexico and Canada on the North American Free Trade Agreement. Those are some of Iowa agriculture's most important customers, and their support could help with China.
Axne says Young is in position to exert budgetary leverage over Trump and hasn't.
Young acknowledges that Congress, specifically the Senate, may have given up too much of its power on trade. He said he didn't know whether Congress should reassert itself on the issue because Congress is unprepared in staffing and understanding to negotiate trade deals.
Axne says Congress should step up and restrict when the president can use tariffs for national security reasons. She said Trump's administrators have so loosely interpreted national security concerns to impose new tariffs that Americans run the risk of other countries doing the same.