The graduate could not see the packed house around him and the electronic messages flashing on the arena screens above, all saying "Congratulations."
He could not see the white-haired college president handing him his diploma.
Nor could he see the photographer preserving this moment, a first for the 32-year-old graduate who heretofore had never graduated from anything.
Mortel could hear it all: Shrieks of joy from his fellow 1,700 Metro graduates, many of them, like Mortel, notching this win of a second chance. Cheers from the stands, where families of all backgrounds, bearing flowers and balloons, thundered their approval. Words of wisdom and inspiration.
Omaha City Councilman Ben Gray, the event's honoree, said the graduates can now make a difference in their communities. Student speaker Kinley Holm, a Gross High graduate, expressed gratitude for this big, diverse "Metro family," brothers and sisters with names like Holly Hansen, November Htoo and Jose Hinojosa.
Hinojosa got his welding technology degree, a step toward a certified welding inspection license that will increase his earning power. Right now, he works overnights at Valmont at $23 an hour, fabricating street light poles.
He is currently on parole from a 15-year prison sentence on felony drug, robbery and weapons convictions that began when he was 17. He got his high school diploma while in prison and then, when out, went to Metro, fully intent on changing his life.
"I knew that I didn't want to be back in the same situation I was in," Hinojosa, 34, said Friday after getting his diploma. Nine family members traveled from California to see him make good on that intention, and Hinojosa smiled ear to ear.
"Very proud," he said. "I wanted to share that moment with my family. I had put them through hell."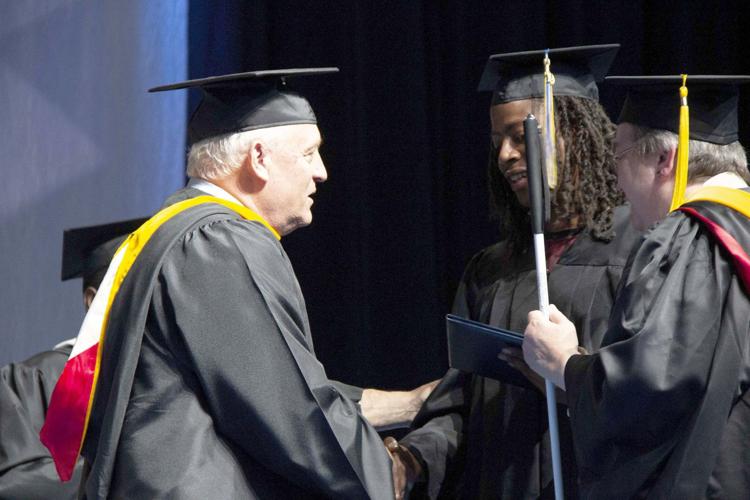 Mortel couldn't see the way the other graduates beamed as they strode down the aisles confidently, diplomas in hand. But the air around him was electric with the defiance of beating odds, sparks of hope evident in the stories of second chances.
One of those stories was scrawled on the mortarboard of 27-year-old Shawna Wright, who had written: "You decide the future of yourself." Wright was diagnosed with leukemia two years ago. Now in remission, she plans to build on her general studies degree to become an engineer.
Mortel saw none of that Friday night. But he could feel in the warm hand of assistant Pam Baltzer, who led Mortel up to the dais to get his own diploma, the love and support that helped carry him this far.
Mortel was carried — literally — by four friends as he bled from a head wound on that fateful July night in 2011. The five of them had been riding in a car when a man in a passing car pulled out a long gun and fired.
"Duck!" one of them had screamed. Mortel, who stands 6-foot-3, could not get down in time. But his friends raced to the hospital, hoisted Mortel out of the car, carried him into the emergency room and saved his life.
Mortel was carried — figuratively — by a host of people afterward: His mother, suffering from terminal cancer, urged Mortel to get trained by the Nebraska Commission for the Blind and Visually Impaired in Lincoln. There, Mortel, who had been kicked out of Central High and dropped out of Northwest, learned to read Braille, use a cane and cross busy streets. He got his high school diploma.
His ex-fiancée, Safiya Haynie, urged him to keep at it — learning, growing and not giving up. His son, Mortel Crawford Jr., age 9, — called "Junior" — believes in his father so much that it propels Mortel onward. And Gladys Harrison, owner of Big Mama's Kitchen and Catering, gave him a job.
"He's just an inspiration. He's amazing," Harrison said. "He didn't let what happened to him stop his life. He kept going. In spite of ..."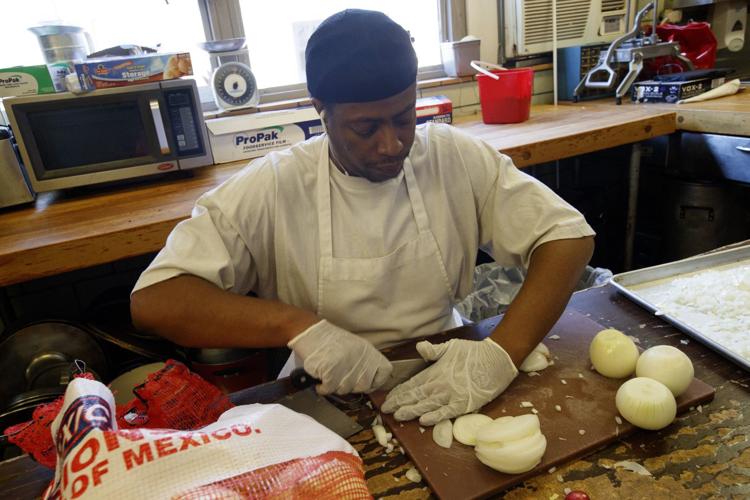 Even with all the help, Mortel ultimately is responsible for that new associate degree in culinary arts and management. No one could complete that for him.
Mortel had do it himself, and it required hard work, perseverance, patience and time. It took faith that this degree would not be an ending point for him. But, as the word commencement means, a beginning.
"My next step is to get my bachelor's in business management," said Mortel, who has created a five-course dinner menu to be served at a special pop-up May 25 at Big Mama's, 3223 N 45th St., Building A. Tickets are available on Big Mama's Facebook page. Live jazz music will be included.
How will a blind man handle this big event?
"Mortel is going to do what any other chef that has their own restaurant does," Harrison said. "He will have a plan for how each item will be prepared. He will direct everybody as to what they're prepping and how it's to be prepped. He'll oversee the prepping and cooking and will taste it to make sure. He'll be in charge of the kitchen so that orders get executed and plated correctly."
He's not doing this alone, of course. Restaurant chefs don't. Harrison said that food vendor Michael Boisseree, division chef of Reinhart Food Service, which supplies Big Mama's, helped Mortel plan the menu. Restaurant staff will prep and serve meals. All are eager to see Mortel nail the big night.
"He's a great guy," Boisseree said. "The dude's always happy, always optimistic. Just one of those people that exudes positive energy."
The graduate does not always feel this way. "Thirty-two going on 50," he said the day of his graduation. Not being able to see makes it seem like he works twice as hard.
But he doesn't have to see success.
He can hear it and feel it and, in his own cooking, taste it.
A roundup of inspirational stories from Midlanders with heart
There's the woman with MS who runs despite her diagnosis. The 7-year-old born without his left hand who plays baseball just like the other kids his age. The refugee who turned to Zumba to help her recover from cancer treatments. Check out their inspiring stories and others below.