I climb in my car, buckle my seat belt, take several deep, cleansing breaths and set out to do something that terrifies me and might inspire rage in you.
I'm on my way to make left turns on Dodge Street.
As everyone who has lived in Omaha for more than four days knows, you do not, will not, absolutely cannot turn left on Dodge.
Most people think it's illegal. That's actually false: You can lawfully turn left into most businesses and homes along our main thoroughfare, though turning left onto another street is banned.
But the truth is it doesn't much matter. What happens when you turn left on Dodge is far scarier than a traffic ticket. What happens to you when you turn left on Dodge is what happened to me at 4:15 p.m. on a recent weekday.
I brake, take another deep breath, click on my turn signal and bottle up a line of westbound traffic as I wait for a chance to turn left into the Taco Bell near 38th Street.
The driver behind me, a middle-aged man in a gray sedan, lets this go for one second, two seconds, three. Four seconds is too much.
"I have done that more than a few times myself," Lou Lamberty tells me when I reach the retired engineer and longtime city and state roads official by phone. "Some fool tries to turn in front of me, he may get the horn."
But you know the law, I say to Lamberty. You know it's legal to turn left into a business on Dodge.
"Legal?" he yells into the phone. "It's a stupid turn!"
That would seem to be the consensus view in Omaha, one of the few things on which we can all agree. The left-hand turners are dopes, jerks or, worse yet, Iowans.
But while we are united in our left-turn-on-Dodge fury, few of us know how this oddity of a streetscape developed. In fact, none of the three current and former Omaha public works directors I talked to for this column had any idea how a five-lane, no-left-turn Dodge Street came to exist.
That's because it happened a long darn time ago.
World-Herald stories as far back as 1951 talk of bans on some left-hand turns on Dodge, citing congestion and danger. And, in 1958, this newspaper ran a helpful diagram showing Omahans how the new five-lane street would work, with the center lane moving east during morning rush hour and then west in the afternoon.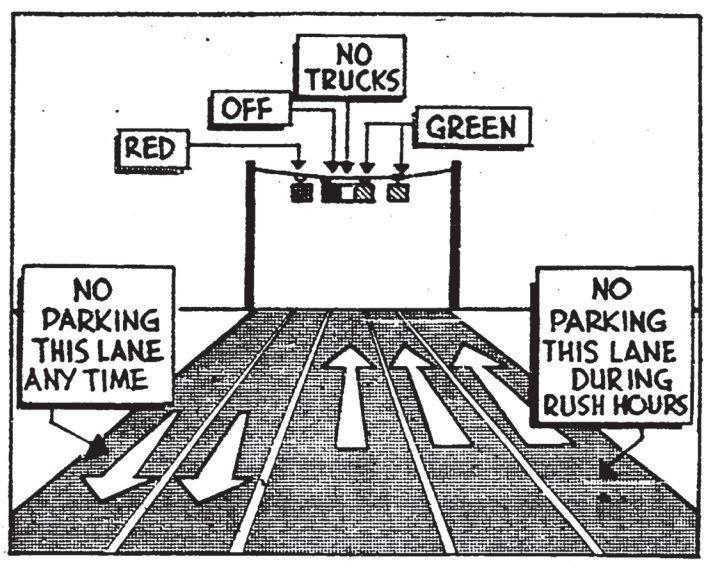 For the last 60 years, we have driven a virtually unchanged five-lane Dodge Street. We have probably been honking our horns at left-hand turners the whole time.
The seemingly odd system has stayed in place for two reasons, say former Public Works Directors Lamberty and Jim Suttle and current city engineer Todd Pfitzer.
The first is that there is little room, money or political will to widen Dodge to six lanes. Can you imagine the mass freakout if the city spent millions and tore up a bunch of midtown Omahans' front yards?
Pfitzer said the last environmental study he knows of that looked at a Dodge Street widening set the cost at $100 million in property acquisition alone. "You would be taking out hundreds of homes and businesses right through the heart of Dundee," he said.
In fact, Suttle — who served as public works director for Mayor Mike Boyle before himself becoming mayor — drew up a less ambitious plan in the mid-1980s that would have slightly widened Dodge while also widening sidewalks and moving them farther back from the busy road. As you might guess, it didn't go over well, and Boyle nixed it. Suttle said he didn't try to reboot that plan when he was mayor because it was so low on his priority list.
The second reason Dodge is still Dodge is that it works well enough: congestion but not too much congestion; accidents but not an alarming number of them; left-hand lawbreakers but no left-hand-turn epidemic — which, interestingly enough, may be because we police ourselves by constantly bleating our horns at one another.
To wit: Lt. John Sokolik, who heads the Police Department's 40-officer traffic unit, can't remember the last time he issued a ticket for turning left on Dodge, or investigated a serious accident caused by left turns. He has, however, blasted his police cruiser's horn on several occasions when he caught someone illegally hanging a left.
"Oftentimes the citizens of Omaha aren't the best ambassadors when we are honking at someone with out-of-state plates," Sokolik said. "But it does work."
Dodge Street could absolutely, positively be better. Sarah Johnson, vice chair of ModeShift Omaha, the nonprofit that advocates for effective mass transit and a walkable, bikeable city, points out that many crosswalks and stop lines aren't even properly painted along the main road.
Ideally, she said, effective mass transit would reduce congestion and maybe render the fifth lane unnecessary. (In fact, the bus rapid-transit system — a fleet of new buses meant to quickly zoom from Westroads to downtown with few stops or stoplights — is set to begin this year.)
Ideally, the sidewalk past the University of Nebraska at Omaha could be expanded to become the city's first effective east-west trail for bikers, joggers and walkers.
That's the giant dream, Johnson says. The small dream starts with paint.
"I think we could make it a lot more user friendly, not just for cars but for all humans trying to get around our fair city."
Back on Dodge, I'm just trying to turn left into McDonald's. Not because I need to buy some rush-hour McNuggets (though I definitely would eat some). This is research, Omaha!
But tell that to the guy in the black SUV behind me. He does not honk, but after I turn he cranes his head to stare at me, a stare that tells me he would enjoy pushing my car over a cliff.
I follow that by making a left-hand turn into the BP gas station just past 50th and Dodge. A gray van, actually an Omaha taxi, is tailgating me so closely that I worry that he will rear-end me. He does not rear-end me. And, somewhat miraculously, he waits for me for at least 10 seconds before I pull into the gas station. He never honks.
Emboldened now, I turn around at 72nd Street and head back east, preparing myself to turn left and cross three lanes of westbound traffic. Well, not really emboldened: I chicken out again and again, as it's nearly 5 p.m. now and a veritable car armada is sailing its way west. Plus, there's another car tailgating me, a black Audi driven by another middle-aged gentleman who seems to be in a serious rush-hour rush.
Finally, I brake, click on my left turn signal and wait to turn left into a strip mall near 46th Street. I can't even begin to count the seconds this time because ...
"HONNNNNNNNNNNNNNNNNNNNNNNNK!"
Finally, the traffic clears, the black Audi zooms around me and I pull into a strip mall where I have no need to go.
The honk is ringing in my ears, but I no longer need to take deep, cleansing breaths. I have been cleansed by the horn. I have been cleansed, Dodge Street style.