STANTON, Iowa — She made an extra hotdish just in case.
Vicky Rossander is taking no chances this caucus season. The backup casserole sitting in the oven of her home in the rolling western Iowa hills is just one example.
The Amy Klobuchar campaign promised to bring one for the "Hotdish House Party" event the Rossanders were hosting on this recent frigid Tuesday night.
But with the senior senator from Minnesota tied up in Washington on the opening day of the impeachment trial of President Donald Trump, and with Klobuchar's 24-year-old daughter coming in her stead, Vicky figured it didn't hurt to have a backup.
Can't be too prepared when you're hosting. Can't be too prepared in this high-stakes election year.
Like a lot of her fellow Iowans, Vicky takes both hospitality and politics very seriously. Faced with the prospect of another four years of a Trump presidency, this ardent Democrat is "truly concerned for our democracy," and wants to do her part. Iowa's first-in-the-nation caucuses are Feb. 3, and the political punditry once again is engaging in whether and how much the Hawkeye state should matter.
Iowa's too white, some say, too small, too insignificant in an increasingly racially diverse nation. Plus, should it really be a weed-out state for the Democrats? Trump won the state in 2016 and his support appears solid here. A poll taken earlier this month has Trump edging out every top Democratic contender.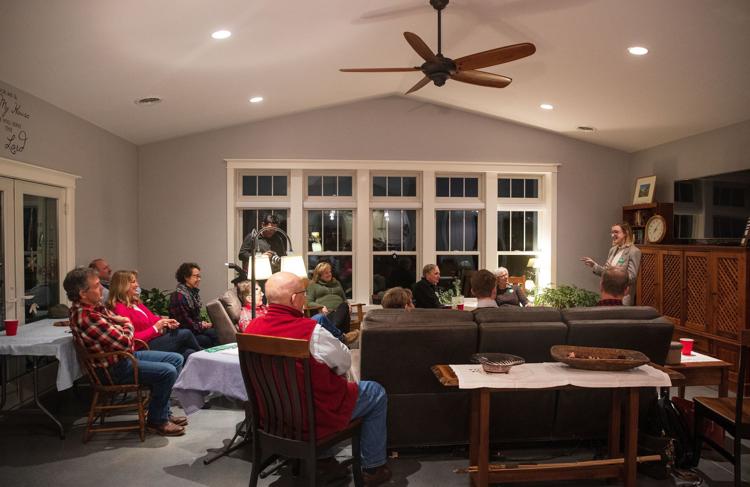 Democratic candidates themselves have spent less time here than usual. Klobuchar, however, from neighboring Minnesota, has spent more time in the past year in Iowa than any of the other Democratic contenders. That, plus the 59-year-old's familiarity with agricultural issues and centrism, drew in the Rossanders.
They believe the other leading Democrats are too liberal (Bernie Sanders, Elizabeth Warren), too old (Joe Biden, 77) or conversely too young and untested (Pete Buttigieg, 38), and, bottom-line, too un-electable against Trump, even as the impeachment trial proceeds.
The Rossanders aren't the only ones who think so. Spread on Vicky's dining room table are two recent Klobuchar endorsements: the New York Times, which in an unusual move also endorsed Warren, and the Quad-City Times from eastern Iowa.
They know which "Times" counts in Iowa. It's the 53,000-circulation newspaper based in Davenport that represents that city, plus Bettendorf, Iowa, and the Illinois cities of Moline/East Moline and Rock Island. In 2016, the Quad-City Times endorsed Sanders.
This time around, the Quad-City paper called the three-term senator from Minneapolis a good strategist, a "progressive realist" and someone whose solid plans, track record and centrism would appeal to Americans in rural and rust-belt America who voted for Trump in 2016.
That was a common opinion in the Rossander living room, where about a dozen people, most with gray hair, had come to meet Klobuchar's daughter, Abigail Bessler.
They were farmers, lawyers, a real estate appraiser and real estate agents. They were cradle Iowans and transplants. They are used to being in the minority politically in conservative western Iowa.
They were also proud of Iowa's first-in-the-nation status and take that role seriously, studying candidates and going to meet-and-greets.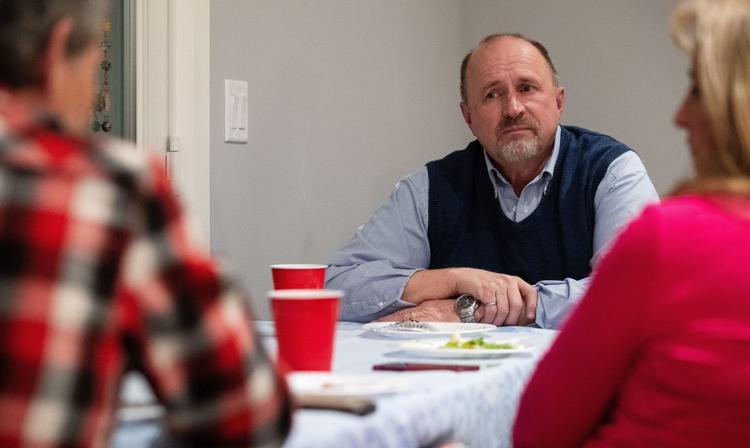 That's what Jan Norris of Red Oak does.
On two separate occasions this past year in other states — once in Arizona, another time in New Mexico — when strangers heard she was from Iowa, the first topic that came up was the Iowa caucuses.
" 'Oh, you're from Iowa, you probably met all of the candidates,' " Norris said, paraphrasing what she hears.
It made her stop and count the number of Democratic contenders she had either met or shared a room with in their march across Iowa this election season.
"Twenty," she said. "I've been in the same room with 20 candidates."
She said seeing the candidates on TV just can't compare with meeting and hearing from them in person.
"You come out and kick the tires, shake (a) hand and get a feel for them. Are they sincere, you know? Are they, you know, a cardboard candidate? Are they a politician? Are they a person?"
Karin Hofmann said she doesn't mind the attention, good and bad, that Iowa gets. She pulled out her phone and showed picture she took of some T-shirts that said, "Iowa 2020: We know they're pandering to us & we love it," and "Iowa: For some reason you have to come here to be president."
Not every Iowan, of course, is plugged into the caucuses this year. For one, it's a Democratic race. There are three Republicans on the ballot, but Trump faces no real competition for the nomination from his party.
Sign up for World-Herald news alerts
Be the first to know when news happens. Get the latest breaking headlines sent straight to your inbox.
On Jan. 14, as top Democratic candidates were debating onstage in Iowa before national TV cameras, no one watched at the Buck Snort, a bar and grill in Council Bluffs. Few even wanted to talk about it.
"We're Trump voters," said a middle-aged couple and their adult son as they headed out the door.
"I've gotten to the point where I don't care," said another middle-aged woman, a U.S. Postal Service worker.
Three men in their 30s were eager to talk. Rick Jones, 38, a chef at the Iowa hamburger and ice cream joint Christy Creme and registered libertarian, said he was willing to support any winning Democrat because he's not happy about the nation's ballooning national debt under Trump.
"Donald Trump? I want him gone," Jones said.
His two friends were split. One, a 35-year-old who works at First National Bank of Omaha, said he sat out the 2016 election because Trump and Democrat Hillary Clinton were "both terrible." The other, a 38-year-old college-educated pool cleaner, said he's "super-far-liberal, like as liberal as you can get," but would back a moderate Democrat if that person could beat Trump.
"I want someone who's electable," he said, expressing skepticism about the top Democrats. "Every single one of them has something about them that's going to alienate voters."
Those at the Rossanders' hotdish party on Tuesday were plugged-in voters who seemed worried about Democrats' prospects in the 2020 race.
For Jan and husband James, who are in their mid-50s, the driving issue is climate. Each wore a green circle climate pin but, like the pool cleaner, the couple are putting pragmatism above passion and see Klobuchar as the answer.
The hotdish event was an effort to drive home Klobuchar's Midwestern bona fides. A former prosecutor, she nevertheless is a casserole-maker, according to her daughter, Abigail.
Like pop versus soda, drinking fountain versus bubbler, tennis shoes versus sneakers, we Americans have regional tells in our language that can out us as being from a certain place. 
What's in Klobuchar's hotdish? "Hotdish," by the way, is Minnesotan for casserole. Bessler rattled off ingredients: cans of cream of mushroom and cream of chicken soup, ground beef, tater tots and plenty of pepper jack cheese. Put it all together in a 350-degree oven and, dinner.
It's the kind of comfort food served in church basements. It offers instant hot guilty goodness that later becomes a regrettable brick in the stomach. Maybe it's a symbol for where these Iowa Democrats are. No time for arugula, Obama's green of choice. It's survival mode.
Our politically polarized time lends too easily to caricature, but the Rossanders don't fall into any lefty stereotype.
They are religious, belonging to two churches. A quote on their lofted living room wall reads, "As for me and my house, we will serve the Lord." They are a military family. Harry, who was born in Japan to a career Air Force father, himself put in nearly 25 years with the Army. He served overseas during Operation Desert Storm and retired as a lieutenant colonel. And Harry is a former Republican who switched parties about 15 years ago.
The Rossanders, both 61, recently moved to Stanton, a town of under 700 at last count. They spent the prior two decades in the Des Moines area. They moved for family, and consider neighborliness to remain an Iowa constant.
Vicky had put in a long day Tuesday, substitute teaching at Stanton's K-12 school. She was glad to throw together her own hotdish and welcome strangers and friends as another round of winter weather loomed. Telling the group, "I've got my teacher voice on," she steered people through a two-hour event that began with a blessing.
Iowans tout their state's advantages as arbiters in the national contest. People here are plugged in, care about the process and take into consideration a bigger electorate. Plus, they understand the rural realities that drove people to Trump in the first place. And they see value in geography (it's a 4.5-hour drive west to east) and Iowa's central location.
"We're supposed to be the heartland," Harry said. "That's why it works to come here."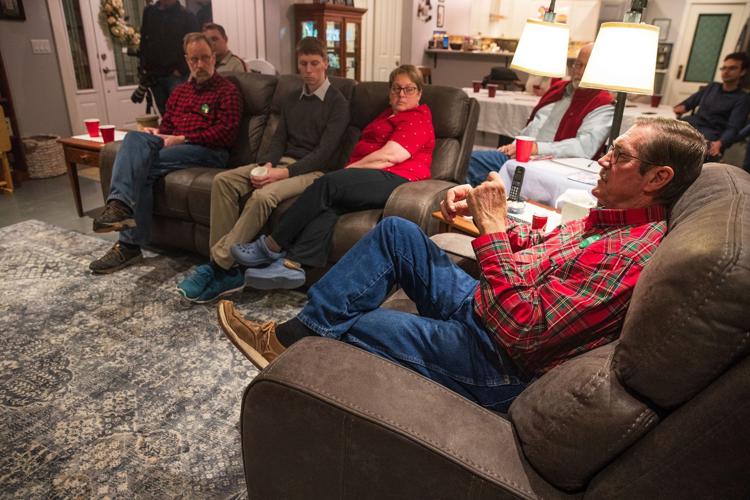 Farmers at the hotdish event peppered Bessler with ag questions. Klobuchar is on the Senate Agriculture Committee, but her daughter, who works for a New York City councilman, offered generalities, not the details of tariffs or EPA overreach.
Instead, dressed in a tweed blazer, frayed gray jeans and stylish, too-big glasses, she was there to talk about the candidate as Mom. Bessler described her mother as a submarine, not helicopter, parent, lurking instead of hovering.
Bessler offered up her mother's qualities the Iowa room liked hearing: Grit. Humor. Neighborliness. Klobuchar can work across the aisle.
As the event wound down, Vicky pulled out her pistachio-flavored Watergate cake. Her "VOTE" earrings dangled as she cut slices and considered the question: Why Iowa?
"We do take it seriously," she said. "People say we're too white, we're too rural, we don't represent. But I think about that as I look at the candidates and say, 'Who's going to appeal to everyone?' "
For Democrats who are eager to defeat Trump, this is an important election.
"This year I care more than ever," she said. "The stakes are too high."
And a losing result for her will be nothing a hotdish can cure.Past Iowa caucuses
2016: Trump at caucus party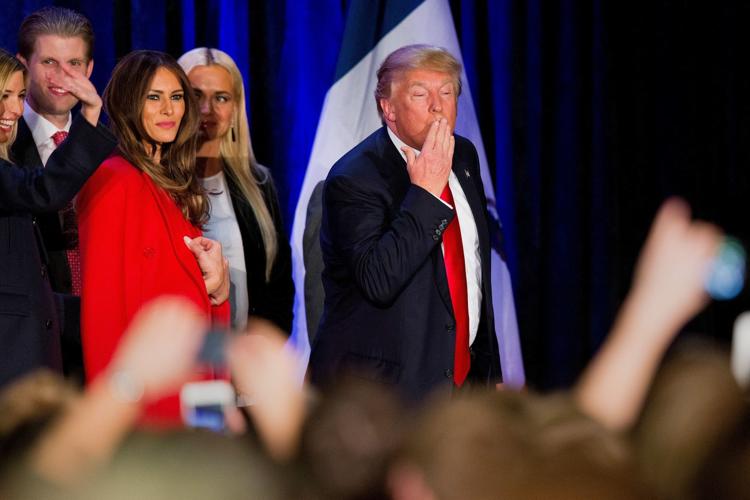 2016: Ben Carson supporter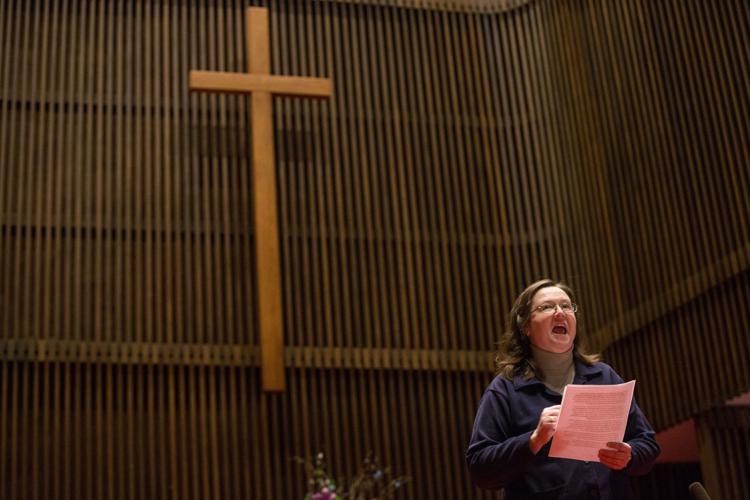 2016: Clinton family in Des Moines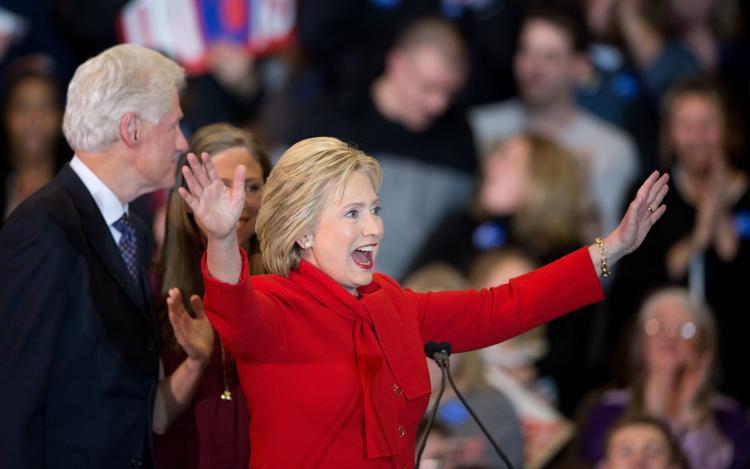 2016: Bernie Sanders supporters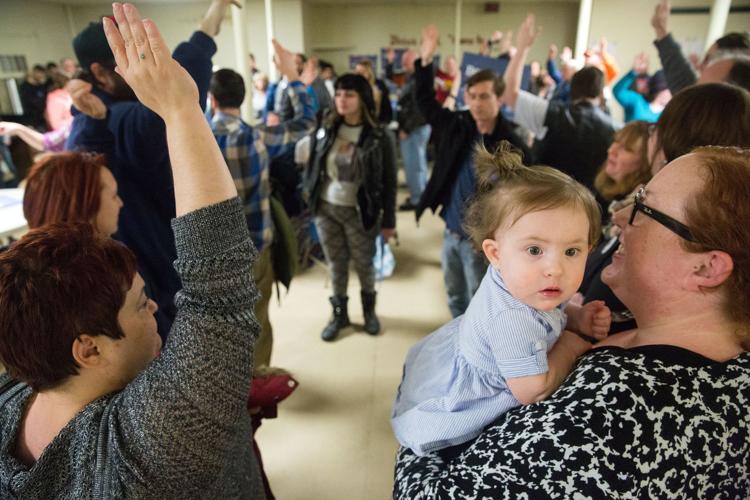 2016: Oak Township and St. Mary's Township GOP caucus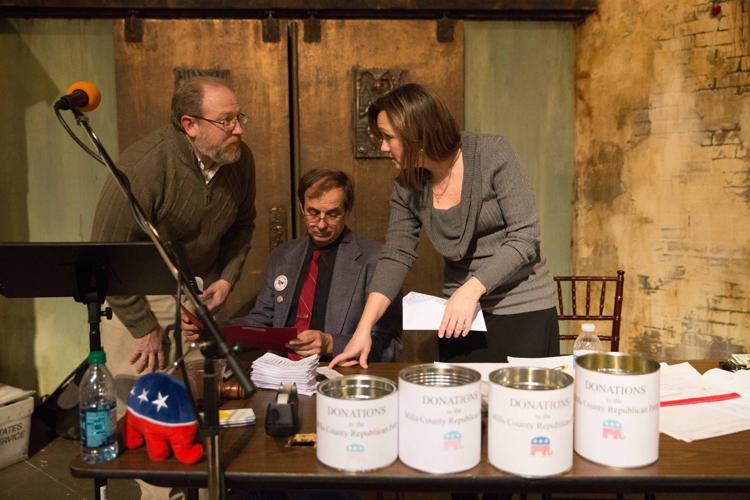 2016: Oak Township and St. Mary's Township GOP caucus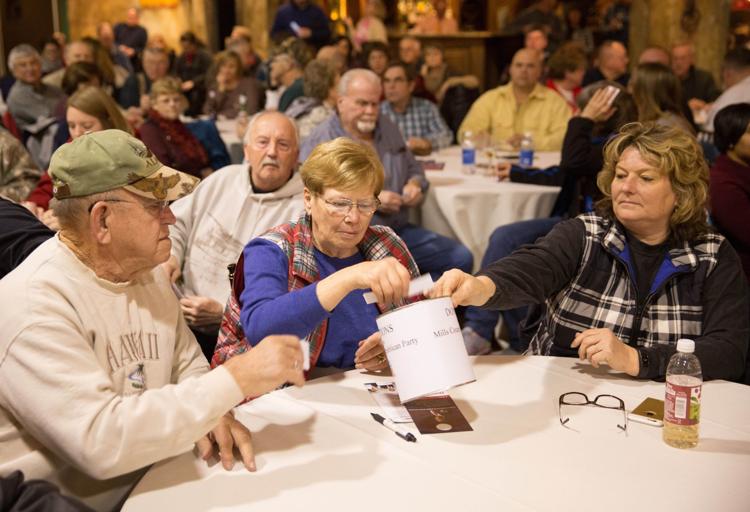 2016: Presidential candidate posters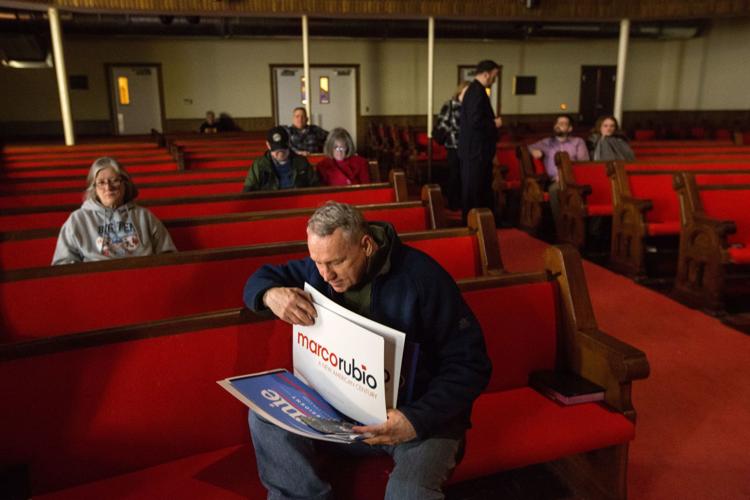 2012: Silver City caucus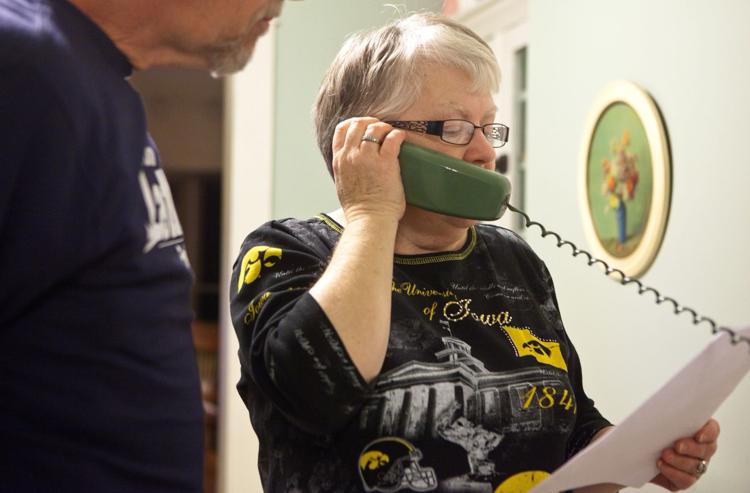 2012: Pledge of Allegiance at Silver City caucus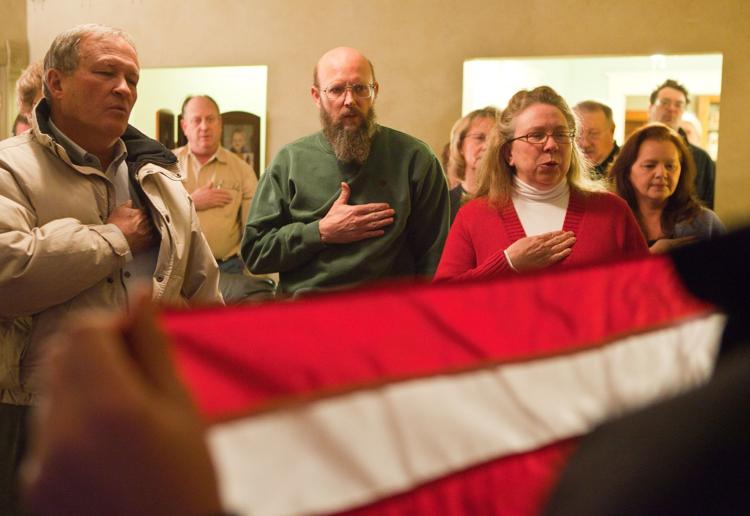 2008: Council Bluffs caucus site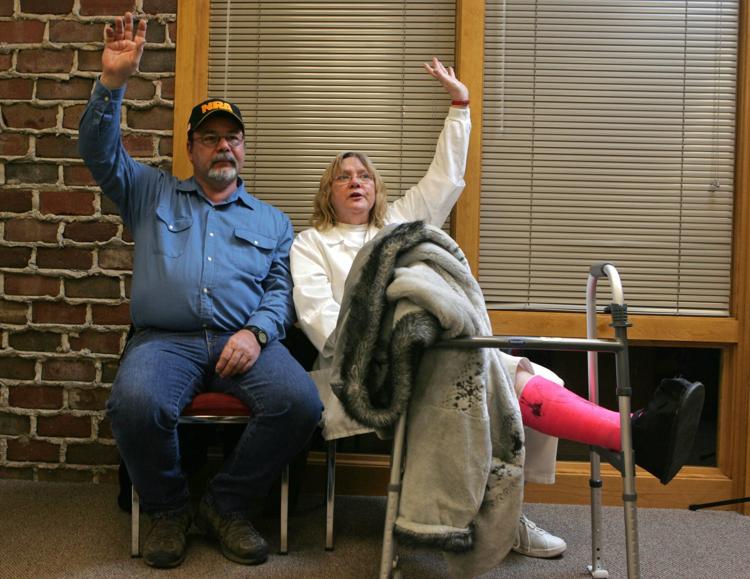 2008: Obama in Council Bluffs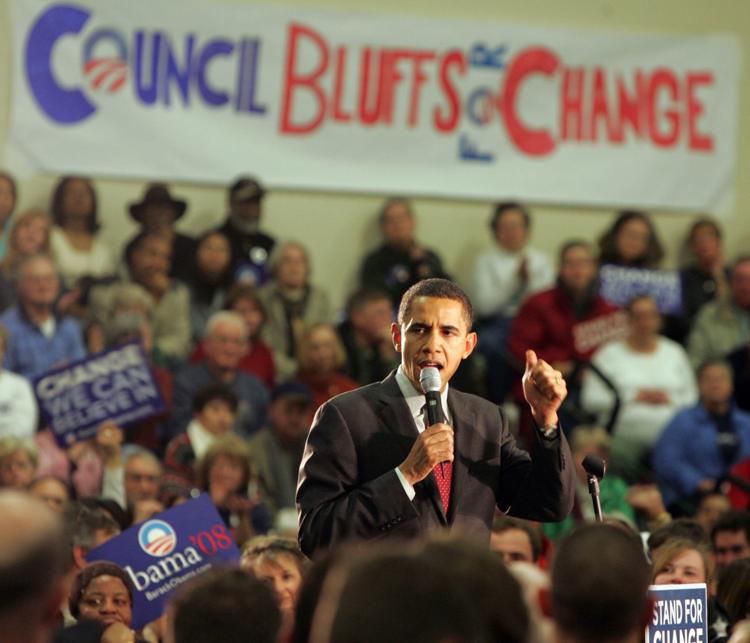 2004: Howard Dean campaign worker
2004: Boomer Township caucus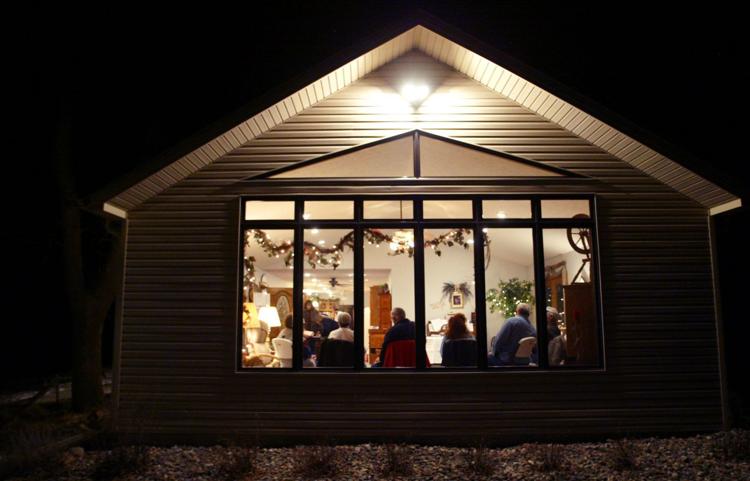 2000: A thumbs-up from George W. Bush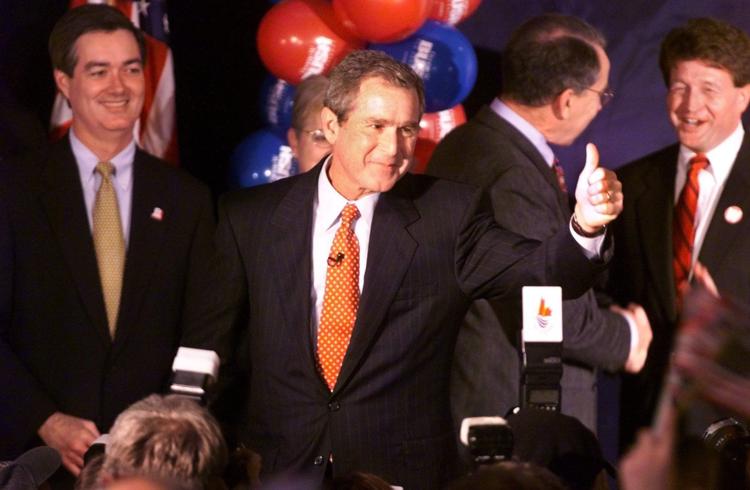 2000: Applause for Steve Forbes