The Amazing Alakazam will roam Omaha streets no more.
Byron Mallory, known as "Buddy" to his sister in Denver and, depending on the day, as "Byron" or "The Amazing Alakazam," to those he met, died last month after complications from colorectal cancer. He was 67.
A memorial service will be held at 11 a.m. Friday at Augustana Lutheran Church, 3647 Lafayette Ave. A reception featuring some of Byron's artwork will follow.
The church sits in a neighborhood that was well-known to the tall, constantly roving artist with an electric smile who drew fashion inspiration from funkmaster Bootsy Collins. Among the possessions Byron left behind was a bag of wigs.
Byron was as free a spirit as one might find, considering the limitations of his schizophrenia. Medication made his hands shake, threw off his gait and caused restlessness. So he walked. Some days, Byron covered 15 miles around Omaha. His 6-foot-6 frame, unique get-ups and habit of banging on doors at all hours put off some.
But those who did open their doors found an interesting person, a paradox who was persistent but polite, off-kilter but intelligent, in need but also independent. Byron would ask for money but not without first offering to earn it either by a chore or selling his art. (To prove his abilities, he sometimes brought sketches of provocatively posed women, offering to do the same for the lady of the house.)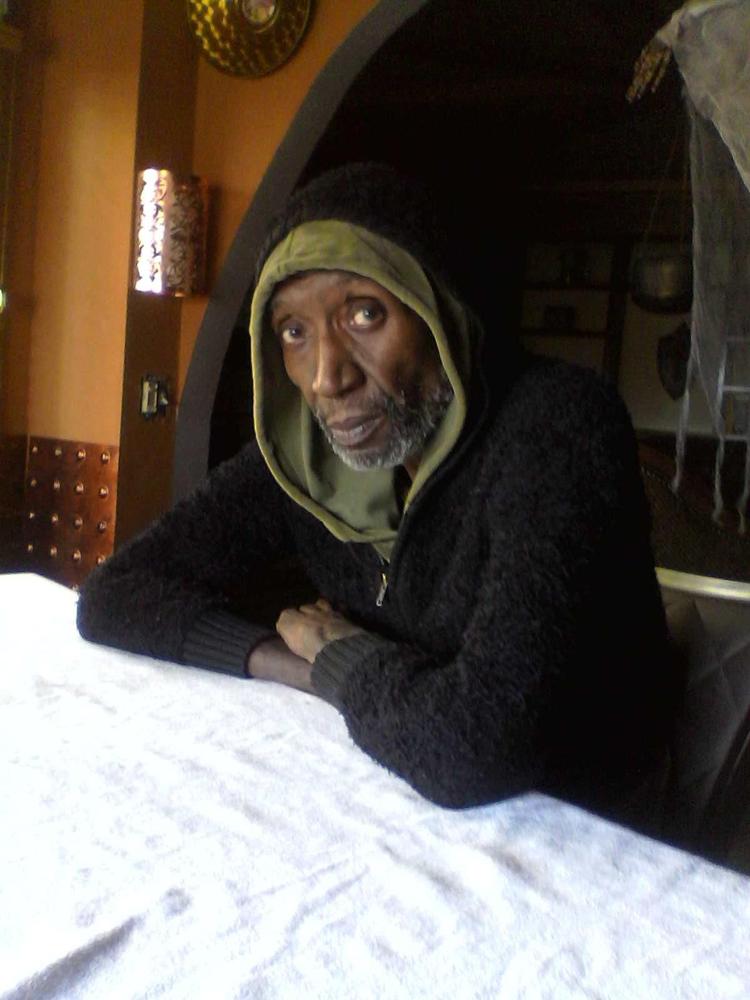 If offered food instead of cash, Byron was choosy but always grateful.
Byron's presence around midtown was so regular that when he stopped knocking on doors, neighbors noticed.
"Stage four colon cancer," he'd told us last summer, looking even thinner than I thought possible. Byron already had a thin, wiry build.
Byron's story begins in Omaha, where he was born. After his parents split, he moved with his father to Denver and earned distinction in high school there as an artist.
The Denver Post featured him in 1969. Byron studied art at Colorado State and was just one semester short of graduating, his sister Marsha Mallory-Bennett said. She said he had offers to illustrate for Coors beer and Hallmark Cards.
Though she was a year older, Marsha said she was always known as "Byron's sister" because of his outsized personality and his successes.
"Not only could he draw," she said, "he was smart."
Byron also was a risk-taker who once rode a motorcycle and, at a Parliament-Funkadelic concert, ran onstage to show one of the collective's flamboyant singers, Bootsy Collins, a sculpture. Byron had had a girlfriend from Paris. He had loved books and modern dance.
His sister called him "truly amazing" and also "from another planet."
Byron's trajectory changed in 1973 when he saw an angel in a Denver park — a hallucination and first indication of the later schizophrenic diagnosis to come. He was about 23. His family struggled with how to help.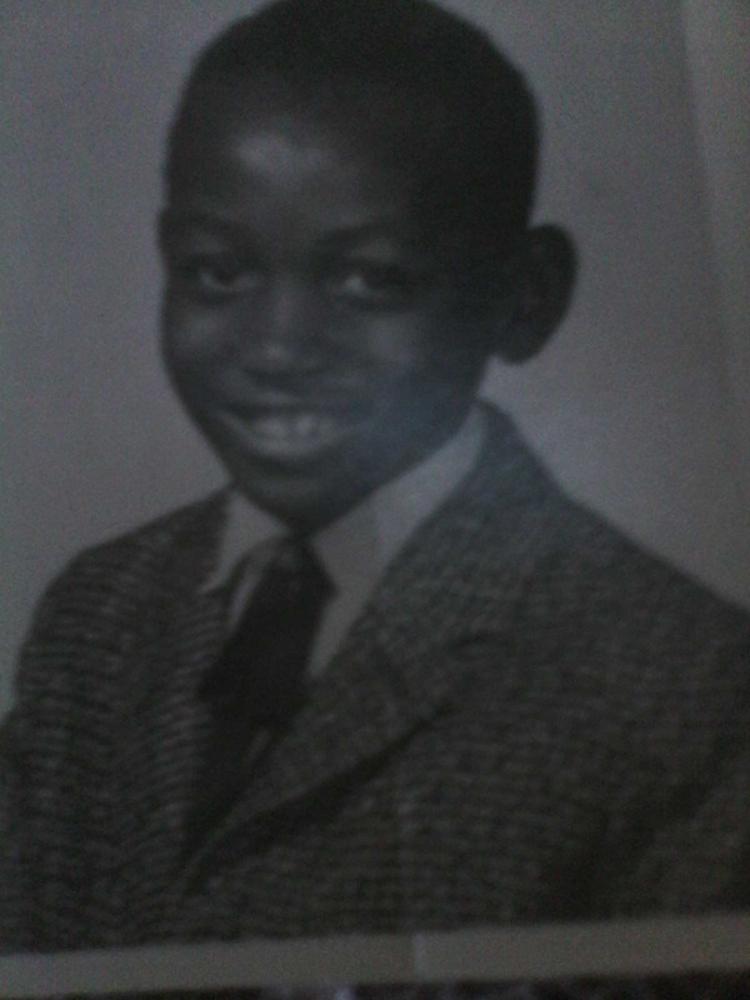 Byron's father, Milton, who had worked for the federal government, worried about his son and advised him on how to start a jewelry-making business. But Byron bought and then sold the jewelry-making equipment and couldn't account for money he'd been loaned.
Sometimes he got beat up. He never really held a job. After moving back to Nebraska to be near his mother, Rosalee, in Omaha, Byron bounced in and out of institutions, including the Norfolk Regional Center.
When the state closed regional centers, Byron's care shifted to a more ad hoc system of federal aid, psychiatric care and social work, managed by the nonprofit Community Alliance. This meant that Byron lived on his own and very meagerly. When Byron hit the streets and banged on doors, it was, as his stock line went, to "earn $20 to buy me something to eat."
Many who lived in midtown hired Byron for odd jobs, invited him in or brought him sandwiches. Augustana Lutheran Church hung a portrait that Byron painted of a now-deceased pastor. A millennial-aged couple who bought an old grocery store at 40th and California to use as their home and an art support center paid Byron for his artwork. Luke Armstrong and Molly Nicklin collected several dozen of Byron's drawings and told the artist before he died that they would try to publish a coloring book of his work.
Byron's presence was also a prick to the conscience, a reminder of how systems work and don't and a stark sign of human frailty. Armstrong called the patchwork support from strangers, neighbors and friends "wonderful and heartbreaking."
Cheryl Kessell and boyfriend John Ball became helpers and friends. John hired Byron for odd jobs at their Bemis Park home and engaged him on the subject of art. Cheryl bought groceries for Byron and also necessities, like underwear and size 13 shoes. But she had her limits.
"We had many arguments about how he wanted pirate boots," she said.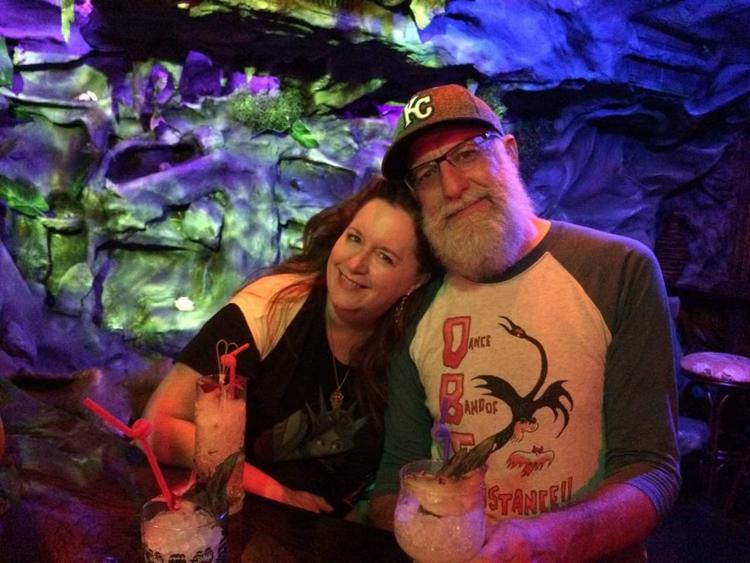 Cheryl's long career as a public defender and her background in defending indigent people against forcible mental health commitments made her especially attuned to Byron's needs. But she didn't view Byron as a charity case or a client. She saw him as a free spirit, yearning to stay that way.
Byron could be annoying. He lived in his own world without really asking Cheryl about hers. He also complained that she wasn't using her lawyer skills to get him out of regular, painful injections of an anti-psychotic drug. He called them "lethal injections."
"He was a pest," she said. "But he never would get angry with people. He never had self-pity."
Dr. Nathan Bruce, Byron's psychiatrist at Community Alliance, said Byron was a good, kind, interesting person, "eccentric in all the right ways." But he worried about Byron's trusting nature.
People with schizophrenia struggle with hallucinations, Bruce said. Sometimes their speech and behavior can be disorganized. Bruce wasn't surprised at all that Byron would knock on doors well after dark.
That could be a jarring experience, and I had to alert every baby sitter that Byron might show up but was OK. Byron was harmless. He had no criminal record in Nebraska. People like him with mental illness are usually way more likely to be the victim of a violent crime than the cause.
Cheryl and John went the distance for Byron. They cleaned his apartment when he got evicted. They stored his artwork. They got him a phone. They drove him places. They had him over for supper.
"I don't have kids. I can't solve world hunger," she said.
But she could make sure one of her neighbors didn't go hungry.
"Here's the thing, as you get older, your life gets smaller," said Cheryl, who is 58. "It was heart-expanding to have a friend whose experiences were so different than mine who was so kind to me all the time."
Things got bad for Byron last year. First, he was evicted after letting someone flop in his apartment for $20. Then Byron's mother died. Then, the cancer diagnosis. Byron took a doctor's ballpark prognosis of six months literally. He kept a calendar, marked off days and would tell people where the countdown stood.
His sister, Marsha, came from Denver and brought him back to her home. He hadn't been back in Denver for over 30 years. Marsha marveled at Byron's gentleness, the way he roamed inside her house. He had lost so much weight that she couldn't hear his footfalls. She begged her brother to stay with her, but Byron said he had to get back to Omaha.
He went to a nursing home facility at 75th Street and Mercy Road. There he died on Dec. 8. Cheryl and John were by his side.
"He wasn't a saint, but he was not what people thought," Cheryl said. "He was sweet to me. When he looked at me, he saw I was beautiful."
Notable Nebraska, Iowa deaths of 2019
To plant a tree in memory of Grace: Omaha as a living tribute, please visit Tribute Store.