The posters came last Friday.
World-Herald book editor Kristine Gerber blew into the newsroom with a smile as big as what she carried: huge portraits of some of the best athletes in Nebraska history.
On the giant newsroom meeting table, Gerber spread out the 20-inch-by-24-inch prints, artistic renderings that will be on public display starting today as Dirk Chatelain, World-Herald sports writer and author, kicks off a blitz of public appearances for his new book about Omaha civil rights and athletic history, "24th & Glory."
And here, at a cubicle within shouting distance, was the artist. Matt Haney.
Matt Haney's name appears in our newspaper on a nearly daily basis. You'd probably have to be Matt's mother to spot it in tiny print underneath or alongside a map, graph or other nonphoto visual representation of a news story. Matt designed the recent graphics accompanying Henry J. Cordes' three-day investigative series on Title IX that ran this week. He did a pie chart that accompanied a city budget story. He is designing a children's book the newspaper will publish soon, the "ABC's of Omaha."
Matt is a jack-of-all-media. He has built sculptures of Warren Buffett that were photographed as part of the newspaper's Berkshire Hathaway shareholder coverage. He has painted local institutions like the inside of the Holland Center, which graced a World-Herald special section cover and now hangs on our executive editor's office wall. He drew last year's 24-page World-Herald Scott Frost comic book. Heck, in addition to drawing and digitally painting the new "24th & Glory" book cover, Matt drew animations that were posted on social media.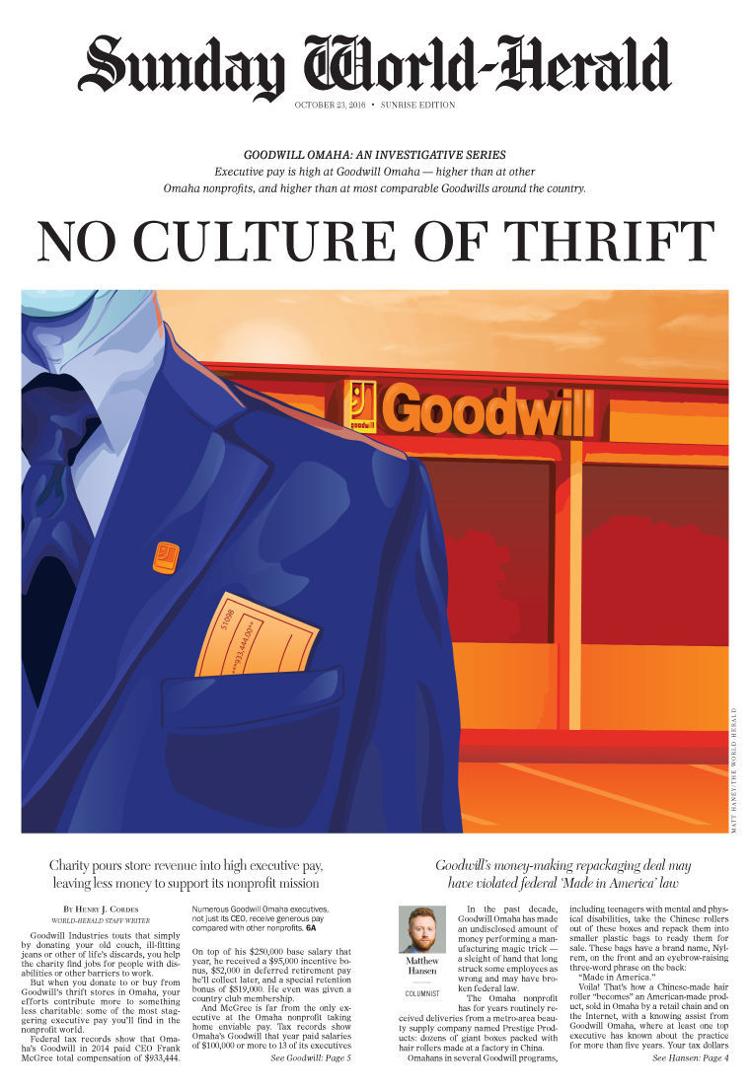 Matt is a big reason World-Herald Sports section covers win national design awards. He is a main reason the newspaper's compelling 2016 investigation on Goodwill Industries jumped off the page. He is a go-to for our reporters, editors and page designers. Give Matt a concept, and he returns with something visually arresting.
"He brings concepts to life," said Thad Livingston, assistant managing editor. "We can sit around and dream up some glorious theme for a section or centerpiece and explain what is in our mind's eye, and he simply listens. At some point, he will say, 'You mean like this?' and then scribble something out with a pencil in about 20 seconds. … Then he'll go over to his (desk) and do it for real. …It's like he removed a mental snapshot from my brain and splattered it down on his easel and then added some magic juice."
Features editor Dave Elsesser calls Matt "the most talented person in the newsroom," present company included, apparently. Though it's hard not to disagree.
Sports copy editor Hunter Paniagua, who worked with Matt on the "24th & Glory" animations, said Matt's creativity "lets us take stories to the next level."
The newspaper has lost some dear friends and talent in the past 18 months. But you should know that among our remaining news force, talent runs strong. It's evident most recently in Chatelain's 184-page book that combines his excellent 11-part newspaper series, a story he'd been kicking around for 13 years, with historic photos and Matt's artwork, evident in the colorful cover he painted of a bustling North 24th Street.
Books are available for $20 at book-signing events Chatelain is holding today and through the weekend. The events will feature Matt's amazing posters, though no Matt. No Livingston. And likely none of the other unseen staffers who worked behind the scenes to get this story told and are working on other projects.
Chatelain mentions their names in the acknowledgments section of "24th & Glory," but I'll repeat them here. In addition to Gerber, Livingston and Paniagua, the project's producers include Paul Goodsell, managing editor; Graham Archer, a digital editor who recently left the paper; Tammy Yttri, copy desk chief and lead print designer; and Christine Zueck-Watkins, book designer.
"I've never been part of a project with so many indispensable people, each offering a unique skill that complemented and enhanced the others," Chatelain said. "It's not all that different from being part of a great sports team."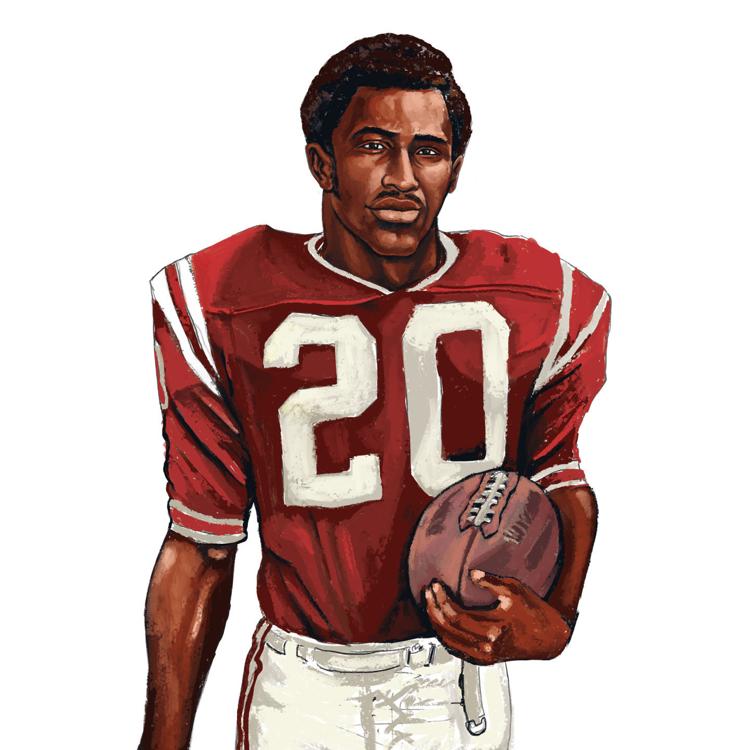 Matt's a big part of that team. And ours.
The 43-year-old is an Omaha native and a graduate of Millard North High School (1994) and the University of Nebraska-Lincoln (2000), where he obtained a fine arts degree. He was a graphic artist at the Arkansas Democrat-Gazette for about five years before coming to The World-Herald in 2005.
Journalism is a field that tends to draw people of varied interests. Matt, however, has had — at least since he can remember — a singular focus. All art. A pen or pencil in his hand almost all the time. As a kid, he ran through so many Big Chief Tablet sketchbooks that his folks bought him Magic Slates. Those are, for the uninitiated, remarkable inventions that allowed users to draw and erase using a stylus, a piece of acetate and harder, colored wax.
Matt started with cartoons, drawing superheroes he saw on TV. He drew comics, a true love to this day. Matt is working on a comic book for himself; he collects action figures and superhero bric-a-brac, which, combined with all matter of artistic media, makes his cubicle one of the more interesting ones to walk by.
You'll never see Matt without a pen or sketchbook. He draws through meetings as a way to focus. When his car was stolen, with a notebook of ideas inside, he said he was more upset about losing that notebook than he was the car. (He eventually got both back.)
The rub on artists is that they're temperamental, but Matt is constantly in a good mood. He brings doughnuts to the newsroom all the time and has a ready smile.
He does have one annoying trait: an allergy to compliments.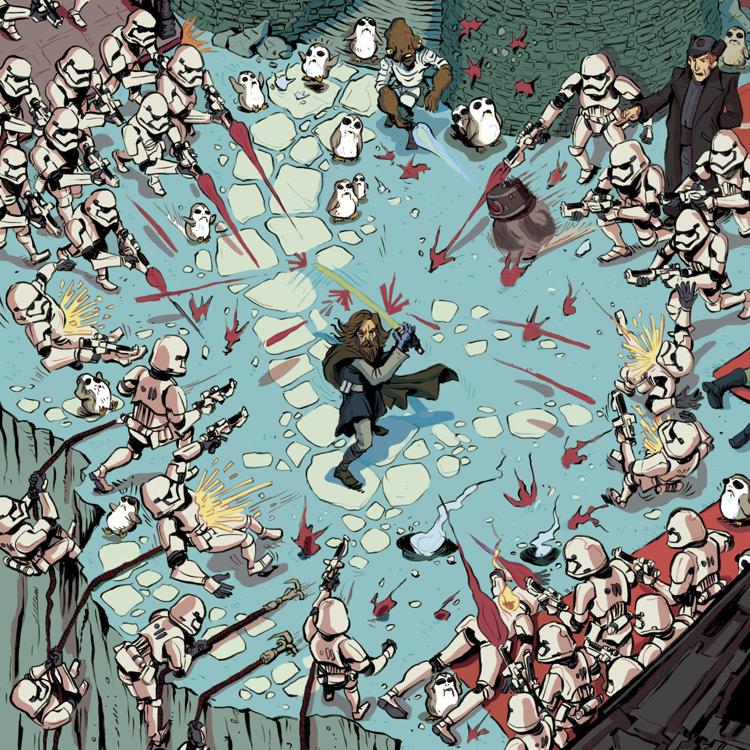 "He's one of the most selfless people I've ever met," said Paniagua, who also serves as digital sports coordinator. "When I tell him how great a job he's done …he'd rather credit everyone else."
The credit is all Matt's for the animations, drawings and paintings for the "24th & Glory" series.
When Gerber brought those athlete portraits into the newsroom, we gushed. We made Matt pose with them. We said how good they were. We tweeted them out.
But Matt stared at his handiwork with the critical eye of the creator.
"It's never to look at how cool it is," he said later. "It's to see where you messed up and if anyone else noticed. My best-case scenario is if I can live with it. Is it acceptable?"
Even the artist had to acknowledge he was happy with the result.
"They look great," he said several days later.