The newspaper reporter from Vietnam, in town recently for a unique program hosted in Omaha, wanted to tag along with a newspaper reporter from Omaha. Which is how "Allie" — the 20-year-old's U.S. nickname and one I'll use for her safety — and I came to meet.
Over bowls of the Vietnamese noodle soup pho (she couldn't stomach one more hamburger after a month here), I prepared my spiel about the pros (interesting people!) and cons (unsteady industry) of the job.
Then as Allie spoke, I realized that I should be the one taking notes. Allie's biggest career challenge is working in a repressive country like Vietnam for a state-run newspaper. Criticize the government? Cover the government's takeover of religious-owned land, something that might portray Vietnam's Communist Party in a negative light?
Sign up for World-Herald news alerts
Be the first to know when news happens. Get the latest breaking headlines sent straight to your inbox.
Vietnam is the sixth-most censored country in the world, according to the nonprofit Committee to Protect Journalists, a fact Allie described anecdotally and sometimes with tears: A human rights activist, jailed. A man beaten by police after he refused to be extorted during a traffic stop. Independent bloggers who write about what's really going on — at incredible risk of imprisonment. Facebook users not allowed to post anything critical of the government under a new law that gives government full digital access to private social media accounts.
"I cry and cry. ... We cannot speak up in our country," said Allie, who has a side gig feeding stories to international news outlets, like BBC Vietnamese.
This was a chilling thing to hear fresh off the news about Jamal Khashoggi, a Saudi Arabian-born journalist working for the Washington Post who was likely murdered earlier this month. Khashoggi, a critic of Saudi Arabia — ranked third-worst in censorship by the Committee to Protect Journalists — was killed inside the Saudi Consulate in Istanbul. And his murder might have been ordered by Saudi Crown Prince Mohammed bin Salman. Bin Salman denies this.
A free press is a cherished American institution, enshrined in the U.S. Constitution's First Amendment. And while there are political and industry-related challenges, the United States is no Saudi Arabia, no Vietnam.
I could stroll into City Hall, as I did the following day, to a private meeting between a U.S. congressman — Don Bacon — and 21 up-and-comers from southeast Asia, including Allie. A man thundered immediately that the meeting was "off the record" and challenged my presence.
But I stayed put, and afterward, Bacon shook my hand, asked my opinion of his performance and confessed that he needed "a 6-mile run" to burn off some pre-election stress. To me, this suggested openness. Granted, the event was a meet-and-greet with people who aren't voting Nov. 6.
The Bacon meeting was part of a day of meetings with elected officials that Allie got to experience along with others participating in the University of Nebraska at Omaha's Young Southeast Asian Leaders Initiative, a U.S. State Department program being run through UNO. The program brings some of the best and brightest young people from southeast Asia to the U.S. for about five weeks of community engagement training. UNO then leads the students on a weeklong swing through Boston, New York City and Washington, D.C.
This year, the program got a giant boost: a near doubling of funds that is enabling UNO to bring in even more young people with help from two other participating universities: Kennesaw State University in Georgia (fall semester) and Arizona State University in Phoenix (spring).
The program's point is two-fold: Develop leadership skills and develop stronger relationships between the United States and the following countries: Brunei, Myanmar, Cambodia, Indonesia, Laos, Malaysia, the Philippines, Singapore, Timor-Leste, Thailand and Vietnam.
UNO International Studies Director Patrick McNamara, who administers the program, called it "the best peace-building work we can do."
This person-to-person outreach appeared successful to me as this journalist from Omaha tailed the journalist from Vietnam and her cohorts from the City Hall meeting to Bangkok Cuisine, a Thai restaurant near 19th and Harney Streets.
Chitsanupong Nithiwana is a 23-year-old LGBT activist from Thailand who earlier had pressed Bacon, a retired U.S. Air Force general, on his views of transgender rights and the military. Nithiwana said she appreciated hearing Bacon's nuanced views in person.
"It was a great conversation," she said.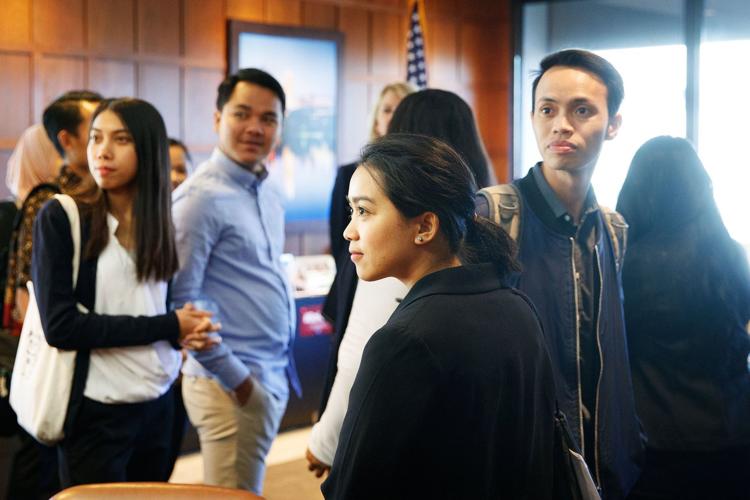 Fara Rom, a 23-year-old from Malaysia, said the UNO program will help her short-term goals of supporting reproductive health for women back home. Her long-term goal is political involvement. In turn, Rom said coming to Omaha changed her views of what she called the predominant "narrative" about the United States — that Americans are Islamophobic and snobbish. She was charmed by Omahans' hospitality.
Andy Alamsyah, a 21-year-old from Indonesia, works for Bayer as a marketing executive. But he is most interested in getting young people to consider agriculture as a career. Farmers in Indonesia are aging. He said it is cheaper for Indonesia to import food staples like rice (from Vietnam) and soybeans (from, ahem, Nebraska). He wants to develop Indonesian agriculture.
The participants and their UNO leaders were scheduled to leave Omaha for Boston early Saturday morning. Allie said she wished that they had more time here. She had questions about journalism that we never got to — though she settled one question for me.
Why go into a journalism if you can't really practice it in Vietnam?
Her answer was so familiar: To listen. To write. And, she hoped, to make a difference.