I went to "church" on Sunday.
This church had no roof, just sky. It stretched for blocks, with old brick warehouses for walls. There were cocktails. We stayed for hours.
This wasn't a real church, of course; it was the annual Hutchfest, a market of makers and creative types all preaching the same gospel: Create. Build. Sew. Paint. Craft. Cook. Mix. Print. Sing. Strum. Make.
And, of course, buy. Pilgrims, including yours truly, were drawn to this open-air, daylong market of the homemade and handcrafted, and the faithful bought.
"This is my church," Cara David, a middle school teacher, a baseball mother, an avowed shopper and my friend since kindergarten, said as we inched along a stretch of North 11th Street that neither of us Omaha natives had ever stepped foot on. I nodded.
And this was before the strong mimosas.
We were just in awe of the Hutchfest scale — 305 vendors stretched along eight city blocks. And we loved the inventiveness, from sweet felt baby mobiles to drink coasters with words that could not be said in a real church or printed in a family newspaper. There was so much to see and touch. So much we didn't know we needed.
Plus food. Restaurants like Block 16 and Saddle Creek Breakfast Club had booths. Coneflower Creamery looked as popular as it seems to be at its permanent home in the Blackstone District on Farnam Street. There were food trucks, there were bars and one of the most popular drinks was water. Church got hot.
Sign up for The World-Herald's afternoon updates
Receive a summary of the day's popular and trending stories from Omaha.com.
The experience wasn't religious, but it felt transcendent because it offered so much discovery, principally of an interesting industrial neighborhood in north downtown.
Hutchfest is in its fourth year. It is organized by the owners of midtown furniture store Hutch. Hutch co-owner Nick Huff said the festival originated from a desire to give local vendors room and exposure beyond the four walls of his shop. The first Hutchfest was launched at Midtown Crossing in 2016 with 87 vendors. It then moved to a part of Omaha that is undergoing change, the New North Makerhood, roughly northeast of 14th and Nicholas Streets.
A "makerhood" can be an old, invisible and sometimes forlorn part of town that, when fueled by the energy and bonhomie of creative types, undergoes a natural evolution into something else: Something vital, something important, something that on Sunday made for a perfect backdrop.
I'd gotten the press release for Hutchfest and told my husband with as much stoicism as I could muster that I had to work on the weekend. Wah. Then I called some dear friends and fellow Omaha natives. The experience should be shared, though sharing it with small children and dogs — as many did — would probably limit how much time you could spend at this seven-hour event.
My three west Omaha buddies were so excited to come downtown that they beat me to the front Hutchfest gate at 11th and Nicholas Streets before the 10 a.m. opening time. Early birds got tote bags and koozies, and they were rewarded thusly.
Had we planned better, we would have bought advance tickets for $5 apiece. Instead, we paid $10 to get in. The positive vibe, cooler morning temperatures, live music and interesting scene made the door fee worth it. We appreciated that Hutch organizers didn't squeeze vendor booths across from each other the way they are at farmers markets. Instead, the place had a good crowd without feeling crowded.
Our first stop was a tarot card reader. For $15 apiece, Paige Dempsey, a business and communications consultant, and Cara had their cards read. Among the messages were ones that proved prescient. Paige was wished safe travels. There are lots of ways to part with your money at a maker's festival. Cara drew a card that said "focus," which can be hard at an event that is such a kaleidoscope of things and people.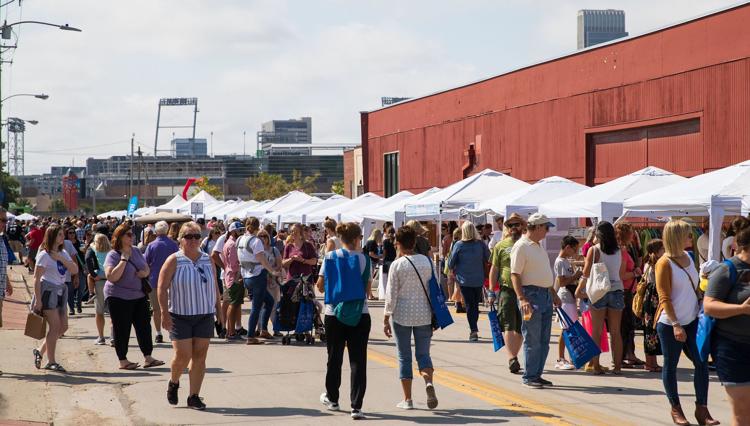 But all of us had the benefit of time. We weren't dashing into a mall to buy a wedding gift or a pair of school shoes. We had come principally to be together. Secondarily was the cool setting. And the third purpose was chancing into something that caught our eyes or hearts. Shopping, which I personally hate, becomes a lot more tolerable when you don't have anything you have to get. But you might find something magical for the sole purpose of: Just because.
Mother-daughter pair Mary and Megan Losee were back at Hutchfest for the magic.
"It's different stuff you're not going to find in a store," Mary Losee said. "Whatever trips your trigger."
Evynne Doue, an Omaha designer, was among the shoppers but said she appreciated what the event does for the makers and for Omaha. Hutchfest, she said, is another opportunity for the city to show a different side of itself and reveal the vibrancy that exists here. She said Omaha's got a growing creative class, which is attractive to young people like her friends, who are beginning to move back to Omaha after living elsewhere.
"We have a very strong creative community and a very strong 'local-supports-local' (attitude)," said Doue, 25.
Louise Jones, 25, is a designer for a company called Leo & Wren. After I purchased an $8 print that plays off Omaha's name — "Homaha" — she told me that Hutchfest offers important exposure to small businesses like hers.
Jason Gilbreath of Reclaimed Enterprises, a company that makes custom furniture from repurposed barn, gym floor and other wood, said the event is good for makers. Last year's Hutchfest drew more than 2,000 people to his showroom.
By 3 p.m., two hours before the 5 p.m. closing time, Huff said the gate count was 12,000 people. He said the crowd is proof of this: People want to support local, small businesses; the Midwest has a lot of local talent to draw crowds; and at the end of the day, shoppers want an experience that is one of a kind. Handmade counts.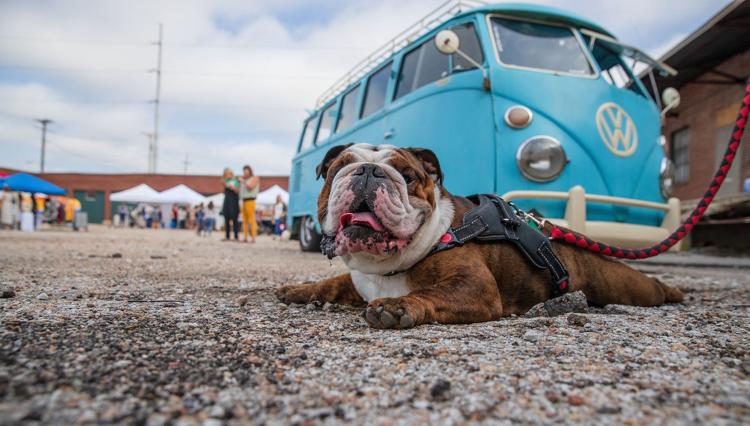 Paige, who loves to travel, said Hutchfest made her feel like she had left Omaha.
"It feels like a getaway. Without having to go too far," she said.
Jean Pedersen, a mother of four sons, called the experience "sensory overload." In a good way.
Cara felt the way I did: If only we had MORE time. Three hours didn't fully cut it.
We didn't leave church empty-handed. I bought a T-shirt, a coffee mug and a pennant, and might be getting a new dining room table. One maker was offering a steep discount for Hutchfest orders. I gave him the dimensions and style I wanted and am awaiting the bid.
Meanwhile, my friends similarly were pleased. Jean Pedersen got a gold necklace. Cara got two pairs of earrings, and immediately put one pair on. Paige bought a coffee mug with the Sunday sermon. It says: Keep Creating.
List: What you should call people from Nebraska's 50 largest cities