Camisha Hollis would confide in her mother about the hell she lived in at home with her allegedly abusive boyfriend. But to the rest of the world, including her sister Caprice, Camisha presented a happy, headstrong, outgoing self.
The 34-year-old was the hard worker, picking up extra shifts at Prime Therapeutics, where she worked as a "quality coach." She was the workout queen, always going to the YMCA. She was the doting mother to three little girls, the loyal daughter who called her mother every morning and the supportive big sister who'd say to Caprice, a 26-year-old juggling two jobs and grad school: Come on over and get a plate.
One was full of smiles and love, and the other, she suspects, of sadness and strife.
"She held it together very well," Caprice said. "I didn't know things were so terrible."
Their mother, Martha Hollis, did. The granddaughters, ages 10, 8 and 6, whom she cared for on weekends, would describe fights, like the time their father pushed their mother down the stairs. Hollis once saw her daughter with "a busted lip" and nose. She'd watch her daughter's phone ring and ring; Young incessantly called her at work and when she was out.
Martha saw him as controlling, suspected the "toxic" relationship was the source of Camisha's migraines, and begged Camisha to leave him. She even lined up relatives in other states with offers for a fresh start.
"I had to go to Camisha's rescue a lot," her mother said. "I said, 'Camisha, what's it going to take for you to turn this man in or get away from him?' "
Young is in the Douglas County Jail on suspicion of neglecting the couple's children and disturbing the peace at a police station. He has not been charged in Camisha's disappearance, but Omaha police have opened a domestic violence investigation listing him as the suspect. Calls to his public defender were not returned; neither was a call to a possible relative.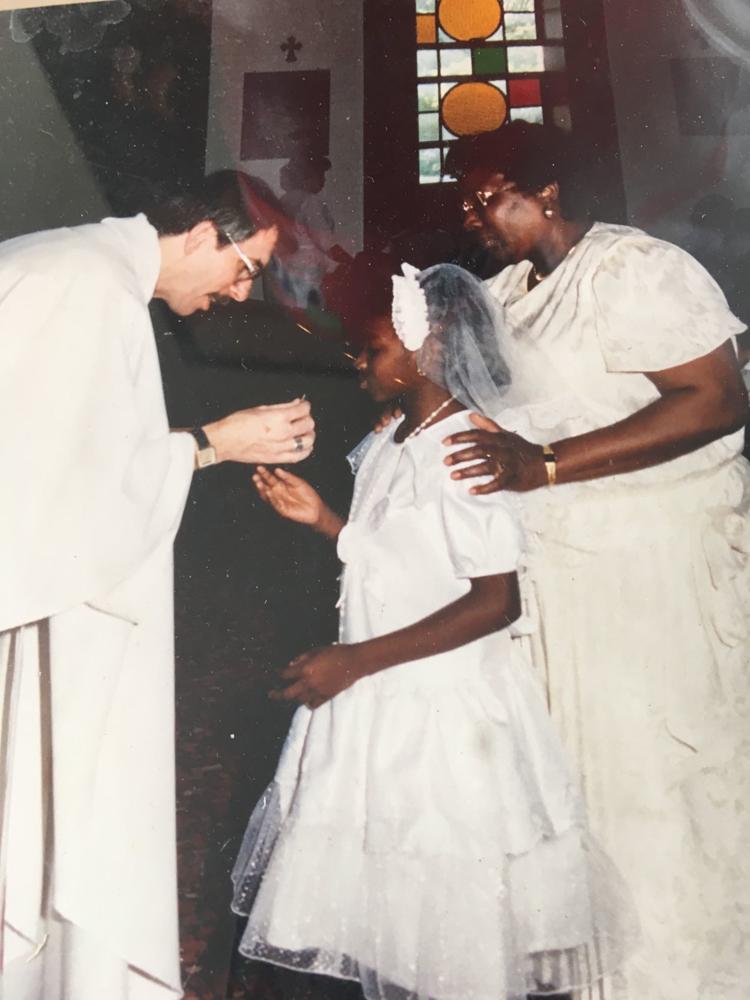 Camisha was born in a tiny town in Louisiana and moved to Omaha at age 6 when her mother decided to follow a sister already living here. The family visited Louisiana a lot. Camisha attended Burke, Bryan and Northwest High, graduating in 2001. She'd already been with Young by then.
Martha described her oldest child as "a good girl ... a fun girl, never a troublemaker." Camisha was someone who "loved life," loved having friends, getting out, doing things. She said the two were very close. Like sisters. Or best friends.
"We did everything you can think of except work together," she said.
Martha said Camisha was a wonderful mother.
"Those kids never went hungry. Those kids never went without clothes. They made every doctor's appointment, every dentist's appointment, every school function they had ... she didn't miss," Martha said. "She was the greatest mom, and I used to tell her that all the time."
Caprice saw her older sister as a rock: a strong, funny, loving woman who rarely let on that she was struggling. Caprice had seen her sister's tears, had known that things at home could be rough. Mostly, though, Camisha deflected. She'd razz Caprice about going with her to the gym. She'd text Caprice, asking for pictures of Caprice's dogs to show her workmates. She'd share funny YouTube videos.
"There were times I was down, and she would text me and would say, 'You know I love you, Caprice. If you're feeling down, if you're feeling depressed, if you're feeling scared, call me, text me, message me,' " Caprice said.
In contrast, Camisha never asked for help. Caprice chalked that up to her sister's value of privacy. Camisha hated to be in photographs and didn't talk too much about home.
If Camisha was a victim of domestic violence, it would not be uncommon to shield the reality of her life from others, said Amy Richardson, president and CEO of the Women's Center for Advancement in Omaha. In such cases, an abusive partner might have threatened harm, making sharing dangerous. Some don't realize they are victims and others feel deep shame. Besides, leaving the relationship can be difficult, and dangerous.
Camisha started dating Young when she was 17. Caprice never got to know him. Martha didn't like him. She said he didn't have a job. She called him a narcissist who always had to be right, always had to be in control. He didn't come to family events, nor would Martha choose to be around him.
"Even if I would go there," she said of the house that Camisha and Young shared near 57th and Hartman Avenues, "I would sit in my car. I could not stand to be around his negative, dark energy."
Court records and news stories indicate a troubled life. When Young was 12, his 17-year-old sister shot and killed another 17-year-old girl outside the Southside Terrace Homes.
Young's own interaction with the justice system began when he was 13. At age 16, he faced a felony for possession of a machine gun or short rifle or shotgun, a case that ended in Douglas County Juvenile Court.
At 18, he was charged with giving false information, obstructing justice, assault and battery and disorderly conduct in a case ultimately dismissed.
When he was 19, three things happened: In January 2001, he sped and swerved near Northwest High School, striking — and killing — a 17-year-old student. He was charged with misdemeanor motor vehicle homicide.
In February, he pleaded guilty to carrying a concealed weapon and resisting arrest and was sentenced to 90 days in jail. In June, he pleaded no contest to the car fatality and, a couple weeks later, was shot three times.
In September, he was sentenced to 30 days in jail, two years of probation and community service. Before he was handcuffed, he quickly kissed Camisha, who then told The World-Herald that Young was remorseful and that nothing could be done to bring back the Northwest student.
His attorney at the time said Young had been threatened before but no one could tie the shooting to the accident. The attorney said that Young would have to move away for his safety.
Public records tie Camisha and Young to addresses in Albuquerque, New Mexico; La Crosse, Wisconsin; and Colorado Springs, Colorado. And records show the family moved a lot — 13 addresses, most of them in Omaha, in the past 16 years. Last year, Camisha Hollis filed for bankruptcy protection. Her biggest debt was student loans. She sometimes worked two jobs at a time.
A spokeswoman from her most recent job, Prime Therapeutics, a pharmacy benefits manager, described Camisha as a hard worker, "truly a joy to be around."
Erin Feigal, senior vice president and chief human resources officer, said in a statement that co-workers have felt Camisha's absence deeply and her disappearance has been "devastating."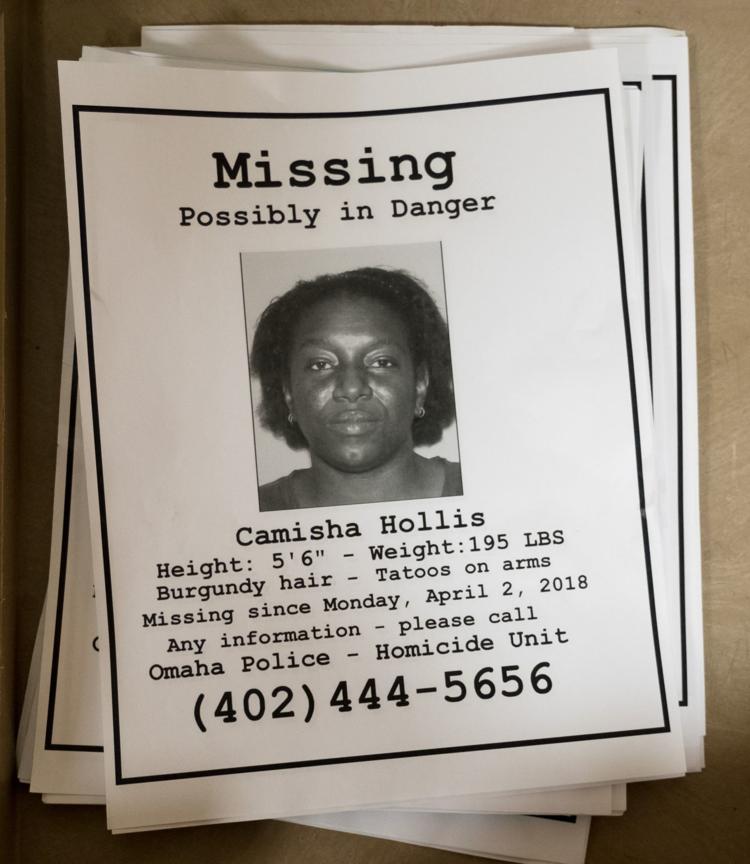 Martha and Caprice Hollis last saw Camisha on Easter Sunday, April 1. She'd brought the girls to her mother's. She took them home around 9:30 p.m. She didn't call Martha the next day at 6 a.m. like usual.
For two hours, Martha's calls went to voicemail. Caprice's calls went to voicemail. Martha called Camisha's work and got no answer. She drove there, and Camisha hadn't shown. Martha called the girls' school and found they hadn't shown.
Then she called police and asked them to meet her at Camisha's home. There they found the girls, unattended and alone. Camisha was reported missing. Authorities found her blood and two spent shell casings in the home.
The Hollis family is still looking.
"If someone knows anything, I wish they'd say," said Caprice. "Just let us bring her home."