On the menu for a recent home-cooked Afghan dinner were dishes that sounded foreign. Something called nargis kabob. Something called manta. Kabli. Salat. Naan.
Naan was a word I recognized. Naan means flatbread. Bread means heaven. Naan means heaven.
But as interesting as the food promised to be, the reason some two dozen other women from Omaha had come to the Trendwood home of Dr. Carrie Hoarty was for that other item on the printed menu that was handed out at the door: the story of the cooks making it.
This is HomeDish, a charitable quasi-potluck where guests bring themselves and $35. The money goes to the cooks — former refugees or asylum seekers — who buy the food, prepare it and then keep the proceeds to use as they see fit.
It's a chance for women of Omaha to meet and hear about the lives of newer Omaha women. And it's for women, not men. Sorry, men.
This is because refugee women generally do the cooking at home, are good at it, don't often have their own outside job bringing in income and might not feel comfortable with men around who they don't know.
The stories they share are sensitive and, organizer and founder Pam Font-Gabel found, the refugee women are relaxed and willing to share with other women.
"Traditionally in these cultures, women gather to eat and build community and have friendships with each other," Font-Gabel said.
HomeDish is run through the nonprofit Benson Area Refugee Task Force, which collects donations and funnels every penny right back to the cooks. Benson Area Refugee Task Force gives the cooks $160 to buy groceries for the meal.
The event doesn't ask much of participants: Show up. You go to someone's house — the address changes with each meal. You pay the $35 — or more; the group accepts donations. You drink water or lemonade — there is no alcohol.
You fill a plate, you sit, you gab, you hear a quick primer on refugees. You sip hot tea and eat dessert. Then comes a casual back-and-forth with the cooks.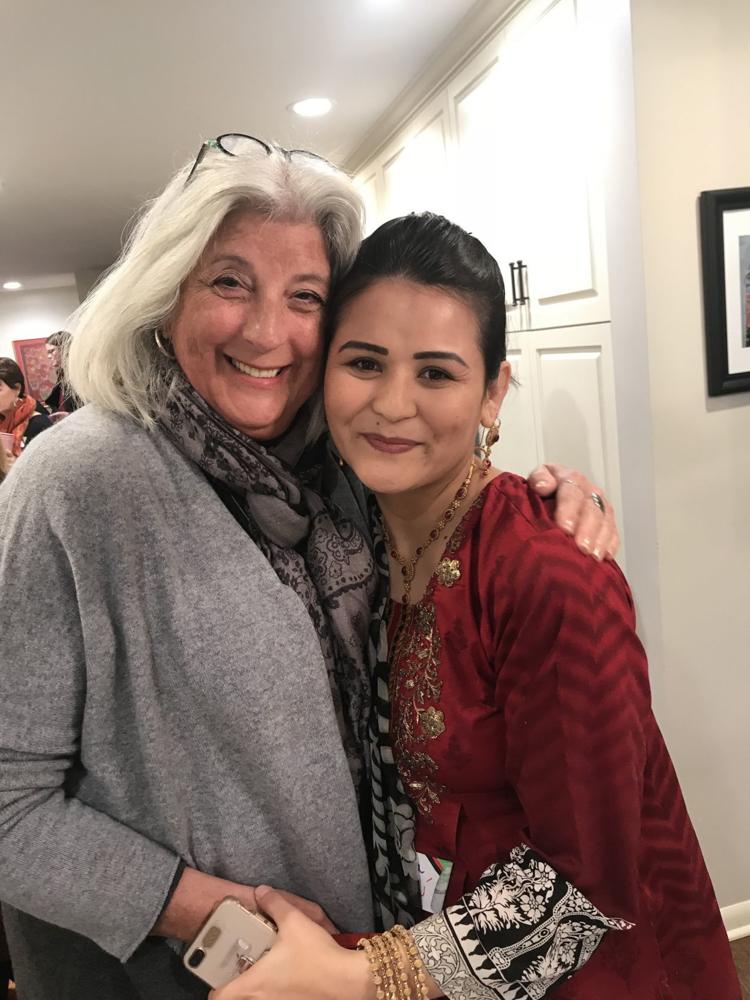 The goal is to build a bridge between old-hat Omahans, like many in the room, and new-hat Omahans like Kubra Haidapi, a 28-year-old native of Afghanistan who is married, pregnant with her third child and living in a one-bedroom apartment in the Field Club neighborhood.
Kubra was not the cook of the night's meal. Two other Afghan women were. But she was the translator and, perched on one of Carrie Hoarty's kitchen bar chairs, faced a full living room in the home on South 138th Street. On either side of her were cooks I'll refer to by first names: Najia, who came to the U.S. over a decade ago, and Hafiza, who came two years ago.
The three women had an eager, sympathetic audience that included Carrie, whose family already sponsors a refugee family; the Mary Our Queen Catholic School principal; a St. Vincent de Paul parishioner upset at the Trump administration's slashing of refugee admissions; a University of Nebraska Medical Center sociologist who was born in India; a school occupational therapist; a pair of entrepreneurs; and a woman who has provided extraordinary help to a Congolese refugee family in midtown.
HomeDish organizers want to expand the invitation beyond a choir like this. Font-Gabel and Colleen McQuillan Johnson asked the guests to suggest friends, family members, co-workers or others they know who might not be as plugged into these refugee issues. Those who want to go can request an invitation by using this email: homedishomaha@gmail.com.
The evening I attended I readied my pen for tales of woe since all three of the evening's speakers had fled from Afghanistan.
Instead, we all talked about cultural differences like arranged marriages (Kubra said the mothers of prospective brides and grooms have the most pull).
Would the tradition continue for daughters raised in America? (No, though they want their daughters to make good choices.) We talked about what it's like to marry someone before you fall in love (you just do) and about Najia's daughter marrying a man of her choice, a white non-Muslim American. This would not have flown with her family in Afghanistan, Najia said, but in America, "my husband said, 'OK.' "
We talked about Hafiza's adolescent daughter who loved wearing her hijab, or headscarf, when she first came to Omaha only to ditch it in her second year. Hafiza said she cares about her daughter's safety and happiness. The headscarf? Meh.
We talked about fashion and what it was like to be covered head to toe, as the Taliban and conservative Muslims had required for women. Do they miss that in America? (They said no.) But they still abide by modest dress customs (no shorts). There was a collective head nod over shorts.
We talked about where they buy groceries (Hy-Vee, for these particular women) and where they find halal, or specially prepared meat under Islamic law (Just Good Meat on South 84th Street). We talked about worship.
"Some people go, some people not go. Busy," Kubra shrugged.
"See?!" whispered my friend Magan Smith who, like me, is not the most regular Catholic Mass-goer. "We're not all that different."
The women's stories made us laugh. The women's stories made us pause. It was hard to imagine what life under Taliban rule or constant fear would be like.
The 6 p.m. curfew. The lack of freedom to study or work or go anywhere. Hafiza said her family still in Afghanistan is constantly worried about whether there will be "a blast" that day. A bomb.
"We just want a safe life," Hafiza said, with Kubra translating. "No fighting. No blasts. No blood."
Omaha, by contrast, has been a haven. People have been kind, generous, "simple," and have "clean hearts." Also? American women wear way less makeup than women in Afghanistan.
Nearly three hours flew by, and organizers said we had to wrap up. There were dishes to do. Carrie, a married mother of five, needed her home back. It was, minus the lack of wine, like every book club I've ever attended: a nice group of people gather, eat and talk, not necessarily on-topic.
That's exactly what HomeDish organizers want. An experience with people getting to know one another. No lecture. No sermon. No one-way encounter where it's an us and a them.
Guests left with full stomachs and a souvenir: a printed menu that included photographs and stories of each cook, along with translations of the various dishes we'd just sampled.
I learned that nargis kabob is egg, chicken and onion. Manta is a beef and onion dumpling. Kabli is rice with lamb and dried fruits. Salat is salad, in this case one with cabbage, olive, cucumber, pepper, lemon carrot and radish.
Just like people, the names are different.
But the ingredients are all the same.