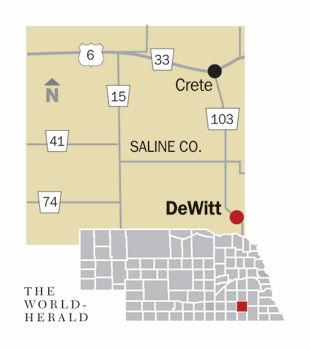 DEWITT, Neb. — There was a time in this former factory town an hour south of Lincoln when you didn't talk politics.
Then came last year. And this rule of polite company — once adhered to in a politically purple place, where your neighbor could as easily be a Democrat as a Republican — went right out the window.
"I think the politics thing got them," factory worker-turned-bartender Dee Schuerman explained as she opened the Red Zone on a recent weekday.
People needed a way to make sense of all that had changed around them over the past decade, starting with the closing of the Vise-Grip factory, the town's biggest employer by far and a source of community pride. It fell victim to globalization and closed in 2008, putting 330 people out of work and sending the jobs to China.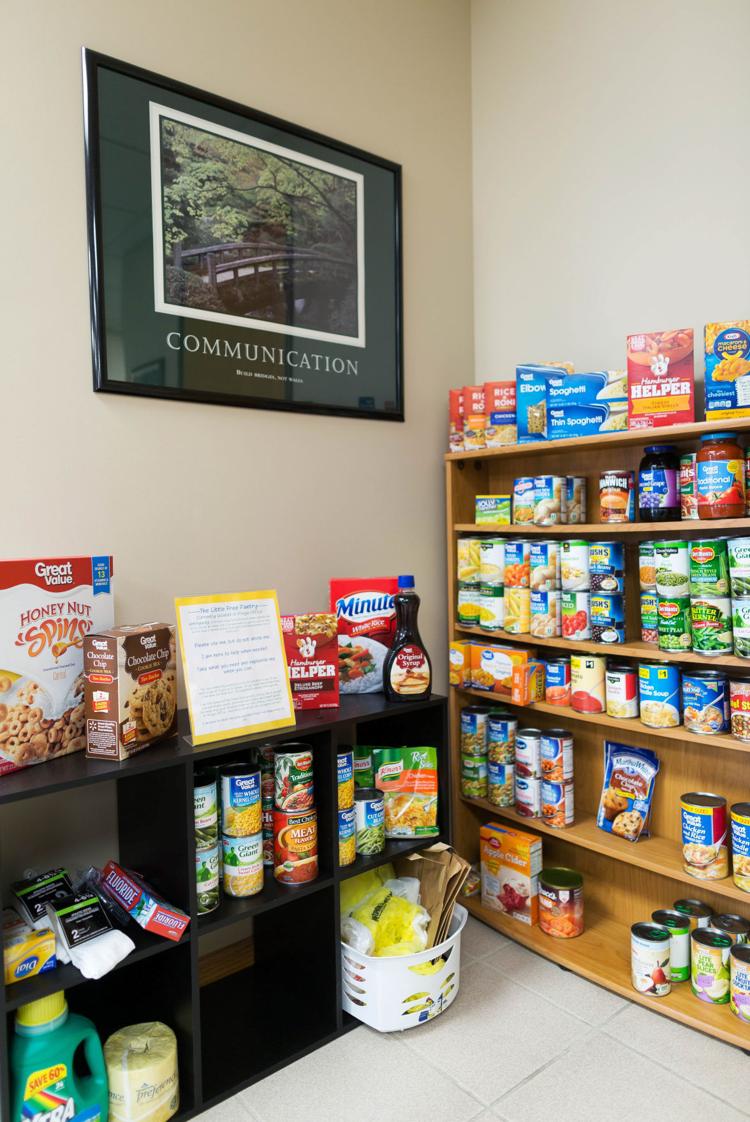 After that, the grocery store closed. Church attendance slid. School enrollment dropped. Farm profits languished. A massive flood in 2015 added to the misery.
"Life is hard in rural America," hog operation owner Linda Gibbs said. "We felt like no one was listening."
By the time Donald Trump came on the scene, pledging to "make America great again," many in this battered but still-standing village of 503 seized on that promise. It made sense in a place that felt lost amid seismic changes. In November, DeWitt residents turned their talk into action, voting for Trump by the biggest margin that the town has given a presidential candidate in 20 years.
Now that Trump has had a month in office, the political talk has waned. Still, people seem unsettled by the ongoing political upheaval they keep reading about and seeing. They say they're sick of politics in general and stressed out by rifts caused by political differences.
Some cope by trying to ignore the noise. Others, not trusting traditional news sources, are doing their own research in hopes of sorting out facts from fakery. A few Trump voters cringe, saying they are truly worried about what such an unpredictable president might bring.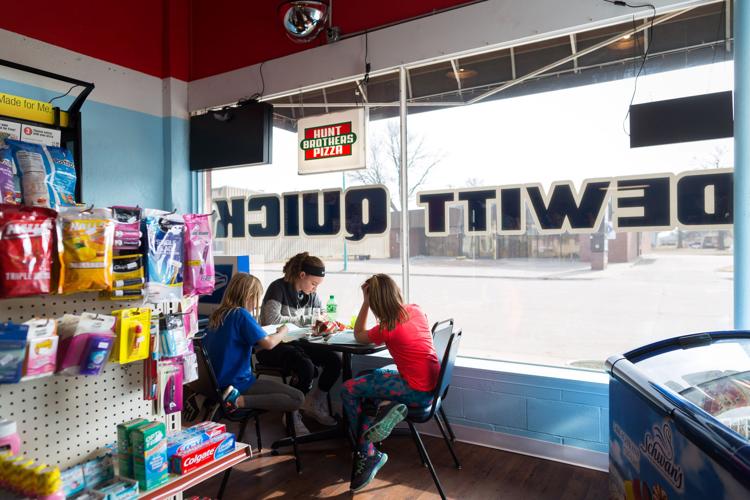 Yet DeWitt residents take comfort in the very place they are trying to make great again — and they see some cause for hope. A Minnesota company has purchased the Vise-Grip property, with plans of bringing back some jobs. Houses are selling again despite pricey government-mandated flood insurance. The senior center and library stay busy. There is enough demand for a cold one to keep two bars — the Red Zone and nearby RJ's — running. And the convenience mart, DeWitt Quick, which opened after the grocery closed, finds a market in selling a last-minute gallon of milk or a fresh pizza.
Like the American flag flapping almost defiantly above quiet Fillmore Avenue, the town's main drag, DeWitt is still standing — and the people I met were eager to remind me of that. Despite their reluctance to talk politics with an outsider, they seemed grateful someone cared.
"I feel we are forgotten here," said Tim Garrison, chairman of the DeWitt Area Recovery Team formed after the flood.
That sentiment was echoed after the election in exit polls throughout rural America. Voters there had felt ignored by the political establishment, so they latched on to Trump and his outsider image. Rural, white, working-class America carried Trump into office.
So Trump's success in a red state like Nebraska is hardly a surprise.
Actually, however, DeWitt has been less politically predictable than you'd imagine. Twice in the past six presidential elections DeWitt went for Democrats: Bill Clinton in 1996 and Barack Obama in 2008, just after the Vise-Grip hand-tool plant closed.
DeWitt itself sits in a county that, by some chemistry of Czech roots and its manufacturing industry, is more Democratic than most of Nebraska. Saline County Election Commissioner Daryl Fikar called the county a "blue dot in a red sea."
But in 2016, Trump's message resonated deeply in DeWitt, and Trump beat Hillary Clinton by well over 2-to-1.
"It was stunning — stunning — the Trump margins in rural Nebraska," said Brian Depew, director of the Center for Rural Affairs in Lyons. "People feel like the American dream doesn't exist for their children like it did for them and their parents. The frustration was real. Trump could tap into that frustration."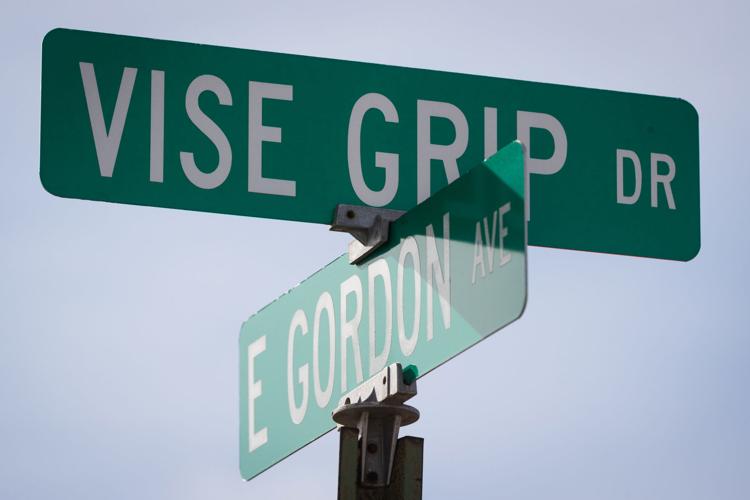 For DeWitt, the loss of Vise-Grip was the major blow. The factory, which still looms over downtown, at one time employed 750. The town has a street named for the company, which began in the 1920s. The village office lovingly memorializes Vise-Grip's history with photographs of its Danish immigrant founder, William Petersen, whose family took such good care of employees that no one ever bothered to unionize.
Retiree Randy Badman worked there, as had his parents and grandparents and even children, who would get summer jobs because "that was the kind of people the Petersens were." Hire on a handshake, help with a mortgage, offer bags of candy as well as Christmas bonuses at the holidays. But when the company was sold, the personal touch left; then, when the factory left, even the most famous products changed too.
Pulling out a vintage DeWitt-made clamp, Badman pointed to a joint on the trigger-lever assembly that was held together by a roll pin. Chinese-made Vise-Grip tools use a rivet on that joint instead, he said.
Badman, who said he's never voted "straight ticket," voted for Trump. He thought Trump's business background would be helpful, and he credits Trump with bringing jobs back since the election and getting better deals from companies with government contracts. Badman is under no illusion that Vise-Grip will return to DeWitt. But Malco Products of Annandale, Minnesota, has purchased the factory, and its representatives have told him that after a year or two of setup they may bring on 20 employees to start.
Like a lot of people, Badman can't understand why so many people — even in places like Lincoln and Omaha — have taken to the streets to protest Trump.
"It irritates me so bad," he said. "The people elected him. Give him a chance."
Badman said it was time to accept the election results, move on and try to work together.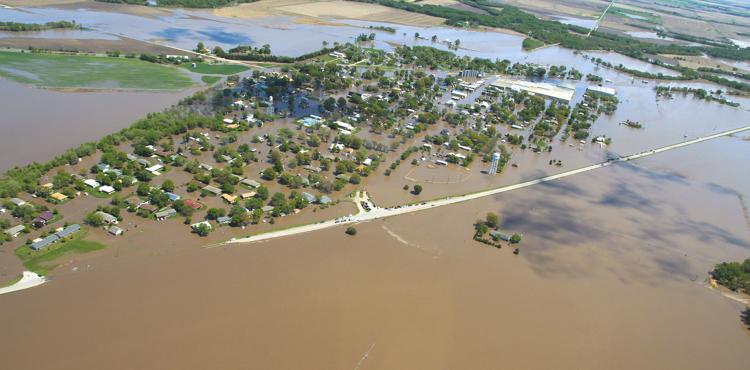 DeWitt neighbors had to really lean on each other, and outside helpers, to clean up after the 2015 flood, when heavy rainfall pushed the Big Blue River and Turkey and Swan Creeks past their banks. The water came overnight, and in some cases, people found out about it when they opened their basement doors the following morning and saw water at the top stair. Badman's home escaped the worst of it, though the saturated ground pushed water through his basement walls.
Cleanup continues from the flood, described by local land broker and farmer Don Kracke as a "freak deal."
Because the town sits in a flood plain, anyone who buys a house with a bank loan must buy flood insurance, which adds hundreds of dollars a month to a mortgage payment.
And then there's property taxes, which Kracke said are way too high compared with neighboring states. That's a big hit for farmers, especially given lower crop prices.
"It really doesn't come out very well," he said. "The profit margin is zero to negative."
Kracke said Trump appealed to him because he saw someone in government who would level a playing field for rural folks. He and his wife have what he called "a small farm" and "can't make a living on what we have." So both of them work other jobs.
He said he liked that Trump is doing what he said he would do.
"It's not lip service," he said of Trump's actions on immigration and regulation. "That's big in my book."
Yet like a lot of people in DeWitt, Kracke said he was totally turned off by politics. And news.
"I don't watch TV, I don't read newspapers. If it has anything to do with politics, on Facebook, I don't even look at it. If you email me something on politics, I will not read it," Kracke said.
Instead, he prefers the company of his barbershop quartet and his cattle.
"That's what keeps me sane," he said. "Life is too short to be arguing with people."
That's also how Gibbs feels. The CEO of Waldo Genetics, a storied hog operation founded by her great-grandfather, said she treasures relationships in her local community. And as a self-described "nonpolitical person," she laments the harsh debates. If only people could hash out their political differences politely, she said, they might come to understand opposing points of view.
"Hearts can change, lives can change, and we all can soften toward each other," she said. "It doesn't take a government. It takes a friend across the table."
She grew teary as she talked about the 2016 election and how her support for Trump had damaged some of her relationships.
A cradle Republican, Gibbs was never going to vote for Democrat Hillary Clinton. She didn't trust her. She also did not want Trump at first and prayed hard for any other Republican.
But in the end she decided to look past Trump's brusque manner and his controversial words and actions because she saw him as a change agent — a disrupter who could alter the country's course, fix what was broken and fill a U.S. Supreme Court vacancy with a conservative justice. Most of all, she felt that Trump could restore her sense of an America that had slipped away.
The cultural and business landscape has changed so much over Gibbs' 53 years.
"There's less people out there," Gibbs said. "The kids don't want to stay. Those out here who do want to make a living, we love what we're doing. But it's so much harder to do business than it was five to 10 years ago."
In the anti-Trump voices that arose after his election, Gibbs heard a tone-deaf and hypocritical argument. She felt the Women's March, in its focus on keeping abortion legal, left out anti-abortion women like her.
More broadly, she felt Trump opponents had no clue about rural Americans like her and was "fed up with their demeaning attitude." She is no rube — she runs a 2,000-sow operation in two states, travels internationally and manages a staff of 30. And while she takes pride in her company's role in providing food and jobs, she knows that some of her fellow Americans see large-scale food producers as bad.
"It feels like society thinks we're the enemy," she said. "We're family. We're people. We're trying to provide food. And it's getting harder and harder to do that."
Like anyone, Gibbs has wrestled with her own contradictions. She fully supported Trump's controversial executive order — overruled by federal courts, so far — that temporarily barred all refugees, as well as travelers from seven majority-Muslim countries, from coming to the United States. She agrees with Trump that the immigration system needs to be fixed and that U.S. borders should be strengthened.
But her staff includes a handful of immigrants from a half-dozen countries, and she knows their stories intimately. She has helped them get their papers in order and sees them as "great people" who pay taxes — although a couple of those immigrant employees have moved to DeWitt and stirred up a controversy by raising chickens on their property.
Trump's face stares from a poster in a storefront window in DeWitt, but not everyone in town is a fan. One man who did not want to be identified blamed Trump for creating animosity, sowing discord and giving cover to racists. One businesswoman said there was no way she could comment because she served clients of all political stripes. Then she whispered that Trump scared her to death.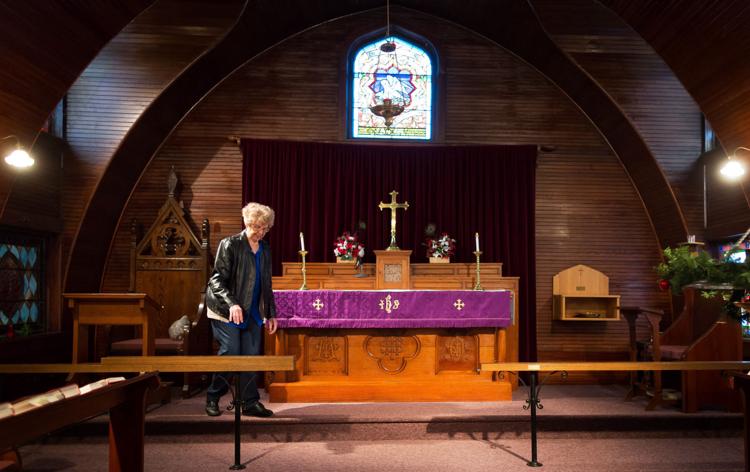 At the senior center, two women declined to say how they voted but voiced strong concern. Bev Plihal, a social worker who lives on a farm and runs the senior center, and Gerry Powers, a librarian who plays organ at church, said they thought Trump wasn't returning the love he got from rural America. They questioned whether he places enough priority on agriculture.
Both say they worry that Trump makes decisions too hastily, risks angering other countries, and derides news coverage as "fake news."
"That scares me," said Powers, who is 83.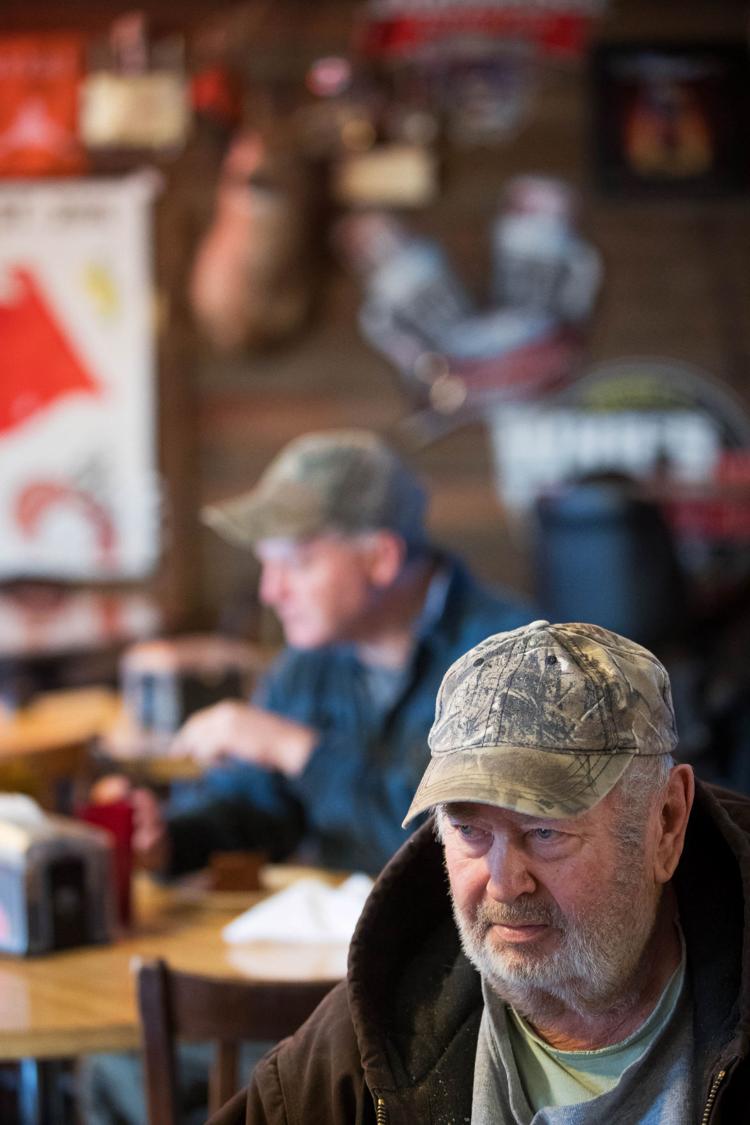 Over at RJ's, a joint that serves a terrific no-fuss cheeseburger, retiree Carl E. Wollenburg didn't mind flying his Democratic flag, saying he has "broad shoulders." He shrugged off the guffaws of four lunch companions, all farmers or farm workers who supported Trump.
"I voted for Hillary," said Wollenburg, 73. "I'm scared (Trump) is going to get us in trouble."
Joel Pieper, a 55-year-old farmer, stopped grinning and agreed. Pieper expected Trump to "upset the apple cart," but now he's worried about Trump's too-friendly relationship with Russian leader Vladimir Putin. And he's watching Trump's plans for health care, saying Republicans had better come up with a good replacement for Obamacare.
"I voted for Trump," Pieper said, "but I'm kind of nervous."
And at the Red Zone, Schuerman acknowledged some misgivings about how things will work out. As she fiddled with the beer cooler, the former Vise-Grip furnace feeder said she initially figured Trump "would be all right."
"Now I wonder," she said. "The way we're going, we're going to be in a war soon."
But it's only been a month, Schuerman said. Though people may not like Trump personally, she said, they should respect the office of the president. And give him time.
She likes that Trump isn't a politician, and she hopes that he can make government less intrusive. Besides her bartender job, she is a cook at the Tri-County K-12 school a few miles away. She grimaced when asked about the nutrition rules that Michelle Obama championed.
Schuerman said the Obama administration's emphasis on more healthful school lunches didn't prevent her from serving the Nebraska staple of cinnamon rolls with chili. But she had to make the rolls a lot smaller — and, darn it, didn't anyone know how much these kids can eat?
Schuerman fished out a condiment caddy on which someone had taped a Post-it note scrawled with the Red Zone's conversation "rules." No Pete Rose and no football playoff system, it said. No religion and no sexual orientation. Topping the list was politics.
That idea seemed almost quaint. Schuerman — and a lot of others in DeWitt — wish it were still true.
Correction: An earlier version of this story, and some of the accompanying photo captions, misspelled Dee Schuerman's last name.