How do you do it? How do you, day in and day out, know what to say to people with problems? How do you fix their broken relationships and addictions and queries about whether to pilfer hotel shampoo bottles? And how do you do it in 700 words, on deadline, for the world — including The World-Herald — to see? How do you do it so succinctly, so honestly and so popularly that you are right up there in online clicks with the venerated Huskers? Are you a real person, or an amalgamation of Buddha, Yoda, Jesus, my mom, my sister and my friend, Emily?
Anonymous newspaper (non-advice) columnist
Note to readers: Amy Dickinson, 58, replaced Ann Landers 15 years ago and is author of two memoirs and a syndicated column that runs in 150 publications in North America, including this one. She is currently out of the office. She's wrapping up a visit to Omaha, where on Wednesday morning she spoke to more than 900 people in the packed sanctuary of St. Andrew's United Methodist Church in northwest Omaha. She was here as part of the Omaha Town Hall lecture series. Afterward, she was whisked to an Omaha luncheon and was therefore unavailable to answer this pressing letter.
So I have taken it upon myself to respond in her absence, based on an interview and her hourlong talk.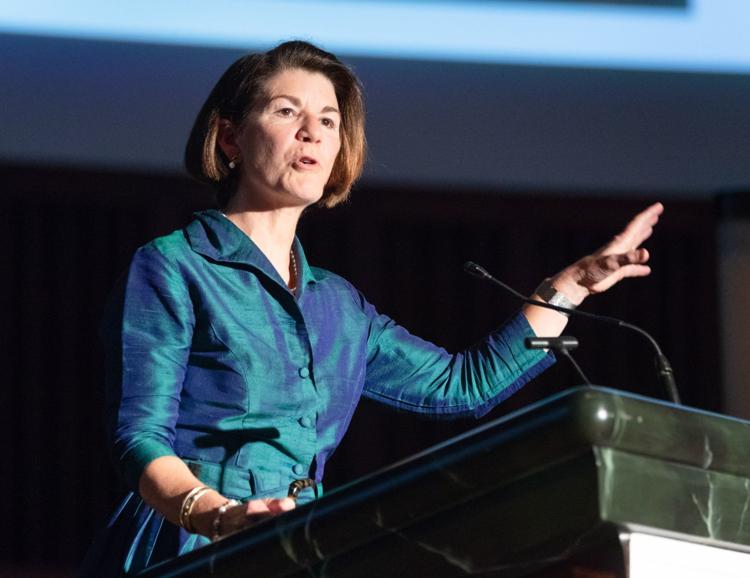 I am a real person, all-too real. I was born in the same small town in upstate New York where my family has been since George Washington's time. My dad left us when I was 12. I have been married, divorced and remarried, and have a blended family of five daughters. I became a grandmother when one of our daughters became a teenage mother. Sometimes I cry alone in my car.
I have lived in some of the world's greatest cities: New York, Washington, D.C., London, Chicago. But I returned to little Freeville, population 454, 10 years ago to care for my ailing mother. It was there I met Bruno, a guy I knew from high school. Our marriage was like a Hallmark movie. Then, as life became real with four new adolescent daughters, more like a Lifetime tale. Bruno is a saint and really good at saying "I'm sorry."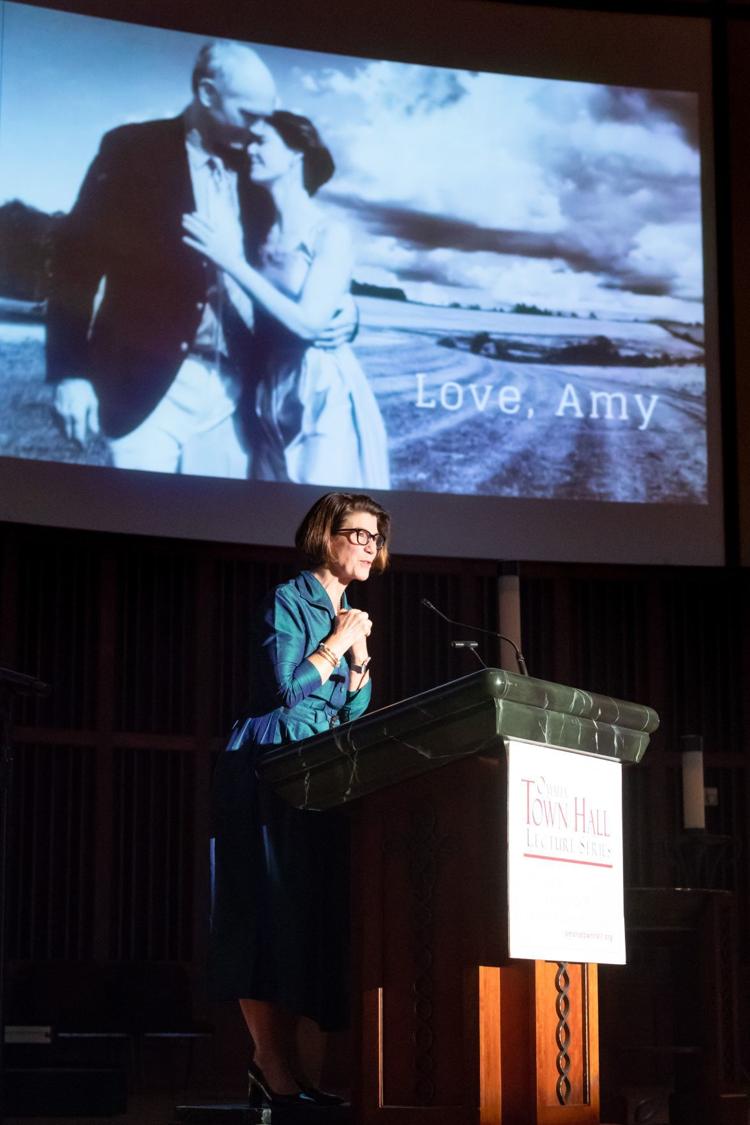 So life has been my teacher. I've also done therapy, meditation, an Oprah retreat on being my best self (which I found incredibly depressing). I rely on my Methodist church and my big extended family, including some pretty fabulous aunts. I've read a lot of books. I like to say I'm either a really good seeker or a really poor learner.
But I don't pretend to know everything, and I rely on the many people who have sought my help to show me the way. I get some 200 to 300 emails a day. The problems tend to boil down to someone being frustrated with the behavior of someone else. At its root, people seem lonely and I try my best to help. Often I realize I have to follow my own advice.
Zip it. Watch your mouth. Ninety-five percent of the problems any of us encounter are things we said or someone said to us. A thousand "I love yous" probably can't undo one "You're worthless." Wait before responding.
Listen. Talkers, and I am one, often have a tough time listening. But learn to listen well.
Pay attention. We are all walking around with an invisible sign that says: "Please see me." So look.
Detach. Don't get hooked by other people's woes and make them your own. Don't try to fix anything. Sometimes the more fixing we try, the less growing they can do. Try what my mother-in-law does. Listen and say, "I'll pray for you."
Be OK with being uncomfortable. Breathing helps.
Abide. Be patient and endure. Sometimes this means taking your turn to sulk on the porch as I did as our mother was dying. But stick in there and be present.
Learn something new. I play the ukulele. It is not a useful skill, but playing it brings me a private joy, which is its own end.
Forgive. Forgive people even when they don't deserve it.
Buy bigger pants. It's not about giving up; it's about surrendering. Surrendering is about accepting who you are. No sense walking around in pants that don't fit.
Tell your story. I did. (And it's available at The Bookworm.)

Get a newspaper subscription. It puts everyone on the same page. It builds community engagement. It brings a place together.
OK, Amy Dickinson did not write that last one. That was sheer poetic license borne somewhat out of naked self-interest, but also out of a newspaper experience that begins so often with a welcome mat like the advice column. I grew up reading Ann Landers in Omaha. Amy grew up reading Ann Landers in Freeville, New York.
I'd like to think that one reason her column is incredibly popular — an organizer of Wednesday's event gushed that she subscribes to The World-Herald not for moi, by the way, but for Ask Amy — is that ultimately we humans need to know we are not alone. That we do not bear our troubles alone in this world. That someone, somewhere — in this case, in a tiny New York town — is listening and is caring and is writing us back. That act keeps us all afloat.
In the spirit of Amy's advice, I've got one more letter for her.
Thank you. Thank you for listening to people. Thank you for being thoughtful in your response. And thank you for coming to Omaha.