RAVENNA, Neb. — Bob and Alice Cruise grew up 3 miles apart on farms south of Pleasanton, Nebraska, but the two never met as children.
Bob went to high school in Pleasanton. Alice chose to attend high school with two friends in Kearney.
Bob even drove Alice's brother, the late Ray Dorothy, and other country kids to Pleasanton High School in his dad's Buick for $30 a month. He also knew Alice's father, but he hadn't met the girl down the road.
"I knew she existed, but I didn't even know what she even looked like," Bob said.
So one night in the early 1940s, Bob paid a visit to the Dorothy farm, where he found Alice milking cows in the barn. The two hit it off.
Bob took Alice to a movie in Ravenna for their first date. Less than a year later, June 15, 1941, they "ran off" and married before a judge in Kansas. "We didn't tell our folks, we didn't tell anybody."
Bob paid the judge with a $20 bill he had earned working on farms one summer, and the judge gave him $12 in silver dollars as change. The couple still have those silver dollars.
On Saturday, Bob, 97, and Alice, 98, celebrated their 78th wedding anniversary. They were honored by the U.S. House of Representatives this year as Nebraska's longest-married couple.
When Alice heard the news, she said she couldn't believe it. "Surely there's people that have been married longer," she said.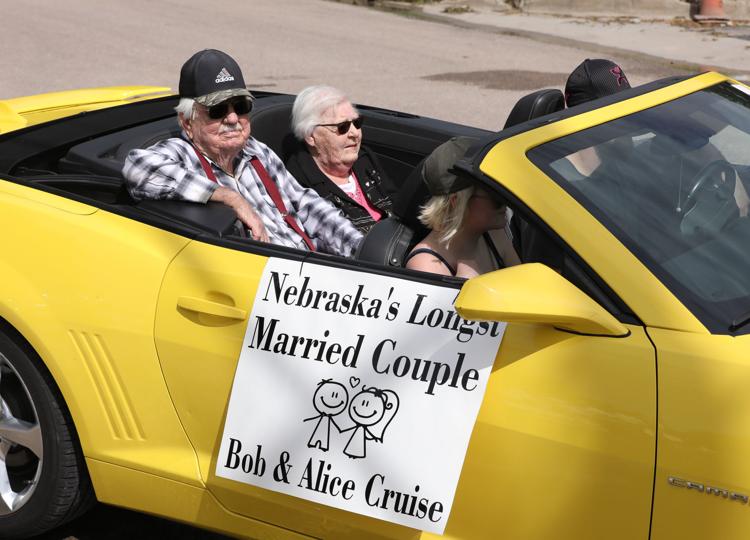 The Cruises, now residents of Seneca Sunrise Assisted Living in Ravenna, also were honored on their anniversary at Ravenna's annual celebration, Annevar. During the parade, they waved and smiled from a bright yellow convertible with a sign on the back reading, "Just Married. June 15, 1941."
Before a cake reception Friday at Seneca Sunrise, Alice and Bob said they never had a wedding cake or had their photo taken the day they were married. Their earliest photo as a couple was taken in the fall of 1941 as they walked down a street in Kearney.
In 1941, couples had reasons to marry quickly and quietly. World War II had started in Europe, and U.S. boys were getting drafted, Alice said. Bob never went to war, however, because he didn't pass his physical.
The newlyweds didn't have money, a car or a house.
"We didn't tell anybody for a while until finally Bob's dad had bought some land and it had a house on it, and so then we fixed that house up and that was where we started," Alice said.
Sign up for The World-Herald's afternoon updates
Receive a summary of the day's popular and trending stories from Omaha.com.
Bob said his father was furious when he told him about the marriage, but his mom didn't say much. Bob also told Alice's dad about the wedding.
"He was out in the hog pen, and I went out there and talked to him. I told him. He didn't get too shook up," Bob said.
Bob and Alice made their lives farming south of Pleasanton. They raised four children — Karen, JoAnne, Ron and Randy — on the farm where the kids played and worked.
In the early years, Alice raised chickens and sold eggs in Kearney once a week. She could trade the eggs at the farmers market for groceries. Either her parents or Bob's parents would drive her to town.
How did they stay married for so many years, through the good and bad times? "They're both pretty stubborn," said their son Ron of rural Pleasanton.
Bob said his response always has been the same, "Yes, dear."
A roundup of inspirational stories from Midlanders with heart
There's the woman with MS who runs despite her diagnosis. The 7-year-old born without his left hand who plays baseball just like the other kids his age. The refugee who turned to Zumba to help her recover from cancer treatments. Check out their inspiring stories and others below.