Youth program: U.S. Sens. Deb Fischer and Ben Sasse have announced the selection of two Nebraska students to the 54th annual U.S. Senate Youth Program. Sean Lynch II of Omaha and Paige Wergin of Aurora were chosen by Nebraska Commissioner of Education Matthew Blomstedt following nominations by their teachers and principals. They will join 104 students from across the country for an all-expense-paid trip to Washington, D.C., March 5-12. The trip is sponsored by the William Randolph Hearst Foundation, which also provides a $5,000 scholarship to each delegate. Lynch attends Skutt High School, and Wergin attends Aurora High School.
Show choir competition: Millard West High School's award-winning show choirs will host their annual competition, "Singsation," on Jan. 23. "Singsation" is one of area's the most successful and competitive high school show choir competitions. Twenty-four groups involving nearly 1,000 performers from five states will perform and compete in three divisions. The begins at 7:25 a.m. The field narrows to six finalists that will compete for top honors starting at 7:30 p.m. Each show choir will perform a 20 to 25 minute show of musical selections ranging from Broadway to jazz to pop and everything in between. Cost is $12 for the day; $7 to only attend the preliminary session or the finals. Admission for high school-aged students and younger is $5. Children 4 and younger get in free. Concessions from area eateries will be available.
Science fair: Alice Buffett Magnet Middle School, 14101 Larimore Ave., held its 11th annual Science and Engineering Fair on Friday in the gymnasium. This year's fair expanded to include sixth-graders, making it the largest Science and Engineering Fair in Omaha Public Schools. More than 332 students presented 278 projects. The fair aims to help students find a holistic viewpoint "real world" applications of their projects. The projects covered topics that included biology, chemistry, physics, earth and space sciences and engineering.
From left, Amber Rolfzen, Kelly Hunter and Kadie Rolfzen hold plaques given to them during a ceremony at Papillion-La Vista South High School.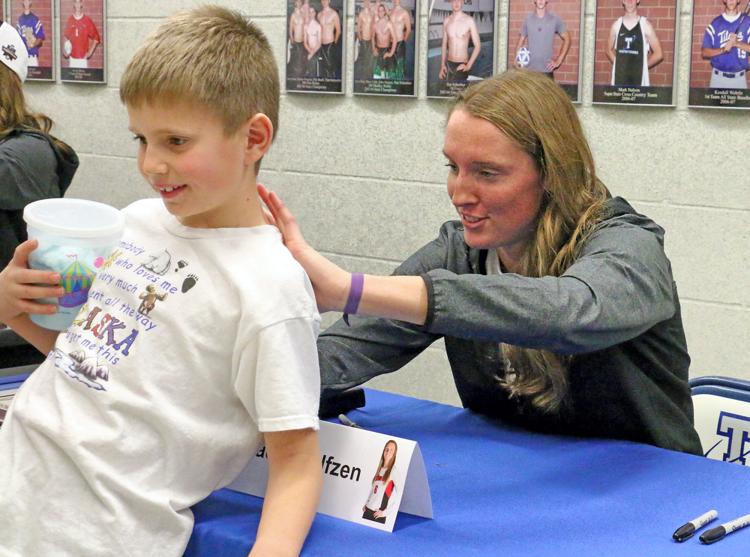 Kadie Rolfzen signs the back of Logan Magner's shirt at Papillion-La Vista South High School.
Champion celebration: Volleyball fans young and old gathered at Papillion-La Vista South High School on Jan. 9 for a special celebration to honor Amber Rolfzen, Kadie Rolfzen and Kelly Hunter, who are members of Nebraska's national championship volleyball team and Titan alumnae. Between the boys and girls Titan Basketball games, a quick celebration was held in the gymnasium to honor the trio followed by an autograph signing.
Musical Explorers: Dozens of local teachers will attend a two-day workshop at the Holland Center on Jan. 22-23 for the pilot year of the Carnegie Hall program Musical Explorers. Musical Explorers is a semester-long, curriculum-based program for students in kindergarten through second grade presented by Omaha Performing Arts in partnership with Carnegie Hall's Weill Music Institute. More than 600 Omaha Public Schools students and educators from Gilder Elementary, Walnut Hill Elementary and Harrison Elementary Schools will take part in the inaugural year, which culminates with an interactive concert at the Holland Center on May 3.
Roadrunner Classic: The seventh annual Roadrunner Classic was held Jan. 7 at Norwood Park Elementary School in Lincoln. This year's honoree was Mary Kay Kreikemeier, a long-time teacher and librarian at Norwood Park who recently died. Proceeds from a friendly basketball game between fourth-and fiftth-grade scholar athletes to Kreikemeier's investment in Norwood Park Scholars.
Thank you: Nominate your favorite teacher for the annual Lincoln Public Schools Thank You Teacher event. Nominations should be postmarked or sent by 5 p.m. Feb. 19 and mailed to: Thank You Teacher, Communications, LPS District Offices, 5905 O St., Lincoln, NE 68510. Nominations can also be submitted at lps.org/go/recognize.
Poster contest: The annual 2016 Nebraska Severe Weather Awareness Poster Contest is part of the annual Severe Weather Awareness Week effort produced by emergency management directors and coordinators across Nebraska. The contest is open to all fourth-grade students in Nebraska public and private schools as well as home-schooled students. Teachers are encouraged to have students participate while teaching them about hazards of severe weather in Nebraska. While not designed to promote tornado awareness, tornadoes are the most common theme. Lightning and flooding, which are also products of severe thunderstorms, are also good topic. Prizes are: first place, $125 gift card; second place, $100 gift card; third place, $75 gift card; and fourth place, a $50 gift card. The gift cards are sponsored by the National Weather Service. The contest is sponsored by the Nebraska Association of Emergency Management, the Nebraska Emergency Management Agency and the weather service. For contest rules and submission information, go to naem.us.
Essay contest: The 14th annual "Why I Want to Go to College" essay contest, sponsored by the Nebraska Educational Savings Trust and the Omaha Storm Chasers is open to seventh -and eighth-grade students. Essays must be 750 words or less and describe the student's educational goals and dreams for the future. Entries must be typed and double-spaced on 8½-inch by 11-inch paper. Each essay must be accompanied with a required cover sheet, which can be found here. Faculty and students in the College of Education at the University of Nebraska Omaha will serve as judges. First-, second- and third-place winners will be honored from each of Nebraska's three congressional districts, in addition to out-of-state entries, with winners earning prizes of $2,000, $1,000 and $500, respectively, toward a NEST College Savings Plan. The deadline is March 18. All winners from Nebraska will get four box seat tickets to the Storm Chasers game on May 1 and be recognized beforeto the game. Each winner student will also get an opportunity to meet Nebraska State Treasurer Stenberg at the game. Get complete rules and information here.