Whether they are chasing their tails, lounging in the sun or making mischief, our pets always create lots of memorable moments in our lives.
Why not snap a picture and send it to us!
Check out Pet Parade - a weekly photo gallery that appears Mondays on Omaha.com/goodnews - featuring your pet pictures. Tell us all about what makes your furry companion a special part of your life.
Send your photos to pets@owh.com. Be sure to include your pet's name, your first and last name and your city of residence.
This week's featured pets are (click on photo to enlarge; mobile users having difficulty seeing pictures can click here):
Jo Jo and Sage just relaxing on a beautiful day. They are owned by Rich and Dee Renfrow.
Gus is a miniature Golden-Doodle who belongs to Abby and Nick Giandinoto from Omaha. Gus loves to help mom in the kitchen!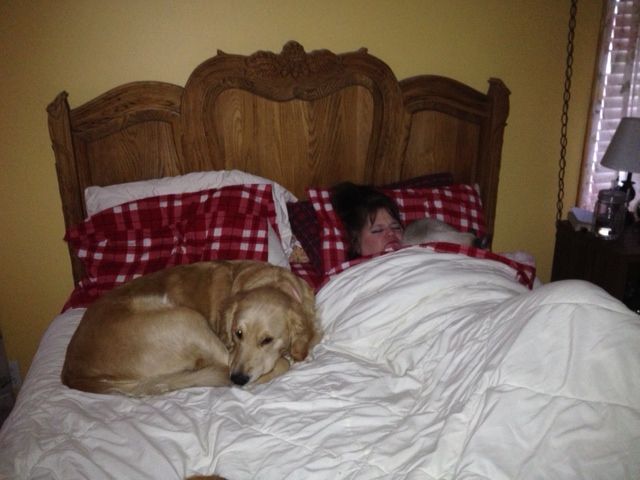 Izzy is a Golden Retriever and Tyson the Siamese cat take afternoon nap with their mom Kim after a hard week. Submitted by Dave Welty.
Sparky is being weighed and seems to be on the heavy side. He actually only weighs 12 pounds. His big smile on his face may be from eating a little too many treats. Sparky Ward is owned by the Bill Ward Family of Lee's Summit, Missouri. His grandparents, Albert and Patricia Anthone, reside in Omaha.
Nap time. Lexi is ready to fall asleep by sucking her paw at home with her owners, Ken and Kris Christianson of Omaha.
Merlin was adopted from the Nebraska Humane Society via PetsMart a year ago. He makes his home with Bill and Maureen Kessler, Omaha, and has been a very considerate cat.
Tigger sits up like meercat. She is owned by Gracie Spicka of Omaha.
Mango can't wait to eat her birthday "pupcake". She is owned by Brendan Pennington of Omaha.
Loki and Junior are two huskies welcoming the new puppy, Nala, into the house. They are owned by Mitchell and Taylor Anderson of Omaha.