Whether they are chasing their tails, lounging in the sun or making mischief, our pets always create lots of memorable moments in our lives.
Why not snap a picture and send it to us!
Check out Pet Parade - a weekly photo gallery that appears Mondays on Omaha.com/goodnews - featuring your pet pictures. Tell us all about what makes your furry companion a special part of your life.
Send your photos to pets@owh.com. Be sure to include your pet's name, your first and last name and your city of residence.
This week's featured pets are (click on photo to enlarge; mobile users having difficulty seeing pictures can click here):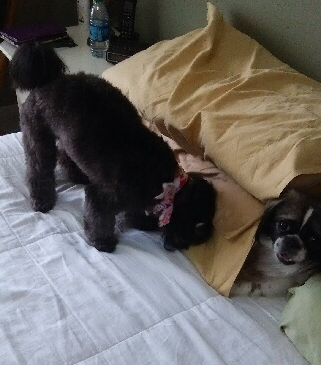 "I see you!" Dahlia and Izzie like playing hide and seek. They are owned by Bobbi Maastricht and Alex Scmidt of Omaha.
Cats Henrietta and Dash think Buddy the dog is their mom. They are owned by David and Janette Hughes of Gretna.
Angel is all cuddled up with her teddy bear. She is owned by Deb Whitehill Bloom of Omaha.
Caught with his paw in the cookie box. Heska is 3-½-months-old and she is biding a cold winter day with an empty box. Owner Ellen Ehlers of Omaha wrote "She's a wonderful addition to our family that also includes a 9-½-year-old Black Lab that thinks she's somewhat of a pest."
Sophie is ready for a walk. She is a soft-coated Wheaten Terrier owned by Joe and Judy Medakovich of Bellevue.
Kiwi is a Maltese who likes to pose on the edge if the couch while his owners are busy in the kitchen. She is owned by Susan Schiltz of Gretna.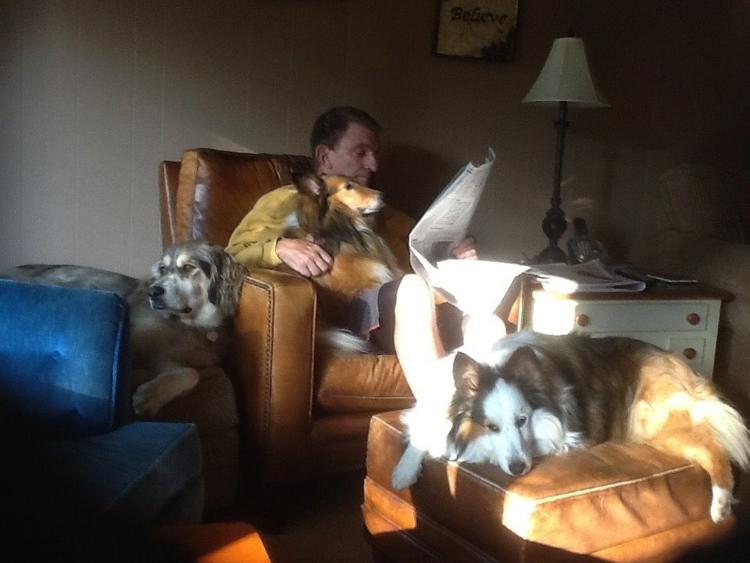 Tom Hupp of Omaha reads the Omaha World-Herald with Charlie, Brandi and Bear.
Molly is a 4-year-old Tabby cat who likes to check out YouTube. She lives with Wayne and Marilyn Jacobsen in Columbus, Nebraska.