On a sea of snow, John Klaasmeyer aimed his bulldozer for what he thought was the center of a road outside Albion, Neb. The tops of buried fence posts served as his guide.
It was the winter of 1948-49.
From Kansas to the Canadian border, an area nearly the size of France lay buried in snow and ice from blizzards that had begun in November.
The region's economy was teetering on the edge of collapse. Cattle and sheep by the tens of thousands were dying of starvation and exposure.
Death and illness stalked people, too. Whole towns were rationing food. Some people were burning furniture for household fuel.
The problem: ceaseless winds and rounds of fresh snow defied efforts to keep roads and rail lines clear.
Among these storms was one of the worst blizzards on record: on Jan. 2 and 3, 1949.
Aerial view of Harrison in January 1949.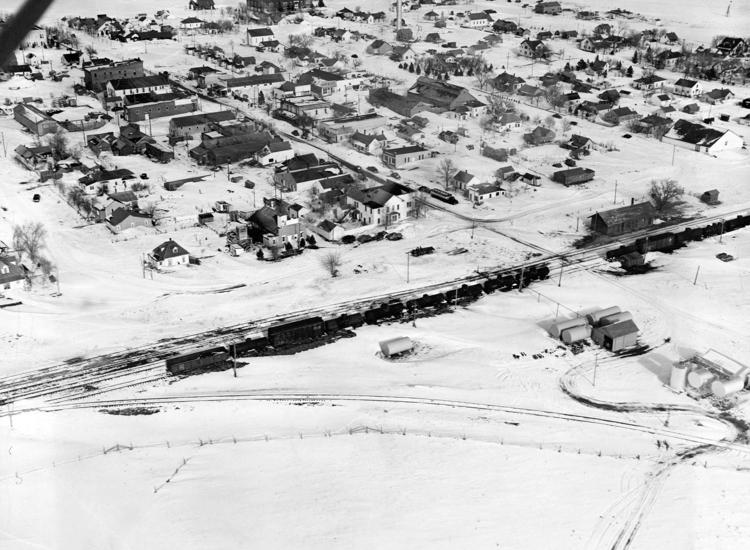 War Department inspectors look over the wreckage of a Civil Air Patrol plane which struck a high tension wire and ran into a house in Alliance while returning from a flight to deliver emergency rations and mail to snowbound ranchers. Pilot Clarence Kirkpatrick and observer John Huff died in the crash. February 9, 1949.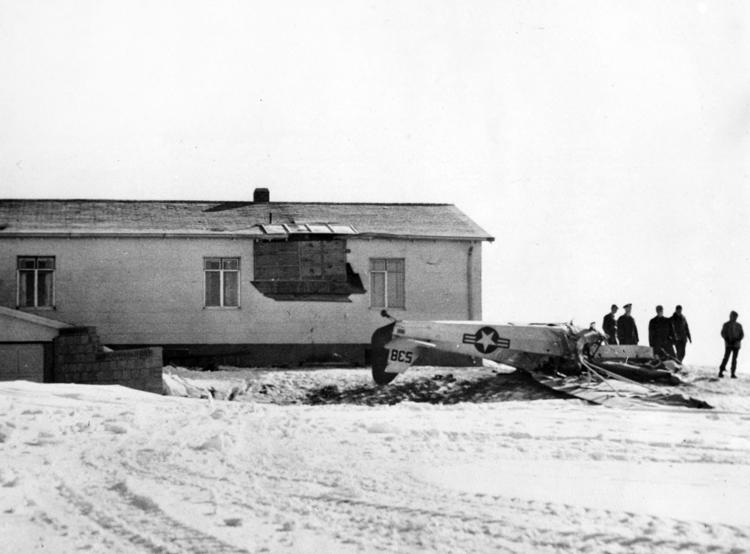 Manager Dixon K. Grassman of the Western Air Lines office at Alliance, Neb. has his finger on the keyhole which he said admitted all the snowdrift seen in the foreground. Published Feb. 8, 1949.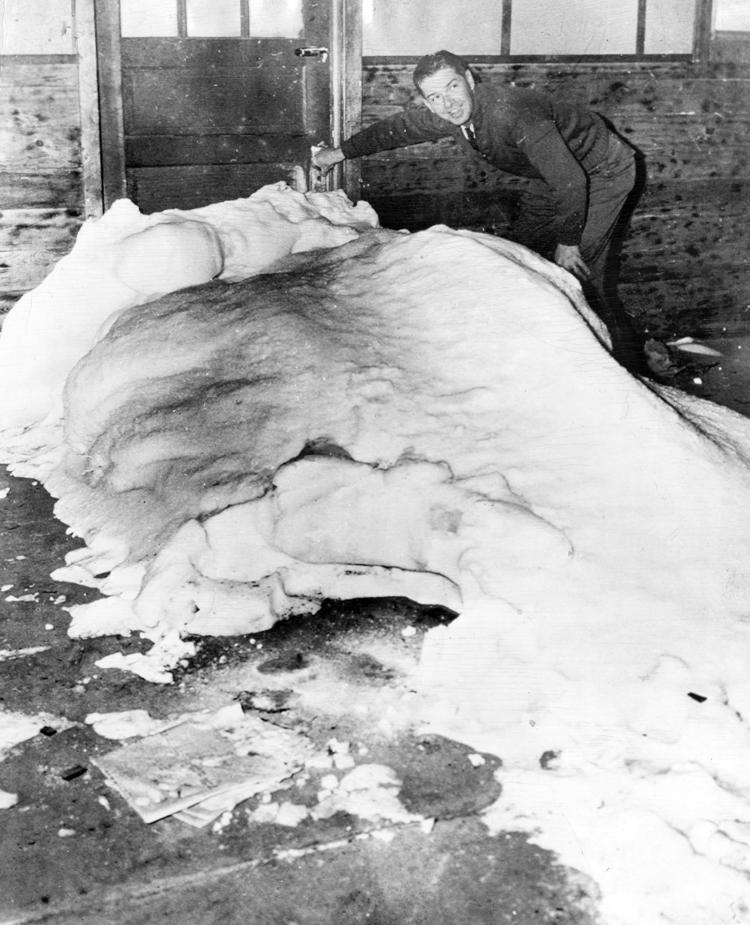 J.J. Ganney of Ashby, an agent-operator for the Burlington, stands on top a 10-foot drift talking over a portable telephone to report a cave-in to the division office.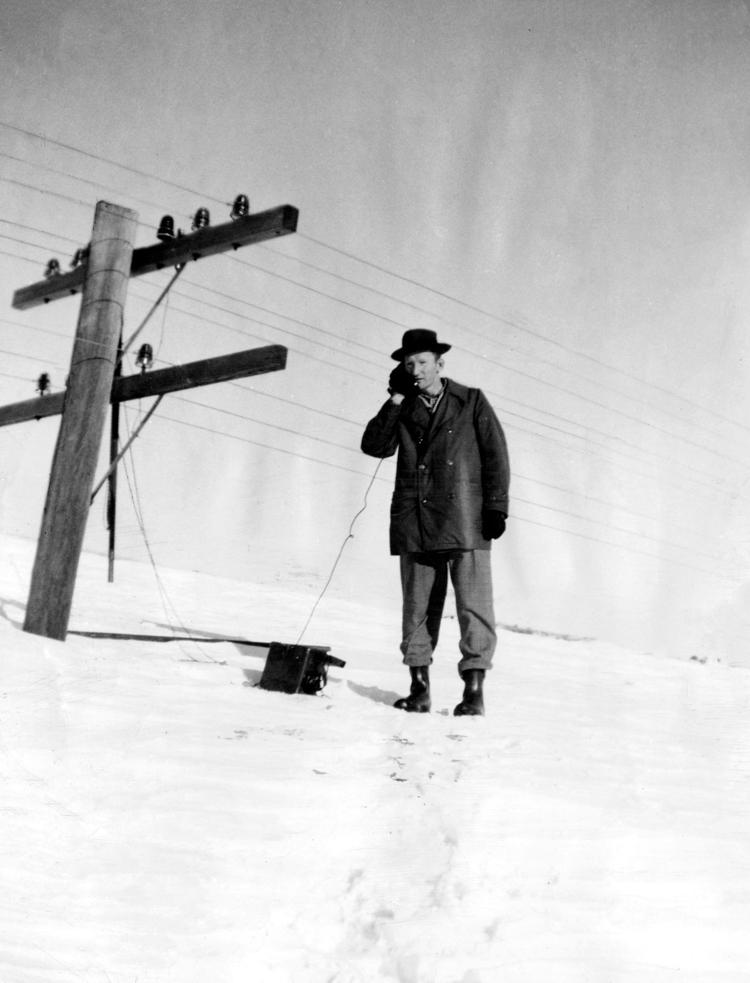 This big Army rotary snowplow actually growled as it attacked huge drifts on Highway 212, near Faith, South Dakota US Army photo. Published in February 1949.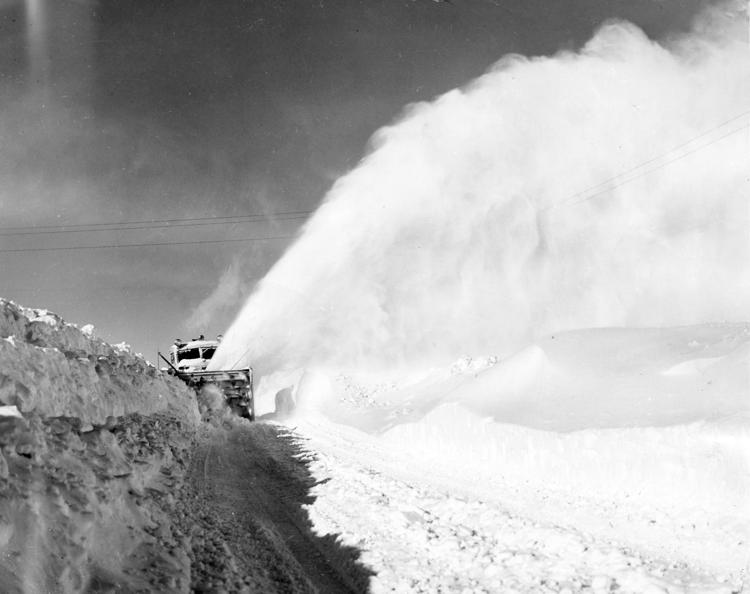 The farm home of W.H. Fisher located 12 miles north of Scotia. The drifts piled around his house completely buried the outside toilet and shed. Mr. Fisher had to cut steps down the snow pile to access the buildings. Published Feb. 15, 1949.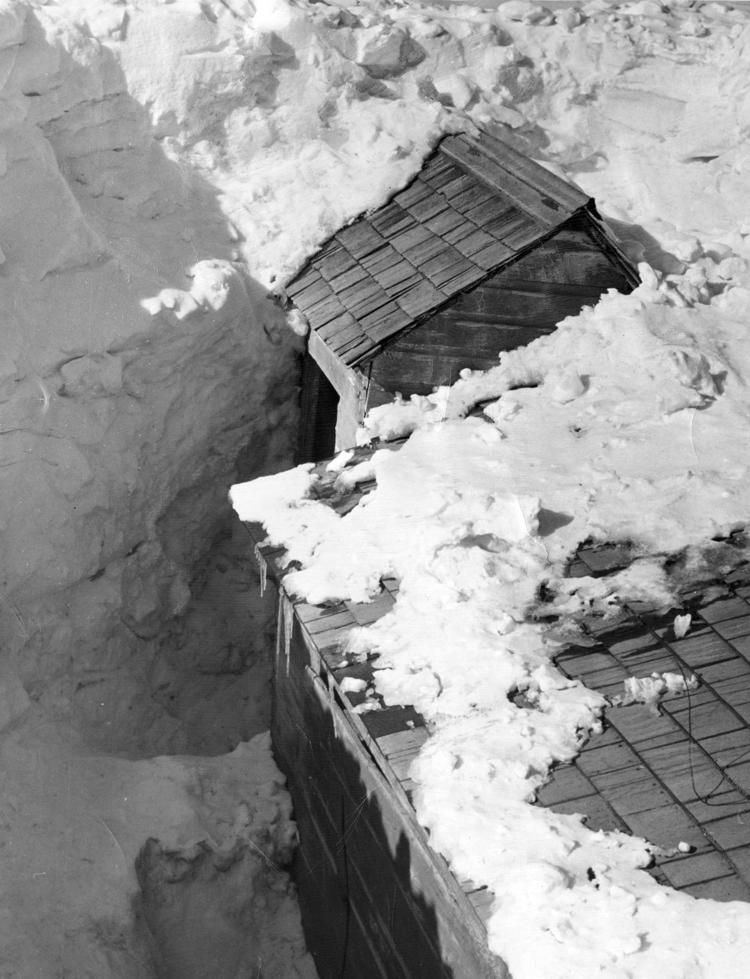 Howard Saferite, left, shakes hands with reporter John Koffend after Operation Snowbound. Saferite brought the 14 ton bulldozing tractor named Henriette from Kansas City to help with snow removal and Koffend was the reporter who followed Henriette's experiences in blizzard country. Published Feb. 20, 1949.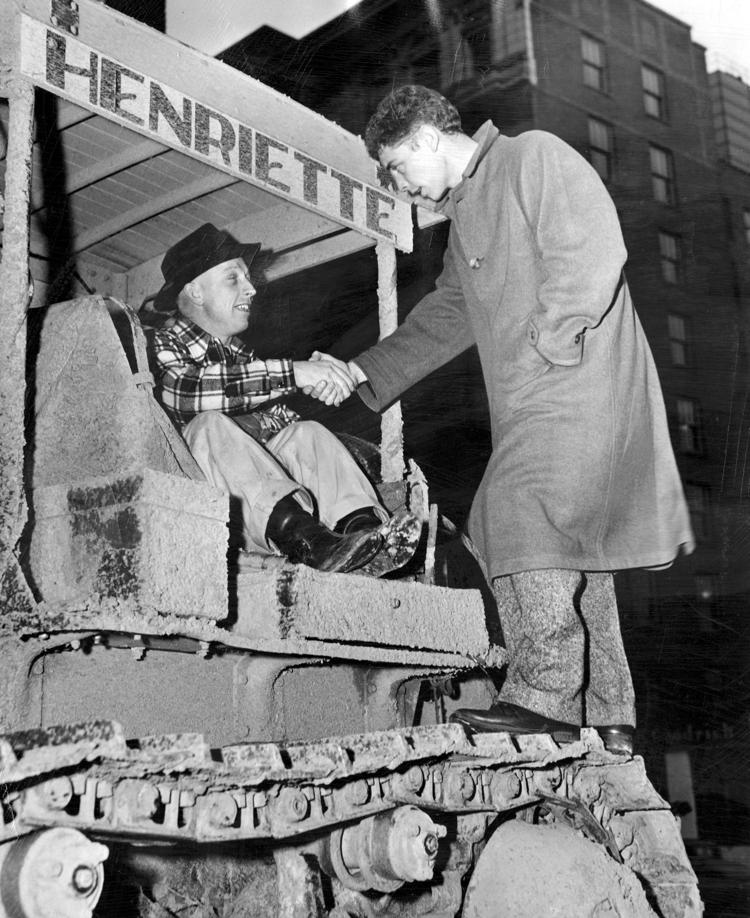 Cover of special section blizzard of 1949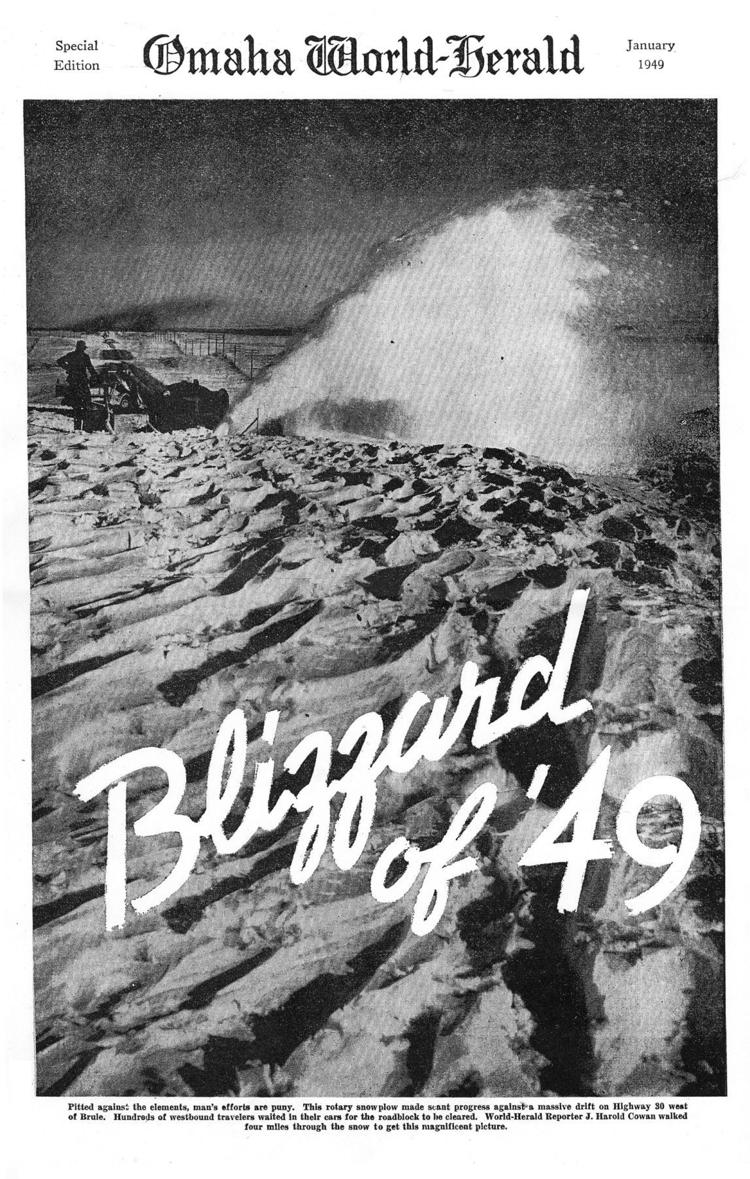 These huge drifts in Harrison were partly man-made by shovelers who cleared a path. Virginia Davis was one of the many World-Herald carriers who had no papers to deliver for several days. Published in January 1949.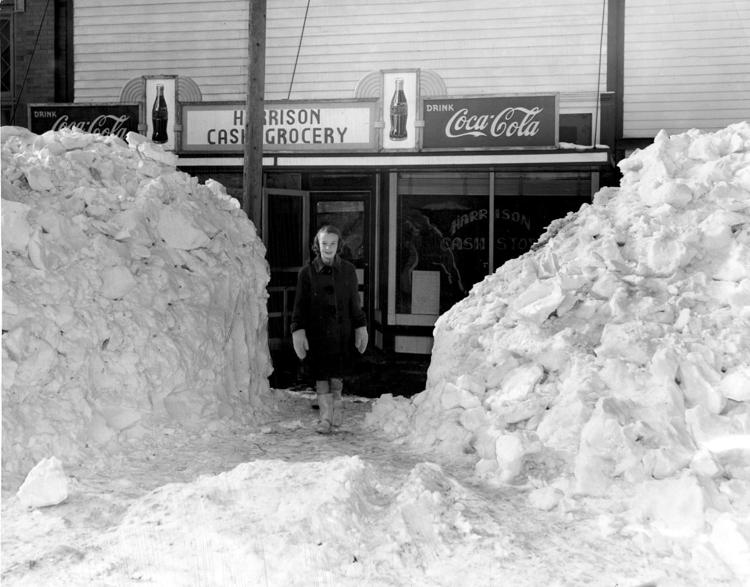 William Lamprecht, a farmer near Bloomfield, drove this herd of hogs 3 1/2 miles to market. He said there was no way to get feed out to them and no way to truck them to town. Published Feb. 6, 1949.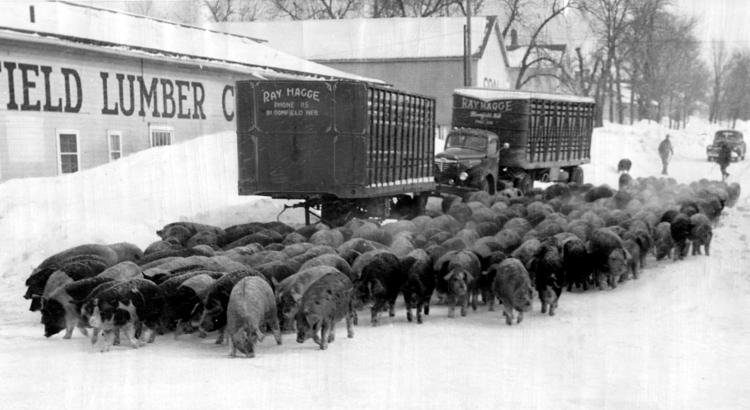 Chadron was deserted at the height of the blizzard on Jan. 4.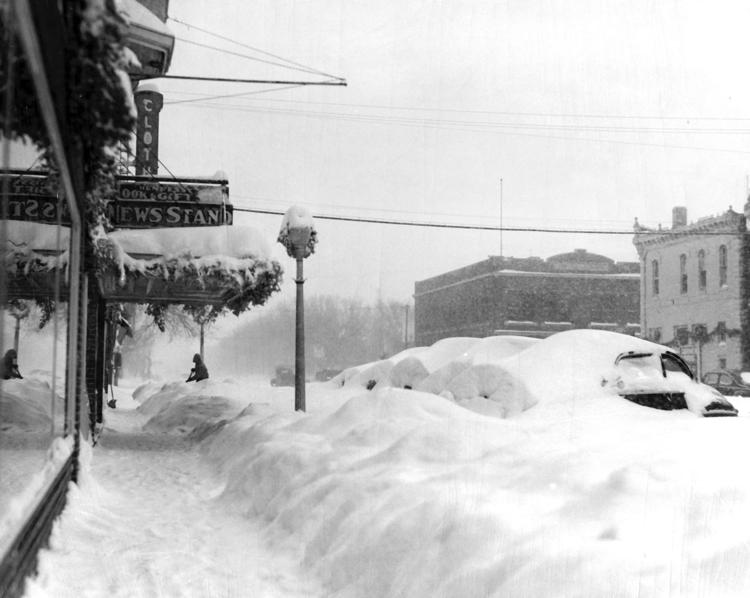 A streamliner snowbound at Kimball, Neb., in early January 1949.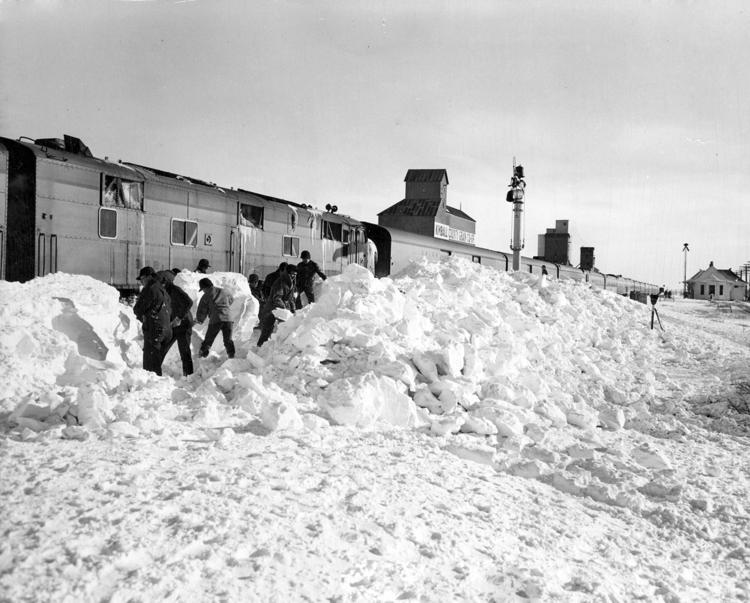 Tekamah-Oakland highway 3 1/2 miles east of Oakland. Published January 1949.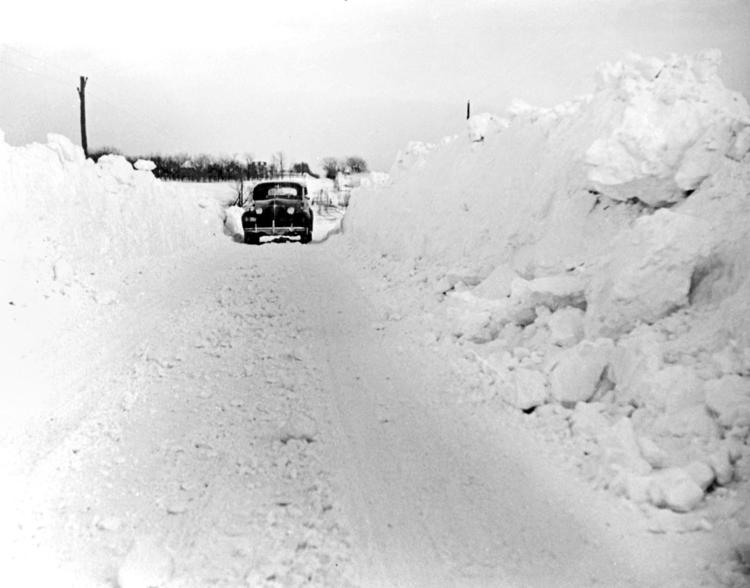 A group of weasels, with Fifth Army men driving, roll down the main street of O'Neill. The servicemen and their caterpillar treaded vehicles took food and supplies to hundreds of isolated families. Published Feb. 4, 1949.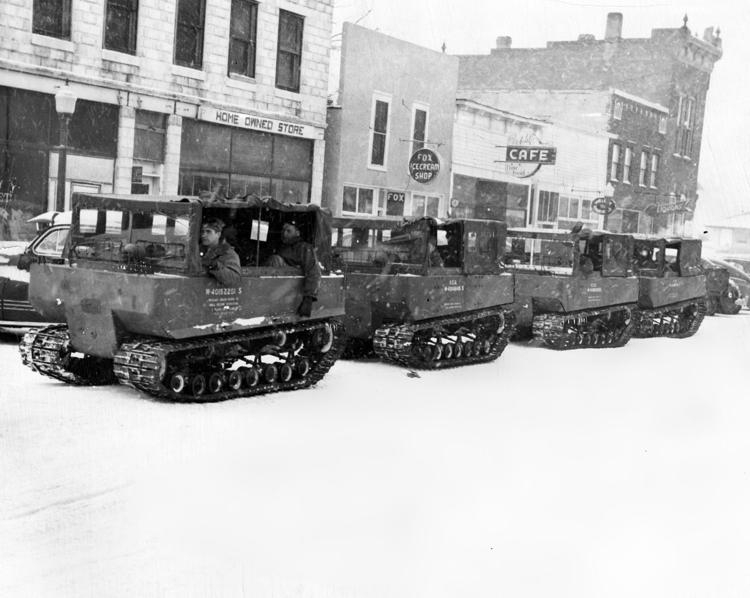 Pilot Joe M. Poland landed his plane on this hilltop to carry supplies to the stranded Harold Anderson family. Published Feb. 6, 1949.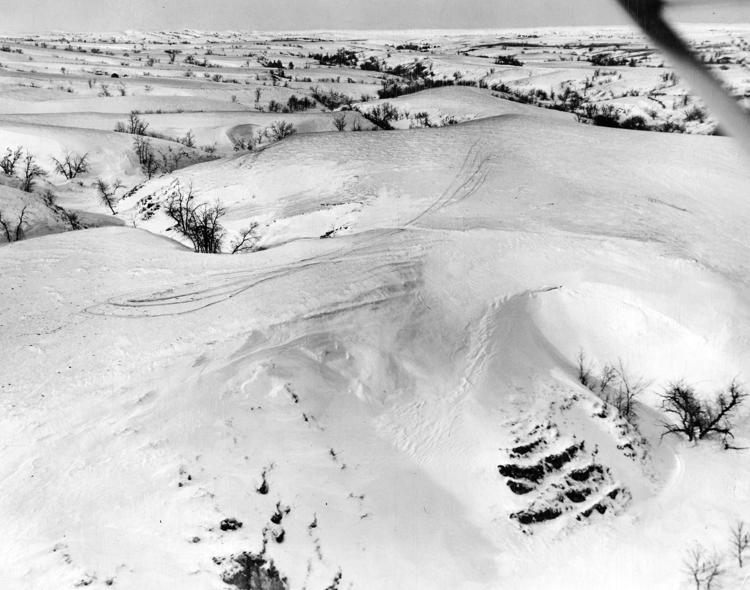 A ground crew assisted by Kearney Civil Air Patrol members load baled hay into a plane for emergency haylift in early 1949.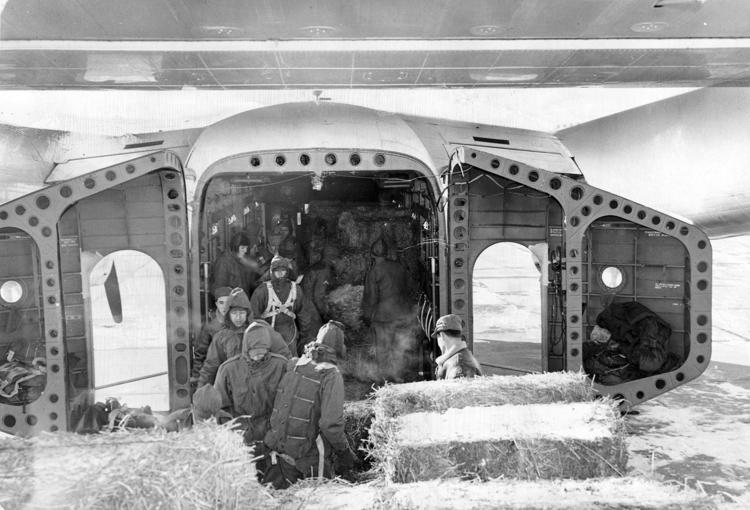 Operations tent and light planes used in rescue at at the Halley airport in Rapid City.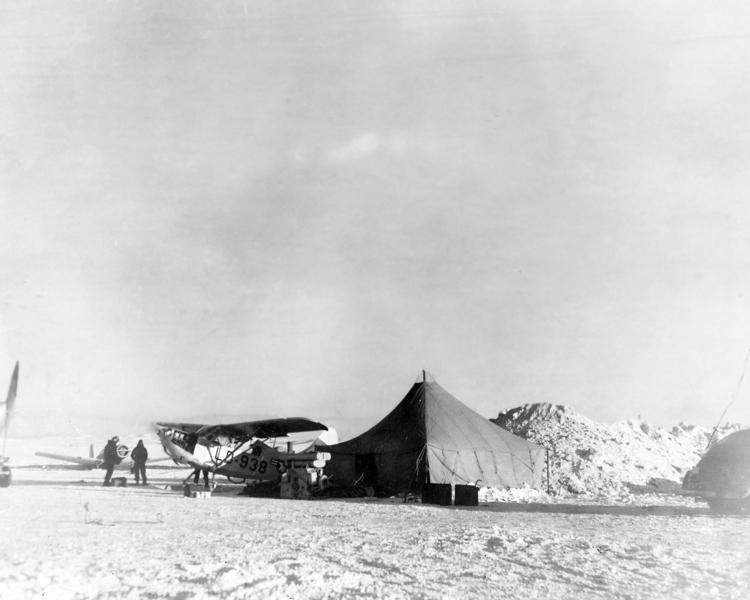 The E.F. Goransen farm, 8 miles west of Gurley, Neb. Miss Marie Goranson took the photo from the roof of the corncrib (shingles shown in foreground.) The hole dug in the drift is several feet above the ground and leads to the window of another building where coal is stored. Mr. Goranson is standing on the top of a brooder house. Only a pipe remains above the snow. Published Jan. 25, 1949.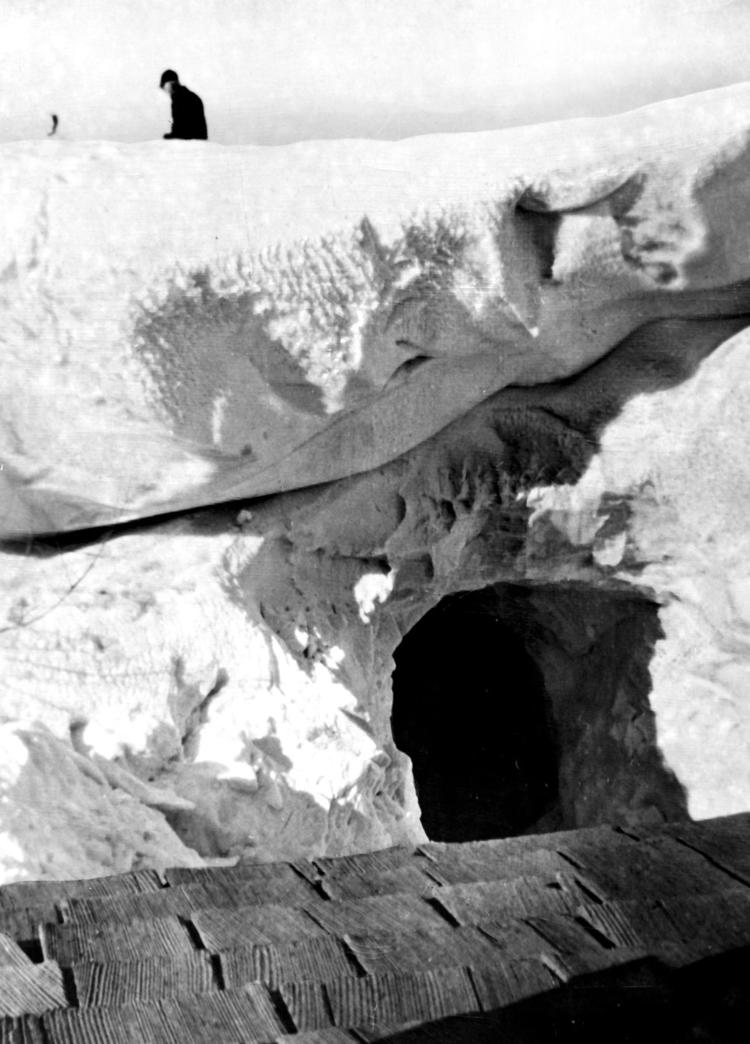 The World-Herald mailing crew trying to catch up with orders for copies of the special editions "Blizzard of '49" and "Operation Snowbound" on March 17, 1949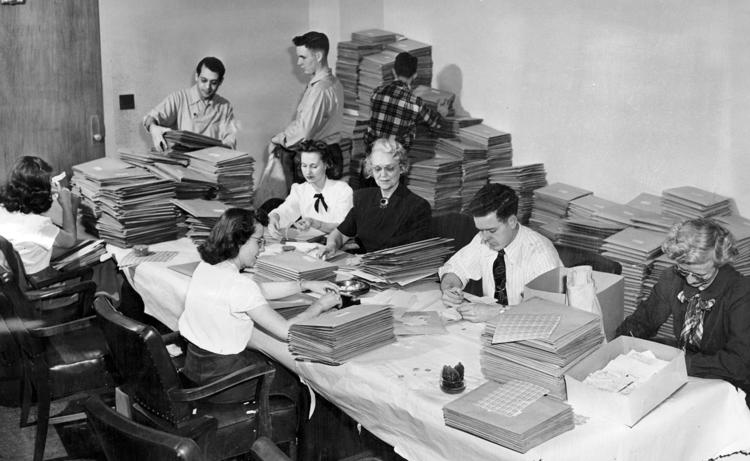 Dean Davis (left) and Red Meiners load milk into a plane at Ogallala for delivery to Grant, which had no dairy. Both men have flown many aid missions to ranches and isolated farms. Miners, manager of the Ogallala airport hauled in the body of an elderly man who died a natural death in Arthur County. Published Jan. 10, 1949.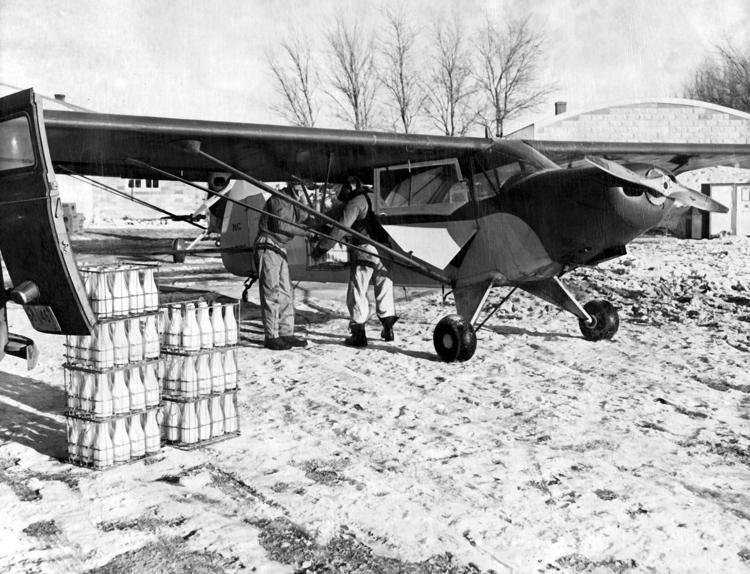 E.L. Redman, Union Pacific brakeman from Kearney, Neb. was killed in this snowplow accident seven miles east of Stapleton Tuesday. The photo shows how the wedge snowplow, after smashing into a 14-foot drift, overturned and slashed into the second engine of a doubleheader pushing the plow. It was hours before workmen could cut away the wreckage and remove Mr. Redman's body. Published in January 1949.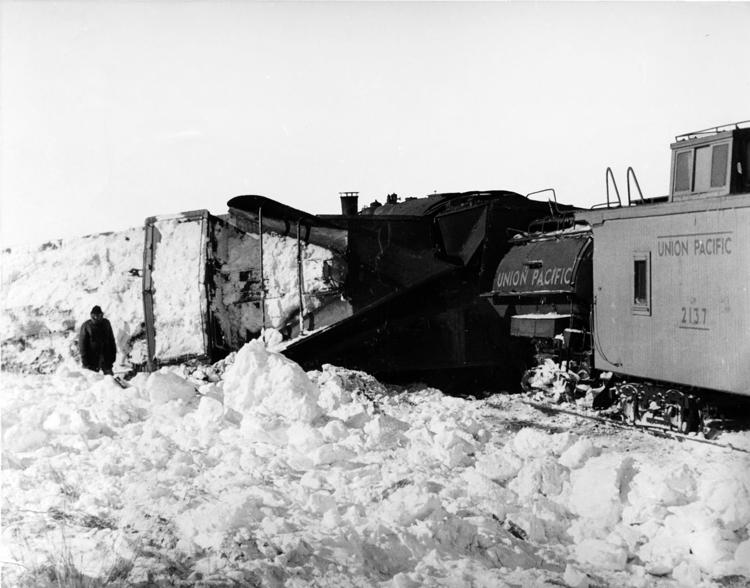 Pilot Leonard Abart of Bassett was lucky to find a landing spot among the snow-banked hills near Amy Jordan's house 35 miles south of Bassett. Published Feb. 5, 1949.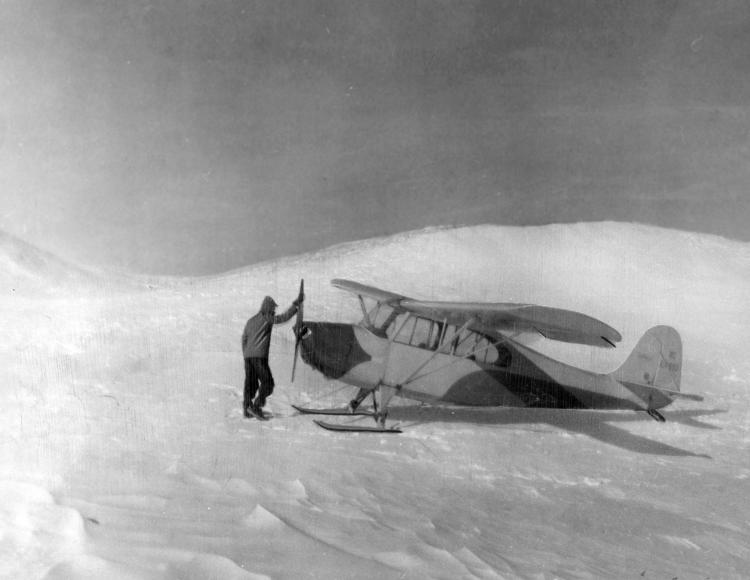 North Platte trucker N.O. Smith, left, stands by his ditched semi-trailer. He followed a fence to a house after he slid into a ditch during the blizzard. Published Jan. 8, 1949.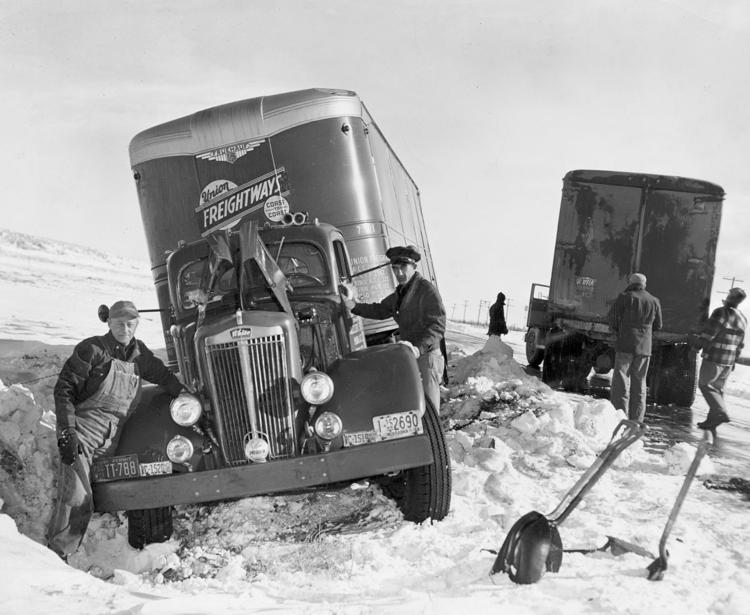 Planes line up at the Kearney airport for Operation Haylift, in which tons of hay were dropped on farms in the blizzard stricken area north and west of Kearney. Published in February 1949.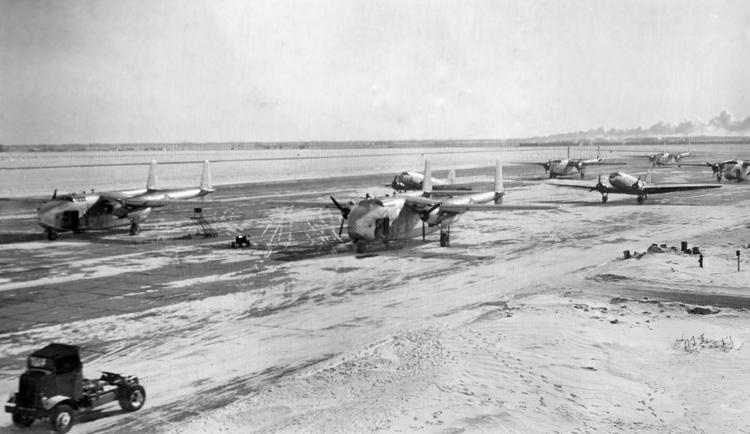 Eight flatcars of bulldozers, two per car, are headed for the storm-struck areas of Nebraska. This photo was taken at the Council Bluffs Union Pacific yard. Published Jan. 30, 1949.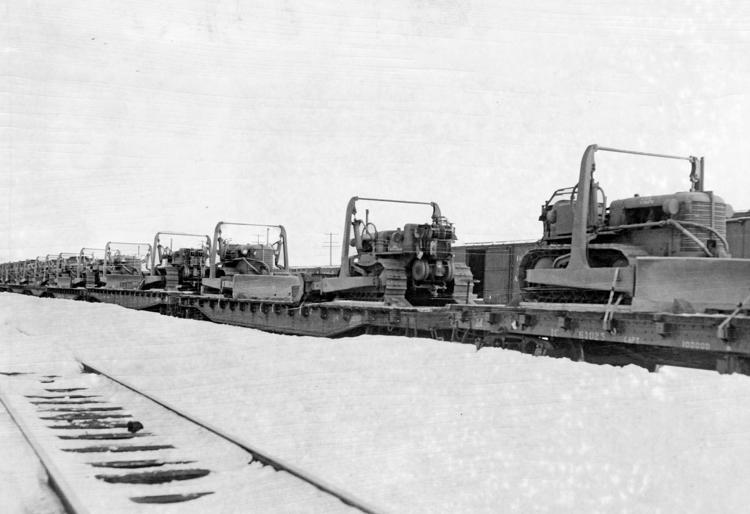 The main highway is not apparent in this photo of cars winding across the plains north of the road block on Highway 30, five miles west of Brule. Many of the cars headed west apparently got through to Big Springs by taking off through the fields for a distance of about 9 miles. Published Jan. 8, 1949.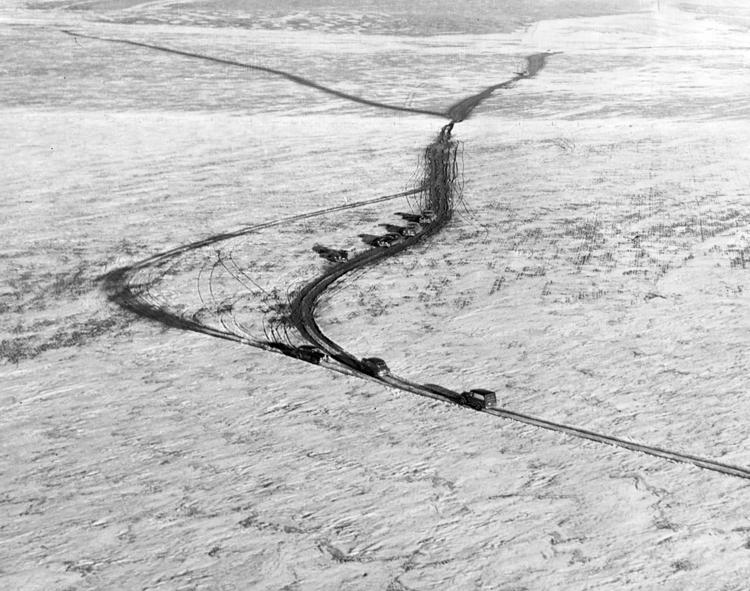 One of the planes loaded with feed for thousands of cattle. Published Jan. 31, 1949.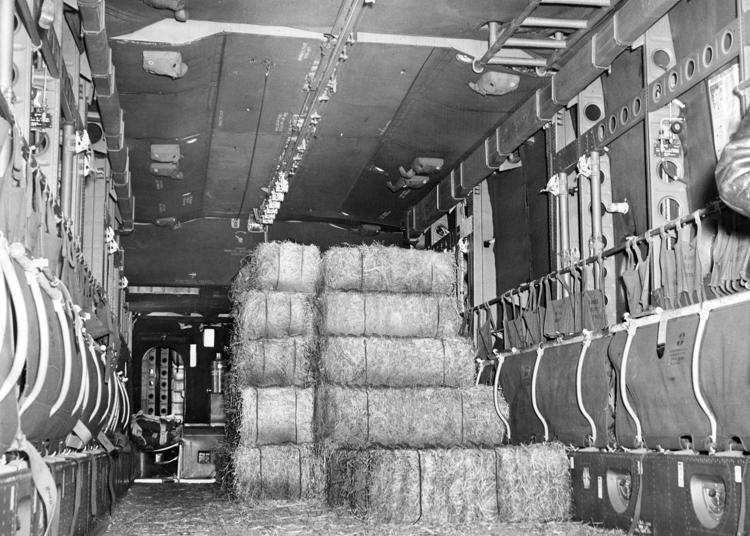 Three Army Engineer bulldozers arrive at O'Neill. Published Jan. 30, 1949.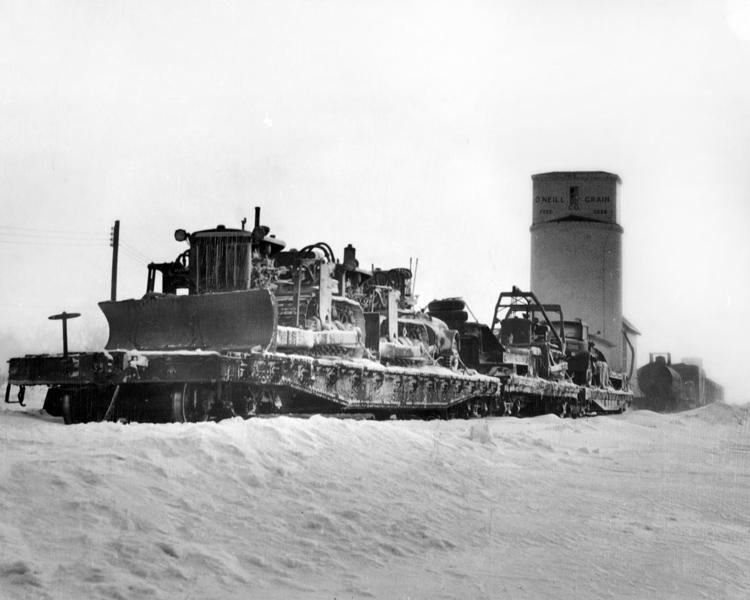 Frank Finley, left, a farmer along the weasel's mercy route, pokes his head in to study the strange vehicle. Soldier at right is Pfc. M.E. (Buck) Hardwick of Camp Carson, Colo. Published Feb. 6, 1949.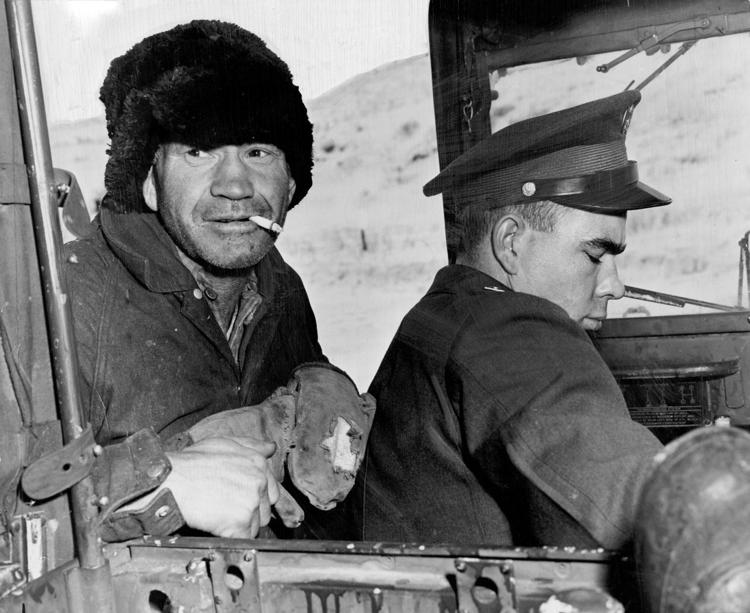 Many difficult road conditions became less hopeless after the Army bulldozers went to work. Published in February 1949.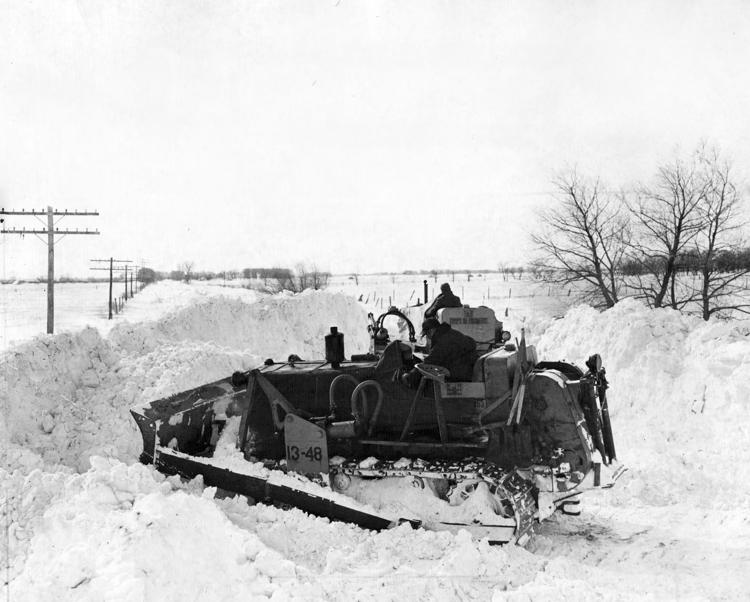 Digging out the family car at the Price ranch west of Horn. Drifts were almost 18 feet. Published Feb. 12, 1949.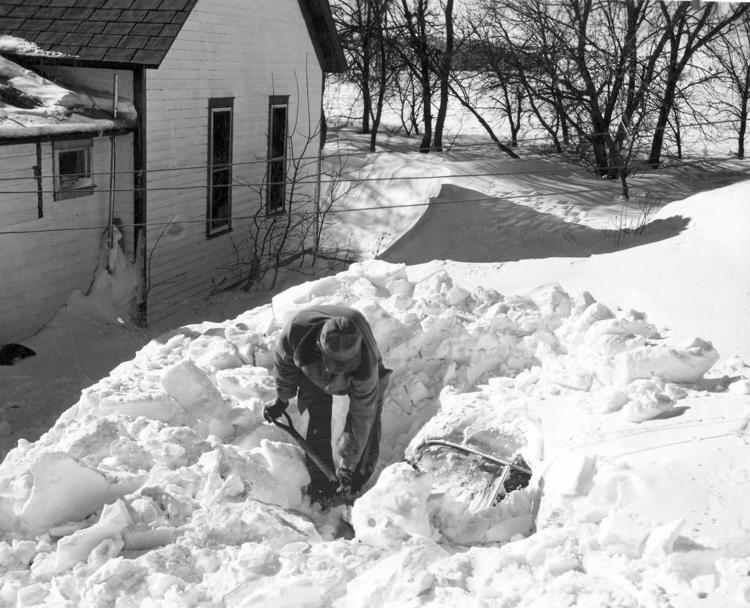 Dallas Morris, a truck driver from St. Petersburg florida thinks Iowa's winters for the birds. His truck spun off Highway 34 north of Glenwood and he spent the night in the cab waiting for snowplows to fee his truck. Published Feb. 10, 1949.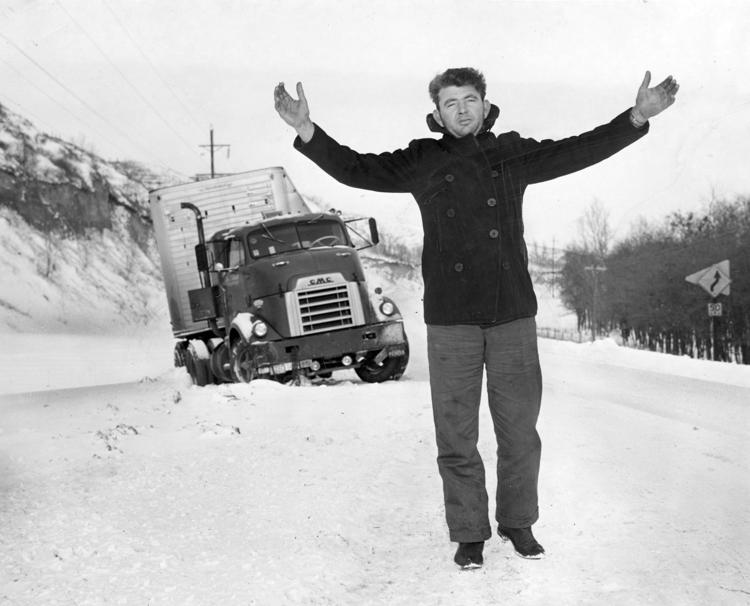 How the Martin Landis ranch 45 miles south of Burwell looked when John McWilliams of the Nebraska Flying Service flew over in a relief mission. Published Feb. 12, 1949.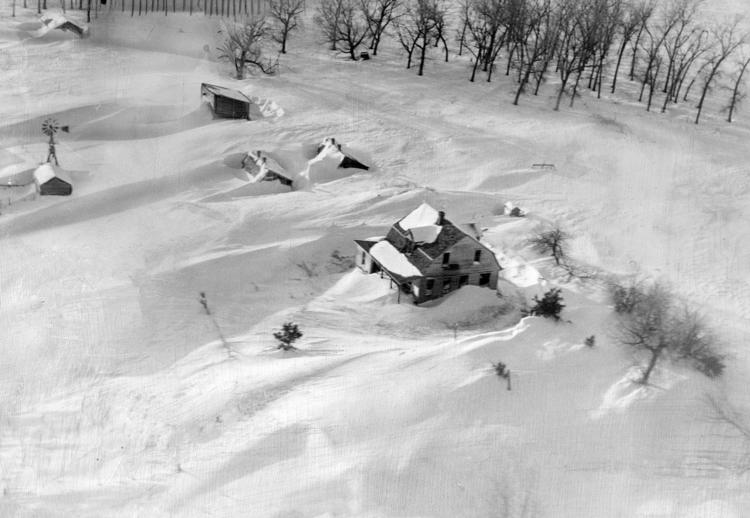 Harris Harmon (left) and Dick Tomlinson helping neighbors at 3 miles an hour in O'Neill. Published Feb. 5, 1949.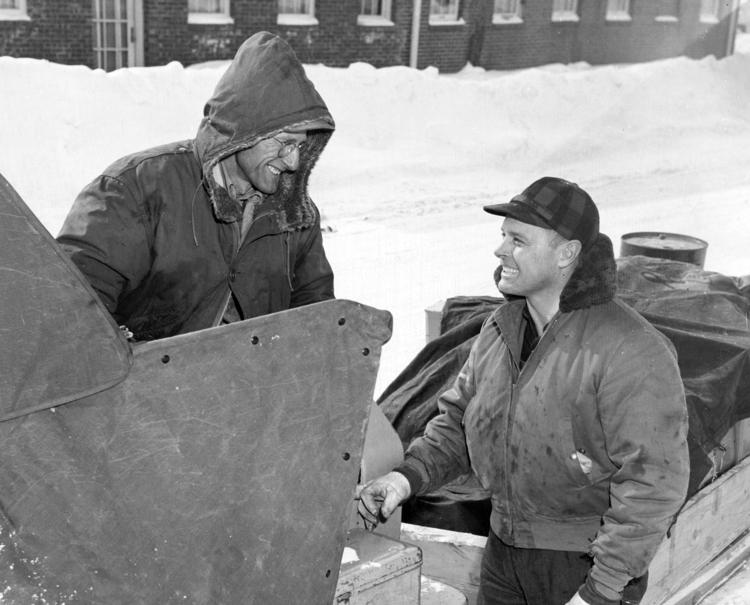 A weasel being loaded at O'Neill for shipment to Creighton, Neb. Published Feb. 5, 1949.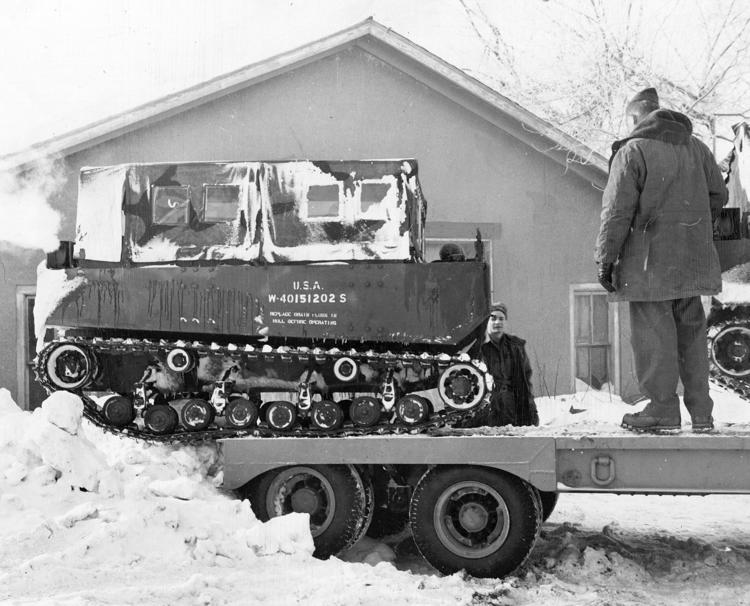 Ed Geisert had to receive medication by air drop at this farm 8 1/2 miles southeast of Ogallala on Jan. 8, 1949.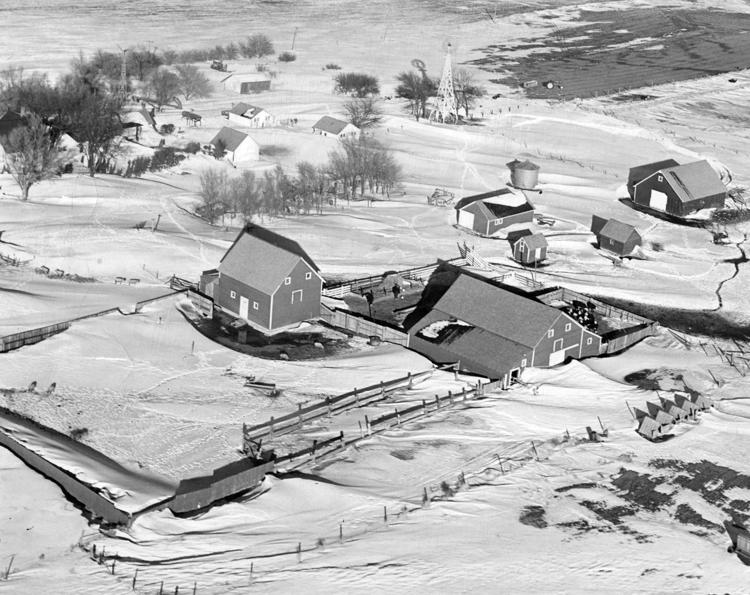 Farmer E.F. Eberly stands above the tunnel he made through 15 foot snowdrifts on his farm 2 miles southeast of Norfolk. The tunnel was 15 feet long and 7 feet high which he could walk through without stooping to get from the house to the barn to feed his livestock. Published Feb. 17, 1949.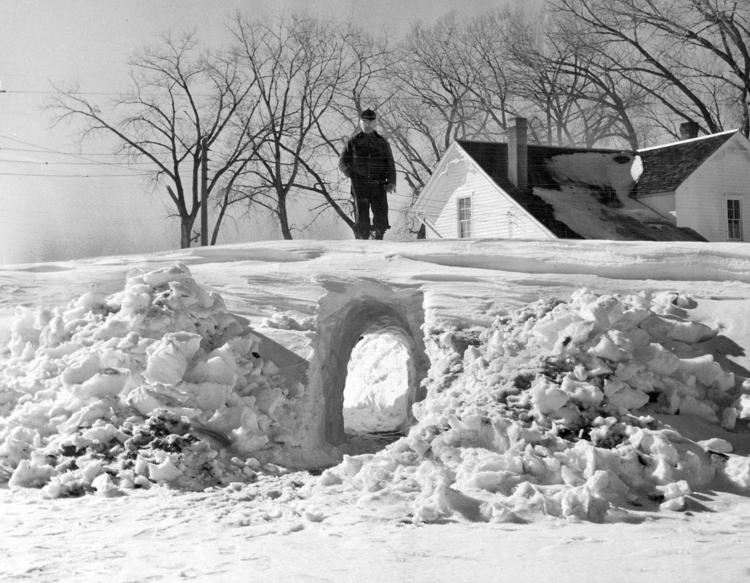 The small community about 20 miles northwest of Ainsworth became "ghost town" overnight when the residents left before the last of Nebraska's blizzards. Published Feb. 3, 1949.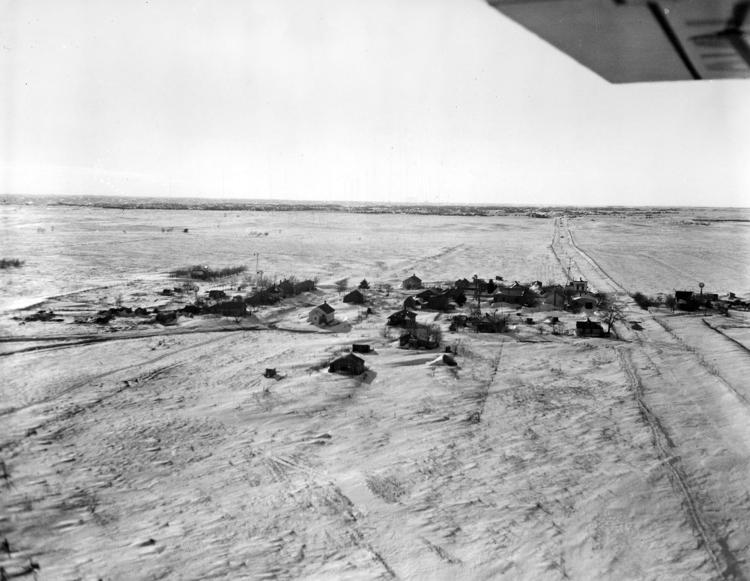 At the Carl elder farm, 8 miles from O'Neill, a Fifth Army relief group traveling by weasel found the family in a bad plight. The Belzers were low on food and had been burning brush to supplement their meager fuel supply. Mr. Belzer (left) is shown chatting with Capt. William Tanski (right.) World-Herald reporter Paul Williams is interviewing Mary Belzer (hidden behind unidentified soldier.) Published Feb. 4, 1949.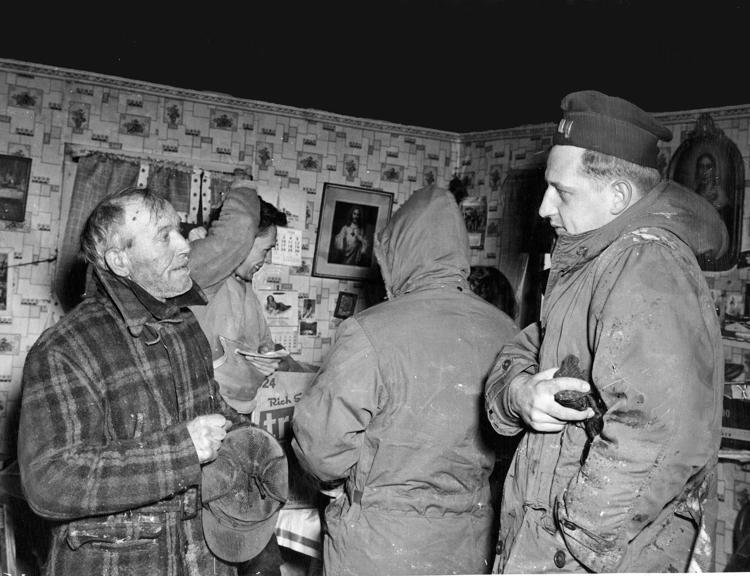 A car belonging to W.H. Sherwood of Imperial provided the framework for this unusual product of heavy snow. Published March 31, 1949.
One trainman was killed and another injured in the snowplow wreck seven miles east of Stapleton, Nebraska. The two engines were pushing the wedge plow when it struck a hard packed drift. The blade swung around, ripped along the first engine and plunged into the second engine, killing brakeman E.L. Rodman of Kearney. Published Jan. 20, 1949.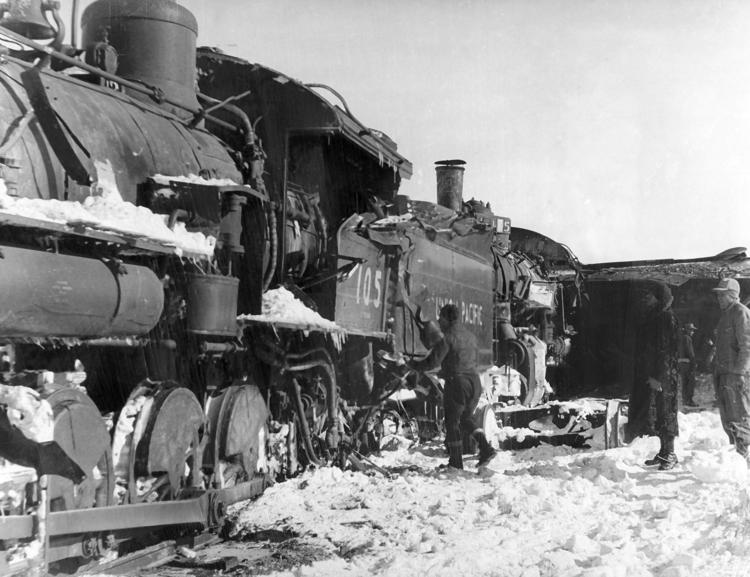 Cattle moving around after nearly being frozen at the Neal Hartford ranch near Central City.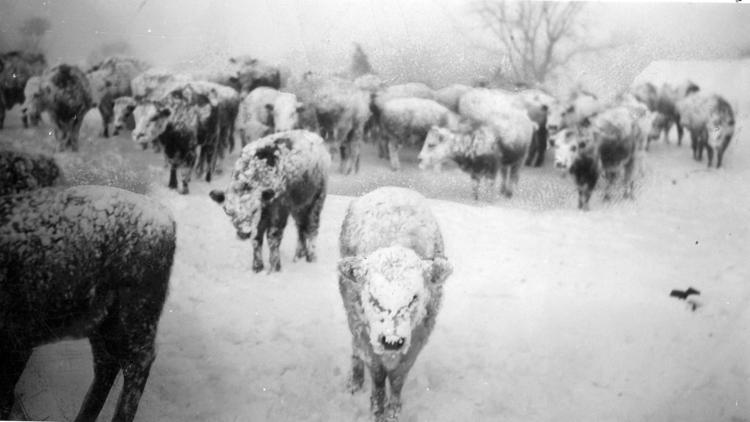 Soldiers unload sacks of coal from a weasel at the home of Mrs. Troy Howard near O'Neill. The grinning youngster is Joseph Howard. He has a reason to smile, Corp. Richard J. McDaniels is handing him a box of food. Published Feb. 4, 1949.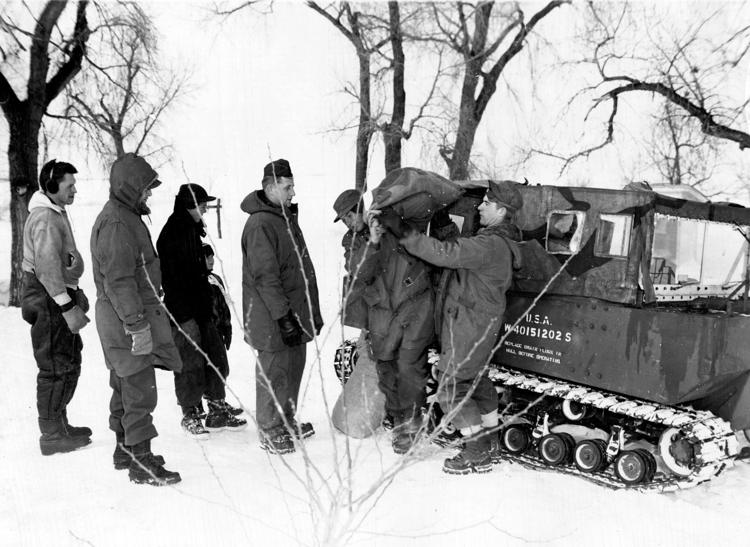 The rear of a work train in a deep drift. The train worked most of the way through the drift, but got stuck and returned to Callaway. Published Jan. 20, 1949.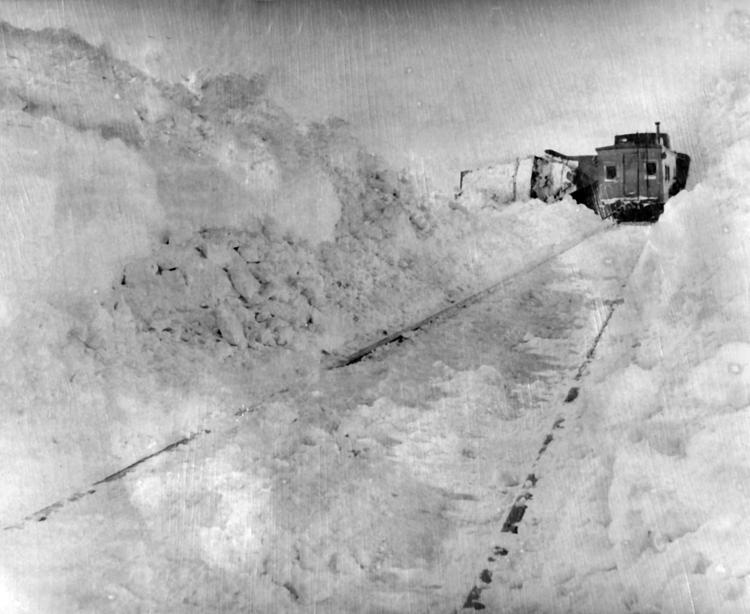 All of Nebraska was suffering, except for the southeast corner of the state. Then-Gov. Val Peterson declared it the worst disaster in the state's history.
And after a late January blizzard made it clear that livestock by the millions were at risk, President Harry Truman declared the region a disaster.
On Jan. 29 the U.S. Army Corps of Engineers launched Operation Snowbound, a massive disaster response. Crews opened roads, cleared farmyards and carved paths to haystacks.
Twelve states were affected by the storms, but four — Nebraska, Wyoming, North Dakota and South Dakota — were the focus of Operation Snowbound. Sixty-five years ago this week, the effort was declared a success.
Corps records indicate about 240,000 trapped people were rescued, 115,000 miles of roads were reopened and more than 4million head of livestock were fed. But despite the effort, dozens of people and more than 158,000 cattle and sheep died.
Roy V. Alleman, a Nebraska editor, farmer and rancher of that era, wrote in his book "Blizzard 1949" that 76 people died.
Today, if such a series of storms struck, the consequences would be far less severe.
Better road construction would mean fewer insurmountable drifts would form. Improved weather forecasting would allow people days to prepare rather than be caught unaware. Larger fleets of more powerful plows would act more quickly to prevent drifts from becoming impenetrable.
In 1949 the corps and Union Pacific Railroad dispatched a total of more than 20,000 people to clear roads and lines. At their disposal were about 2,000 pieces of heavy equipment.
Military and private planes also undertook aerial reconnaissance, rescue and relief. Food and feed were dropped by air to remote ranches or brought in on a vehicle known as a weasel, a hybrid of a Jeep and snowmobile.
Among those hired by the corps were Klaasmeyer and his father and uncle. They were drafted because the family ran a bulldozer business in southeast Nebraska.
A high school senior at the time, Klaasmeyer remembers workdays that stretched longer than 12 hours. The 'dozer didn't have a cab, and there was no such thing as a lunch break.
"It was cold, you were by yourself, and at night the only light you had was the moon," Klaasmeyer, now 83, recalled.
His face and coat would turn black from diesel smoke. When his shift was over, he would collapse into the smelly, unwashed sheets of whatever open bed he could find at a hotel in Albion, the little town northwest of Columbus.
Combined, the corps and Union Pacific recorded 11 deaths among workers. Others suffered from snow blindness and such severe frostbite that amputations became necessary.
For rural families, a single dozer operator such as Klaasmeyer was as good as the cavalry.
Betty Stolle Schwarten remembers hiking a half-mile through the snow with neighboring farm kids to watch a 'dozer open their lane outside Concord in northeast Nebraska. She was 11 at the time.
"We jumped and hollered and waved white cloths," said Schwarten, now 75.
"The biggest concern was hoping everyone stayed healthy," she said. "No way could we have gotten to a doctor."Like many others, her family kept fed thanks to a larder of garden produce and meat and a stable of chickens and cows. The value of a cleared road, beyond ending their isolation, was access to a doctor.
Townspeople weren't immune from that worry, either.
When 16-year-old Carole Anderson Seiborg became ill with acute appendicitis, impassable roads meant she couldn't get from Newman Grove to a hospital in Norfolk.
The Red Cross would retrieve her by airplane, if the town cleared a landing spot. When they couldn't open a strip of roadway, the town plowed a clearing in an alfalfa field.
Seiborg, now 81, remembers balking at being driven to the plane. The reason? Her "ambulance'' was the back of a hearse.
"It was really upsetting," she said, adding that she had been without her family to console her. As a farm kid, she had been boarding in town when she fell ill.
Elsewhere, hundreds of rail passengers were trapped on isolated lines and found refuge in towns so small, they overwhelmed populations.
"Travelers huddled in wayside refuges or felt the spreading numbness of frostbite in snowstalled cars," wrote The World-Herald. "Whole towns went on short rations."
The storms found countless ways to suffocate, freeze or starve cattle, sheep and horses. One farmer had to ship half of his small herd of dairy cows to slaughter because their teats had frozen, turned black and fallen off.
Many of the people who died fell victim to the cruel timing of the storms.
January's infamous Blizzard of '49 began at the end of the weekend that concluded the Christmas holiday. Mild weather that had lulled people out of their homes for visits with family and friends turned violent without notice, trapping them on the way home.
After his car stalled along a northwest Nebraska road, it took a husband two hours to carry his wife and their 18-month-old child a quarter-mile to safety. The frostbitten baby would require skin grafts.
Others froze to death in their cars or stumbled to their deaths in desolate fields.
At the Harimon farm outside Scottsbluff, the family strung rope from the house to the barn so that they could find their way.
"You could get lost in your own yard," said Harold Harimon, now 81, but 17 at the time. "It was unbelievable. I've never seen anything like that and I hope I never do again.''
This report includes material from "Blizzard 1949" by Roy V. Alleman.
---
Share your weather photos and memories
Nebraskans' fascination with the weather isn't difficult to explain. Wild temperature swings. Devastating tornadoes. Crippling ice storms. Spectacular lightning. And no matter what type of weather comes along, there's sure to be something different just around the corner.
Do you have a special memory of Nebraska's weather, with a photo to go along with it? Send your memory and photo to The World-Herald for use in the paper and online. Include:
» Memory: Please keep to 500 words or less. Provide the date and year of the weather event, the location and names of people in the photo.
Or mail to: Weather Memories, Attn: Dan Sullivan
1314 Douglas St., Suite 700
Photos sent by mail will not be returned.