Ollie the Trolley pulled up outside Joslyn Elementary School to the delight of the waiting students.
"They're here!" one student yelled.
Into the school walked Omaha Public Schools Superintendent Cheryl Logan and aspiring teachers from South High School. On Friday, Logan and the students took the trolley to four of the district's 62 elementary schools to read a book to the students and sing with a special blue guest— Pete the Cat.
It was part of the kickoff of the district's summer reading program.
May 22 marks the end of this school year for OPS students, but officials want to remind students that doesn't mean that they should stop reading.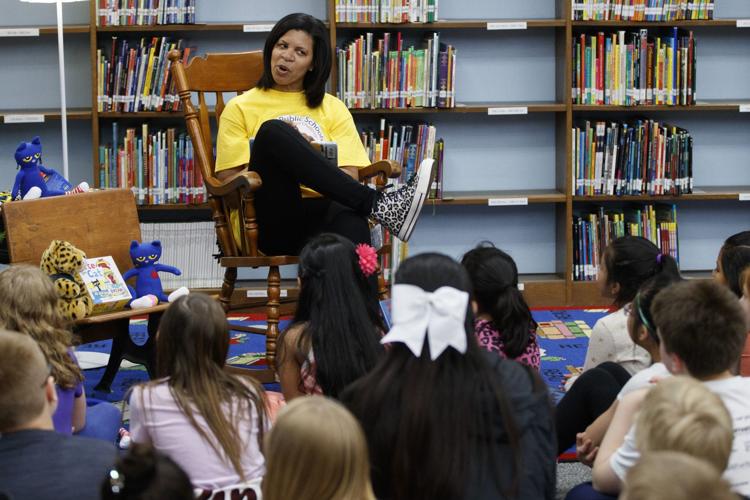 Research has suggested that students who fail to read for at least 20 minutes each day during summer break can lose up to a full grade level of reading skill, according to the district.
This summer, OPS officials are challenging students in kindergarten through third grade to collectively read for 1 million minutes. The students can track their minutes on the district's website, district.ops.org.
Each student can start their summer reading with 10 new books, which were provided by a donor.
The students at Joslyn walked around the cafeteria and carefully looked at the books on the tables before making their selections. "Pete the Cat," National Geographic and "Dog Man" were some of the possible selections.
Pete the Cat has shoes and a guitar. And "goodness no" he won't get upset when obstacles in his path turn his shoes different colors. The fictional cartoon cat is the star of a book series by James Dean.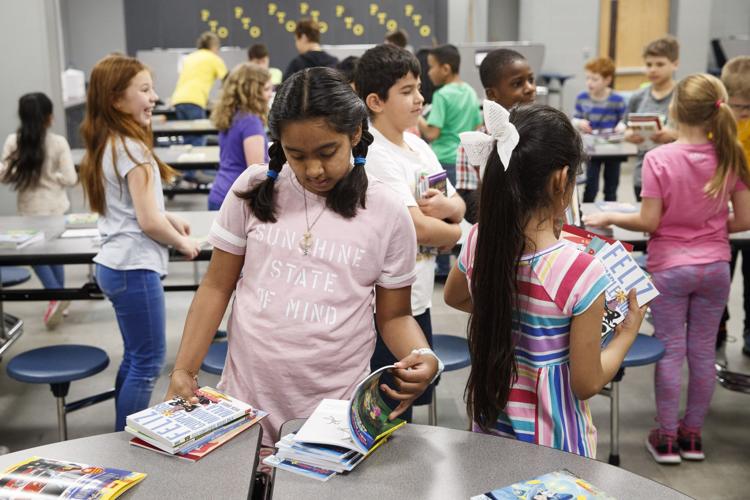 Just like Pete, Logan's shoes changed all day to match the mascots of Joslyn, Skinner, Pawnee and Castelar Elementary Schools.
Logan sat in front of the students and reminded them to sit crisscross applesauce before encouraging them to say the words in the picture book with her.
The South High students sat on the floor with the younger students, and some held cardboard guitars while Logan read a "Pete the Cat" book.
Then the high-schoolers got up and made a tunnel with their hands, and the cat himself walked in, to the students' delight.
The students at Skinner gave Pete the Cat a rock-star welcome, screaming and giggling when he walked into the library.
The students sang one of Pete the Cat's well-known songs, and then it was time for everyone to get back on the trolley and head off to the next school.
Sign up for The World-Herald's afternoon updates
Receive a summary of the day's popular and trending stories from Omaha.com.
Our best photos of April 2019