Together, the Omaha Public Schools students painted the words on the bench.
"One child, one teacher, one book and one pen can change the world."
Holding a paintbrush, Malala Yousafzai painted the word "change."
Malala is a Pakistani education activist who survived being shot in the head by a Taliban gunman on her school bus and went on to win the Nobel Peace Prize at the age of 17.
She also started the Malala Fund, a charity dedicated to giving every girl an opportunity to achieve a future she chooses, according to the fund's website.
She's also the author of that quote.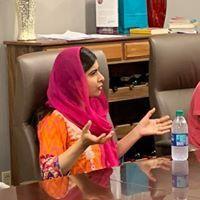 On Thursday, Malala privately met with 20 OPS high school students from all seven high schools.
Toba Cohen-Dunning, executive director of the Omaha Public Schools Foundation, said Malala was coming to Omaha for a private meeting and reached out to the foundation.
Malala wanted to meet with a group of students and talk to them about issues in their world.
The foundation put together a group of students representing the diversity of OPS. All of the students were familiar with Malala, and many had read her book "I Am Malala."
Eight of the students spent part of their lives in refugee camps and fled persecution in a variety of scenarios, Cohen-Dunning said.
Ten countries, including the U.S., were represented in the meeting.
The students asked Malala how she dealt with fear.
Malala told the students that she never threatened the Taliban. Instead, she chose to use her words for good.
Be kind, Malala told the students. Do good work. Don't let fear guide you. And understand the importance of education.
Other times, the meeting was just a conversation between a college student and high school students, Cohen-Dunning said.
Malala is studying philosophy, politics and economics at the University of Oxford.
The visit lasted about two hours, and every student got one-on-one time with Malala, Cohen-Dunning said.
The bench will be housed at the district's Teacher Administrative Center at 32nd and Cuming Streets.
It was not Malala's first visit to Omaha. She previously spoke at a fundraiser for Girls Inc. of Omaha.