When an angry river tore their school district in two, residents fought back with a radical plan.
The story of the Twin River Public Schools is not one of destroyed homes and lost lives, of which there have been too many across the state after the record March flooding.
It is a tale about a road network wiped out by a river gone wild, and how district leaders hatched a recovery plan that required creativity, a can-do attitude, some persistent technicians and a whole bunch of Chromebook laptop computers.
Situated in farm country west of Columbus, the communities of Genoa, Silver Creek and Monroe are united by one thing: their schools.
Most of the district's 444 kids attend school in the biggest town, Genoa, but they all wear blue. Everyone is a Titan.
Each town used to have its own school district. But in 2001, in response to declining enrollment, they consolidated to form the Twin River Public Schools.
The name nods to the Loup and Platte Rivers that snake across the Plains here.
Usually docile, the Loup River runs through a sandy channel between Genoa on the north and Silver Creek on the south.
On March 14, swollen by rain and rapid snowmelt, the river crested at 5.6 feet above flood stage, breaking a 53-year-old record.
At 1:58 a.m., a 911 caller alerted the Sheriff's Office that a bridge on Highway 39 was out. The deck of the 120-foot-long bridge collapsed at both ends into the muddy channel.
Losing the Highway 39 bridge, by itself, would have been a major inconvenience.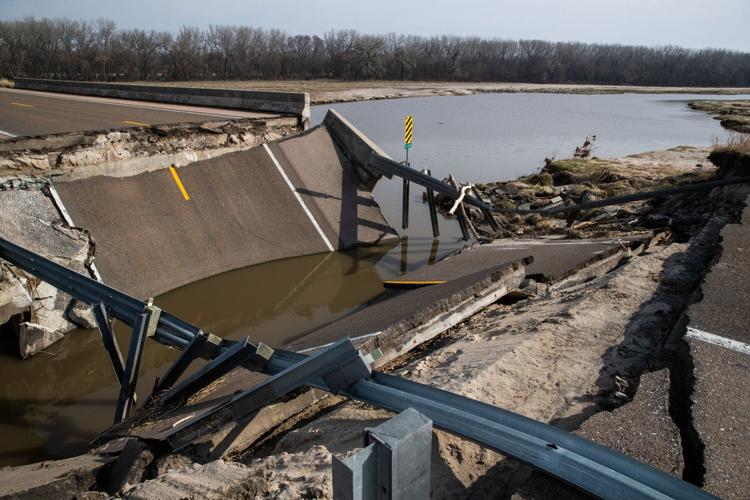 Residents soon learned that a bridge on an alternate route, Monroe Road, was washed out, too.
Both roadways were severely damaged.
With the two main river crossings gone indefinitely, driving between the towns suddenly became an ordeal. The 10-minute drive between Silver Creek and Genoa now took 75 minutes. Residents had to circle around flooded areas and backtrack, picking through a maze of detours and muddy back roads.
The river had effectively isolated 100 kids in Silver Creek from their elementary and high school in Genoa.
Not only that, teachers who live in Silver Creek and teach in Genoa couldn't easily get to their jobs — and vice versa.
"Every place that we could cross the river, for many miles both ways, was not an option," said Denise Hebda, a junior high special education teacher who lives south of the river. "You knew — we weren't sure what — but you knew something was going to be different."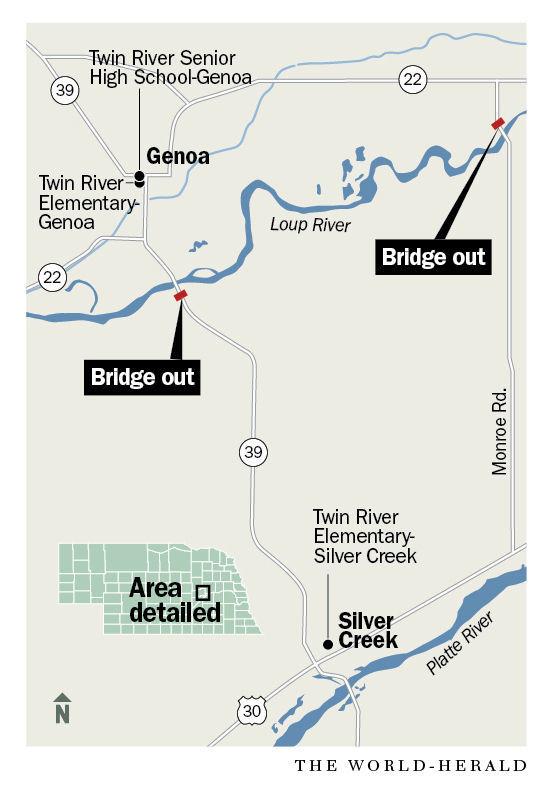 In the chaotic days after the flood, district officials brainstormed a plan:
Set up a makeshift high school for the stranded kids at an underused elementary building in Silver Creek.
Quickly train teachers to deliver junior high and high school lessons remotely from Genoa via online video conference.
Create and staff traditional classrooms at the Silver Creek elementary site to handle the additional K-6 students stuck there.
Teachers and staff would have to take on new roles to make it work.
Fortunately, the district had just rolled out a new technology plan this school year that provided every 7-12 student a Chromebook.
But there was a big problem.
The fiber optic cable that served Silver Creek had been attached to the Highway 39 bridge. It was severed. No voice or data transmissions were possible.
Sign up for World-Herald news alerts
Be the first to know when news happens. Get the latest breaking headlines sent straight to your inbox.
"Once that fiber was severed, the whole town was out," said Travis Kohlrus, vice president of Eagle Communications' broadband division.
Company technicians arriving to fix it found water still rushing under the bridge. The strong current foiled initial attempts to pull a new cable, tied to a rope, across by boat.
They considered shooting a string across with a bow and arrow or flying it across with a drone.
It took about a day, but they got it done, dragging the cable across on a thin string with less drag in the river, he said.
On March 18, the Monday after the major flooding, Superintendent John Weidner met with staff and unveiled the plan.
He told teachers that they would get a "crash course" in how to video conference and manage their classrooms online.
"They knew what they had to get done, and they really went after it," he said.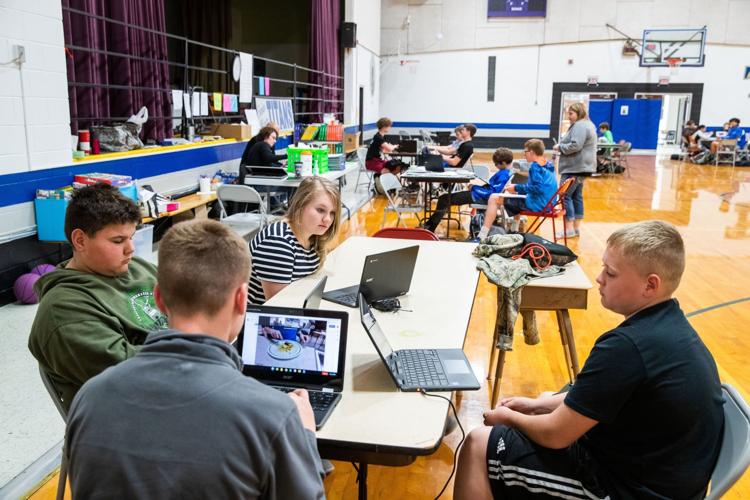 Luckily, the elementary school building in Silver Creek had room to accommodate the kids.
The makeshift school was set up in a gymnasium and opened March 20 — students had lost 4½ days of school to the flooding. Tables set up in the gym serve as classrooms. Kids move from table to table, logging into Zoom video-conferencing software on the Chromebooks to virtually join their classmates at their school in Genoa.
Teachers email quizzes and tests. They use Facebook and text messaging to communicate. If necessary, teachers make the run down to Silver Creek to instruct in person.
Teachers use a courier to carry documents, papers and even art projects between communities.
Hebda, cut off from her special-education job in Genoa, helps to manage the makeshift school.
A cook who normally works in Genoa was trapped in Silver Creek as well. But that worked out, giving the south site a second cook to help feed the extra mouths. The school's enrollment, normally 30 kids in grades three through six, has swelled to about 130.
"The sixth-grade teacher that lives here was teaching sixth grade up there," Hebda said. "The teacher that was here doing fifth and sixth grades actually lives north, so they kind of just swapped, in a sense, jobs."
The media specialist at Silver Creek, who happens to play piano, now teaches elementary music.
Hebda's son Kirk, 13, takes a full schedule at the makeshift school: seventh-grade math, art, English, science, choir, physical education and keyboarding.
Distance learning makes routine classroom interactions more difficult, he said.
"I think it's working," Kirk said, "but in some classes it's harder than others to learn what the teacher's teaching. Like in math, you can't interrupt his lesson to ask him questions. And in art right now, we're working with paint. You have to mix paint. So you don't know if you have the right color or not that the teacher wants."
A lesson on burrito-making looks a lot different viewed on a Chromebook screen.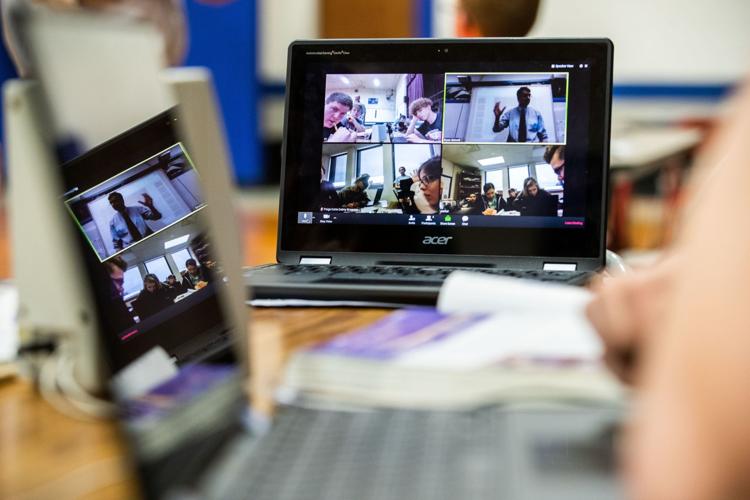 Silver Creek students watch on multiple webcams as their Genoa classmates cook. The Silver Creek kitchen is unavailable when class is in session, so they must cook later in the day.
During a recent class, seventh-grade Family and Consumer Science teacher Britton Andreason explained the steps for folding a tight burrito.
From the Genoa kitchen, she peered into the camera and quizzed Silver Creek students on the steps.
"Tell me what is the last thing you do when making the burritos," she said.
"Fold in the sides and roll up the tortilla," student Skye Sock answered.
The southside kids chip in with comments on their classmates' culinary creations.
Seventh-grader Mason Rinkol, 13, said Silver Creek students get the recipe a day in advance, and they plan out the cooking.
They cook during homeroom, when the school kitchen is available.
It's harder with no teacher present, because they don't get feedback, he said.
But the kids use their common sense, he said.
"We have an aide come in and watch, just to make sure we didn't burn the place down," he said.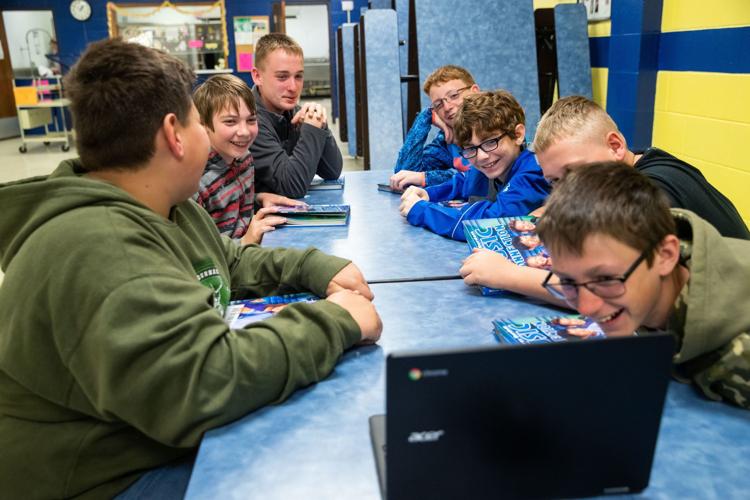 Even music class is conducted online, and a recent lesson involved singing.
Seventh-graders — on this particular day all boys — gathered around a table in the lunch room, and their teacher Tammy Wittwer appeared on the Chromebook screen.
"Boys, today we're going to be talking about Stephen Foster," she said. "Do you know who Stephen Foster is?"
After giving the students a quick biography of the famous 19th century American composer, she led them singing one of his popular hits: "Oh! Susanna."
The students all joined in.
Elementary Principal Tod Heier said the school setup has been described as "a mock college campus."
The situation is a "brand new experience for everyone in the school district," he said.
"We're very lucky that we are one-to-one Chromebooks, and that we have teachers who know how to use the technology to instruct kids," he said.
Superintendent Weidner said setting up the school and its classes was easy compared with coordinating divided clubs, music groups and athletics.
Sam Robb, who teaches math in the gym lobby, coaches track team members from the Silver Creek site.
Some hurdles were shipped down from Genoa, he said. But there's no running track.
"Our track is now the village pond," he said.
The pond on the south side of town has a trail around it. He measured it on Google Maps so the kids could run their 400s and 800s, he said.
When the split teammates came together for their first track meet, he said, the southside kids and northside had an emotional reunion.
"Everybody started running toward each other and hugging, like they hadn't seen each other in forever," he said.
Southsider Kamryn Lemburg, a freshman who runs relays and does triple jump, said it's hard to practice.
"Everybody's split up, so relay teams don't get to practice their handoffs and stuff," she said.
She said she also misses her friends in Genoa.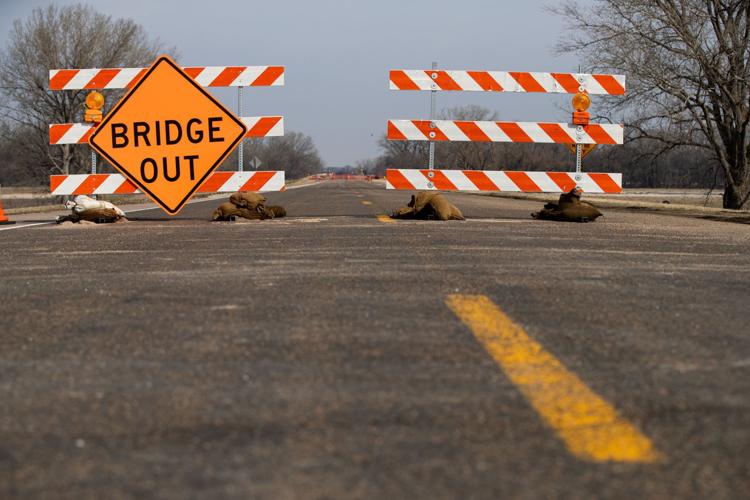 Repairs on area roads since the flood have reduced the driving time between the towns to 45 minutes. Work has started on Highway 39 and Monroe Road. The highway isn't expected to open till next fall. Fixing Monroe Road could take months, too.
Superintendent Weidner said that for now, "this is the new normal."
Freshman Swayden Freke said he hopes the bridges get fixed by the start of school next year.
He misses his friends, and he's concerned about gas money.
"I'm going to be doing football, and I don't want to be driving, like, 60 miles to football every day," he said.
One thing officials kept on schedule was prom.
The date was March 23, and area roads were still a mess. Officials made a few tweaks, given the situation.
Students were locked in at the after-prom party. Parents had to sign out their kids to make sure they got home safely on the long drive.
Or the kids could bring a sleeping bag, stay overnight and drive home in daylight.
The theme was Enchanted Garden.
Photos: Major flooding hit Nebraska and Iowa towns in March