Elkhorn's past and future surround Blue Sage Elementary, the fast-growing district's newest school.
Cornfields border one side of the school, a nod to the area's agricultural roots. On the other side, half-built houses rise from rolling hills, evidence of suburban development pushing ever-westward.
The school made its debut earlier this month, opening its doors to 188 students in grades K-5.
Elkhorn Public Schools officials built it with an eye toward those nearby lots and future houses — there's plenty of room to grow. The school can accommodate 600 kids once it's fully built out and a planned pre-K program is added. Several kids live close enough to bike to school.
The school could be full in the not-so-distant future. As more houses and apartment complexes spring up, Elkhorn's enrollment continues to grow. This school year, the district estimates that its total student population will grow by nearly 6 percent.
For now, there are two classes for every grade at Blue Sage, except for fifth grade, which has one class. At capacity, there will be four sections of each grade.
"We laugh at how big it is," said kindergarten teacher Katie Knust. "We get our steps in every day. Some people get lost."
It's the most western and southern of any Elkhorn school. The location, near 216th and F Streets, isn't yet recognized by GPS apps, and more than a few visitors have circled around trying to find it.
Blue Sage draws students from part of the former attendance zone for Skyline Elementary, which was over capacity last school year.
The school, Elkhorn's 11th elementary, is the last of the projects to be completed using funds from the $63.1 million bond referendum approved by voters in 2014.
It's also got a new look compared with the district's other elementary schools — Elkhorn uses standard designs for its schools, and Blue Sage is the first school to be built using a new elementary school prototype.
"Isn't it beautiful?" Knust said. "Everything flows really nicely here."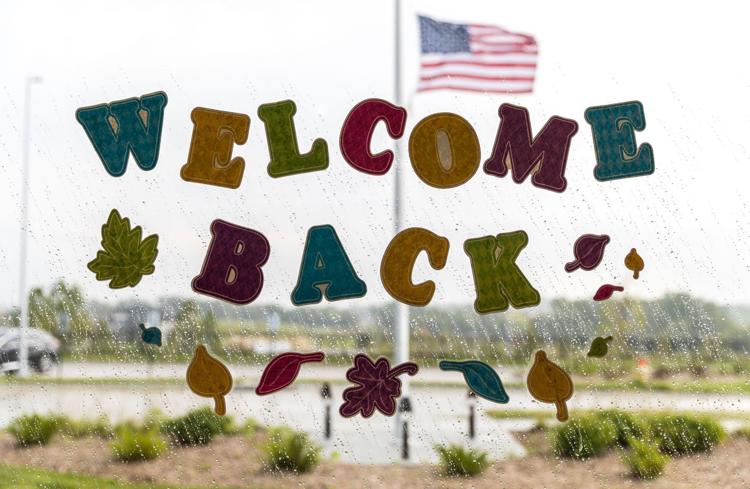 A secured front office, gym, cafeteria, media center, computer lab and classrooms for special subjects like art are at the front of the building. The different grade-level classrooms are split up into three wings.
Nooks are built into the hallways so kids can grab some quiet reading time or teachers can pull out a small group. Large windows let in plenty of natural light, and the entire kindergarten and first-grade wing is fortified so it can be used as a storm shelter for the whole school. All of the classroom doors can be locked from the inside.
A huge mural with a mama bear and two cubs — students and staff are the Blue Sage Bears — covers an entire wall of the gym.
High-tech, interactive smartboards hang in every classroom.
"We're getting used to this new technology," fifth-grade teacher Lindsey Carlson said. "It's very sensitive."
Carlson's fifth-graders are practicing grammar and sentence structure. They walk up to the board and with the flick of a finger edit sentences that need a period, words capitalized or quotation marks added.
"Let's give him a golf clap," Carlson told the class after Connor Dudley reworked a sentence. "That one was hard."
Kelle Lawrence is using her smartboard to pick apart math problems and show different ways to solve them in her fourth-grade classroom.
"8+4+18," she writes on the board. "How did you get 30?"
The kindergarten section includes a large central space that the different classes can share. There are easels ready for finger painting, a play area with a kitchen, a table and baby dolls, and different costumes hanging on hooks.
"We have our own space to be loud," Knust said. "Sometimes learning is loud."