Santa Claus came early this year for Kennedy Elementary's pre-K to fifth-grade students.
But, rather than make an entrance with a red suit or a sleigh, he arrived much more modestly — and he looked a lot like Omaha businessman Tom McNeil.
McNeil is president of Mainelli Mechanical Contractors in north Omaha, which has been in operation for 49 years. This year, the company decided to present each Kennedy student with a gift and give each family a $100 Visa gift card.
McNeil said his son's girlfriend is a paraprofessional at Kennedy, 2906 N. 30th St., so he and his wife have donated their time to the school before.
"We just saw 250 kids that we wanted to help," he said.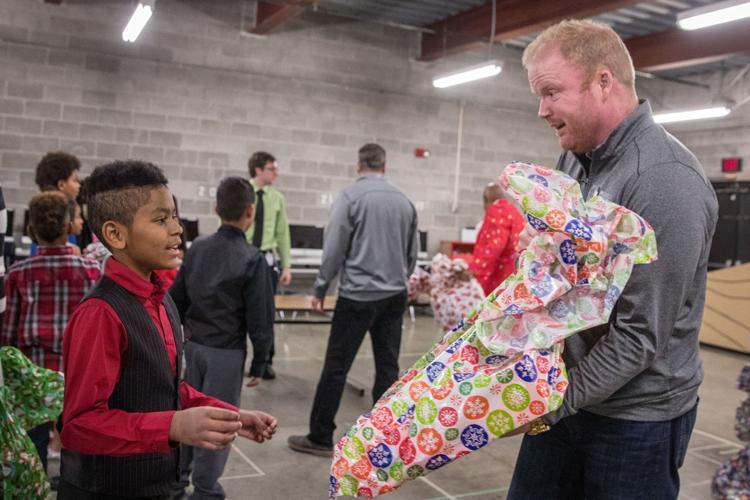 McNeil reached out to Kennedy Principal Tony Gunter shortly before Thanksgiving and told him he wanted to "adopt" Kennedy. The teachers went into action, interviewing each student to find out what they wanted for Christmas.
"If you had $100, what would you do with it?" the teachers asked. The children, unaware that these wishes would come true, let their imaginations run wild.
The Mainelli office staff worked to purchase all the gifts, which included bikes, skateboards, Chinese checkers and Barbie dolls.
"I can pretty much say, 99 percent, if they had it on their list, they got it," McNeil said.
Many families came for the school's winter program Wednesday afternoon. When the concert was over, Gunter took the stage to make the big announcement.
Upon finding out there were presents waiting for them, the children jumped and shouted for joy. After finding out there were gift cards as well, parents gasped, before giving the Mainelli team a standing ovation.
Parent Jeremy Cruz was grateful. His daughter, Wren, was ecstatic to receive a Paw Patrol Tower, based on her favorite show.
"It's nice that there are good people out there to do nice things for children and those in need," Cruz said. "It was a very nice community thing to do."
Many Kennedy families have faced difficulties since the school year began. About one-fourth of students, Gunter said, lived in the Yale Park apartment complex and were displaced when it was shut down in September after housing inspectors found widespread code violations.
"(Mainelli) chose us, they chose you," Gunter said in his announcement. "They chose your children to support this year."
Nebraska Nice in action: More than 5 dozen stories of everyday folks helping each other
Every day, people around Omaha lend a hand to help their neighbor or complete strangers. Take a look at a few examples of Nebraska Nice in action.