WASHINGTON — Omaha eighth-grader Immanuel Soh stepped onto the biggest of spelling stages Tuesday and faced down what was initially an unfamiliar word: casita.
The 13-year-old sought to calm his nerves as he cycled through typical bee questions.
Definition of the word? A small house. Language of origin? Latin-derived Spanish. Alternate pronunciations? None.
He repeated the word aloud, took a deep breath and went letter by letter: C-A-S-I-T-A.
That correct spelling earned Soh, who is home-schooled, another day on stage at the National Spelling Bee, being held this week at a conference center outside the nation's capital.
Soh said going slowly and talking to those running the competition helped him to handle the pressure that comes with the cavernous ballroom and bright lights.
"The pronouncer and the judges are really trying to be on your side," he said.
Not as fortunate was 13-year-old Stephanie Lewis, an eighth-grader at Omaha's Marrs Magnet Center. She made it to the national contest as the winner of the Midwest Spelling Bee, which is sponsored by The World-Herald.
Lewis' word Tuesday was cacaxte.
Definition? A square wooden packing frame or crate that has four legs and a net cover and is carried on the back especially by native Guatemalans with the help of a sling.
Lewis' incorrect spelling of C-A-X-A-T-I brought the dreaded "ding!" of the error bell and, just like that, she was out of the competition.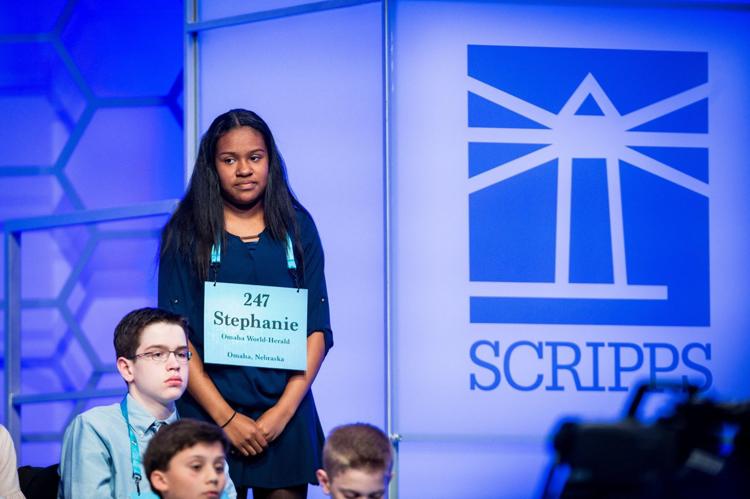 "I knew there was an x but I wasn't sure where it was," she said after rejoining her family in the audience.
That means Soh remains the only Nebraskan in the competition, which will conclude with a final round Thursday night. The bee champion receives a trophy and $40,000, but Soh and his family said the bee is less about the outcome and more about a learning process and broadening horizons.
Soh finished third in the Midwest bee but was included in the national competition thanks to a new wild-card program for youngsters who don't qualify through conventional means and are willing to pay their own way.
Dubbed RSVBee, the new wild-card system is intended to address fairness concerns and serve as an alternate path for students who came close in their regional bees. It increased the field of spellers from 291 last year to 519 this year.
Some have raised concerns that having the expanded program favors families with money, but Soh's parents rejected that kind of characterization. They described themselves as a hard-working, middle-class family focused on their faith in God.
"I'm really thankful for God giving us a second chance," said his mother, Bin Soh. "He's the God of second-chance, redemption."
Other words in Tuesday's competition included margaritaceous (having a satiny iridescence like that of pearl or mother-of-pearl), nemathelminth (a wormlike animal) and aposiopesis (the leaving of a thought incomplete usually by a sudden breaking off).
Both Omaha spellers described the bee experience as a positive one.
"I'm just glad to be here, and now I know words that I can use later on in life through high school and my career," Lewis said. "It's just an honor to be here."
Her mom Silvia Lewis added that her daughter will always be the winner of this year's Midwest Spelling Bee.
"Nobody can take it away," Silvia Lewis said.
Midwest Spelling Bee winners — and their winning words — through the years
A collection of the last 20 years of Midwest Spelling Bee winners.
Those who win the Midwest bee receive a paid trip to Washington, D.C. to compete in the Scripps National Spelling Bee at the end of May. 
---