It's hard to keep a secret in an elementary school, but this time it worked.
Teacher Rebecca Streff said she was "clueless" before the big announcement on Monday that she received a Milken Educator Award — the only one in Nebraska this year.
When a Milken Family Foundation official attending an all-school assembly spilled the beans — telling them that a teacher at North Bend Central Elementary School would get it and a $25,000 prize — she sat in the bleachers thinking about all the other staff who deserved it.
And when her name was announced, she was in disbelief.
"I wanted to look back and see if there was another Rebecca there," she said.
Streff said she was deeply humbled to receive the award.
She said the school has plenty of other "amazing and outstanding" staff who could have been honored.
Streff, 36, has been a teacher for 14 years, spending three years in the Lincoln Public Schools before coming to North Bend. Her husband, Ken, is a social studies teacher at North Bend High School.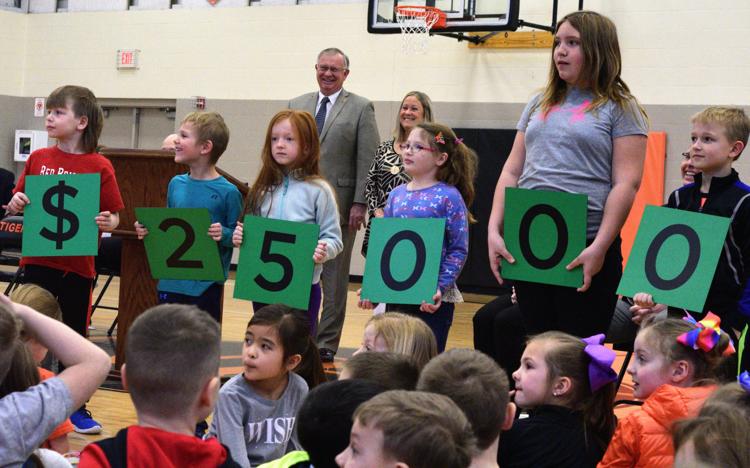 The secret actually had to be kept an extra two weeks.
The award was supposed to be given on Feb. 20, but a snowstorm forced cancellation.
That's a good thing — Streff was on maternity leave with her infant son, Kevin.
"I would have probably come in my maternity leave outfit and brought the baby," she said.
Greg Gallagher, senior program administrator at the Milken Family Foundation, who was on hand for the presentation, heightened the suspense.
He picked students from the bleachers to come down, one by one, to hold up cards that spelled out: $-2-5-0-0-0.
Gallagher said celebrating good teachers can leave a positive impression on students, inspiring them to pursue teaching careers.
That was the case with Streff.
"I wanted to become a teacher because when I was in elementary school, I had some really awesome second- and third-grade teachers," she said. "They did hands-on learning. They made me feel like I could learn anything and be anything. They made learning fun. I loved coming to school, and right away, I knew at a very young age I wanted to become a teacher."
Now, she said, she's always trying to go "out of my comfort zone."
When her students were not learning math as well as she wanted, Streff said she sought assistance from Educational Service Unit No. 2 to improve instruction. She's done the same for reading and writing, she said.
The Milken Educator Awards were created by the Milken Family Foundation in 1987 to recognize teaching excellence. The awards are intended to inspire educators and emphasize the importance of joining the teaching profession.
Across the nation, the awards are being presented at only 33 schools this school year.
Asked how she would spend the $25,000 award, the mother of four said she would have to think about it. She said she was leaning toward using some for her family and some for an educational purpose.
There are no restrictions on how the funds can be used.
Sign up for The World-Herald's afternoon updates
Receive a summary of the day's popular and trending stories from Omaha.com.
Streff's four children are Philip, 9, Isabella, 7, Julia, 5, and Kevin, 2 months old.
One of the most rewarding things about teaching, Streff said, is when students are struggling with a concept and then "get it."
Also attending the assembly were Nebraska Lt. Gov. Mike Foley, Nebraska Commissioner of Education Matt Blomstedt and Nebraska State Board of Education members John Witzel and Rachel Wise.
North Bend is about 15 miles west of Fremont.
The Milken organization was founded in 1982 by Michael and Lowell Milken to strengthen the teaching profession by recognizing and rewarding outstanding educators and by expanding their professional leadership and policy influence.
It aims to attract, develop, motivate and retain the best talent for the teaching profession. And it also aims to stimulate creativity and productivity among people of all ages through programs that encourage learning as a lifelong process.
Photos: Our best shots of 2019 (so far)
Take a spin through the best of our staff photos from 2019. The gallery will be updated throughout our journey through the next year.