Stephanie Lewis had never seen or heard the word.
In the audience at the Midwest Spelling Bee on Saturday, her dad was nervous, too. For the last couple of months, he'd been her spelling coach, reviewing word lists in a quiet room of their Omaha home or, when the weather was nice, under a favorite tree at a nearby park. He'd been confident in the earlier rounds, when she'd gotten words like "anchovy" and "whereby." But he was certain they hadn't studied an Old English noun meaning "art of healing."
And yet, Lewis, the 13-year-old eighth-grader at Omaha's Marrs Magnet Center, leaned toward the microphone and spelled out the final word: L-E-E-C-H-C-R-A-F-T.
With that, she became the winner of the 89th annual Midwest Spelling Bee, which is sponsored by The World-Herald. Lewis will receive a paid trip to Washington, D.C., to compete in the Scripps National Spelling Bee at the end of May.
"My heart was pounding in every round," Lewis said as her family congratulated her onstage. "I'd never done (the Midwest Spelling Bee) before. I really wasn't expecting to win. I wasn't even confident I'd make it past the written rounds."
Lewis said she was careful with her handwriting in those written rounds as any overwrites or corrected letters mean disqualification. Three written rounds narrowed the pool of competitors from 74 to seven: four girls and three boys.
After five oral rounds, it was down to Lewis and Meghana Nakkanti of Sidney, Nebraska. Nakkanti misspelled "pious" and then it was Lewis' turn for "leechcraft."
"I just broke it down into its parts," she said. "I'm really happy to win this."
Lewis' dad, Stephen Lewis, said that for a few hours a day at least three days a week, the title of "dad" had been replaced with "coach."
"We had a few sessions of 'combat studying,' " he said with a chuckle. "But this (win) is all her. She's always been a good student. We as parents stress education, but mostly we just guide her away from Netflix if needed."
Though most of the audience had filed out of the auditorium with the final "t" of "leechcraft," fifth-grader Hannah Fernandes sat low in her seat and rested her head on her mom's shoulder as Lewis' family mingled on stage.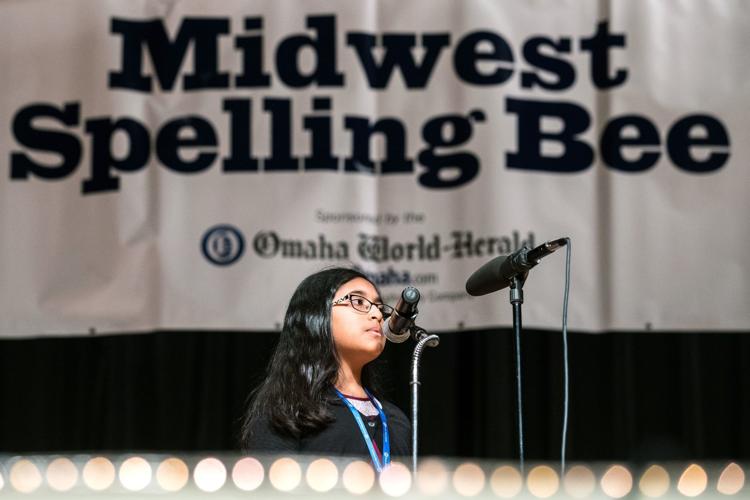 Fernandes was last year's Midwest Spelling Bee champion, and made it to the fifth oral round this year. But the all-too-fitting word "stressor" took her out of the competition.
She stayed stoic as she walked to her seat in the audience. She'll try again next year, she said.
"There's a lot of luck involved," said her mother, Sharmila Braganza.
Stephanie Lewis agreed — luck did seem to be a factor.
"I'm honestly really shocked," she repeated, the surprise evident on her face.
Then she looked to her father.
"He helped me a lot," she said of their time spent studying. "And now we get to do some more."
Midwest Spelling Bee winners — and their winning words — through the years
A collection of the last 20 years of Midwest Spelling Bee winners.
Those who win the Midwest bee receive a paid trip to Washington, D.C. to compete in the Scripps National Spelling Bee at the end of May. 
---