LINCOLN — Construction of a privately funded, $85 million engineering building will help the state dig its way out of a workforce hole, university and business leaders said Monday.
The University of Nebraska-Lincoln College of Engineering announced its plan to erect the new building, called Kiewit Hall, at 17th and Vine Streets.
The facility, boosted by a $20 million donation from Omaha construction giant Peter Kiewit Sons' Inc., is one of several elements in the College of Engineering's plan to supply more highly skilled technical workers to the state.
"Kiewit Hall will attract the best students to the University of Nebraska," UNL Engineering Dean Lance Pérez said at a press conference and celebration concerning the announcement.
State and industry leaders have cited a shortage of technical workers as a cloud hanging over Nebraska's future. They say an existing "brain drain" of talented workers will hinder Nebraska's ability to thrive.
Interim NU President Susan Fritz said at a press conference that strengthening the engineering college and workforce are the NU system's No. 1 focus. Engineering, Fritz said "is at the top of the list."
Pérez said he wants to increase his college's enrollment from about 3,100 to 5,000 within a decade. UNL said that by 2026, the state will need about 15,000 new workers in engineering and computer science.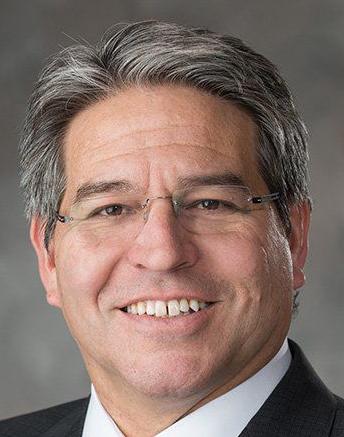 More than a year ago, the NU Board of Regents agreed that the Scott Engineering Center should be renovated, Nebraska Hall would undergo building code and handicapped-accessible upgrades, and The Link would be taken down and rebuilt. Nebraska Hall and The Link are within the university's engineering complex.
Those improvements, costing $75 million, will largely be funded by the state, with $5 million coming from private sources.
Sign up for The World-Herald's afternoon updates
Receive a summary of the day's popular and trending stories from Omaha.com.
The project announced Monday will be in addition to those improvements.
Bruce Grewcock, chief executive officer of Kiewit, said his company needs 1,000 additional engineers annually in the U.S. and Canada for growth and to replace those who leave. Grewcock said Kiewit also uses about 900 interns a year.
"And we've got a little bit of catch-up to do" in Nebraska, Grewcock said.
A 2015-16 regents analysis found that the College of Engineering buildings were "among the worst in the entire University of Nebraska system." That would include NU's campuses in Omaha, Lincoln, Kearney and Curtis.
Pérez said a year ago that research funding at UNL's College of Engineering was at the bottom of the engineering schools in the Big Ten.
Brad Strittmatter, chief executive of the Olsson public infrastructure firm, which started in Lincoln, said in an interview Monday that about a third of his 350 engineers came from the UNL College of Engineering.
"So it's a big deal when we can grow the student base here," Strittmatter said.
And Todd Foje, chairman of the Nebraska Chamber of Commerce's board, said workers with technical skills are in demand all over the country. "So it is challenging, finding and retaining that kind of talent," he said.
Donors to the engineering improvements besides Kiewit include Nebraska individuals and companies Hausmann Construction; Dan and Angie Muhleisen; Olsson; the Union Pacific Foundation; Don Voelte and Nancy Keegan; and Jim and Mary Abel. Others include Robert and Joell Brightfelt of Chicago and Rick and Carol McNeel of Chapel Hill, North Carolina.
Delaney Bachman, a senior engineering major from North Dakota, told the audience that the UNL College of Engineering produces quality right now.
"The students already compete among the best in the nation," Bachman said.
Check out nearly 100 stunning photos of Nebraska
Check out some of the most beautiful images of Nebraska.