If you're looking for work by or about Willa Cather, Walt Whitman, Meriwether Lewis or dozens of other subjects, the University of Nebraska-Lincoln has a place for you.
The center offers them free online for use by scholars, students and the general public, and it provides ways to digitally search through thousands of pages to find what the reader might seek. The projects are accessible from a home computer or phone that connects to the Internet.
The center's archives received more than 2.1 million digital views between July 1, 2017, and June 30, 2018.
Sign up for World-Herald news alerts
Be the first to know when news happens. Get the latest breaking headlines sent straight to your inbox.
"It was kind of slow going at first," said Katherine Walter, a co-director of the center with Kenneth Price.
More than 50 projects are available on the web site — cdrh.unl.edu — and they vary widely in subject matter. Among them:
Journals of the Lewis and Clark expedition.
The William F. Cody (Buffalo Bill) Archive.
Essays, letters and professional writings of John G. Neihardt.
Texts of American Indian treaties and articles on treaties.
A study of the way Washington, D.C., evolved during the Civil War.
Photos, articles, documents and images of souvenirs from the Trans-Mississippi & International Exposition in Omaha in 1898.
Legal records from early Washington, D.C., including slaves' petitions for freedom.
Information about the Omaha language, Omaha Indian heritage and a dictionary of Omaha and Ponca words.
Behrendt said through an email that he has been "passed on the digital highway by the speeding, sporty vehicles of colleagues who have come on board in recent years and whose projects are far more technologically and visually sophisticated than mine ever was."
The program grew, developed more projects and received additional interest from faculty members. The NU Board of Regents in 2005 officially granted the program "center" status, which made it a research group that involved professors from different academic specialties and even different institutions.
The Whitman project, for example, is headed by Price and the University of Iowa's Ed Folsom. Their team includes people at Marshall University, Southern Illinois University, Brown University and a university in France. They also have utilized consultants from Cal-Berkeley and the University of Virginia.
The Chronicle of Higher Education reported late last year that UNL had acquired about $4.5 million over the past decade from the National Endowment for the Humanities, placing the university 17th in the nation in that realm. Much of that money went to the Center for Digital Research in the Humanities and its projects.
The publication also reported last year that UNL ranked eighth in the country in research expenditures in the humanities in 2015-16. The center's projects receive grants from several organizations and agencies.
Walter said the NU system also allocates $611,000 annually to the center, which is considered a "program of excellence," for salaries, benefits, equipment and operating expenses.
John Unsworth, dean of libraries at the University of Virginia, said UNL's program "has been a leader in the field of digital humanities since its inception." Unsworth said Virginia, Maryland, UCLA, Stanford, Indiana and Penn are among other universities with good digital humanities efforts.
The program currently has 16 UNL faculty members involved as "fellows," devoting much of their time to the digital humanities. Nine technologists and project managers, and many students also work on the projects. Historically, Walter said, the center has worked with 85 faculty members in 13 UNL departments.
Andrew Jewell, who edits the Willa Cather Archive, said the staff of the center provides invaluable technological assistance. "There's no other Cather digital resource like ours," said Jewell, a UNL professor of libraries.
New projects start from time to time. Those currently include associate history professor Jeannette Eileen Jones' study of Americans in Africa from 1862 to 1919 and assistant professor of anthropology Heather Richards-Rissetto's work to examine and reconstruct ancient cities of the Maya in Central America.
Price has worked on the Whitman archive for more than 20 years. The thousands of pages that he and team members have assembled online highlight the evolution of Whitman's writing and the fact that he constantly rewrote his works. Price said there are several different editions of Whitman's "Leaves of Grass," published from 1855 to 1892.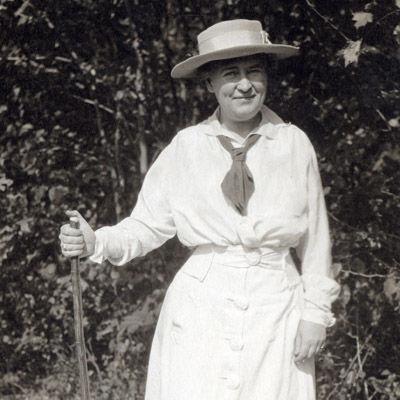 "We are advancing the way people can study Whitman," Price said. The approximately 40,000 images on the Whitman website have been scanned or digitally photographed by Price and others with the consent of directors of about 100 libraries and other places across the country that keep some of Whitman's work.
The professors use state-of-the-art technology to accomplish some of their tasks. Dr. David Livingstone, a British explorer in Africa in the 1800s, had run out of ink and paper at one point. So Livingstone used newspapers to write on and made his own ink out of clothing dye.
Adrian Wisnicki, associate professor of English, illuminated those faded manuscripts by using different wavelengths of light to make the virtually invisible writing stand out.
Richards-Rissetto uses archaeological data, three-dimensional modeling and other technology to map out and reconstruct ancient Maya cities and create virtual reality environments.
In many instances, it's the words of the writers that jump out. In one letter to her brother, Roscoe, Willa Cather described what had made her a fine writer. "As for me, I have cared too much, about people and places — cared too hard. It made me, as a writer. But it will break me in the end."
Jewell remembers when Roscoe Cather's grandchildren brought in bags of Willa Cather's letters a dozen years ago and donated them to the university.
"I was really excited," Jewell said. "Because of the center, I knew there was a way to make these available to people."