By any measure, the top executives at public colleges and universities are well-paid.
Although compensation varies widely based on a college's size or mission, six-figure salaries are the norm. Many college and university CEOs receive perks, too, such as a presidential residence, use of a car and club memberships.
How much is enough or too much is subjective. A six-figure salary is excellent compensation to a working-class grinder, but most in higher education say a college CEO's work is demanding and anything but 40 hours a week. The pressure is great, the skills required are diverse and the constituents monitoring public higher education are many and varied.
The compensation for 19 Nebraska and Iowa public college leaders varies widely. The lowest salary of 19 examined is $195,249, paid to Randy Rhine, president of Chadron State College.
The highest is that of Dr. Jeffrey Gold, who oversees the University of Nebraska Medical Center and also is interim chancellor of the University of Nebraska at Omaha. Gold, a pediatric heart surgeon, was hired as UNMC's chancellor for $775,000 a year in 2014. He now makes $853,338 a year.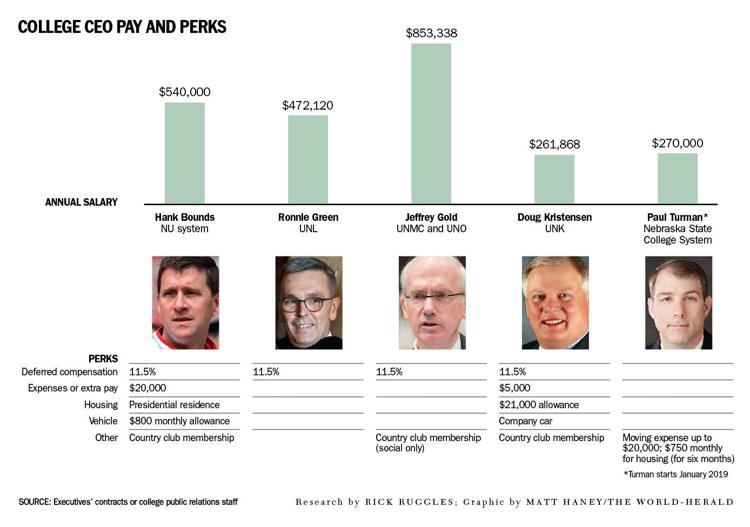 The State College Board of Trustees agreed last week to pay its new chancellor, Paul Turman, $270,000 a year to oversee the three-college system. It places him close to the middle of the 19 Nebraska and Iowa public colleges' top-executive salaries.
Turman said he is well aware that $270,000 "seems like a significant amount of money." Turman, who will start his Nebraska job in January, said he currently makes about $200,000 as system vice president for academic affairs for the South Dakota Board of Regents.
Turman, 46, said bad leadership can send an organization into a downward spiral that is hard to bounce back from. "I hope I'm the guy to keep it moving in the right direction and actually improve the trajectory," he said of the system that includes Wayne, Chadron and Peru State Colleges.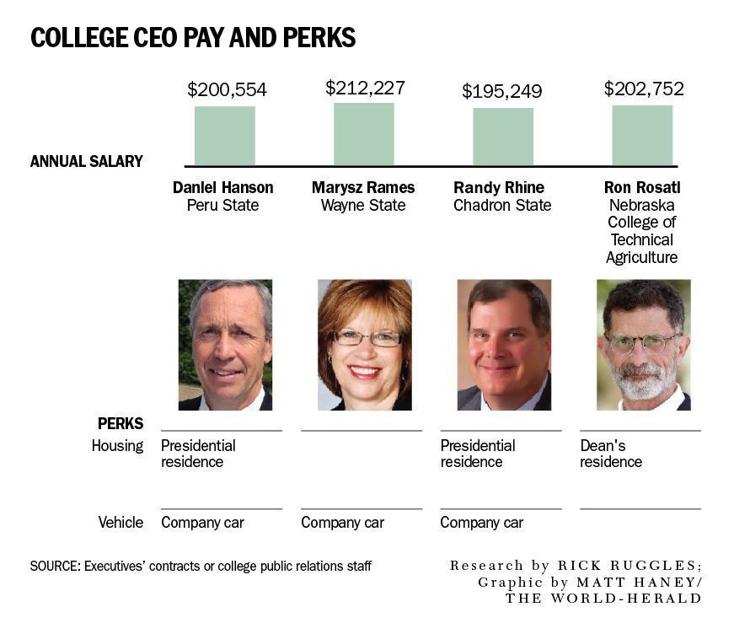 He follows longtime state-college system chancellor Stan Carpenter, who is retiring. Carpenter makes $270,589, or slightly more than Turman will make. Turman said he didn't negotiate for more.
Boards of directors "are looking for talented, experienced leaders who can take the university to the next level," said Tom Harnisch of the American Association of State Colleges and Universities. "And compensation is a factor in attracting and retaining those leaders."
The necessary skills include budgeting and fundraising, lobbying and hobnobbing, leadership and teamwork, studying and public speaking, decisiveness and diplomacy.
Harvey Perlman, who stepped down in 2016 after 16 years as the University of Nebraska-Lincoln's chancellor, said the pressure can be extraordinary.
"It's a job you carry around with you 24/7," said Perlman, who now is a professor of law at UNL. "It never leaves you." Any open weekend day left him feeling guilty that he should have been contacting donors or getting some work out of the way, he said. When Perlman left the chancellorship, he was making close to $370,000.
By comparison to many corporate chief executives and college football coaches, higher education president and chancellor compensation appears reasonable, even modest. Scott Frost, the Huskers' football coach, was hired last year and makes $5 million a year. The average CEO pay for large American companies a couple of years ago was $15.6 million a year, the Economic Policy Institute reported.
NU system staffers say paying somewhere close to the market rate for a CEO is important in getting excellent leadership. So is paying what you can afford, said NU spokeswoman Melissa Lee.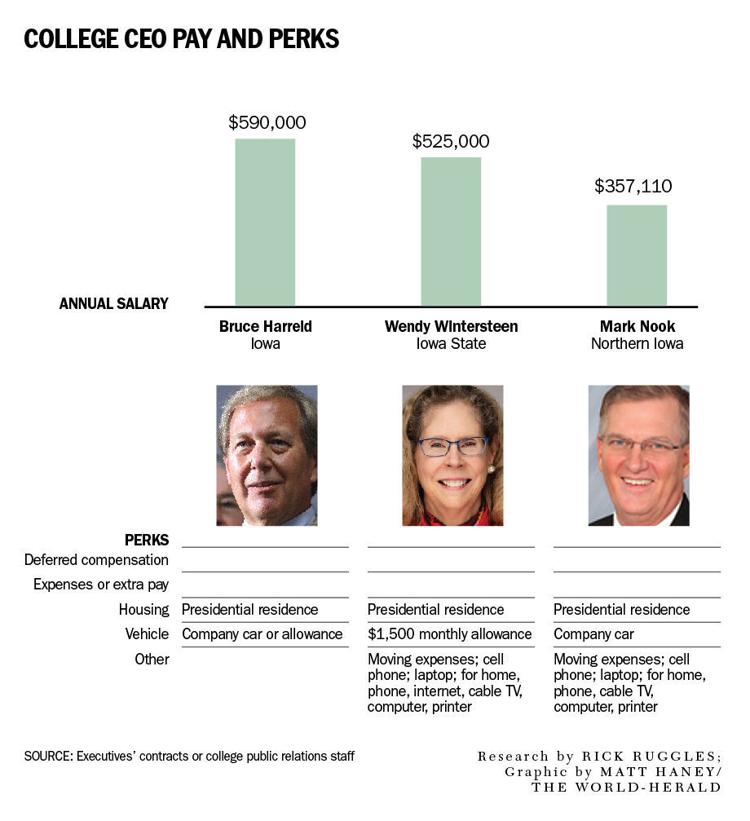 Gold's $853,338 a year places him close to the median pay for chief executive officers of public academic medical centers, such as UNMC. Last year, the Association of Academic Health Centers said, median pay for those jobs was $750,411 with an additional $133,795 in bonuses and other compensation.
Hank Bounds, NU's president, receives $540,000 in base pay to oversee the multiple institutions of the university system. Bounds' pay is around the median of CEO compensation for the system's official comparison colleges, which include Texas A&M, University of Colorado and University of Wisconsin systems.
Ronnie Green, chancellor of the University of Nebraska-Lincoln, receives $472,120 in base pay, which places him at the bottom of CEO salaries in the Big Ten. The Chronicle of Higher Education tracks college executive pay.
"Salaries are all over the map," said Richard Vedder, emeritus professor of economics at Ohio University.
Vedder said the University of Michigan's president makes more than $800,000, while the head of the prestigious University of California system makes somewhat more than $570,000.
"Is there any reason for it?" Vedder said of the disparities in pay. "I don't know." Further, Vedder said, a key question is this: Do you have to pay a hefty salary to get a quality leader?
Harnisch said college presidents must balance the interests of stakeholders such as board members, professors, government leaders, students and alumni. Satisfying one group might tick off another.
It takes "tremendous people skills," Harnisch said, and "a special, unique person to be in that role." And when a college has a good one, he said, other colleges want them, so the compensation must be competitive.
Daniel Hanson, president of Peru State College, acknowledged that his salary of $200,554 is a lot of money. "I'm incredibly privileged to be in this role, and I'm thankful," Hanson said.
Hanson said it's not rare for him to work or attend functions four nights a week and to have several activities on weekends. They include meetings, sports events, arts programs and community activities.
In his nine years as Peru State's president, he and his wife, Elaine, have made it a tradition to invite every freshman over to their house. They come in groups of 10 or 12 with as many as three batches arriving nightly over a dozen or more evenings. They eat ice cream sundaes, talk about why they chose Peru State and discuss what they want to do with their lives.
Hanson said those sessions with students do not sap him of energy after a day of work. If anything, he said, they restore it.