LINCOLN — A vast lawn and network of sidewalks connect the oldest building and the newest at Nebraska Wesleyan University.
It's no reach to suggest that the staid Old Main and the sharp, new Duane W. Acklie Hall of Science represent the university's 131-year history as well as the years ahead for the 2,000-student private school in the middle of Lincoln. The university expects Acklie Hall — with its study spaces, views across campus, coffee shop and large wooden art pieces — to serve many on campus, not just science students.
Nebraska Wesleyan students, faculty members and staffers are so eager to move into their new science building that they are using part of their Christmas break to get the facility ready for next month.
Sign up for World-Herald news alerts
Be the first to know when news happens. Get the latest breaking headlines sent straight to your inbox.
They are moving beakers and microscopes, unwrapping science flasks and funnels, and getting bottles and chemicals ready for Jan. 14, the first day of spring semester. About 30 students pitched in this week. So did 30 faculty members and 50 staffers.
The $29 million building of red brick and green glass honors the late Duane Acklie, a Lincoln business leader. The Acklie Charitable Foundation was the leading contributor to the three-level facility.
It's the first new academic building erected at the Methodist-affiliated university in 36 years, so the university community is understandably enthusiastic.
"It's gonna be great," junior Rhianna Becker, a biology and modern language major from Lincoln, said earlier this week as she covered tables with beakers, bottles and funnels. "I'm real excited about it."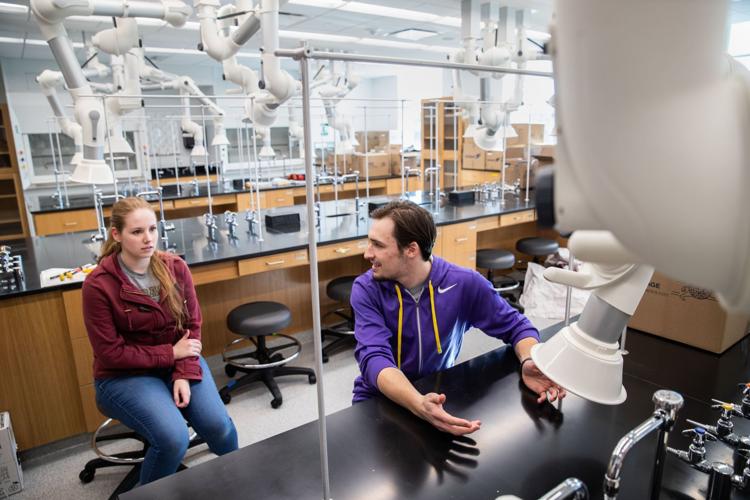 Nathanael Fackler, a chemistry professor, said the new facility will provide "more light and more space for students to work together." Large windows throughout the building allow for natural light.
Mikaela Sorensen, a junior dental hygiene major who won't have classes in the Acklie building, nevertheless helped friends with the move-in. "I'll probably come and study here," said Sorensen, a Lincolnite.
The Acklie building will become the university's primary science building, replacing the Olin Hall of Science. Nursing, math and physics will remain in the Olin building, while chemistry, biology and psychology will occupy the Acklie building. A study will be done to determine what to do with the empty space in the Olin building, which opened in 1968.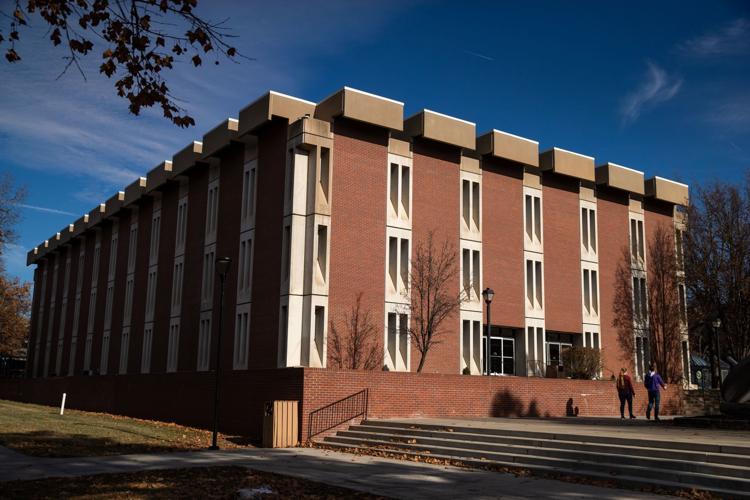 The new building contains 15 labs, six classrooms, 10 student study areas and 30 faculty offices.
"They'll be able to do so much more in this building compared to Olin," said senior biochemistry major Beki Warga of Plattsmouth. "Oh my gosh, yes, yes, yes. And to see it all come together now is really fun."
The $29 million covers construction and new equipment, including expensive spectrometers and other devices. The building has features such as interior windows so visitors can look in at the lab work being done (called "science on display"); shorter, wheelchair-accessible lab benches; large flat screens for slides and videos; and an outdoor balcony at the coffee shop.
Jodi Ryter, a chemistry professor, said she could envision poetry readings and small theatrical productions in the coffee shop or on the grass below. "This is not just a science building," Ryter said.
The building contains open study areas and enclosed study rooms, "where we can sit down and put our collective heads together" to solve problems, Ryter said.
Some of the rooms have ventilation systems for each lab bench so steam and vapors can immediately be sucked upward and out of the classroom. And some of the large windows look across the lawn to Old Main, reminding today's students that Nebraska Wesleyan has been around a long time.