A decline in international students chipped away at enrollment this semester at the University of Nebraska-Lincoln and the University of Nebraska at Kearney.
Although the University of Nebraska at Omaha and two of Nebraska's state colleges reported an uptick in international students, many colleges across the country have found it harder to attract students from China, India and other nations.
Of UNL's total decline of 488 students, more than half of those are attributable to international students. There are 259 fewer than last year at this time, and much of that decline is in Chinese students, UNL said. UNL has the most international students of Nebraska colleges.
A slump in international students "is being felt in a lot of places," said Mike Baumgartner, head of the Nebraska Coordinating Commission for Postsecondary Education. Baumgartner said he couldn't address UNL's declines in international students, but "it doesn't surprise me."
"I know there's lots of reasons," said Ruoyu Dong, a senior economics student at UNL. Dong, of Beijing, cited the trade conflict between the United States and China and the fact that more Chinese students seeking an English-language institution are finding cheaper tuition in Canada and Australia.
Chinese and other international students typically pay full tuition in the U.S.
Dong said it's also his understanding that it's somewhat harder to get a visa to study in the U.S. than it was three years ago. He came four years ago.
Sign up for The World-Herald's afternoon updates
Receive a summary of the day's popular and trending stories from Omaha.com.
Total enrollment slipped this semester at three of four of the University of Nebraska system's main institutions. Enrollment and tuition provide a crucial source of revenue for universities. In the NU system, state appropriations have been somewhat unpredictable over the past few years. The NU system received a 3% boost from the state this year after midyear cuts the preceding couple of years.
Figures released Monday showed that in the NU system, only the University of Nebraska Medical Center increased its enrollment over the same time last year, a 2.1% rise, to 4,055. That's the 19th straight record high for UNMC, the NU system reported.
UNL, UNO and UNK showed small declines in total headcount from last fall to this semester.
UNL's enrollment dropped 1.9%, from 25,820 to 25,332. UNO's fell 1.8% to 15,153. UNK's declined 0.8% to 6,279.
Creighton University also said it had a slight decline, from last year's enrollment record of 8,910 to 8,821, a 1% drop.
In the state-college system, Wayne State showed a gain of 5.5% to 3,689, while the two other state colleges had decreases. Chadron State enrollment dropped 3% to 2,387 and Peru State's fell 0.4% to 1,800.
The institutions generally emphasized their positive numbers in press releases and interviews. UNL said its freshman class "is the most racially diverse and academically talented" ever. About 18% of the freshman class are minorities, UNL said, and UNL's 2019-20 freshmen "have an average ACT score of 25.5, the highest in university history."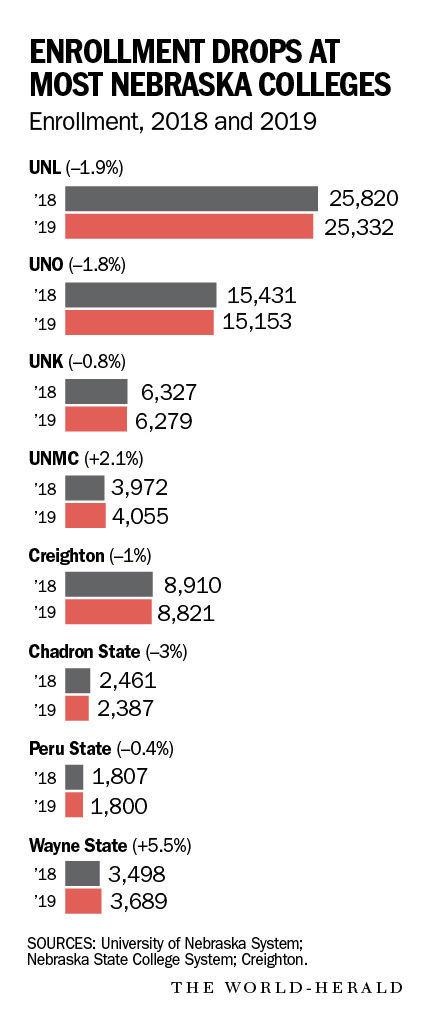 UNL also said it increased its number of freshmen from in state and received a boost in transfer students from within the state, too.
Peru State said it had its largest freshman class, 290, in at least 30 years. Wayne State had a big bump of students overall, from 3,498 to 3,689.
And while Creighton's enrollment is down, it's still the second-largest total in university history, Creighton said.
UNO said that 36% of its first-year students are underrepresented, or nonwhite. Its total number of international students, a 10.6% increase to 875, shows that UNO is "bucking national trends" in that regard, UNO said.
Wayne State also had a jump in international students, from 38 to 82. Peru State had a very small decline, while Chadron State had a slight increase in that category.
Nationwide, the number of international students fell 6.6% in 2017-18, and that trend "appears to be continuing," the publication Inside Higher Ed reported last November.
Besides the tariff battle between the U.S. and China, some Confucius Institutes on American campuses have encountered scrutiny. A U.S. Senate subcommittee report early this year said that, among other things, Confucius Institute programs nationwide give the Chinese access to American higher education but that China doesn't reciprocate.
Some Confucius Institutes across the country have closed as criticism of them has ramped up. Confucius Institutes are cultural and language exchange programs between China and the U.S. The UNL Confucius Institute's main role is to teach Chinese to Americans.
Chris Heselton, associate director of UNL's Confucius Institute, said some Chinese have faced "a general atmosphere of hostility" recently in the U.S.
Heselton said some Chinese teachers have struggled to obtain visas in the U.S. "We've been lucky that we've managed to avoid that," he said. The UNL institute has 11 teachers from China, one Chinese-American and two Caucasian-Americans.
The overall declines in general enrollment at many institutions also reflect how competitive recruitment is among colleges. The Western Interstate Commission for Higher Education said the Midwest produced about 776,800 high school graduates in 2010 and estimated that there would be only 735,300 this year.
This means many colleges in the region are competing for a smaller pool of students. In Nebraska, UNO's Center for Public Affairs Research reports that the number of 18-year-old whites will decline between 2010 and 2028, while the number of 18-year-old minorities will rise over the same time.
Omaha-area high schools ranked by 2018 ACT scores
We collected 2018 ACT scores from 19 of the biggest schools in the Omaha area. Take a look to see if your school is on the list and where it fell.