Auto mechanics, once called grease monkeys, must have a combination of technological as well as mechanical skill to work on today's modern, computer-assisted cars.
And those workers are in demand. A Baxter Automotive Group representative said the industry expects more than 25,000 openings for technicians nationwide over the next three years. Many mechanics are aging out of the business.
"It is literally an industry that is in need," said Tim Nordquist, a service director for Baxter Automotive in Omaha. "We don't have enough technicians."
Metro Community College plans to invest $32.5 million into a new building on its South Omaha campus for its auto technology and auto collision programs. The State Coordinating Commission for Postsecondary Education approved the proposal. It is the latest development in the two-year college's building boom over the past two years.
Donations are expected to cover half of the $32.5 million for the auto building. That total includes furniture, equipment and some other items.
Metro administrators said their auto programs, currently in the South Omaha campus' Mahoney Building and the Applied Technology Center at 10407 State St., are running out of space. The proposed new facility would place the programs in one spot and give them more space.
Students in Metro's automotive programs complete a combination of classroom work and hands-on training, and many work for dealerships in the area while they go to school.
Diego Rosillo, a first-year Metro automotive student, said he works 24 hours a week for a Baxter dealership.
"I do enjoy the work," said Rosillo, 18, who came to the U.S. from Mexico at age 5. "I like learning a lot."
Another student in the program is Thomas Von Tersch, who spent four years in the Army before coming to Metro. He, too, works at a Baxter dealership in addition to doing his schoolwork.
"It's a great program here," said Von Tersch, 24. He hopes to become a diesel technician. "Right now, that's my plan."
Metro intends to erect a 100,000-square-foot, two-story building with a dealer-style automotive showroom as an entrance. The building would go up on the northwest edge of the campus, where Greater Omaha Packing has temporary parking. That company's attorney said Greater Omaha plans to make other parking spaces available.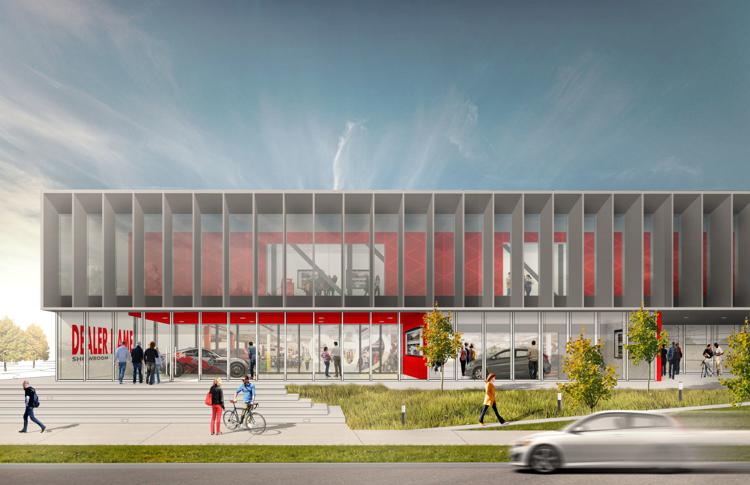 This quarter, the auto programs have 290 students, "pushing us to our limits," said Al Cox, coordinator for Metro's auto technology department.
The new building would provide more bays, or stalls, in which students would work on cars, plus classrooms and faculty offices. The facility will honor the dignity of a profession that in the past has often been demeaned, Cox said.
Today, some cars have more than 35 computers assisting various systems such as the transmission, seats, radio and four-wheel drive unit. Nordquist said some luxury vehicles have 100 microprocessors.
And the technology will increase in tomorrow's car. "Think of it as a spaceship that the Three Stooges can drive," Cox said.
Nordquist said he envisions a time when technology runs everything on a vehicle and mechanics will wear white lab coats. U.S. News and World Report said mechanics made a median salary of $38,470 in 2016. Nordquist said the good ones can make far more.
He said Baxter hires 10 to 20 Metro students a year. The company would hire more, he said, but regional competition for those graduates is intense.
Metro buys cars for the students to work on and receives donated cars. At times, students work on Metro staffers' cars.
Nancy Niebur, a longtime information technology employee at Metro, said the timing belt broke on her 2001 Acura Integra a couple of months ago. Niebur said she had access to another car, so she let the Metro program work on a variety of things for her, including the timing belt, water pump, oil and numerous other parts and systems.
Niebur picked her car up Thursday and was happy with the result. She paid $634 for parts, she said. She had her car, some students gained experience, and everyone was pleased.