When freshmen softball players Jenna and Jordan Skradski stepped onto the diamond this fall, they had their grandma to thank for their bright blue and orange uniforms.
Fifty years ago, the twins' grandmother helped pick out the school colors for Daniel J. Gross Catholic High School.
The Archdiocese of Omaha school in Bellevue was brand new, and Mary Beth Skradski and fellow freshmen in the graduating Class of 1972 had the honor of selecting the colors, mascot and motto.
This week, the blue and orange will be flying high as Gross High's faithful celebrate the school's 50th anniversary.
The Skradski family, three generations of whom attended Gross, will be joining the revelry.
Skradski, 63, said she feels a special connection to the school.
"You look back 50 years and say 'We did that. We picked those colors. We picked the Cougar as the mascot.' We kind of got the seedling started."
Although the school has changed over the years — even the blue and orange were tweaked a bit last year to modernize the hues — one thing has stayed the same, she said.
The Gross High community is "one big family," she said.
"We still hang out with people that I went to school with," Skradski said.
Photos: Gross Catholic through the years
Daniel J. Gross Catholic High School celebrates its 50th anniversary this year. Check out photos from the school's five decades of history. 
The anniversary celebration will start with a pregame tailgate before Friday's homecoming game against Schuyler Central High School.
On Saturday, there's the homecoming dance and coronation for students. Alumni will celebrate at the Bellevue Berry Farm.
An anniversary Mass is set for Sunday.
Mary Beth Skradski's four children — Joe, twins James and Matt, and Jennifer — and Joe's wife, Jody, are among the 8,300 alumni who've worn the blue and orange.
Joe and Jody's kids — Jenna, Jordan and their sophomore brother, Jacob — are enrolled today.
Yes, that's a lot of J's and M's.
The clan got its start when Mary Beth, whose maiden name was Vetock, took a liking to a boy who attended Omaha South High School.
In those days, kids cruised in their cars.
During lunchtime at Gross, Joe Skradski and his buddies from South would drive their souped up cars through the Gross parking lot.
He drove a 1970 Plymouth Barracuda with a copper paint job.
Mary Beth would watch from inside the school as her boyfriend revved up their love.
The school's first principal, Brother Leo Willett, knew what was going on, she said.
"Brother Leo never said anything. He would just stand out there with his arms folded and smile. But he knew. He let them do it."
Mary Beth and Joe married in 1974.
Their son, Joe, and Jody, whose maiden name was Coniglio, were high school sweethearts in the Gross High Class of 1996.
They were married in 2001.
Jody and Joe enrolled their kids at Gross "because this is home," Jody said.
"This is where we feel comfortable. It's got a family environment where you know kids are safe."
The Catholic faith is important to them, she said.
"It gives kids a sense of where they come from, who they are, what they believe in — trying to teach them to be the best people possible," she said.
Joe added, "It's comforting knowing the other kids going here are getting the same thing. You've got kids who've got morals."
Both said the homecoming bonfires were highlights of their years at Gross.
The senior class would build a 40-foot pile of wooden pallets and spindles. Cheerleaders and pom squads were all decked out, and students would gather around and sing the fight song. Then the students would march up the hill to a stadium they share with Bryan High School for the homecoming game, she said.
The encroachment of new houses on the school extinguished that tradition, she said.
"They would have been on fire," Jody said.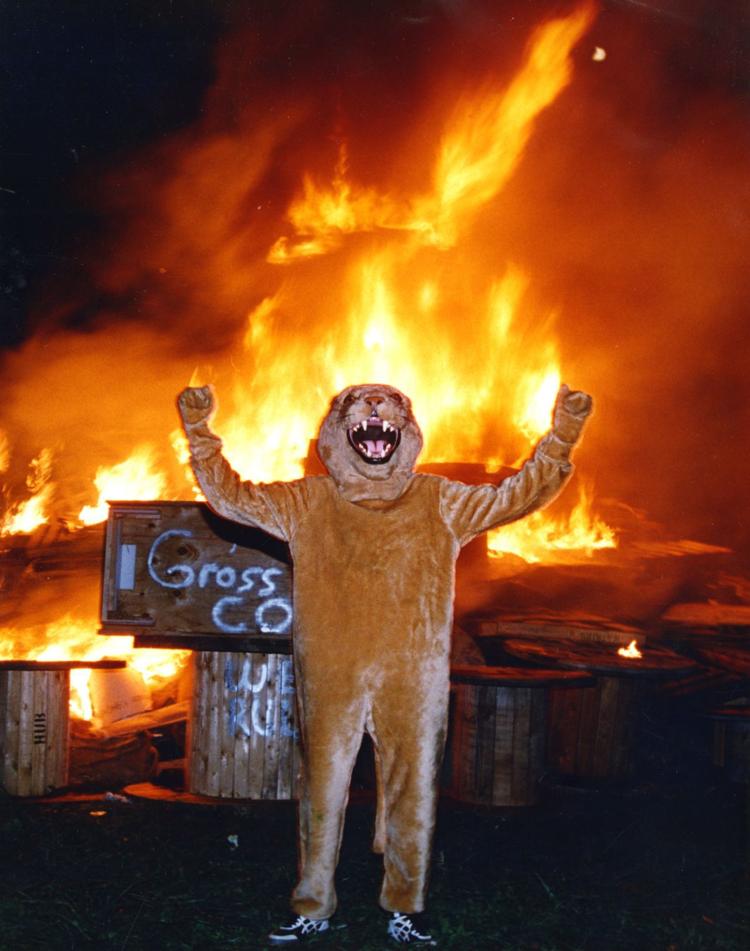 In a nod to this tradition, however, a bonfire is planned for the alumni event at the Berry Farm.
Joe and Jody's twin girls, Jenna and Jordan, made the varsity softball team this year.
That's one advantage of a small school, the opportunity to get involved, their parents said.
"You get to hang out with all the upperclassmen," Jordan said. "They include us in school activities and football games. You get to hang out with them. Team dinners are fun, every Wednesday."
The two recently experienced a newer tradition at Gross, "sorting day." That's when incoming freshmen are assigned to one of four houses within the school — it's kind of like the houses in Harry Potter's Hogwarts, without the magic.
The tradition was started to give freshmen a sense of belonging and allow them to build relationships with older students.
"We didn't have a house system in 1968," said Gross President Dorothy Ostrowski. "We didn't have a house system in the '80s or the '90s. But we developed that system today because it meets the needs of the kids. Our academic programs are constantly changing to meet the needs of the time."
Gross met the computer age by becoming a bring-your-own-device school.
School officials say they work hard to keep alive the school's Marianist tradition.
The Archdiocese of Omaha, with the help of Daniel and Louise Gross, built the school to serve Sarpy County and South Omaha.
It opened co-ed, though boys and girls were taught in separate wings, eating lunch together.

To help start the school, Archbishop Gerald Bergan tapped priests and brothers from the Society of Mary and Franciscan Sisters of Our Lady of Perpetual Help.
The brothers and sisters taught alongside lay teachers.
The brothers lived upstairs in the school. The sisters lived at a convent next door on St. Bernadette property.
When Gross opened Sept. 3, 1968, there were so many Catholic students in elementary schools in the surrounding area that the archbishop drew attendance boundaries.
The boundary lines are no longer in effect.
In 1992, the brothers left the location, but they continued to sponsor the school. The sisters had left many years before that.
Ostrowski said that if parents are looking for the Gross experience, and it's a good fit, they'll travel.
Some students come from as far away as St. Wenceslaus School, 153rd and Pacific Streets; St. Stephen the Martyr, 168th and Q Streets; and St. John the Baptist in Nebraska City, she said.
Enrollment had been tracking down slightly the past decade, according to the Nebraska Department of Education. In 2008-09, it stood at 438. Last year it was 399.
This year, enrollment is 408, with 118 freshmen — an 18 percent increase in the freshmen class, she said.
"We are seeing an uptick this year, and we're very pleased about that," she said.
"We certainly would enjoy some growth, and we think that a school somewhere around 500 would be a good number for us," she said.
The small size, meantime, ensures a strong sense of community, where "it's hard to fall through the cracks," she said.
The student body is fairly evenly split between boys and girls. Ostrowski said a co-ed environment is good for kids.
"Boys and girls learning together become men and women working together," she said.
Enrollment is about 25 percent minority, with Latino enrollment rising, she said.
Students are primarily Catholic. About 4 percent are non-Catholic, and that portion has been increasing, Ostrowski said.
Ostrowski said the school is "very financially stable" with a solid endowment and growth in annual giving.
Over the past five years, the school building has undergone nearly $4 million in facility upgrades, including a $2.2 million health and conditioning center that opened two years ago.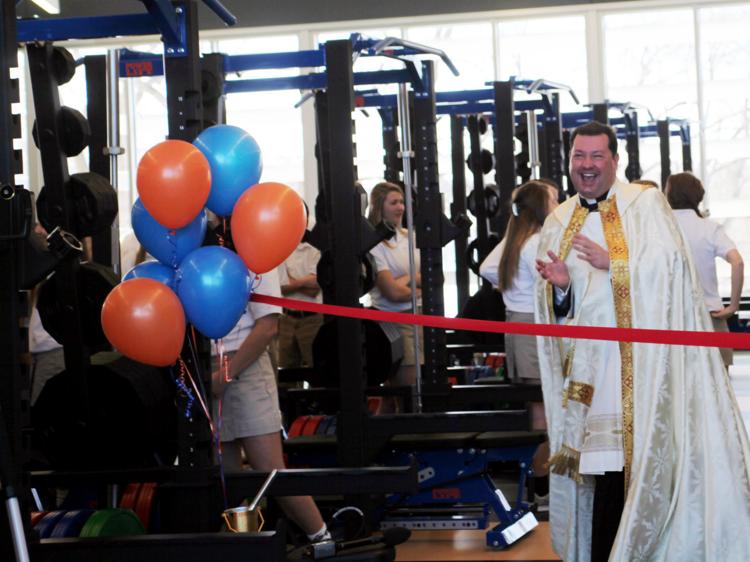 "We don't make that kind of investment if we don't believe in our future," she said.
She said, however, that school officials will probably be tooting their horn more in the future about what they offer.
It's no secret that powerful athletic programs help to keep other Omaha Catholic high schools like Creighton Prep and Marian in the spotlight.
"What our biggest challenge is, is getting our information out, and sharing who we are with the rest of the world," she said.
No need to convince the Skradskis.
They've got two potential future Cougars waiting in the wings.
They are fourth-graders: Alexis, the daughter of Joe and Jody, and Patrick, the son of James and his wife, Abby.
"I hope she's a part of the Class of 2027," Joe Skradski said.
They will have plenty of blue and orange hand-me-downs.