BLAIR, Neb. — Grace University in Omaha plans to relocate to Blair and take over a 30-acre slice of the former Dana College campus.
The move would be part of a proposed $92 million redevelopment of the 150-acre campus, according to plans presented Monday evening at a special meeting of the Blair City Council.
Other elements of the Frank and Jane Krejci Learning and Life Community planned for the campus include a 60-bed skilled nursing facility, a new home for Christ Lutheran Church, a film studio for Digg Site Productions of Fremont and a 150-unit, intergenerational housing development.
The housing portion would provide living arrangements for low-income elderly, young people coming out of foster care, veterans and women who have completed Heartland Family Service's Nebraska Family Works program, said Ed Shada, an Omaha banker who is founder and CEO of Project Homeless Connect Omaha.
Frank Krejci, a 91-year-old, widely known Omaha developer, bought the Dana campus for $3.5 million in 2013. At that time, the campus was to house Midland University's planned expansion from nearby Fremont. That fell through, and Krejci said he was willing to donate it if the right development came along, such as a civic use by the city or county.
Shada's proposal got Krejci's attention.
"I just think it's a good thing to do," Krejci said of his decision to donate the campus for Shada's project.
He brushed off a question about how few people could afford to make such a generous donation.
"But I can," he said.
"This was the best use of the property," he said. "It had no other use. Otherwise it was just another piece of land. I'm glad it's happening."
Shada has a long history of working to help the homeless in the Omaha metro area.
"I see a need to care for the vulnerable," he said.
The hourlong meeting attracted a standing-room crowd of more than 150 people, who applauded the plan.
Grace officials announced in January that the Omaha Public Schools planned to purchase its campus on South Ninth Street and that university officials were seeking a new location. Grace had 370 students enrolled in January.
The university plans to remain in Omaha through May 2018. Classes in Blair would begin the following fall.
Grace University President Bill Bauhard said he was "very excited" to think about moving to the scenic campus on a hill overlooking Blair.
He recalled touring the site months ago and thinking, "Wow! This campus needs students."
Bauhard said administrators are looking into expanding Grace's course offerings, especially in sciences and mathematics.
Grace signed a letter of intent Monday to make the move.
Dana, a small, Lutheran liberal arts college, closed in 2010 after an accreditation body refused to approve its sale to for-profit investors, leaving more than 500 students without a school and dozens of professors without jobs. The college also had $11 million in debt.
Grace would take over the bulk of vacant buildings at Dana.
Shada said his goal is for the development to be self-sustaining, so he or others don't have to go back to donors year after year.
Shada said he dreams that in five years the development will be recognized as a national leader in research into young people coming out of foster care, people with mental disorders, low-income elderly and putting together intergenerational, mixed-used facilities.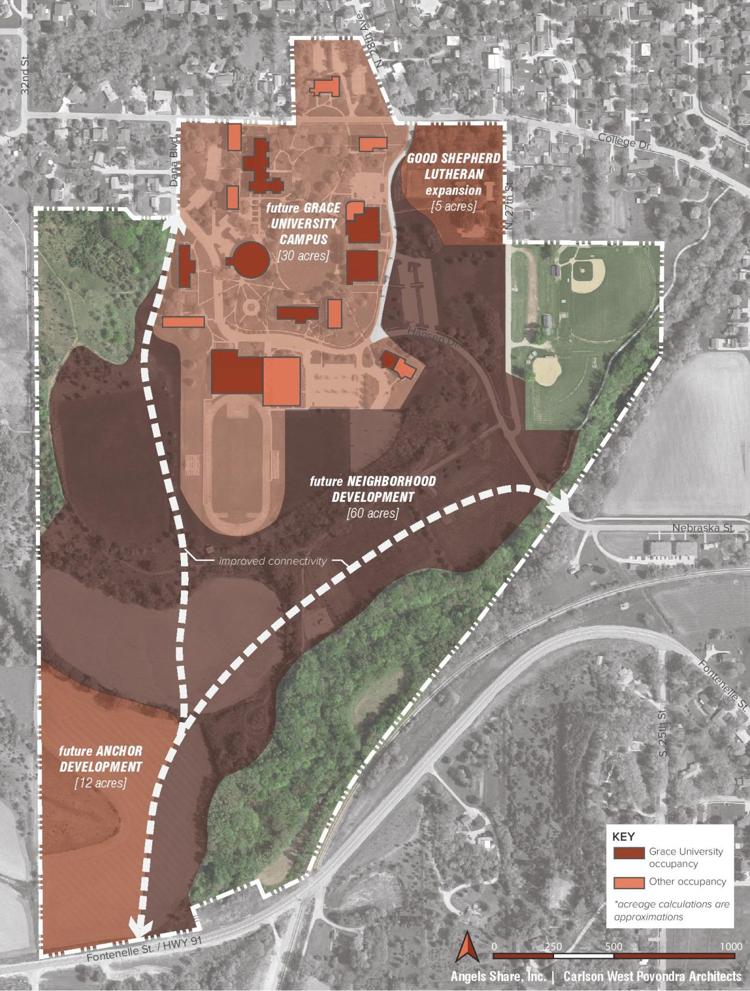 "Instead of putting a Band-Aid on something, I wanted to do something that was real and would actually help them and let them help themselves and figure out a way to get some folks to work together," he said.
Shada was prepared for a "not-in-my-backyard" pushback, but heard none.
Shada said he is lining up partners, including Kiewit Building Group. Dana's buildings need $46 million in upgrades and renovations, he said.
Since buying the campus, Krejci has fielded a number of inquiries for developing the shuttered campus, including transforming parts of it into apartments and restaurants, or restoring it to an institution of higher learning.
The City of Blair has been cautious. Most city officials — and Krejci — had said they would like to see the property be a college campus again, but they worried about its feasibility.
Dana's closing was a blow to the community about 30 miles north of Omaha. Dana was one of the community's first institutions and was a community cultural and educational center. Blair also counted on the student population to fill part-time jobs and to live in rental housing.
The campus has served a number of purposes since the college closed, including being a refuge for people displaced by the Missouri River flooding in 2011, but has largely remained vacant.
In 2013, Midland University announced its intention to reopen it and took control of the campus through a lease agreement. Midland had absorbed more than 300 students from Dana. Last year, Midland announced its decision to instead focus on its Fremont campus and expanding into Omaha. Midland opens its Omaha campus at 11213 Davenport St. this afternoon.
Blair's City Council took no action.
david.hendee@owh.com, 402-444-1127