This article appeared in the Jan. 29, 1986 edition of the Omaha World-Herald
Students across the Midlands who have come to view spaceflight as routine reacted in stunned silence to the news that the space shuttle Challenger exploded Tuesday with a teacher and six astronauts aboard.
For science teachers in Nebraska and southwest Iowa, there was a sense of personal loss because fellow teacher Christa McAuliffe was on the flight. Many teachers interviewed referred to the first educator to travel by shuttle as "Christa," as if she were a friend.
Television monitors set up in many classrooms to view Mrs. McAuliffe's science lessons from space were snapped on Tuesday to teach a lesson in human tragedy that this generation of young students has seldom witnessed.
At Lincoln East High, science students turned to their teacher, James Schaffer, and told him they were glad he wasn't on the flight.
Schaffer was one of the finalists to become the first teacher in space. He said he would be willing to reapply now.
"The kids were very subdued," Schaffer said. "When I was a kid in school, President Kennedy was shot. It was the same feeling."
Michael Antrim, head of the science department at Omaha's Burke High School, said he, unlike his students, watches each space mission with a sense of apprehension and danger.
"They can't recall the first space flights and the tense and anxious minutes before John Glenn lifted off," Antrim said. "I've never lost that uneasiness."
As a chemistry teacher, Antrim said, "I realize the danger involved sitting next to so much explosive material."
Jim Tiller, a Harlan, Iowa, high school science teacher who met Mrs. McAuliffe when he observed a November liftoff of the Challenger, said the students, especially from the Midwest, viewed the shuttle flights as "routine as the neighborhood bus."
One of his hopes was that the teacher-in-space program would renew the sense of adventure in the space program, Tiller said.
"This drilled it in in the worst possible way," he said.
When the television sets were brought into his classroom, Tiller said, "They just sat there dumbfounded. You just watched and stared in disbelief."
At Martin Luther King Science Center, an Omaha magnet school for 300 fourth- and sixth-graders with a special interest in science, teacher Laurie Sharpe said: "The first words we heard were there was an explosion on Challenger. We all gasped and teachers shared glances.
The children were stunned and silent."
Fifth-grader Steven Gregory, 10, son of Mr. and Mrs. Steven Gregory, said, "It looked like a gasoline truck blew up. I felt sad because it was the first teacher in space."
Amy Hiddleston, 10, daughter of Lynne Hiddleston, said Mrs. McAuliffe's death stood out from the rest.
"I think you should sort of think of the teacher most of all; the other people, too, but this was her first time up in space. She was super excited and had been patient with delays," the fifth-grader said.
Many of the children, all born long after an Apollo spacecraft burned on the launch pad and killed three astronauts in 1967, were surprised that the routine of safe launches had been tragically interrupted.
"I felt sad because I always thought it was safe and they checked everything out," said fifth-grader Shani Brantley, 11, the daughter of Mr. and Mrs. James Brantley Jr.
"They know science means repeating experiments and learning from failure," fourth- and sixth-grade science teacher Dick Gottner said of his students. "The children know the cause of this accident will be analyzed and probably eliminated. No one though, will take space travel for granted anymore.
"None of the children remember the Apollo accident. This shuttle accident has become their reality rather than "Star Wars.' "
Gottner said Mrs. McAuliffe was a "Columbus" for civilians in space. Her selection to be first also provided a shot in the arm for teachers, he said.
"She gave our profession a boost."
Taunisha Johnson, 11, daughter of Mr. and Mrs. Roy Johnson, said she still wants to be an astronaut despite the accident.
"I think it's still a challenge to go up," she said. "Not to show the world I'm brave, but to see what's happening."
At Hastings High School, students gathered around monitors in the library to watch the replays of the disaster over the Florida coast.
Robby Richardson, a 15-year-old Hastings student, said: "Nothing had ever happened before. One girl was crying; she was that taken by it."
Suddenly, Richardson said, he understood why there had been all those delays for bad weather, a loose valve, a computer problem and all the other seemingly minor problems that have delayed the launch of so many of the previous 25 shuttle mission.
"I never anticipated this," Richardson said.
In Omaha, Harrison Elementary School sixth-grade teacher Lynne Johnsen had been preparing her students for a televised class from space after completing a NASA workshop last year. She was planning to attend a session in March where Mrs. McAuliffe was to be the speaker.
At first her students "thought the explosion was awesome," Ms. Johnsen said. "Then they thought about the people and the families."
"It was scary and sad," said one of Ms. Johnsen's students, Marni Berger. "It could have been anyone in there. We saw the little girl of the teacher."
Normally rambunctious junior high students were subdued at Omaha's Lewis and Clark Junior High, science teachers Ron Cisar and Kent Friesen said.
Cisar said he first heard about the explosion shortly before 11 a.m. when he was eating lunch in the teachers' lounge. The teachers began streaming into the lounge, he said, and watched the replay "in disbelief."
Some of the students eyes teared up as they watched on television, Cisar said. He said he fought back tears.
"I've never seen anything quite so dramatic," said Friesen, 35.
"The kids just sat there. They were stunned and couldn't say anything."
"It was very hard for them to understand. One of the students said he thought the space program was infallible. I grew up with the space program and knew the dangers."
Twenty students at the Omaha School District's special program for the deaf at Washington Elementary School had a difficult time grasping the disaster at first as they gathered around a black and white television set.
"They could tell because I was upset that something was up," said their teacher, Sue Craik. "We were all over there, tears in my eyes, and I told them that the rocket had gone up and exploded."
Unlike the other teachers who joined with their students in the silent mourning, Mrs. Craik stood by the television set signing the explanation spoken over the television set.
"I don't think they realized there were people in it," she said.
"Because they are hearing-impaired, more detailed explanation is needed.
"One little girl said, "But the hospital will come.' I said, "It's too late.'"
While some schools disrupted their normal classes, especially science courses, to allow students to watch the news coverage, others simply announced it and went on with normal classwork. At Gering, Neb., High School, the school tried to carry out the rest of the classes, but many students wanted to speculate on what caused the accident, said science teacher Randy Johnson.
At Atlantic, Iowa, High School, a general announcement was made, and students were asked "to pray for Christa McAuliffe and the others and their families," principal Pat Durow said.
Schaffer said he knew of the danger when he applied and was selected as one of the finalists. However, he said, his biggest concern was the time he would have to spend away from his family and not the threat of disaster.
"What we are doing is so remarkable that, if there is an accident, what's at stake is so important that it's worth it."
Each science teacher interviewed said he or she thought the manned space program should continue with teachers and others involved. Some said their students are no longer as certain that they want to travel to the stars. In the past, the students have viewed it as an airplane trip. After Tuesday, the teachers said, students see space flight differently.
Under a dome decorated with stars inside St. Cecilia Cathedral, science teacher Sofie Kock led a prayer before 200 students gathered to honor the fallen astronauts.
Cathedral High Principal Robert Jorgensen said the 10-minute prayer service for Cathedral students was the first for a national tragedy since the assassinations of Robert Kennedy and Martin Luther King in 1968.
"We ask you to send a message of hope to NASA headquarters where so many victories have been won in space exploration," Mrs. Kock said, "so that they may continue to ask questions and seek solutions to the unknown universe.
"Let this tragedy be a reminder to us of how fragile and temporary our lives really are."
---
Photos: World-Herald coverage of the explosion of the space shuttle Challenger 34 years ago today
The World-Herald front page on Jan. 28, 1986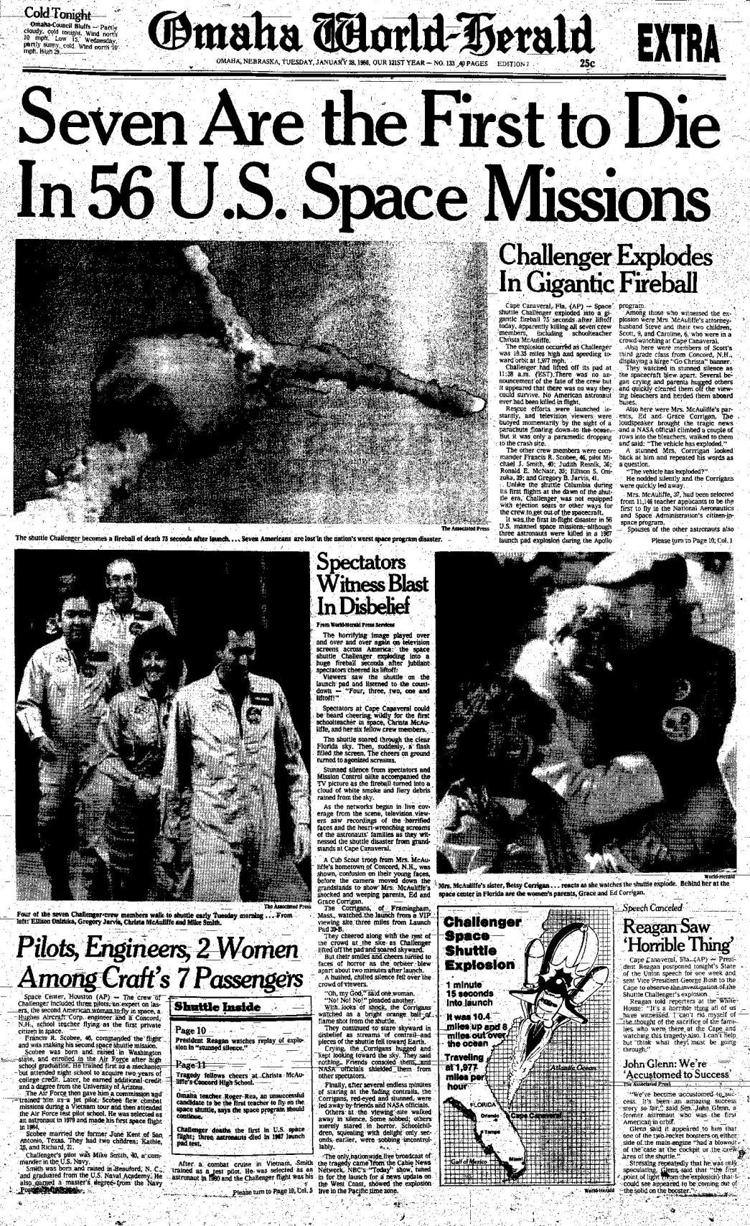 World-Herald inside page on Jan. 28, 1986
World-Herald inside page on Jan. 28, 1986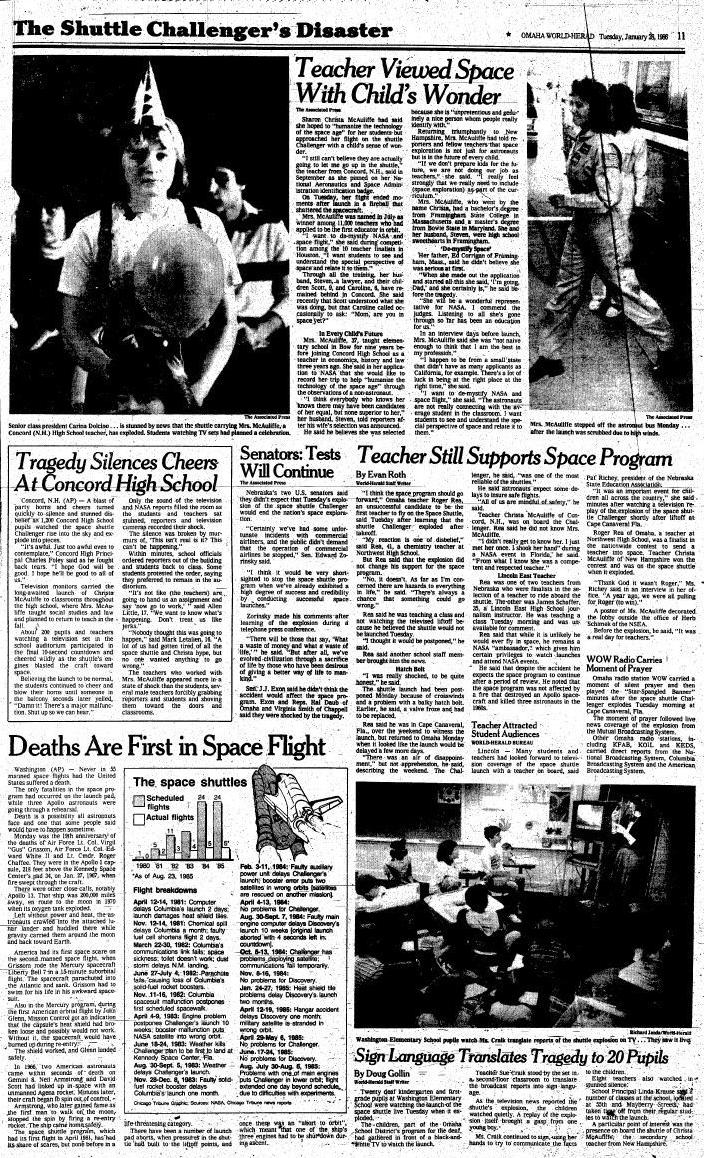 World-Herald front page on Jan. 29, 1986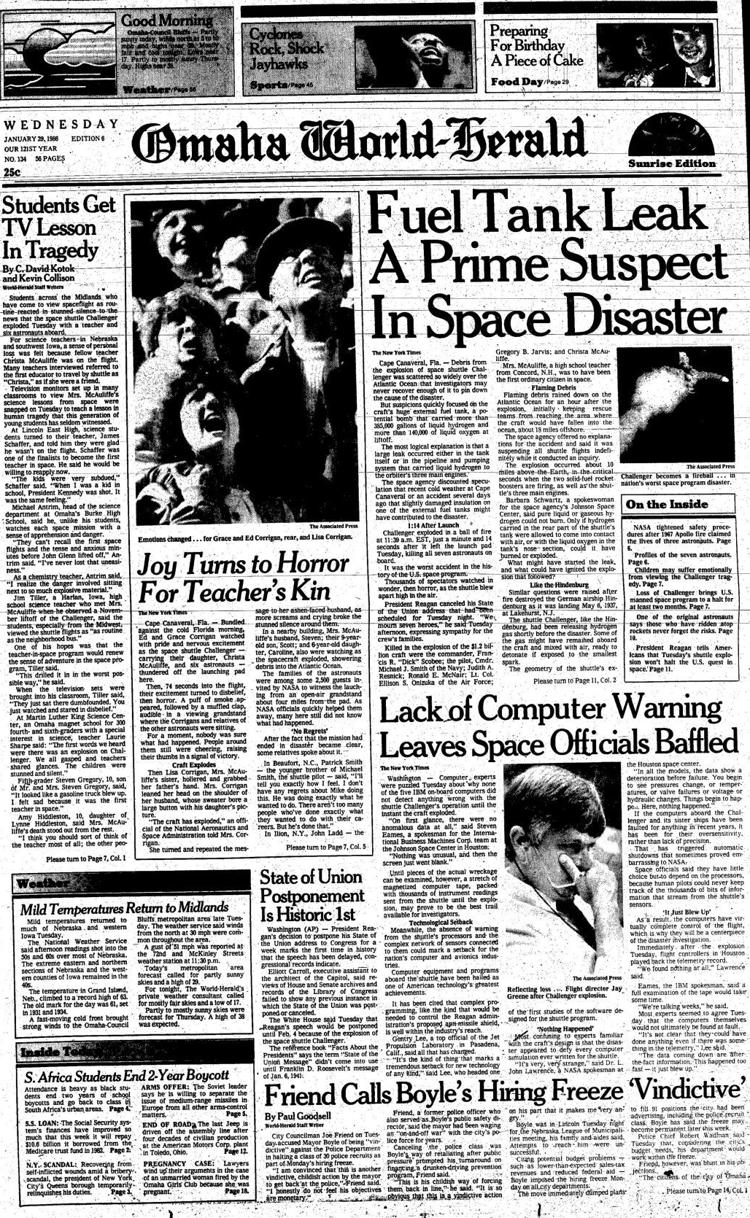 World-Herald inside page on Jan. 29, 1986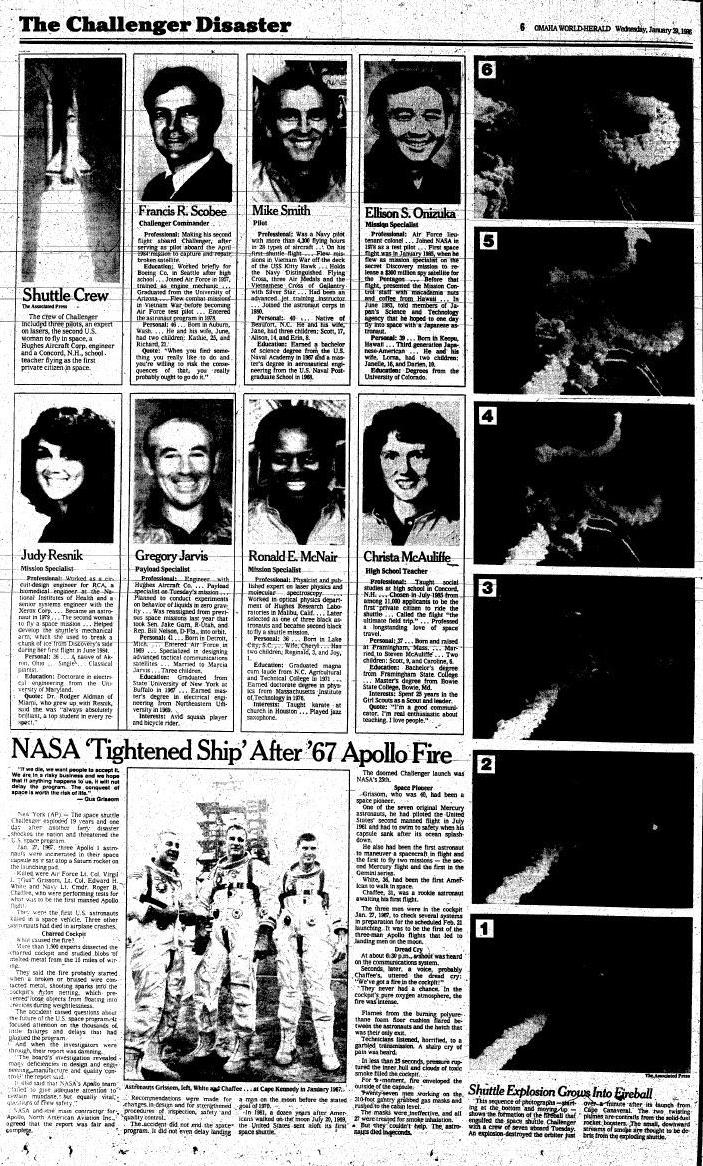 World-Herald inside page on Jan. 29, 1986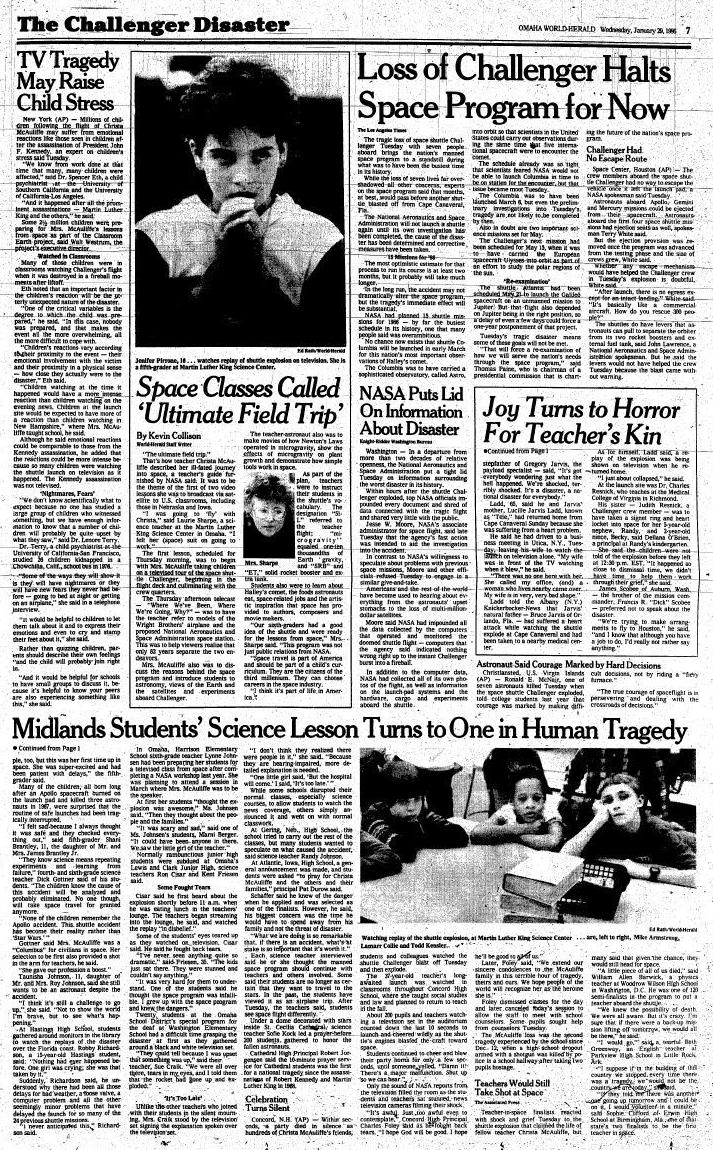 World-Herald inside page on Jan. 29, 1986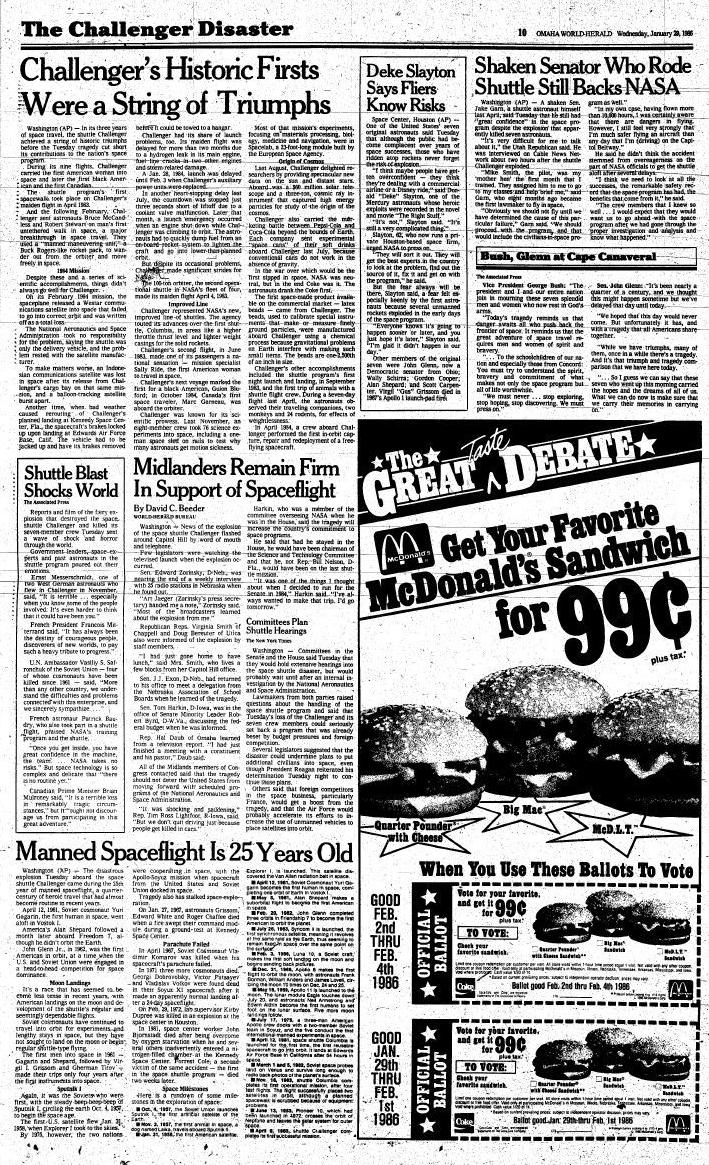 World-Herald inside page on Jan. 29, 1986