Walter "Ted" Carter's crash course in Nebraska will soon end.
The "priority candidate" — that is, the only finalist — for the University of Nebraska system's presidency has spent the past couple of weeks touring the state, talking to groups and answering questions.
The decorated naval aviator served for five years as superintendent of the U.S. Naval Academy in Maryland and one year before that as leader of the U.S. Naval War College in Rhode Island.
He and his wife, one-time substitute teacher Lynda, have been to central Nebraska, eastern Nebraska and southeast Nebraska. They will visit Columbus, Norfolk and Fremont on Monday and Scottsbluff on Tuesday.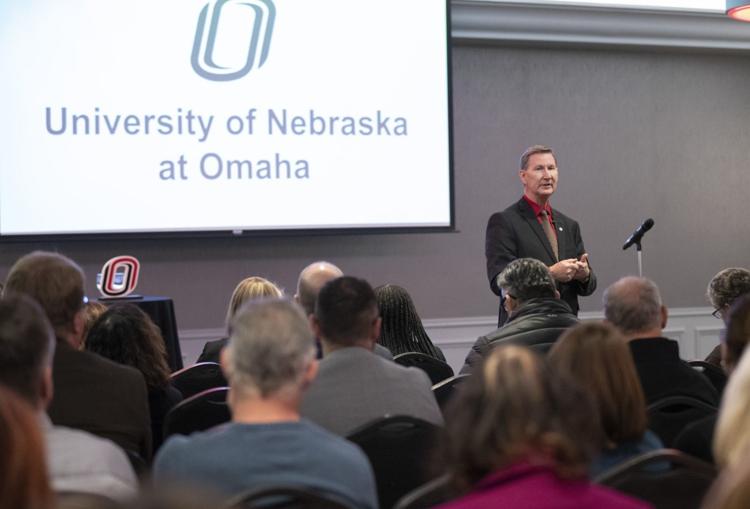 The visits have had light moments. University of Nebraska-Lincoln Faculty Senate President Kevin Hanrahan asked Carter questions about free expression among professors. And then:
"Do you know Tad Hanrahan?" Hanrahan asked in front of a UNL audience of 150.
"Yes, I do," Carter said.
"He's my cousin," Hanrahan said. He said later that the cousin, Paul "Tad" Hanrahan, attended the Naval Academy at the same time as Carter.
Mainly, the events have featured Carter talking to large public groups without notes. His wife has attended every session.
Through Friday, they had made 18 appearances in communities, most of which included a roughly 50-minute talk by Carter and a 30-minute question-answer session.
Calling Carter, 60, the odds-on favorite to be named NU's president would be like calling Secretariat a pretty fast horse.
Regents Chairman Tim Clare of Lincoln told an audience that it was about to be "wowed" by Ted and Lynda Carter.
Regent Jim Pillen of Columbus, who headed the NU presidential advisory committee, said he has watched Carter at many of the appearances. People inevitably are impressed, he said.
Pillen said Friday in Omaha that it's time to "get this finished." He said Nebraska is "fortunate to get him."
"I know how I'm voting," Pillen said. "And I'm 99.9% sure how everybody else (on the board) will."
Following are questions and answers culled from three of Carter's appearances. They are edited and paraphrased. In some cases they are composite answers and comments from more than one session.
Sign up for World-Herald news alerts
Be the first to know when news happens. Get the latest breaking headlines sent straight to your inbox.
Q: How exhausting is this tour?
A: I've run a few marathons. They were easier. My personality is right on the edge of introvert and extrovert. But when I get to talk to people, that's what gets me excited.
Q: How do you envision diversifying the campuses?
A: Diversity is much more than the color of your skin, much more than your ethnic background. It's geography, economics, religion, gender, who you love, first-generation college students, language diversity. But it's really about diversity of thought. I feel we have a mandate — a mandate — to be a cross-section of our nation and of our world. We're always going to be better when we work in teams where we have diversity of thought.
Q: What do you think about Nebraska's brain-drain and workforce problems?
A: If we do everything right here, we'll create a path in which people want to work in Nebraska and stay here. There's work to be done in creating internships and making sure those business leaders are paying the right wage to attract you and make you want to stay. One slogan that jumped out at me — "Nebraska, it's not for everyone." Who came up with that? Nebraska is for everyone.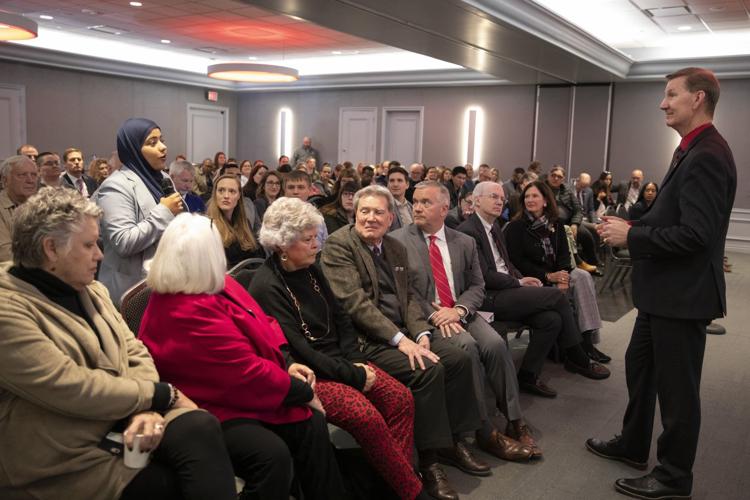 Q: How do you describe your leadership style?
A: The leadership trait that I'm still working on is the simple concept of humility. When you go to a place like the Top Gun fighter-jet training school, you think you know everything about everything. As you get older, you realize you don't know everything. And the sooner you grasp that and become a better listener and collaborator, the better. My leadership style is more of a player-coach style. I believe in the team concept and being humble.
Q: You've studied suicide prevention. What have you learned?
A: Early this decade, I led a team looking at suicide and mental health. The Navy, the Army, the Marine Corps — it was a horrible time for suicide. In 1996, the four-star admiral in charge of the Navy took his life. We wrote a 30-page document called "Task Force Resilient." It's on the Internet. We learned three things must be present for suicide — a sense of isolation, a loss of self-worth and the ability, the means, to harm yourself. If we get into one of those spaces, we have a chance to change some outcomes.
Q: Isn't the military all about giving and taking orders?
A: In April 1999, we flew a daytime mission to take out a bridge in Kosovo. I was the strike leader. Seconds before releasing the warheads, I could see it was a traffic jam on the bridge. I transmitted the abort code. I was asked, why, why didn't you execute? I could have been court-martialed. Then they saw the video. I was neither praised nor court-martialed. Common sense prevailed. I sleep very well at night.
Q: How did you feel when Pillen called you and said you were the priority candidate?
A: I said, "I'm emotional." I also see there's opportunity here. As I looked at this job, I felt I had something to contribute.
Photos: Husker mascots, past and present
In 2003, to celebrate the unveiling of the University of Nebraska's new and improved Herbie Husker, the Omaha World-Herald published a chronology of long-forgotten mascots of seasons past. These are their stories.