Students and their parents lined up Wednesday morning outside Omaha's Fontenelle Elementary School to the sounds of "Kidz Bop" and excited chatter.
"First day is the best day," one student shouted while waiting to get inside.
As the students got closer, they were greeted with high-fives, exploding fist bumps and a chorus of "welcome back" from Omaha Public Schools Superintendent Cheryl Logan and school board member Ricky Smith.
"You have a great day, OK?" Logan told one student.
"OK," the student responded.
Students in school districts all across the metro area are heading back to class this week. Wednesday was the first day of school for OPS and Westside Community Schools.
Millard Public Schools started back Monday. Papillion-La Vista Community Schools went back Tuesday. Students in the Elkhorn Public Schools start Thursday. And Bellevue Public Schools started last week.
"It's a fresh start for every child," Logan said Wednesday. "Every child gets to go in and just be whoever it is they want to be for that school year."
Sign up for The World-Herald's afternoon updates
Receive a summary of the day's popular and trending stories from Omaha.com.
It's a fresh start for the school, too.
The teacher, Gregory Sedlacek, was sentenced last month to 50 to 100 years in prison after pleading guilty to sexually assaulting three students.
He was accused of sexually assaulting a total of six students, ages 6 and 7, but prosecutors dropped additional charges in exchange for his guilty pleas.
The school's new principal is Heather Rogers. She previously was a principal at Gardiner Elementary in the Wichita (Kansas) Public Schools.
Rogers has seven years of experience as a principal and has a total of 25 years in education.
"We as a district have wrapped our arms around Fontenelle, because that's what we do," Logan said. "We will continue to do that to make sure that every child's needs are met. That we meet the needs of their teachers as well."
Logan said she had made a commitment to visit the elementary school at least once a month.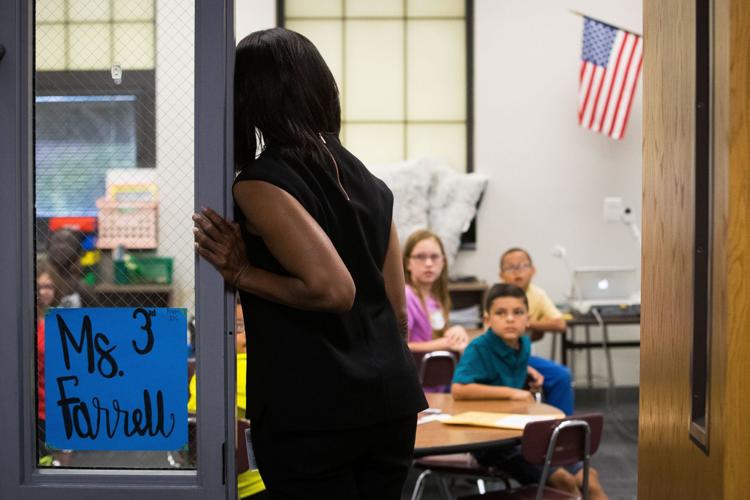 The superintendent is now in her second school year with the district. Logan visited six schools on the first day of school and will continue making school visits throughout the week.
Walking into her second school of the day, Benson West Elementary, Logan said the school had undergone renovations over the summer.
The renovations, such as new carpet, were not part of the district's bond issue but were paid for out of the general fund after Logan visited the school last year and realized the school of about 600 students needed work.
Inside the school, Logan hugged emotional parents and greeted staff. She also popped in and out of classrooms to say hello to students in English and Spanish.
"I think that kids always can tell when someone is really excited about their journey," Logan said. "Hopefully, that's something that they feel and see in me."