The University of Nebraska system spent $249,965 to land Walter "Ted" Carter as its president, the university said.
Close to 70% of that, or $169,750, covered NU's contract with AGB Search, the consulting firm that helped the NU Board of Regents manage the search.
The rest covered expenses to bring Carter and other candidates to Nebraska, the expenses of the 23-person advisory search committee and costs for Carter and others to tour the state during a 30-day inspection period before he was hired. The regents' chairman and the head of the search firm said quality comes at a high price.
The search, which started in the summer and ended in December, went smoothly, said Regents Chairman Tim Clare of Lincoln.
"We ran an efficient search and we came out with a great leader," Clare said. "There's a lot of people who put in a lot of time" on the search.
NU spokeswoman Melissa Lee said the total was $10,000 less than the regents spent on the search for previous President Hank Bounds. She said a few more receipts for comparatively low reimbursements might come in for the Carter search. Carter took over the presidency early this month.
Carter, a U.S. Navy vice admiral and naval aviator, retired last year as superintendent of the U.S. Naval Academy in Maryland. Before that, he headed the Naval War College in Rhode Island. Carter, 60, will receive $934,600 in base salary in the first year.
Sign up for World-Herald news alerts
Be the first to know when news happens. Get the latest breaking headlines sent straight to your inbox.
The contract also gives Carter at least one country club membership and deferred compensation.
Jack Gould, issues chairman for Common Cause Nebraska, decried the lack of openness of the search. NU convinced the Nebraska Legislature three years ago to change the law so that NU had to name only one "priority candidate." "So it's become much more of a closed process, which I would say is not in the best interests of the public," Gould said.
It's hard to say if the $250,000 was well spent, he said, because none of the other candidates was named. Before the law changed, the regents had to name four finalists. The NU system includes institutions in Omaha, Lincoln, Kearney and Curtis.
Rod McDavis, managing principal of Washington, D.C.-based AGB Search, said the NU system received a great rate. Frequently, he said, search firms receive an amount equal to one-third of the new president's first-year salary. In this case, the fee would have been about $310,000.
"I thought it was a fair search fee," said McDavis, who was president of Ohio University from 2004 to 2017. "I feel great about the search. I feel great about Ted Carter."
McDavis said it's hard to find excellent university chief executives. The price paid for them is high and increasing, he said.
As state funding stagnates, he said, university presidents have to spend more time fundraising. That adds to their already packed schedule, he said.
McDavis said: "These jobs are now legitimately 24/7."
---
The Omaha World-Herald's best images of 2019
Canada geese fly over Flanagan Lake at sunset in Omaha, Nebraska.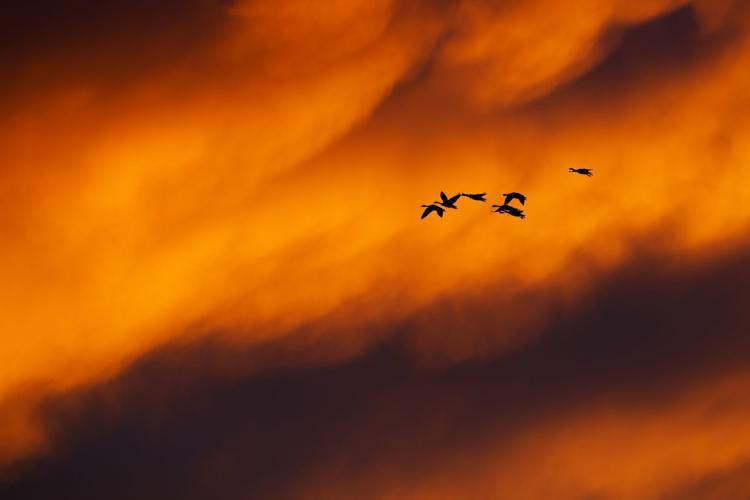 Director and CEO of Omaha's Henry Doorly Zoo and Aquarium Dennis Pate, speaks to the media about newly hatched gentoo penguin chicks before they enter their habitat in the Suzanne and Walter Scott Aquarium at the Henry Doorly Zoo.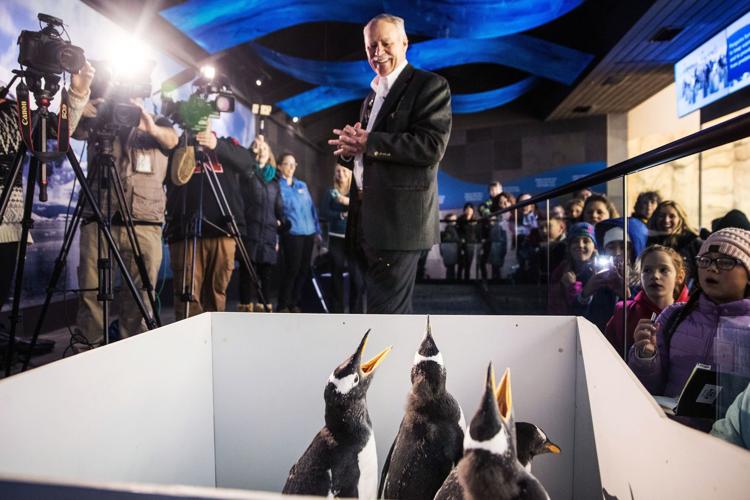 Creighton players huddle up prior to a college basketball game against Georgetown at the CHI Health Center.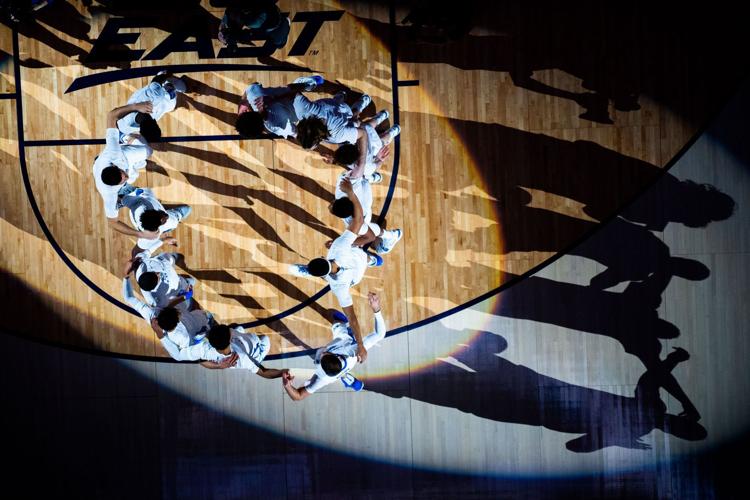 Charles Relford waits to pick up his brother at 24th and Pratt Streets with his three dogs.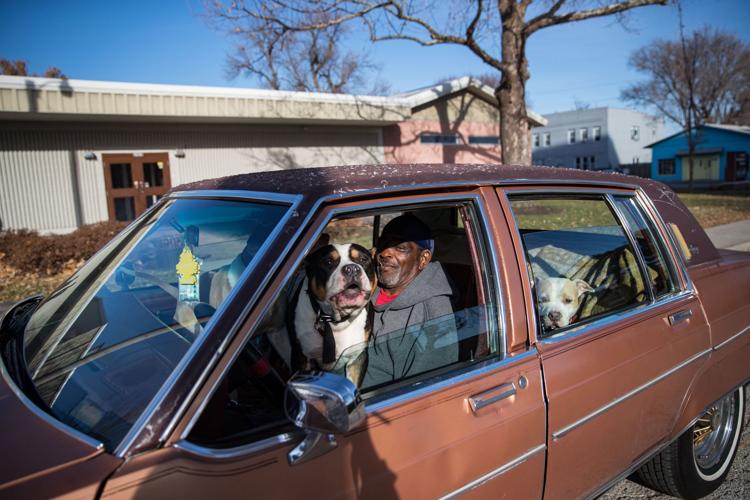 Two-year-old Hannah Bonnot of Denver, Colorado, stands in awe before "Mountain Outlaw" taken at Grand Teton National Park, Wyoming, on display at Tom Mangelsen's "Life in the Wild" exhibition at the Durham Museum in Omaha, Nebraska.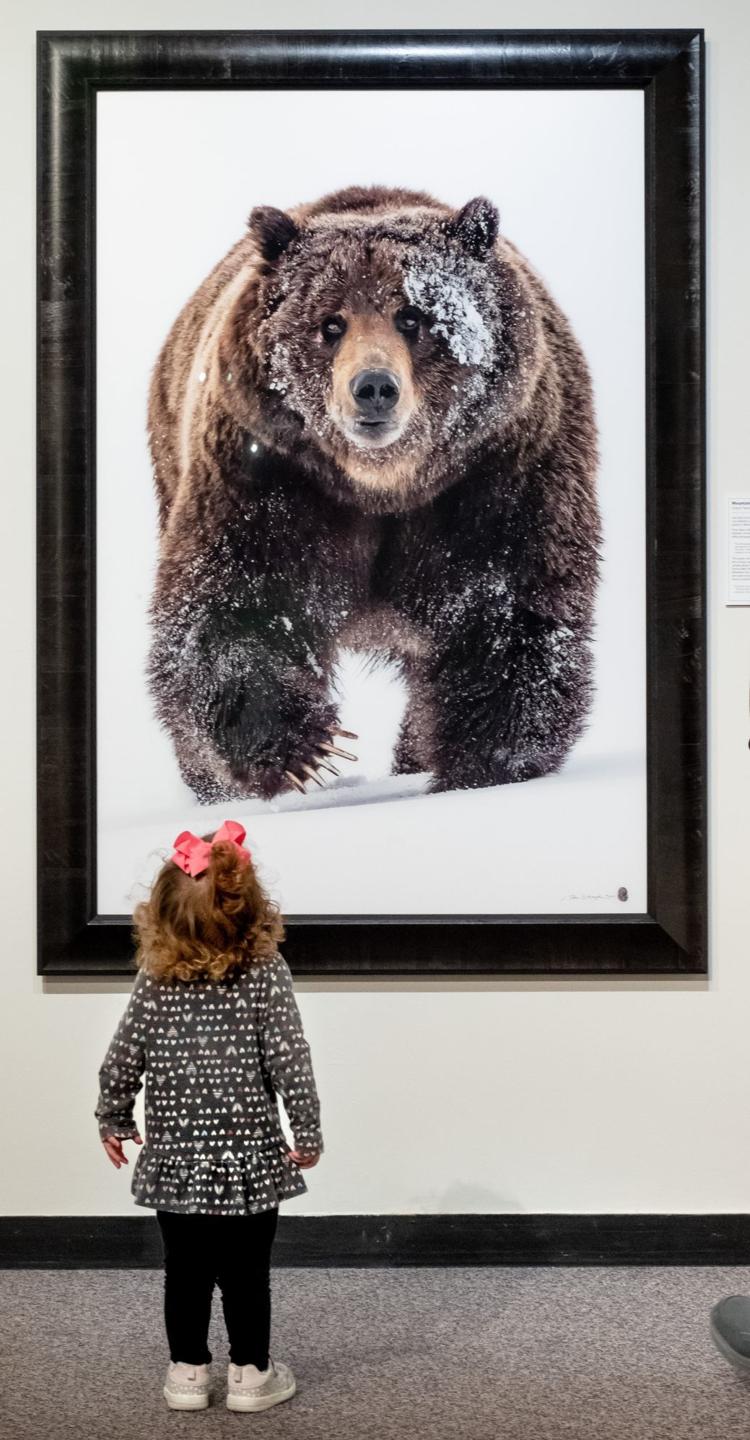 High School football players from Nebraska and Iowa who have been selected as the Omaha World-Herald's Super Six pose for a portrait at the boxing arena located at Camp Ashland in Ashland, Nebraska.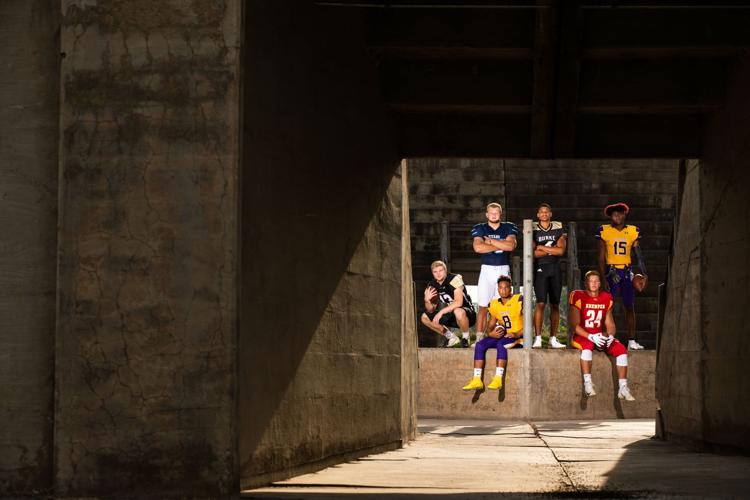 Bellevue West teammates, from left, CJ Lilienkamp and Devin Mills make snow angels as they celebrate their Class A state title win over Westside.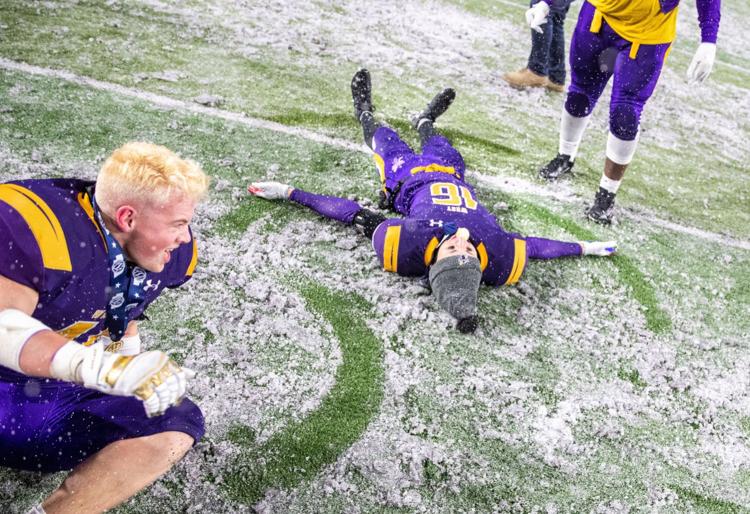 Craig Bachmann throws a training dummy for his dog, Bedlam, a Chesapeake Bay retriever, to retrieve at Standing Bear Lake in Omaha, Nebraska. Bachmann said he was doing some obedience work with Bedlam as well as some lining drills.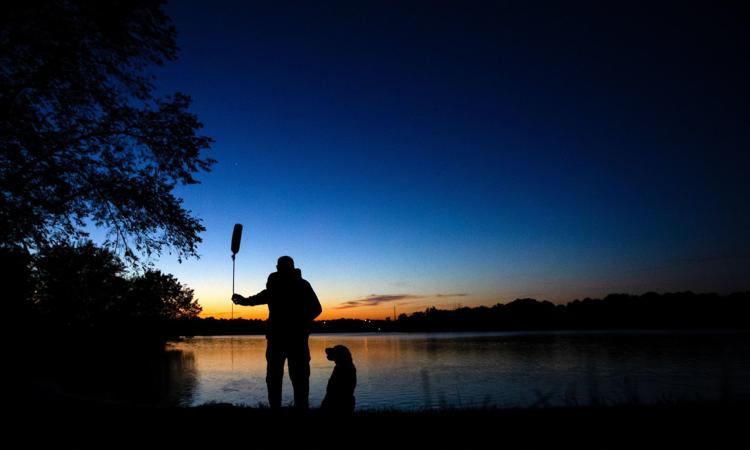 Seventh-grade students from Nathan Hale Middle School are reflected in a The New Negro Escapist Social and Athletic Club a portrait by Rashid Johnson while touring 30 Americans, an exhibition from the Rubell Family Collection at the Joslyn Art Museum.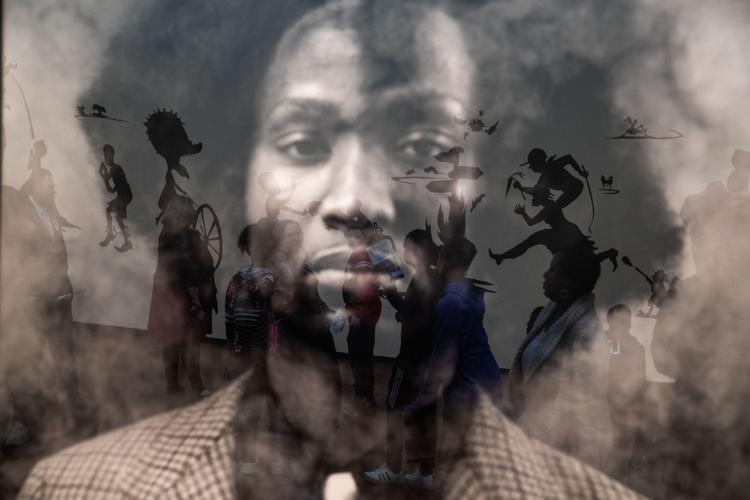 Water covers a road near Valley, Nebraska, on Friday, March 15.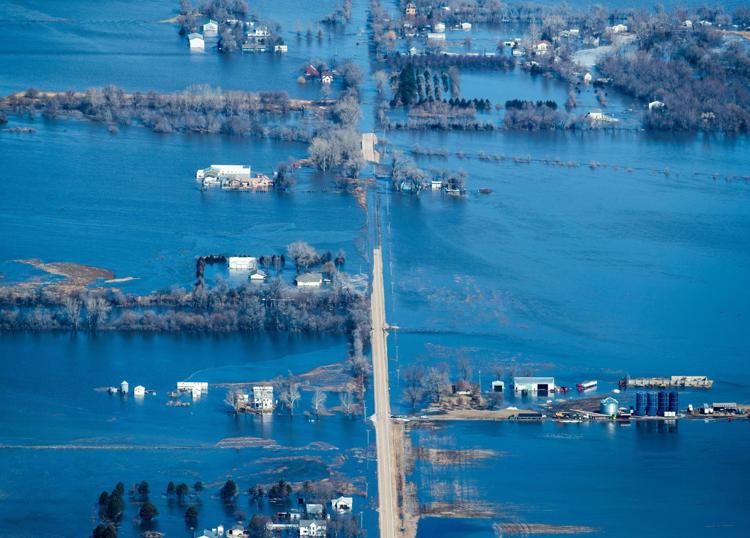 Joe Zavadil, 14, of Omaha, leaps to a lower level of berm seating during the Class B girls state soccer championship game.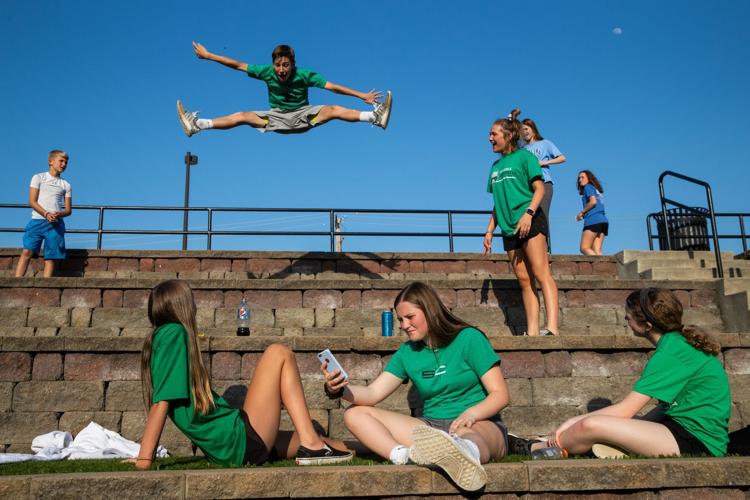 Detroit Tigers' Miguel Cabrera signed autographs for fans prior to a Major League Baseball game against the Kansas City Royals at TD Ameritrade Park.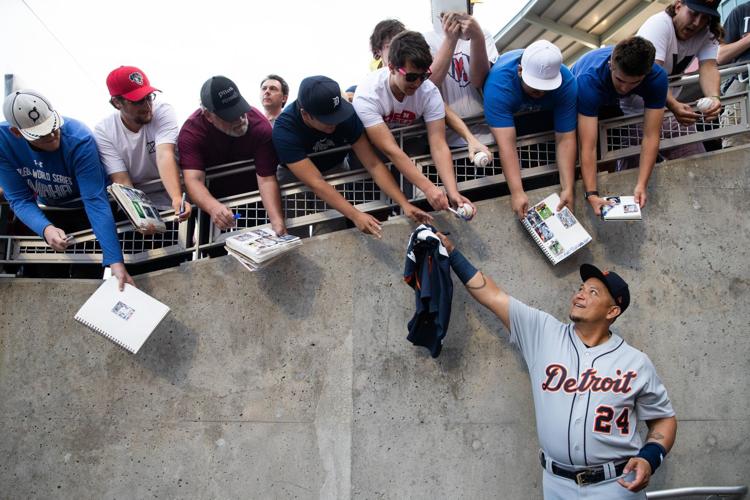 Jim Linafelter of Sergeant Bluff, Iowa, and other Husker fans celebrate a third-down stop for Nebraska's defense against Northern Illinois.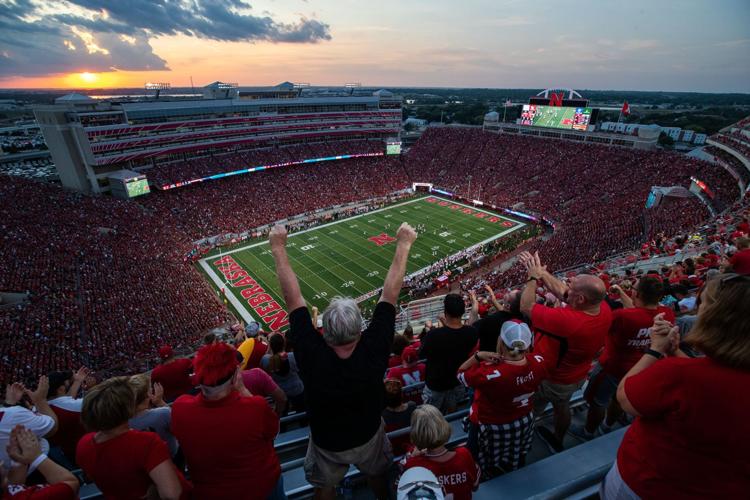 The Westside Warriors take the field through fog and a banner before a high school football game against Creighton Prep.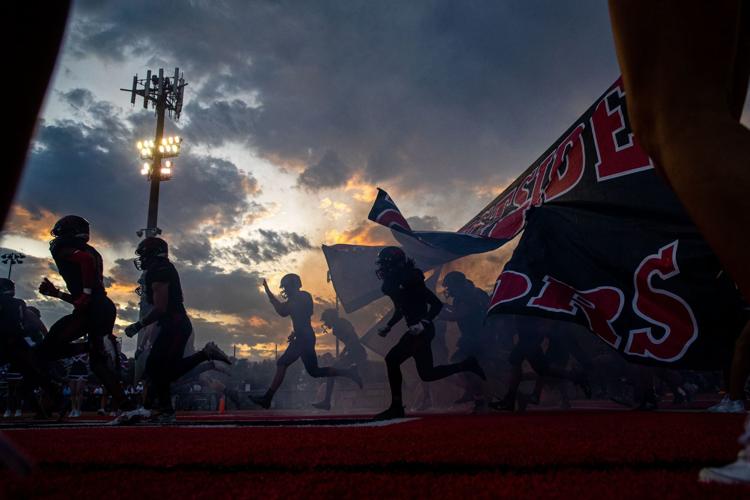 Tow truck drivers work on trying to get a semi truck out of a ditch after it turned over on Highway 20 in north central Nebraska during a blizzard.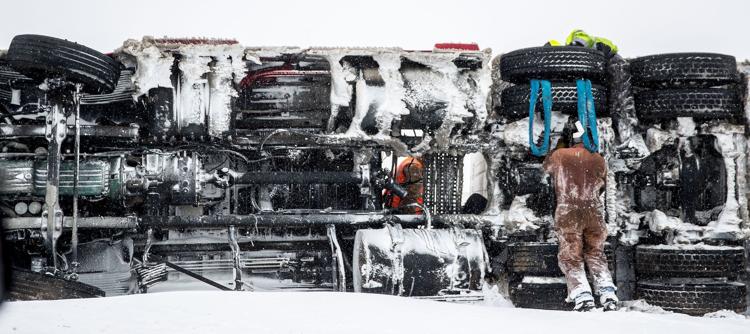 Arizona State's Jack Judson checks University of Nebraska at Omaha's Chayse Primeau into the boards at Baxter Arena.
A bike is revealed in the mud below the 13th Street bridge in the Gene Leahy Mall after the water was pumped out of it during renovation work.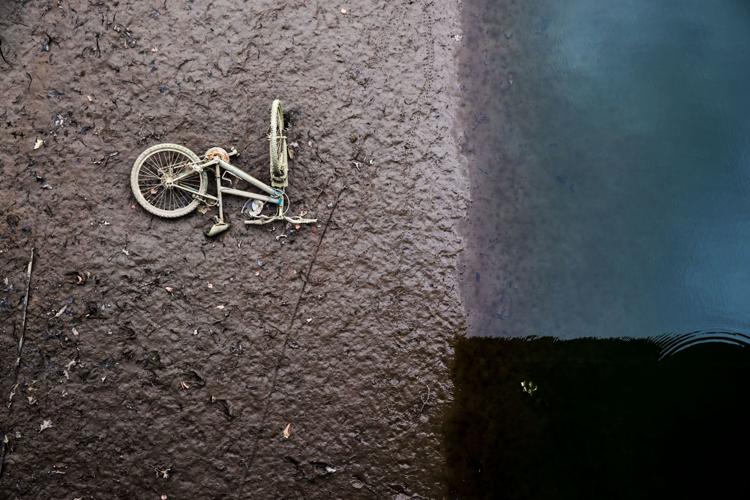 Omaha South's Ukash Weliyo, right, gets a hug from his mother Halima Mohamed after the Packers defeated Omaha Creighton Prep during the Class A boys state soccer final game at Morrison Stadium.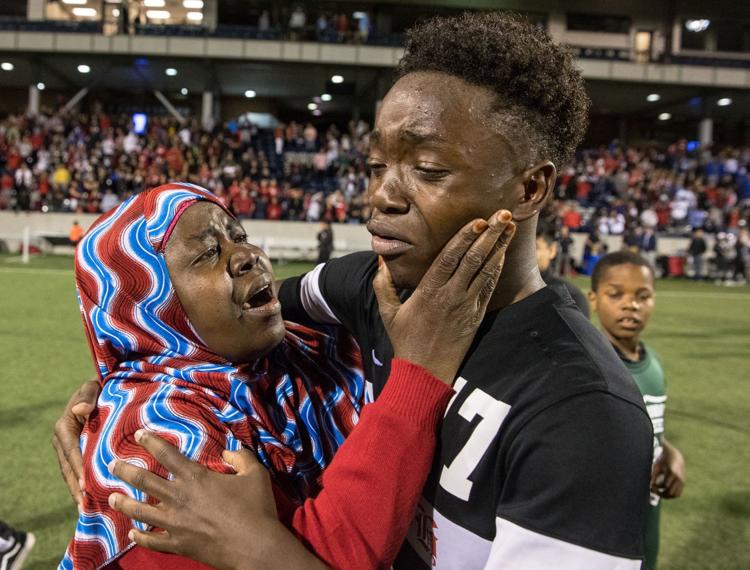 Louisville's Nick Bennett writes in the dirt before a game against Mississippi State in the College World Series.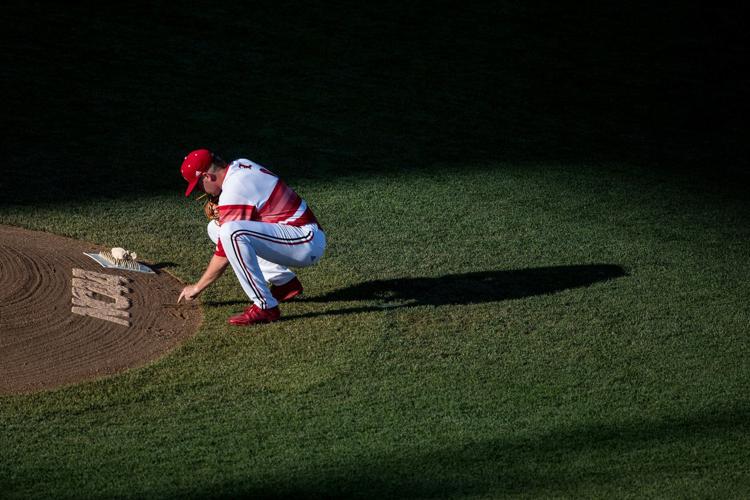 Mississippi State's Jake Mangum reacts after losing to Louisville in a walk-off during game 10 of the College World Series.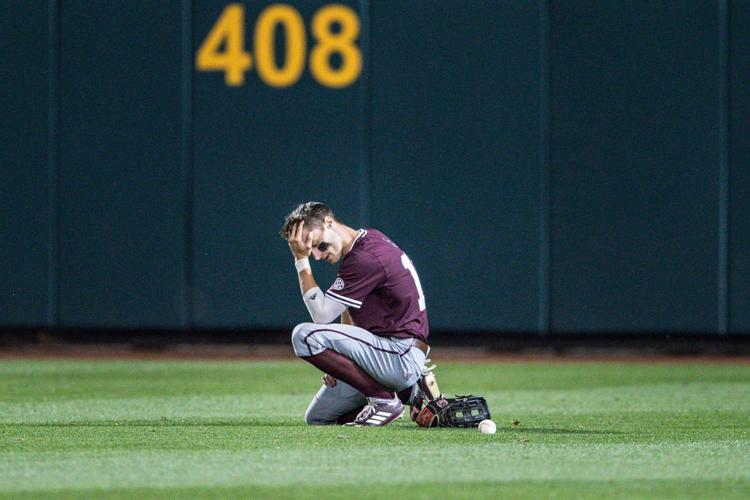 Juno, a dog belonging to professional dog trainer and hunting guide Aleah German, has a collar adorned with shotgun shell caps.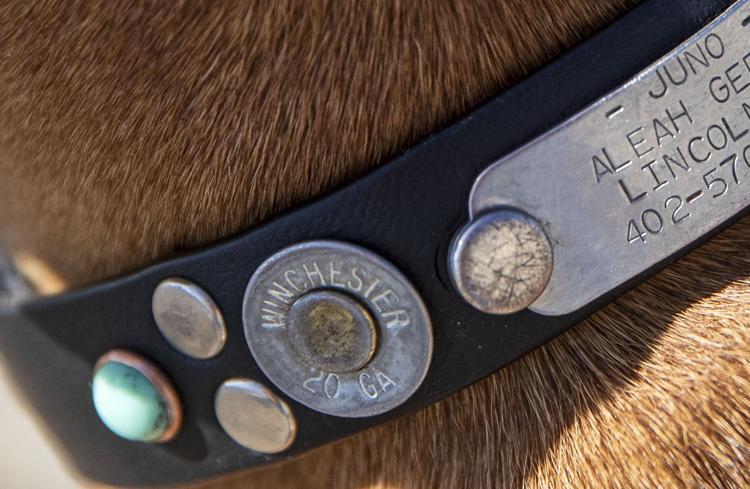 The moon rises over the Bob Kerrey Pedestrian Bridge in the early morning hours.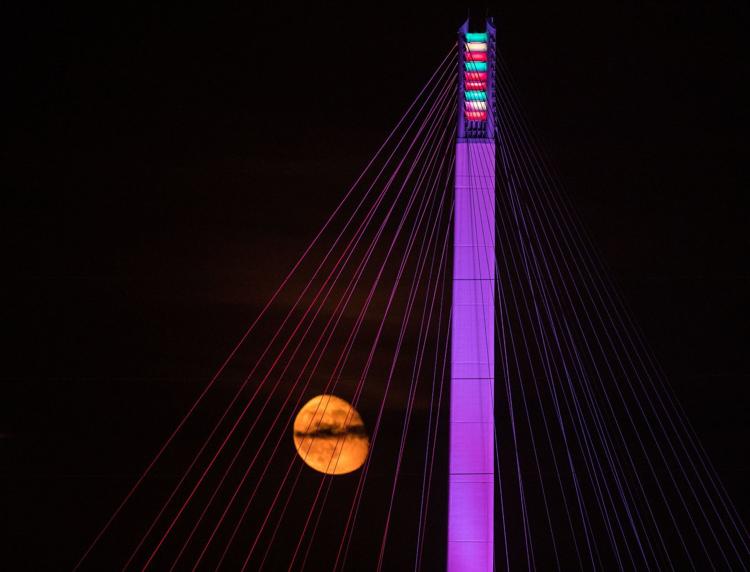 A cat looks up at Jill Tafoya after she revived it in the back of an ambulance after the cat was rescued from a fire.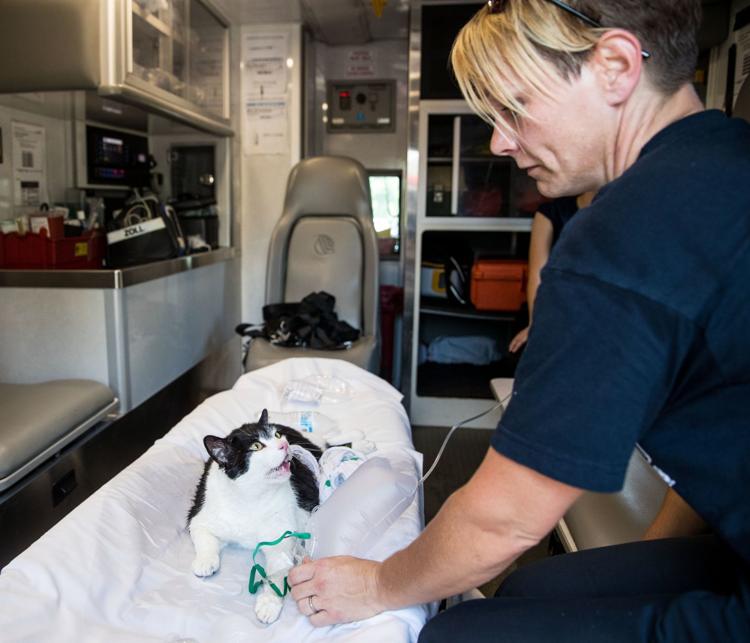 An allosaurus appears to be eyeing a tasty, 19-month-old morsel named Austin Haseltine as he is lifted from the shoulders of his grandpa, Greg Fasano, by his mother, Amy Haseltine, with his father, Jim Haseltine looking on.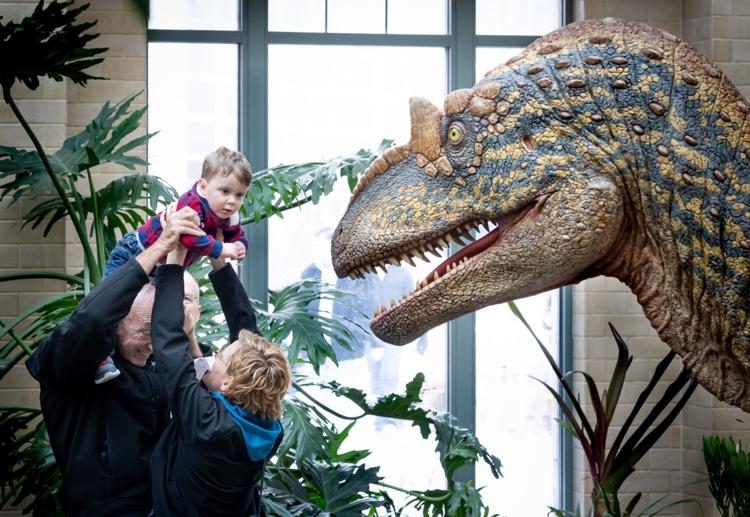 Horses belonging to Faye Etherington of Fremont that were being boarded in Inglewood, Nebraska, are brought into Fremont through floodwater on Highway 77.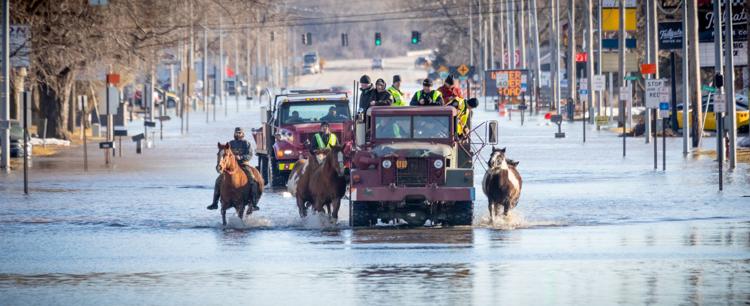 Millard West's Corbin Hawkins waits out a rain delay in the dugout.
Looking back at the floodwater below the Broad Street viaduct are from left, Calvin Schmidt, 6, Paul Schmidt, their dad and Avery Schmidt, 7, in Fremont, Nebraska.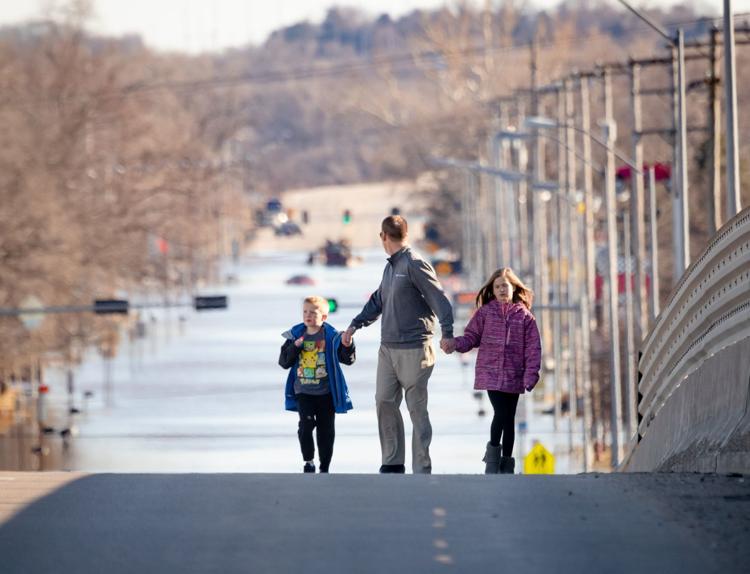 Auburn's Rankin Woley slid into the fence while catching a foul ball for an out during a College World Series game.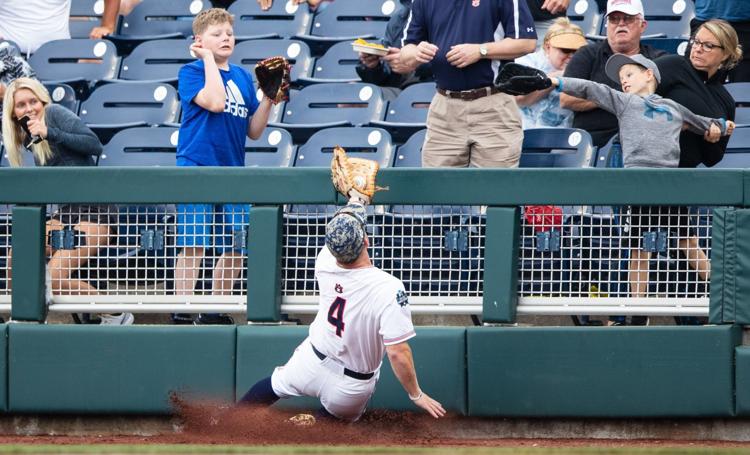 An angel statuary sits in a flooded yard in the Hanson Lakes area in Bellevue.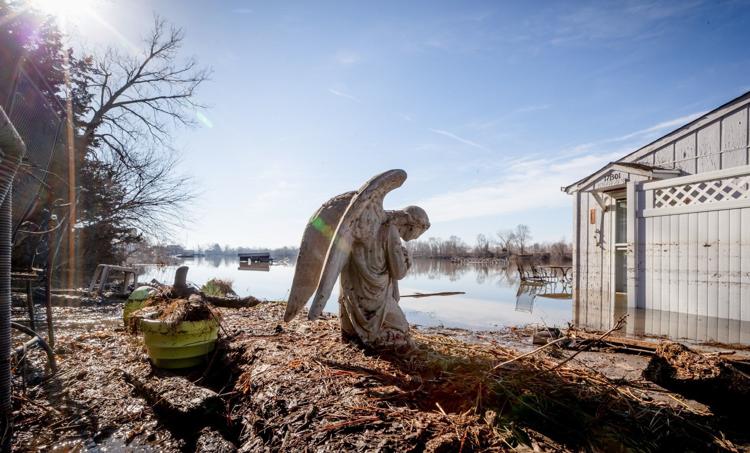 A farmer drives his combine to unload soybeans for transport near Ceresco, Nebraska.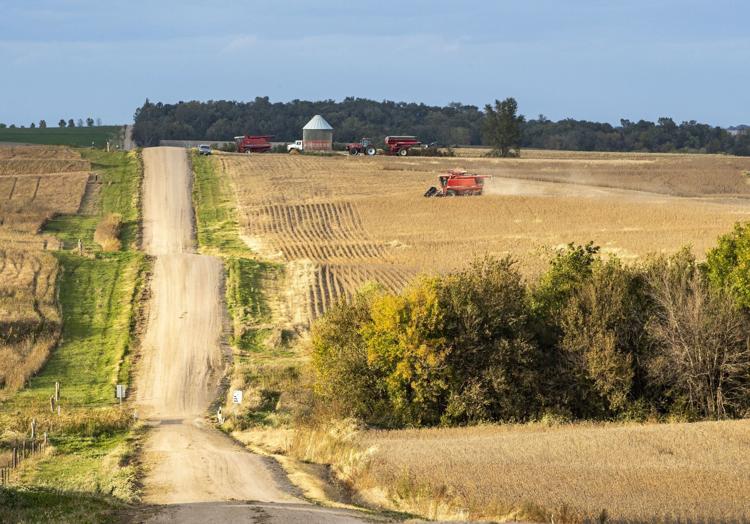 The Millard South Majorettes practice their halftime routine.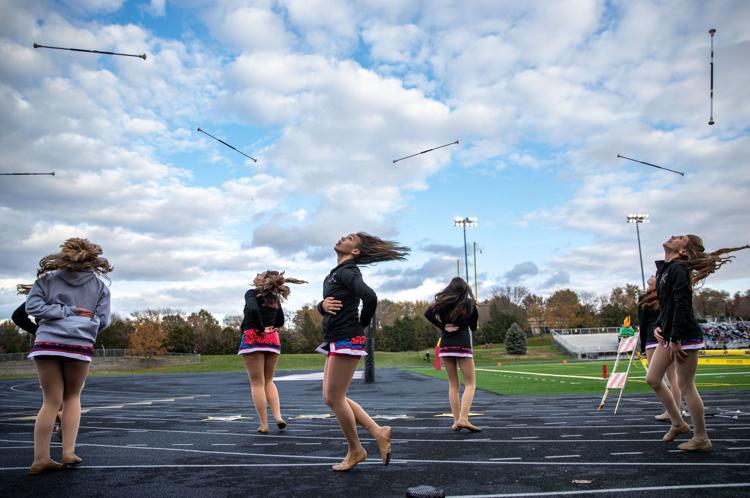 Xiang Fang, right, and his son Ethan, 10, walk along the shoreline at Chalco Hills Recreation Area in Omaha, Nebraska.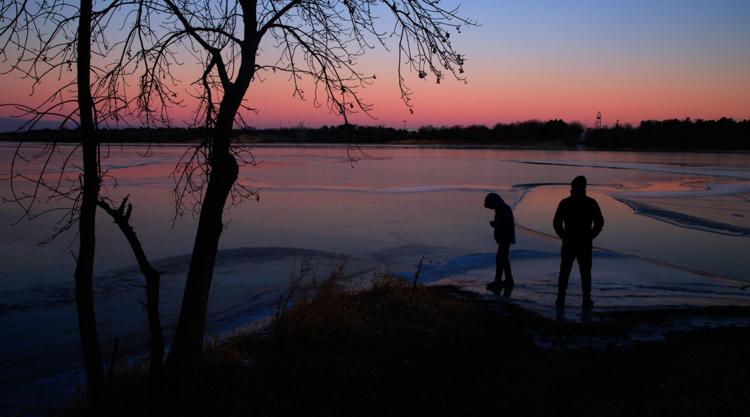 Businesses on the southwest side of Hamburg, Iowa, were flooded from the waters of the Missouri River.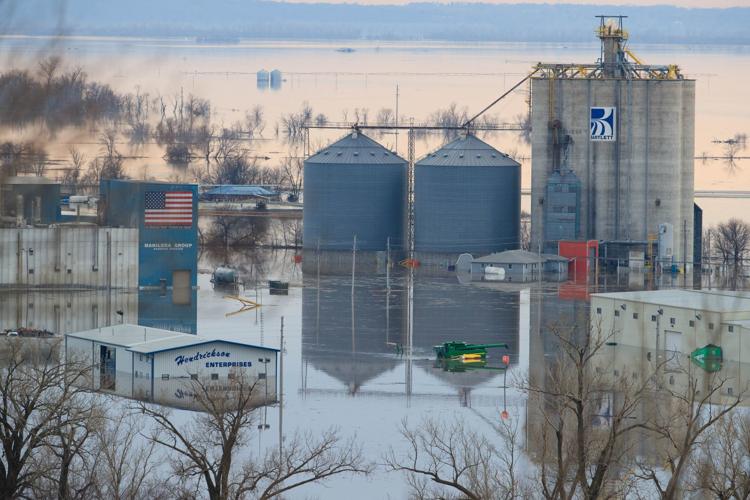 Kayla Thege, left, and Mark Batt hang out with their dog, Maia, during a Storm Chasers baseball game.