Jeff Salberg has witnessed a lot of send-offs for retiring teachers, but none like his former students engineered for him.
The retiring social studies teacher at Millard North High School got a surprise visit from more than two dozen law enforcement officers who credited him for inspiring them to consider law enforcement careers.
During the school's spring sports rally, the officers paraded into the gymnasium, led by a wailing bagpipe.
They presented Salberg with a custom-made wooden baton and a plaque with the names of 36 former students who are current or former law enforcement officers.
"I couldn't believe it," said Salberg, who teaches U.S. history and law studies. He is finishing up his 38th year teaching at Millard North. "When that piper came in, and I saw them file in afterward, I was overwhelmed with emotion."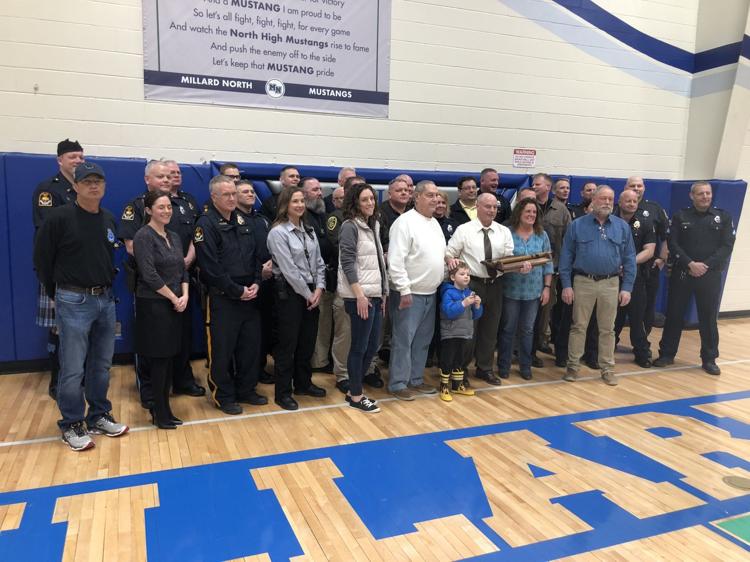 His former students say his law studies class provided an unvarnished look into the real-life world of courts, police and prisons. He took students on field trips to courts and the penitentiary and brought in judges, attorneys and cops as guest speakers.
Twenty-three of the officers listed on the plaque work for the Omaha Police Department, but Salberg's crime-fighting students are spread far and wide, including Los Angeles, Fargo, Kansas City and St. Louis.
Charles Ott, an Omaha police lieutenant, organized the tribute.
Ott, 49, graduated from Millard North in 1988.
He said when he heard that Salberg was retiring after this year, he knew he had to do something special.
It didn't take much convincing to get other former students on board.
Ott said teachers get into teaching because they want to make a difference.
His message for Salberg: "If you've ever questioned whether or not you've made a difference, there's 36 names on this plaque that tell you you've made a difference."
Ott said he tracked down the 36 former students but said there could be even more working in law enforcement who once sat in Salberg's classroom.
He took Salberg's law studies class in his senior year.
"I think with a lot of us, his enthusiasm toward law enforcement, how he brought in people who were experienced in the field and talked about their experiences, it planted a seed in our heads," Ott said. "It inspired a lot of us to go into this field."
Ott said one officer confided to him that his life could have taken a very different turn if not for Salberg and his class.
"He's worried he might have gone the other way, because of where some of his friends ended up going," he said.
Another officer, Omaha Police Lt. Mike Davis, initially wanted to be an airline pilot.
As he got older, Davis decided that the airlines were a volatile, unstable industry and that law enforcement would be a better fit.
Salberg is a good teacher who knows how to connect with teens, he said.
He tried to show students every aspect of law enforcement.
"He took us on field trips to the state pen, down to the courthouse," Davis said. "I remember those vividly to this day."
A guest speaker who talked about the John Joubert murder case held nothing back, he said.
"People were asking about the crime scene, and what he did to the boys," Davis said. "Whoever it was didn't take the bark off it at all. He told us exactly what had happened. It was like, geez."
Salberg said he's humbled to see his former students become people of honor in positions of trust.
He said he has the "utmost respect" for the police departments they represent.
Sign up for The World-Herald's afternoon updates
Receive a summary of the day's popular and trending stories from Omaha.com.
The officers often have come back, speaking to the class and putting "a human face on police work," he said.
They tell stories and bring humor to the classroom, but they don't just paint a rosy picture of the profession, he said.
"One of the individuals used to be an internal affairs officer who would investigate other police officers. And he would tell them, 'Yeah, we do have bad cops, and we find them, and those are the people that we want to marshal out.' "
Salberg said he also brings in defense attorneys, so kids get a balanced view of the system.
Salberg got his teaching credentials from Peru State College in 1979. He taught social studies for a year and a half at Fairmont, Nebraska.
He was hired at Millard North in 1981, a job he called "the opportunity of a lifetime."
"I'm absolutely going to miss it," he said.
Our best photos from February 2019