End the video calls. Close the laptops.
One of the strangest school years in recent memory has come to an end.
The 2019-20 school year is in the books for Omaha, Millard, Bellevue, Westside and Elkhorn students. They finish the school year days earlier than what the school calendar said in August after officials moved up the last day of school.
Other districts, like the Papillion-La Vista Community Schools, will finish next week.
The goodbyes, like everything else since March, were virtual. Teachers held final class video conferences. School staff made goodbye videos.
At the Elkhorn Public Schools' Elkhorn Valley View Middle School, staff held a goodbye parade in which students and their families could drive by and say farewell.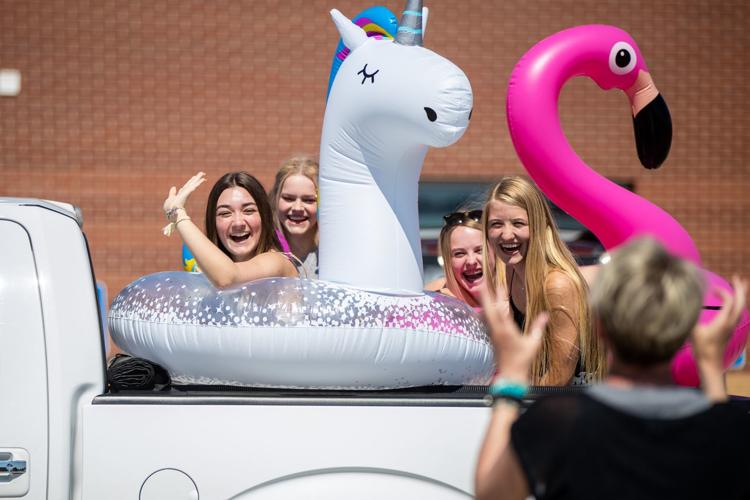 Most students in the metro area haven't been inside a classroom since concerns over the coronavirus closed schools in March.
Since then, normal rites of passages for seniors such as prom and graduation have been canceled or gone virtual. Teachers had to pivot to remote instruction as some students struggled to do online work without access to the Internet or devices.
Schools will now turn to summer classes.
Omaha Public Schools Superintendent Cheryl Logan said this week that her district's summer school will be virtual. She said the district will provide devices and Internet access to students.
Last month, the district bought 2,000 iPads with cellular data capabilities for $1.3 million for use in summer school.
Officials have repeatedly said they don't know what school will look like this fall.
Elkhorn Superintendent Bary Habrock said in a Thursday letter to families and staff that many questions remain about the 2020-21 school year, "with few to no answers."
As other superintendents have done, Habrock laid out four different scenarios: normal start to the school year, delayed start, a mix of in-person and remote learning or continued distance learning.
"We know that flexibility will be necessary until a vaccination is discovered. If this information creates anxiety or questions, you are normal," Habrock wrote. "Collectively, we are weary and anxious and our tolerance is waning, but we remain optimistic that we will overcome this challenge through our school-community partnership."
---
Photos: The last day of the 2020 school year