It was a chance encounter four years ago with an Olympic trailblazer that helped strengthen Cheryl Logan's resolve and banish any self-doubts: She was ready to take the next step in her career.
At a social event in Philadelphia, she got the chance to talk briefly with Herb Douglas Jr., who had won a bronze medal at the 1948 Summer Olympics and is the oldest living African-American Olympian.
She confided in him, sharing her career anxieties. She was about to start a doctorate program at the University of Pennsylvania at age 51 and was sure she would be the oldest in her class. She wanted to be a superintendent, to put her extensive background in education to use leading a district. But she worried that she had waited too long, that the opportunity had passed.
"He stops me, he gives me a look and says, 'Honey, you are just getting started,' " Logan recalled. "He said, 'Before now, you didn't even know enough to be ready to lead a district. Now you're ready.' "
Logan says it was just the confidence boost she needed. She finished her three-year doctorate program six months early. She honed her skills as an administrator. And she emerged as a finalist or semifinalist in several superintendent searches, before landing the job as superintendent of the Omaha Public Schools in January. She starts in July.
Colleagues and friends say it's a natural progression for a driven leader who has steadily risen through the ranks of education — from high school Spanish teacher to incoming superintendent — over the span of a 30-year career.
"She presents as a superintendent," said Diane Castelbuono, Philadelphia's deputy chief for early learning and Logan's interim replacement in the district. "It's in her bones. You can see it when she walks into a room. You can see it when she talks to teachers. You can see it when she talks to parents."
Logan, 55, is a two-time marathoner who exercises each morning. She started taking Spanish in the seventh grade and was bilingual by high school graduation. She's the daughter of a teacher and a cop who met at a historically black college in the 1950s and pushed their five children to succeed. Logan is a mother who knows firsthand what it's like to watch and worry as her own child struggled to read.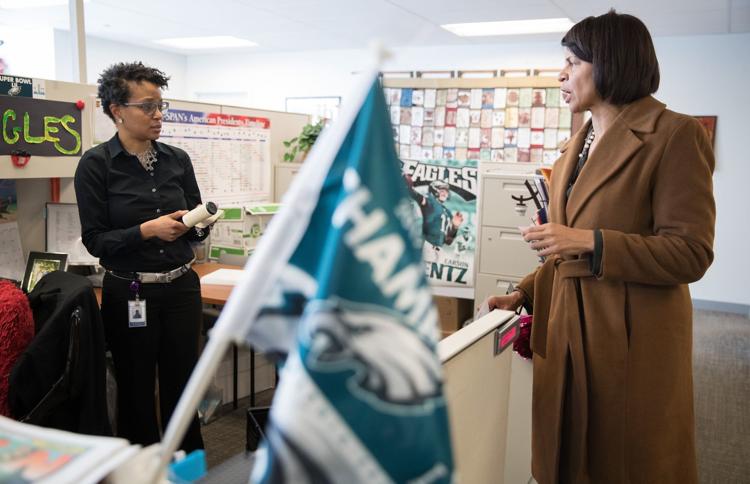 She has spent her entire career in East Coast, urban school districts with challenges not dissimilar to those in OPS — kids weathering the strain of poverty, students learning English for the first time, financial problems squeezing school budgets.
For the past five years, she has worked as a supporting player in central administration in The School District of Philadelphia.
But on July 1, Logan will step into a larger, more public role as the superintendent of Nebraska's largest school district. OPS educates more than 52,000 kids and employs upward of 8,000 teachers, administrators, bus drivers and custodians. Its total annual budget approaches the $1 billion mark.
In a larger city like Philly, Logan could blend more easily into the background. When she's in Omaha, she already gets recognized at the airport. It's a little disconcerting, she admits.
And Logan will shoulder other responsibilities, too, as she breaks the ceilings of race and gender at OPS. She will be the district's first African-American superintendent, and the first woman to serve permanently in the top job.
Teaching is a profession dominated by women, but few make it to the top ranks. In 2016, according to one survey, less than a quarter of superintendents were women.
"This is a great opportunity, and there is a part of it — (I'm) carrying a torch, so to speak, for many people who will come after me," Logan said. "That kind of keeps me up at night."
She will take over a district with looming pension fund problems, a budget deficit, ongoing construction work and state test scores that, after several years of slow-but-steady gains, have stalled out in areas like math. There are few overnight success stories in education, and Logan has been upfront with OPS staff — she doesn't have all the answers.
She said that 15 years ago, she wouldn't have been up to the job. "I've grown to the person that I need to be to be ready for the leadership."
Growing up in Landover, Maryland, a northeast suburb of Washington, D.C., Logan knew certain things were expected of her.
"You'll hear me refer to my parents all the time, because they were the bomb," Logan told an Omaha community group last month.
Her father, John Jackson, dropped out of high school and joined the Marine Corps. He circled back to college, where he met his future wife, and became one of the first black detectives on the D.C. police force. Her mother, Shirley Jackson, taught in the same D.C. elementary school for 30 years.
"There were not a lot of spoken expectations, but there were certainly a lot of implied expectations about what we were going to do and what we were going to become," Logan said.
It worked — Logan and her four siblings all went on to success in their chosen fields. Her brother is a judge in Maryland. One sister works in the defense industry, another is a lawyer and lobbyist, and another sister runs a university foundation.
Her daughter, Cassie, 27, followed the path of her mother and grandmother, becoming a teacher who works with kids with autism. On display in Logan's Philadelphia office are Cassie's childhood artwork and a framed photo of mother and daughter on the first day of first grade.
"Hola, como estas, yo soy Cheryl Logan."
It was the end of February, nearly a month after Logan was hired. She introduced herself in Spanish to several students and teachers at Omaha's Miller Park Elementary. The north Omaha school is known for its strong relationships with families — for at least nine years running, Miller Park has logged a 100 percent participation rate at parent-teacher conferences.
She quizzed fourth-grader Ana Garduno-Martinez on her favorite subject (math) and quickly scanned classrooms with an educator's lens. Were kids attentive? Was the teacher working with small groups?
"I look for things," she said of her classroom visits. "You can tell by my body language if I'm happy or not."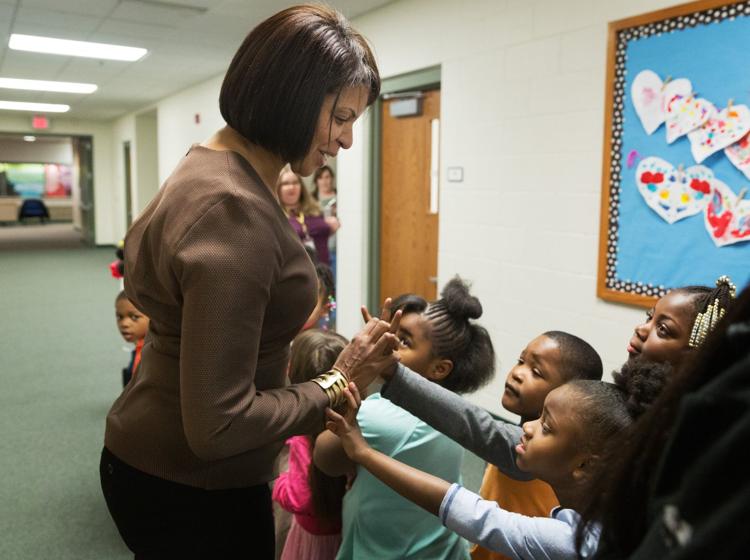 Logan was selected with a unanimous vote of the OPS school board in January. She won't start until this summer. But with the blessing of the higher-ups in Philadelphia, Logan makes monthly trips to Omaha to house-hunt, meet district staff and community leaders, and dig into the details of a complex school district. Her OPS contract, which includes a $300,000 base salary, provides pay for up to 20 days in Omaha as she works on a transition plan with outgoing Superintendent Mark Evans.
Outside of work, she's looking forward to making a home in Omaha — exploring parks where she can walk her two dogs, trying out Thai restaurants, finding a gym. (She wakes up at 4:45 a.m. most mornings and sometimes works out twice a day. She unwinds with a guilty pleasure: Hallmark Channel movies.)
"Some days I'm so excited, I think I'm going to pop," she said. "And some days I'm overwhelmed" because she's not just changing jobs, she's moving to a new city.
Logan said interacting with students and families comes naturally to her, and it's an area where parents and former colleagues say she differs from more hands-off administrators.
"She got her hands dirty," said Cynthia Poles-Suite, a parent from Parkdale High School in Prince George's County, Maryland. Logan was the principal there for three years and instituted a student-run bank branch, a partnership with a bank that let student tellers handle their classmates' and teachers' money.
It was a coming home of sorts for Logan — she had started her career at Parkdale as a student-teacher. As the new principal, she ran with the football team at practice. She regularly made school announcements in both English and Spanish — she speaks some French, too. She expected all ninth-graders to join a sport or club.
"She was at every sporting event, you could see her at the football games, at the parades, she was definitely a visible principal," Poles-Suite said.
Melvin Twine, an art teacher at Parkdale, said her arrival was a wake-up call to staff who were lingering too long in the teachers' lounge.
"She always walked around, got the vibe of the building, she knew who was coming in late, kicking kids out, who was complaining, had a bad attitude," he said. "Those are the teachers who needed a kick in the rear end."
Logan wants to visit as many of OPS's 80-plus schools and programs before she officially starts, and said she's focusing on making those connections while she's in town, instead of huddling in an office with Evans.
Crunching budget numbers, poring over state testing data — "that's what Skype is for," she said. When she's in Omaha, it's all about face time, introducing herself to the school community and immersing herself in the district's history, initiatives and internal politics.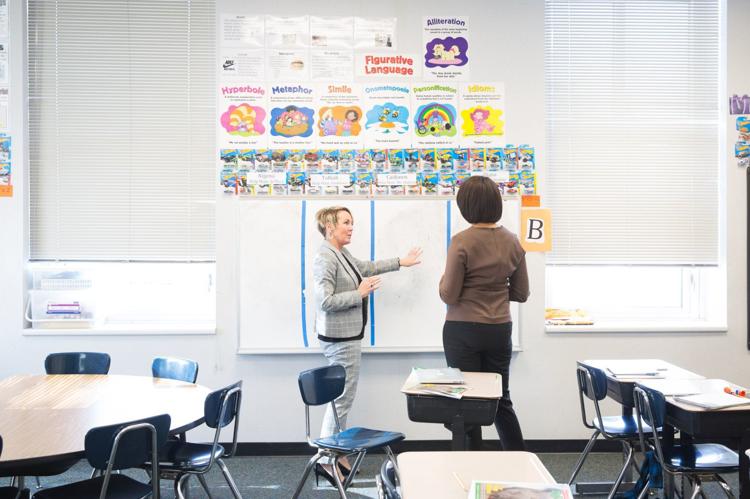 She's getting plenty of pointers from Evans. They've got different styles — she's a little more direct, he's a laid-back Kansan with a twang to match. Evans has led OPS since 2013 and has occasionally sparred with the teachers union and members of the school board. But he helped the district pass a record-breaking $421 million bond issue in 2014 and has won approval from the Omaha business community and philanthropist Susie Buffett, whose foundation has funded everything from playgrounds to social workers in OPS.
Logan has met with Omaha philanthropists and power players like Dianne Lozier, Mike Yanney and Walter Scott and dined with the leaders of the union that represents OPS custodians and cafeteria workers. In March, she sat in on a meeting convened to find millions in budget cuts for next school year.
Logan knows her tell-it-like-it-is style might not play so well in a slower-paced Midwestern state that bills itself as "Nebraska Nice." But over the years, she's also learned to pull back and study a situation before making sweeping changes. She's come in as an outsider before and had to prove herself to a new community.
Logan and OPS Board President Marque Snow have scheduled a weekly phone chat.
"She's an avid learner," Snow said. "She wants to learn more about the district each time she visits. She's willing to listen, and more than just listen. She's willing to start conversations off with me and ask: 'What do you want to see?' "
Logan has told board members she'll need to lean on them, too. They know the district and their constituents better than she does, and she needs them to tip her off to potential minefields or brewing controversies.
"She said several times Omaha is not Philadelphia, the challenges are different and you have to approach them differently," Snow said.
Logan has been forged by fire in Philadelphia, a district that's often lurched from crisis to crisis.
She arrived in the gritty Pennsylvania city five years ago, recruited by William Hite, her old boss from Prince George's County Public Schools.
Hite had been named the Philadelphia superintendent the year before, and persuaded Logan to join him there as an assistant superintendent overseeing 45 schools in central-east Philadelphia. The district educates 133,000 students, many of them living in deep poverty.
She was later promoted to chief academic officer, with responsibilities over curriculum and instruction across the district.
Her first year on the job, the cash-strapped district faced a $300 million shortfall. More than 20 schools were closed. The equivalent of 5,000 jobs were cut. Schools opened in the fall without secretaries, school nurses or recess monitors.
The city has an artsy, independent streak, steeped in colonial history and rebellion. That attitude and edge appeals to Logan.
But the city remains gripped in an opioid epidemic that's left principals to sweep needles from the sidewalks in front of schools, at the same time that pricey condos and craft beer bars are appearing in rapidly gentrifying neighborhoods. The district's governance structure has been upended, as it transitions from state control to a mayoral-appointed school board. Scores on state tests have been creeping upward, but are still far below the statewide average.
As Logan recently drove around the Kensington neighborhood with a World-Herald photographer and reporter, she pointed to tires and trash strewn across a field, a homeless encampment near the railroad tracks, boarded-up houses.
"I was not prepared for this before I moved here, this level of challenges," she said.
For some students, school was a much-needed source of stability and structure.
"Inside the schools, it was an oasis in the desert," she said.
At Russell Conwell Middle Magnet School, she showed off one of the district's ongoing efforts: pushing Algebra 1 classes down into the middle schools.
Forty-eight out of 110 middle schools now offer Algebra 1 in eighth grade, getting kids on an earlier track to master the foundation of higher-level high school math. So far, the eighth-graders have a higher pass rate than ninth- and 10th-graders taking the same class, Logan said.
"Kids are stronger and more confident (in math)," Conwell Principal Erica Green said. "They've had the exposure, and that's what makes the difference."
Colleagues say much of Logan's work has revolved around that common theme: expanding opportunities for kids. In Philadelphia, that's meant giving high flyers more access to rigorous Advanced Placement courses and steering a public-private early literacy program to cultivate strong readers by third grade.
It's a vision backed up by data: the conference room connected to her office is called "high school strategy war room." The walls are plastered with bar graphs representing SAT scores and lists of how many students have earned International Baccalaureate degrees.
Her pet project, she says, is the new middle college program at Parkway Center City High School. The district-funded program — the first in Pennsylvania — allows students to graduate with both a high school diploma and an associate degree at a community college, tuition-free. The 52 ninth-graders who attended this fall, many of them first-generation college-goers, all passed their first-semester classes, said Principal Anh Nguyen-Brown.
"What I liked about Dr. Logan was she said, 'Here's what the middle college model looks like. I want students to graduate with an associate degree and diploma at the same time,' " Nguyen-Brown said. "Then after that, she basically said, 'So now, Anh, you're going to have to implement it. I'm here to support you, but I want you to do it.' "
Logan hired Principal Jason Lytle four years ago to lead Hartranft School, a K-8 north Philadelphia school that was in trouble.
Test scores were low. Attendance was spotty. Serious student behavior problems once meant staff couldn't pin artwork up in school hallways because students would rip paper down in fits of anger.
Lytle was making the leap from classroom teacher to first-time principal. As his supervisor, Logan knew he needed extra guidance to find his footing.
"She literally taught me how to be a principal, how to be an educational leader," he said.
Now, the halls are quieter. Third-grade essays about the Eagles' Super Bowl victory line the walls. ("I feel happy the Eagles won because we don't have homework.")
Logan stopped at a bulletin board in the school's entryway celebrating positive behavior during the month of December — it was then mid-March.
"Jason, it's March," she said, pointedly.
"It'll be fixed before we come back down," Lytle promised.
Logan is the first to admit she has high standards. She reassigned several principals during her first year as an assistant superintendent.
But those she's worked with say she pushes with a purpose and knows how to get results without alienating staff. She has a rock-solid foundation in instruction and doesn't believe in flavor-of-the-week school reform fads. Even though she's spent several years in administration, she didn't forget the day-to-day realities of working in a classroom.
"She wasn't someone who just gave a directive and stood back and watched," said Gwendolyn Cooley, a now-retired teacher who worked under Logan during her first stint as a principal at Langley Park-McCormick Elementary in Maryland. "I really liked working for her because she was one of the few principals who seemed like she was right there in the trenches with you."
Still, it will be no small task to take over the helm of an entire school district.
Hite, the Philadelphia superintendent, said Logan has experienced many of the issues she'll face as a superintendent in Omaha — working with immigrant families, carrying out painful budget cuts, trying to close stubborn achievement gaps between students of different races and backgrounds.
But, for the first time, she'll be front and center. And the learning curve will be steep, he said. The superintendent is the face of the district, the fundraiser, the motivator, the buck-stops-here leader who fields tough questions from parents at the school musical or in the checkout line.
"You have to get to know people, you have to build relationships, you have to work as a member of a broader team," Hite said. "You are the public face of everything educational."
Logan says she's ready to take it on. Her successes, her hard-learned lessons, her driving desire to lead a district of her own have brought her to Omaha to do just that.
"I do know at every turn in my education, whatever happened before prepared me for the next step or opened up a door for me."
Photos: Cheryl Logan, the new superintendent of Omaha Public Schools